At 27 Minutes Biden's Nazi's Installed in Ukraine Murdered Russians & Ukrainians [Burning Them to Death] Costing 10,000 Lives!
Nuland's Nazi's Violent Murders:
Here is the evil Nuland whitewashed by Wikipedia:
Victoria NulandVictoria Jane Nuland is an American diplomat who served as the Assistant Secretary of State for European and Eurasian Affairs at the United States Department of State and is the nominee to be Under Secretary of State for Political Affairs.Wikipedia
The Real Nuland For Getting U.S. Annihilated in WW3 While She Hides in an Underground Bunker:
https://www.strategic-culture.org/news/2021/01/11/25-organizations-say-victoria-nuland-should-be-rejected/VictoriaNuland, former foreign policy adviser to vice president Dick Cheney, should not be nominated for undersecretary of state [for political affairs], and if nominated should be rejected by the Senate. Nuland played a key role in facilitating a coup in Ukraine that created a civil war costing 10,000 lives and displacing over a million people.
The Next Level :: View topic – Faces of Evil Ruling the Worldbreakfornews.com
Q is a Traitorous Military Intelligence Operation to Screw Trump's Supporters:
Firefighters v arsonists: US confirms $5bn spent on 'Ukraine democracy'
22 Apr, 2014 10:38 / Updated 6 years agoGet short URL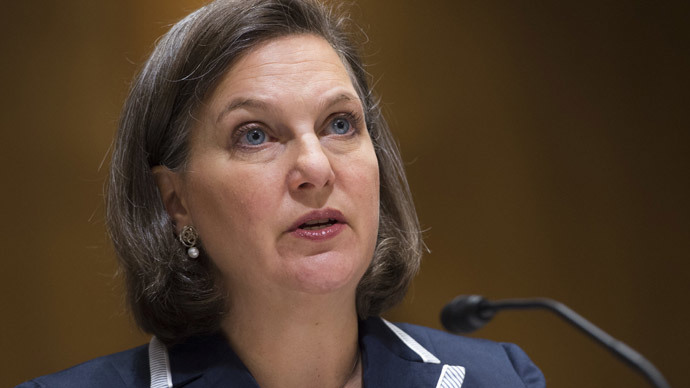 Victoria Nuland (AFP Photo / Saul Loeb) © AFP
Comment: This evil soul wants the same type of civil war in Amerika.
Follow RT onPeople holding illegal arms and occupying government buildings are perfectly OK, as long as they are permitted to do so, believes Washington's top diplomat in Europe. But doing exactly the same thing without permission is bad.
This piece of infallible logic came from the US Assistant Secretary of State Victoria Nuland, as she refused to equate the situation in Ukrainian capital, Kiev, in February with the present one in eastern Ukraine. In both cases armed militias have seized buildings and refused to leave.
"You can't compare the situation in Kiev, where now everything that is still being held by protesters is being held with licenses and with the agreement of the government of Ukraine, with the agreement of the Rada, or with regular leases from the owners of the buildings," Nuland told CNN in an interview.
Of course, when those militias were taking over buildings and building barricades in Kiev and elsewhere in in Ukraine, they didn't have any license. It was only after they toppled the Ukrainian government that the new authorities moved to legitimize those seizures. The same authorities whose legitimacy is now being questioned by the protesters in the country's east.
There is another difference between the two armed movements, according to Nuland.
"You can't compare it to what is happening in eastern Ukraine, where you have armed separatists wearing balaclavas, carrying very heavy munitions, holding government buildings refusing to allow monitors in refusing to allow journalists in," she claimed.
As if balaclava-wearing radical protesters never pelted the police with firebombs and didn't shoot at them with guns stolen from police stations in Ukraine. But isn't this is how the people presumably now in charge came to power?
The Kiev militias are where they are because they could topple the new government just as they did with the previous one. They already besieged the parliament demanded the resignation of the interior minister for the killing one of their leaders, and it took a lot of convincing on the part of the MPs to make them leave.
Of course when the authorities can't force somebody to follow the law, they can save face by altering that law. Unfortunately for the Ukrainian government, disarming those unruly militias is what they agreed to by signing a joint statement with Russia, the US and the EU in Geneva last week. Pretending that this document applies only to those opposing Kiev simply won't work.
Naturally, Washington blames Russia for making things worse in Ukraine, and fails to see the impotence of the current government.
"We continue to be concerned that you cannot dress yourself like a firefighter and behave like an arsonist," Nuland said.
One can wonder what she was dressing herself like as she was treating Maidan activists to cookies and discussing the composition of the government which now sits in Kiev with the US ambassador to Ukraine.
Or how the $5 billion, which the US poured into "building civil society" in Ukraine helped the country overcome its inherent divisions and build a stable nation that can change its government without any street violence.
Alexandre Antonov, RT