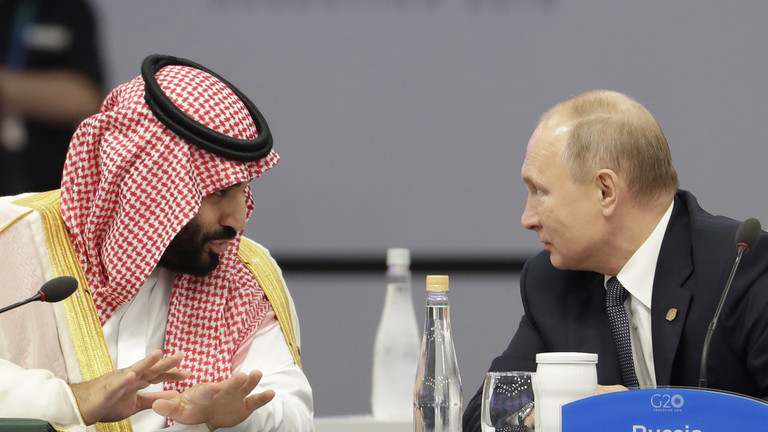 After the Saudis listened to the weird Jew Antony Blinken lecture them about the virtues of gay anal sex, they spoke with Russian leader Vladimir Putin to discuss serious business.
RT:
Russian President Vladimir Putin spoke with Saudi Crown Prince Mohammed bin Salman on Wednesday, discussing energy prices and other important issues, the Kremlin said. The phone call follows the prince's meeting with US Secretary of State Antony Blinken, who arrived in Saudi Arabia on Tuesday.

According to the Kremlin readout of the call, the two leaders paid particular attention to "measures to further build up trade and economic ties, the implementation of promising joint projects in the field of investment, transport logistics, and energy."

They discussed in detail the topic of "ensuring stability in the world energy market" and agreed on the high level of cooperation within OPEC+, as well as the agreements reached at the recent ministerial meeting in Riyadh, the statement added.

Russian Deputy Foreign Minister Sergey Ryabkov was at the meeting in Riyadh, and on Wednesday met with Rayed Krimly, director of policy planning at the Saudi Foreign Ministry. They discussed regional and international security, "with a particular emphasis on the problem of the non-proliferation of weapons of mass destruction," the Russian Foreign Ministry noted.
It appears as if the topic of homosexual butt sex did not come up when Putin talked with the Saudis.
This once again shows that the Saudis no longer take the United States seriously. They are simply doing the bare minimum to sustain the relationship and are at best tolerating their insanity. Meanwhile, they are having serious conversations and striking important deals with Russia and China.
It is obvious which way the world is moving. They view the American anal empire as an empire that is in terminal decline and everybody is making moves to untangle themselves from it as fast as they can.