From Times of Israel; Haaretz-Jewish Control of the CIA
MUST 'READ MORE THOROUGHLY NEXT TIME. UGH'
Ex-CIA agent tweets article blaming Jews for US wars, then apologizes
Valerie Plame Wilson links to piece called 'America's Jews are driving America's wars,' then says she is of 'Jewish decent,' finally says she made a 'doozy' of a mistake
By TOI STAFF21 September 2017, 10:46 pm
In this file photo from June. 21, 2011, former CIA operations officer, Valerie Plame Wilson, arrives for the UK film premiere of Countdown to Zero in London. (Jonathan Short/AP, file)
Valerie Plame Wilson, a former CIA agent and author, came under fire on Thursday after she tweeted a link to a piece titled "America's Jews are driving America's wars."
Wilson, whose identity as a CIA operative was leaked by an official in former president George W. Bush's administration in 2003, left the agency in 2005. She initially defended the article, written by Philip Giraldi, but she later backtracked, begging for forgiveness.Philip Giraldi (Gage Skidmore / Wikipedia)
The article included statements saying that anyone who touches on the subject of the US-Israeli relationship and American Jews runs the risk of a "quick trip to obscurity" because "Jewish groups and deep pocket individual donors not only control the politicians, they own and run the media and entertainment industries."
Focused on a potential impending war with Iran, it asserts that "what makes the war engine run is provided by American Jews who have taken upon themselves the onerous task of starting a war with a country that does not conceivably threaten the United States." Giraldi went on to assert, "the issue that nearly all the Iran haters are Jewish has somehow fallen out of sight, as if it does not matter. But it should matter."
Giraldi cites a list of Jews as "conduits for the false information that led to a war [with Iraq] that has spread and effectively destroyed much of the Middle East."Get The Times of Israel's Daily Edition by email and never miss our top stories Newsletter email address GET IT By signing up, you agree to the terms
His column concludes: "We don't need a war with Iran because Israel wants one and some rich and powerful American Jews are happy to deliver. Seriously, we don't need it."
The column appeared Tuesday on the website The Unz Review, which is funded by Ron Unz, a one-time candidate for governor of California who is Jewish. According to the Washington Examiner, the Anti-Defamation League noted in 2014 that Unz publicizes ideas promoted by anti-Semites and supports anti-Israel ideologies, but does not appear to be anti-Semitic himself.
Wilson initially explained why she shared the column in a series of tweets.
premiere of Countdown to Zero in London. (Jonathan Short/AP, file)
Valerie Plame Wilson, a former CIA agent and author, came under fire on Thursday after she tweeted a link to a piece titled "America's Jews are driving America's wars."
Wilson, whose identity as a CIA operative was leaked by an official in former president George W. Bush's administration in 2003, left the agency in 2005. She initially defended the article, written by Philip Giraldi, but she later backtracked, begging for forgiveness.Philip Giraldi (Gage Skidmore / Wikipedia)
The article included statements saying that anyone who touches on the subject of the US-Israeli relationship and American Jews runs the risk of a "quick trip to obscurity" because "Jewish groups and deep pocket individual donors not only control the politicians, they own and run the media and entertainment industries."

NextStay
Focused on a potential impending war with Iran, it asserts that "what makes the war engine run is provided by American Jews who have taken upon themselves the onerous task of starting a war with a country that does not conceivably threaten the United States." Giraldi went on to assert, "the issue that nearly all the Iran haters are Jewish has somehow fallen out of sight, as if it does not matter. But it should matter."
Giraldi cites a list of Jews as "conduits for the false information that led to a war [with Iraq] that has spread and effectively destroyed much of the Middle East."Get The Times of Israel's Daily Editionby email and never miss our top storiesNewsletter email addressGET ITBy signing up, you agree to the terms
His column concludes: "We don't need a war with Iran because Israel wants one and some rich and powerful American Jews are happy to deliver. Seriously, we don't need it."
The column appeared Tuesday on the website The Unz Review, which is funded by Ron Unz, a one-time candidate for governor of California who is Jewish. According to the Washington Examiner, the Anti-Defamation League noted in 2014 that Unz publicizes ideas promoted by anti-Semites and supports anti-Israel ideologies, but does not appear to be anti-Semitic himself.
Wilson initially explained why she shared the column in a series of tweets.ADVERTISEMENThttps://1d8c9acbadc28353271842fddfefa4b1.safeframe.googlesyndication.com/safeframe/1-0-38/html/container.html
She wrote: "First of all, calm down. Re-tweets don't imply endorsement. Yes, [the piece is] very provocative, but thoughtful. Many neocon hawks ARE Jewish. Just FYI, I am of Jewish decent (sic). I am not in favor of war with Iran, or getting out of the Iran nuclear treaty. There are simply too many who are so ready to go to war. Haven't we had enough for a while? Read the entire article and try, just for a moment, to put aside your biases and think clearly."
But later Wilson backed down and said she missed the "gross undercurrents" of the story.
"OK folks, look, I messed up. I skimmed this piece, zeroed in on the neocon criticism, and shared it without seeing and considering the rest," Wilson tweeted.
"I missed gross undercurrents to this article & didn't do my homework on the platform this piece came from. Now that I see it, it's obvious. Apologies all. There is so much there that's problematic AF and I should have recognized it sooner. Thank you for pushing me to look again. I'm not perfect and make mistakes. This was a doozy. All I can do is admit them, try to be better, and read more thoroughly next time. Ugh."
Comment: Rothschild/British Empire MAFIA want all these wars and they are of the Synagogue of Satan.
In the past Wilson linked to a story by Giraldi published on the same website that reported Israelis were "dancing" after the September 11 terrorist attacks, the Washington Examiner noted. She also complimented Giraldi for another piece titled "Why I Still Dislike Israel."
Comment: ZIONIST Jew Allan Dulles Began the Very Vile MKUltra Project in 1953 which involved Sexual Stimulation & Torture of Children using known pedophiles. CIA is run by ZIONIST/Jewish who answer to the British Royals & Empire which encompasses Rothschilds, British Royals, Rockefellers, City of London Financial Center, Wall Street & Vatican + Minions. The Royals are ZIONISTS as are the Rockefellers and Rothschilds.
As David Cohen becomes CIA's No. 2, Jews appear to have smoother sailing at security agencies
BY RON KAMPEAS FEBRUARY 18, 2015 12:49 PM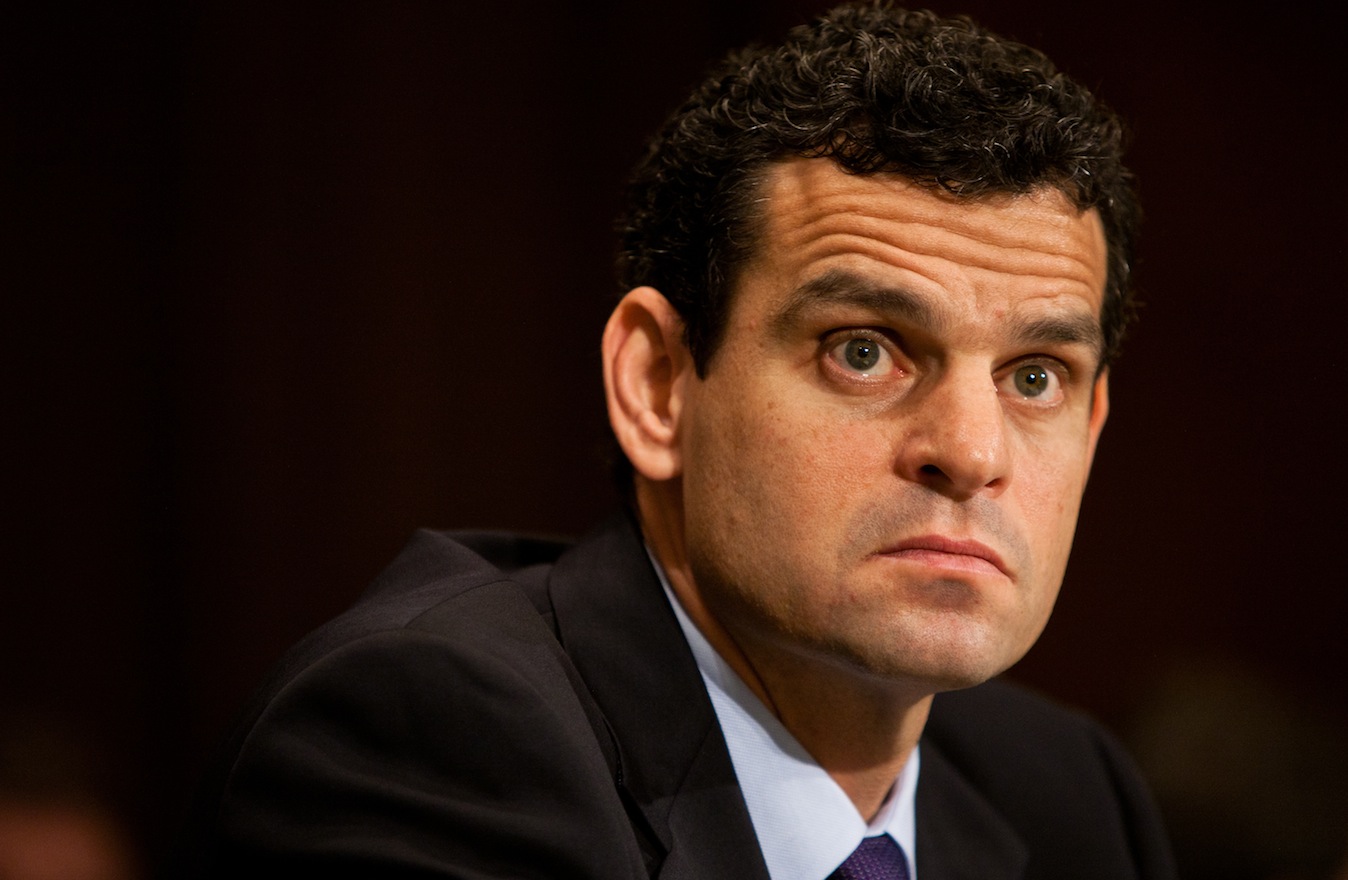 David Cohen, seen here at a Capitol Hill hearing on Iran sanctions in 2011, was named to the No. 2 position at the Central Intelligence Agency. (Brendan Hoffman/Getty Images)ADVERTISEMENT
WASHINGTON (JTA) — David Cohen's path to second in command at the Central Intelligence Agency is, in many respects, a typical one in Washington.
A seasoned Ivy League lawyer who began his career defending the right of religious groups to display menorahs on government property, Cohen was the Obama administration's top Iran sanctions official as the Treasury Department's undersecretary for terrorism and financial intelligence.
But in other respects, the 51-year-old Cohen's ascent to deputy director is less typical.
A number of Jews have long alleged that they hit speed bumps in the American security services, their careers in some cases temporarily obstructed over security clearance questions. For others, accusations of espionage based on ties to Israel, however remote, have driven them from their jobs following home raids and round-the-clock surveillance.
Two federal employees — Adam Ciralsky, a CIA lawyer who was investigated in 1999, and David Tenenbaum, a civilian army engineer whose home was raided by the FBI in 1997 — uncovered evidence that they were targeted because they were Jewish.
Ciralsky learned that his distant relationship to Israel's first and long dead president, Chaim Weizmann, and the fact that his father had purchased Israel Bonds were held against him. Tenenbaum was deemed suspicious in part because he spoke Hebrew even though it was helpful in performing his official duties as a liaison to Israeli counterparts.
Ciralsky and Tenenbaum each filed suit against their respective agencies, both of which ultimately admitted that the men were victims of religious discrimination. Ciralsky quietly dropped his case in 2012. Tenenbaum's case is ongoing.
Jewish leaders said those incidents, along with the most notorious case of a Jewish government career run aground — the Navy intelligence analyst Jonathan Pollard, who was sentenced to life imprisonment in 1987 for passing on state secrets to Israel — are now fading from memory. In their wake, they said, the outlook for Jews at the highest levels of the American security apparatus are improving.
Abraham Foxman, the national director of the Anti-Defamation League, said that complaints to his organization of bias against Jews in government have diminished nearly to zero in recent years.
"The problem related to Pollard and the stereotype of dual loyalty," said Foxman, whose group until two years ago provided diversity training to the CIA. "I would say we have mostly overcome the residual issue of trust of Jews in intelligence issues."
Malcolm Hoenlein, the executive vice chairman of the Conference of Presidents of Major American Jewish Organizations, called Cohen "one of the heroes" of the effort to pressure Iran economically over its nuclear program and said his appointment shows the government is sensitive to cases of past bias.
"The message from on top is very important," said Hoenlein, though he cautioned that such messages don't always trickle down. "It doesn't necessarily get down to the operatives who make decisions about promotions."
Jewish-Americans have been working in American intelligence since the days of the CIA's predecessor, the World War II-era Office of Strategic Services. Their skills were in demand in part because so many were recent immigrants, or were the children of immigrants, and were familiar with European languages and customs.
Some Jewish agents enjoyed long careers in U.S. security agencies with nary a hiccup. A smaller number have risen to its upper echelons. John Deutsch served as CIA director for 17 months in 1995-96, the second Jew to hold that position. James Schlesinger, who was born Jewish but converted to Christianity as an adult, served as CIA director for several months in 1973. Another David Cohen was the agency's deputy director of operations in the 1990s.
The number of Jewish security personnel who have hit roadblocks is not clear. Lawyers who represent security personnel denied the clearance necessary for advancement say they have fielded dozens of complaints from Jews.
Mark Zaid, a Washington attorney who specializes in government and intelligence matters, said the security issue his clients most often face has to do with relatives overseas, which prompts worry from federal authorities about their susceptibility to pressures from foreign governments. Israel presents a special challenge, he said, because of the closeness of its alliance with the United States and the country's reputation for "aggressive" espionage stemming in part from the Pollard case.
"You suspect the Russians of wanting your wallet, so you stay a foot away," Zaid said. "The Israelis, you hug, but you don't know if they're picking your pocket."
Sheldon Cohen, another lawyer who handles security clearance cases, said he has won every Jewish case he has taken. Like Zaid, he said he was likelier to hit a brick wall representing clients from Muslim countries. Sheldon Cohen said he has lost a number of those cases.
"More scrutiny is given to countries that are not on the best relations with the United States than countries that are on good relations with the United States," said Sheldon Cohen, who has been working on security clearances since 1964.
One reason David Cohen may have avoided such pitfalls is that he rose up through the Treasury, a relative latecomer to the intelligence game, but which has become one of the busiest intelligence hubs in the government. The department that Cohen headed there, the Office of Terrorism and Financial Intelligence, has existed only since 2004. His immediate predecessor, Stuart Levey, also was Jewish.
Mark Dubowitz, the director of the Foundation for Defense of Democracies, a think tank that has worked closely with Treasury on Iran sanctions, said Cohen represents a new brand of intelligence professional who uses the international financial system to track and punish America's enemies.
"There's a real lineage of these Treasury professionals who took Treasury from an institution that was a minor player on national security to what is now being described as President Obama's favorite noncombatant command," Dubowitz said.
The CIA did not consent to an interview with Cohen, but noted its director's statement welcoming him to the agency.
"David brings a wealth of experience on many of the issues that we focus on as an agency and I look forward to his insights, expertise, and energy as we address the growing number and diversity of national security challenges facing America today," John Brennan said.
Cohen is from Boston and in high school became friends with Jamin Dershowitz, the son of Harvard professor and well-known Israel advocate Alan Dershowitz.
"He practically lived in my house," said Alan Dershowitz, who recalled having Cohen's family over for Passover seders. Cohen and the younger Dershowitz, who is general counsel to the WNBA, are still close.
Alan Dershowitz recommended Cohen to his alma mater, Yale Law School, and then for his first job working for the prominent Washington attorney Nathan Lewin, where he battled civil liberties groups who challenged the display of menorahs on public property.
"He is very consciously Jewish," Lewin said of Cohen.
https://www.haaretz.com/us-news/.premium-america-s-dr-mengele-the-jewish-biochemist-who-experimented-on-thousands-1.8260541