WeAreChange News
---
Dutch Youth Torch COVID-Testing Facility in Violent Curfew BacklashPosted: 24 Jan 2021 12:06 PM PSTUntil December, the Dutch government had bucked the authoritarian trend of most global authorities in their efforts to 'crush' the virus, but as cases, hospitalizations, and deaths began to soar, the government turned to harsher measures, and ultimately to the first curfew since WWII.Yesterday was the first night of the newly enforced curfew and that crackdown sparked a backlash across the nation..It's getting interesting… #Eindhoven pic.twitter.com/ACsHzNgLn5— Carlo (@CMistra) January 24, 2021The violence climaxed with a group of rioting young people torching a coronavirus testing facility and threw fireworks at police in a Dutch fishing village.Video from the village of Urk, 80 kilometers (50 miles) northeast of Amsterdam, showed youths breaking into the COVID-19 testing facility near the village's harbor before it was set ablaze Saturday night."This is not only unacceptable, but also a slap in the face, especially for the local health authority staff who do all they can at the test center to help people from Urk," the local authorities said, promising to strictly enforce the curfew in the future.The group was reportedly driving cars, honking horns, and waving national flags at the square, footage from the scene shows.Update: A lot of people in the Netherlands do NOT obey the curfew. Images from #Urk where "tokkies" (sources say) are making a lot of noise. pic.twitter.com/X37Fw8xeEX— NewsBlog (@newsblogmedia) January 23, 2021The group then apparently waited for police to arrive to taunt the officers and pelt them with various projectiles.Ik zie hier op Twitter toch vrij weinig over het pittoreske Urk pic.twitter.com/Udviy1sDmi— Hidde (@VP_Hidde) January 24, 2021Overall, police said Sunday they fined more than 3,600 people nationwide for breaching the curfew that ran from 9 p.m. Saturday until 4:30 a.m. Sunday and arrested 25 people for breaching the curfew or for violence.Police in Amsterdam also were bracing for another protest Sunday, sending officers to a square where demonstrators clashed with police a week ago. The city's municipality designated the square a "risk area," a move that gave police extra powers to frisk people.Après #Amsterdam et #Eindhoven, une manifestation contre les restrictions sanitaires et l'instauration du couvre-feu éclate dans les rues de #LaHaye ce soir aux Pays-Bas. #DenHaag pic.twitter.com/9pHb7SndFS— Anonyme Citoyen (@AnonymeCitoyen) January 24, 2021Republished from ZeroHedge.com with permissionThe post Dutch Youth Torch COVID-Testing Facility in Violent Curfew Backlash appeared first on We Are Change.
Americans Are Fleeing Lockdowns, When They Can Afford ItPosted: 24 Jan 2021 08:28 AM PSTFor nearly a year, governments have been instructing people to stay put. Don't leave your home unless you have to. Forget about organizing or attending events. Weddings and funerals are too great a risk for spreading disease. And so on it goes.But not everywhere is this the case. Many states are open, some are still shut, and many others fall somewhere in between. In some places in the United States, life feels almost normal. Might we predict a shift in population from lockdown states to open states? According to North American Moving Services, Americans are still on the move at high rates that compare with 2019, despite or maybe because of all the edicts.Consider the top five cities that people are leaving: New York, New York; Anaheim, California; San Diego, California; Chicago, Illinois; and Riverside, California. All five of those cities remain even to this day in stringent lockdowns. Indoor dining in California is not permitted, and will only be permitted in Chicago starting next week. New York is still in lockdown, despite Andrew Cuomo's call for the city to be reopened.And where are people moving to? The top five destinations are: Phoenix, Arizona; Houston, Texas; Dallas, Texas; Atlanta, Georgia; and Denver, Colorado. Georgia was the first state to reopen following the panicked lockdowns of March 2020. Arizona and Texas opened in July.The point is even clearer when you consider the states gaining and losing residents. Illinois, New York, and New Jersey – all with extreme stringencies – are losing residents faster than any other states. Northeastern states make up four out of the seven states, with California now fourth on the list. They are moving to Idaho, Arizona, Tennessee, South Carolina, and North Carolina.Here is what the coming/going map looks like.
These population shifts have contributed to a dramatic spike in single-family home construction. In addition, a Gallup survey reports that "nearly half of all U.S. adults said they'd prefer to live in a small town or rural area in 2020. That's a nine percentage-point increase from 2018, when just 39 percent of respondents said the same." Which is to say we might only have begun to see these shifts, as people lose confidence in mayors and governors that thought so little of their people's lives and liberties as to treat them like nonvolitional players in an agent-based model.To be sure, the people who are able to grab their laptop and go have the financial means to make the move, and the kind of job that can be performed remotely. Good for them. But not everyone is in such a position. Some people are stuck where they are, even if their own governments shut down their place of employment.The lockdowns have in fact massively redistributed both wealth and happiness from the middle class and the poor to the wealthiest and most privileged, precisely as many of us predicted since March of 2020. I've called lockdownism the new feudalism. A survey conducted by the MorningConsult reveals an astonishing upheaval that is massively skewed by education and income. The only group consistently reporting a lack of misery in 2020 were those with incomes above $100K and also those with postgraduate educational credentials. Those in suburbs and rural areas with no college, making less than $50K, and especially women in general report dramatically worsening mental, physical, financial, and professional health.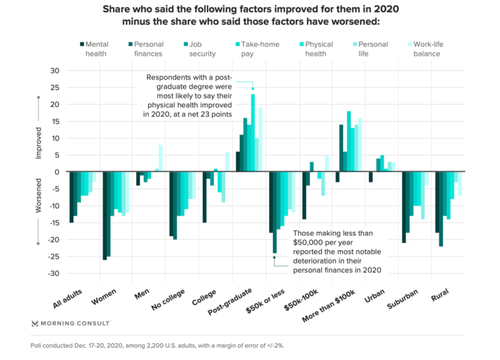 Talk about inequality. The lockdowns supercharged it.There is nothing surprising at all about any of these data. They were predicted early on. The destructive effects of lockdowns (including mass quarantines, business closures, and an end to public events) have been known for 100 years since they failed so miserably in 1918 when attempted even on a limited scale. That is precisely why public health rejected all these "nonpharmaceutical interventions" for a full century, until somehow some people forgot and attempted them anyway, with gravely calamitous results.Now we are seeing dramatic demographic shifts, with people who can do so fleeing lockdown cities for anywhere that permits a modicum of freedom.Aside from all these demographic effects, one of the worst features of the past year is how it has emboldened governments to believe they can violate the rights and liberties of their citizens, thereby giving rise to a new form of authoritarianism, as well documented in this report, which concludes, "An authoritarian response to a biomedical pandemic is not, and never will be, a humanitarian solution." Republished from AIER.org under Creative CommonsThe post Americans Are Fleeing Lockdowns, When They Can Afford It appeared first on We Are Change.
Saint Anthony Fauci: The Hidden HistoryPosted: 23 Jan 2021 06:47 PM PSTDr. Anthony Fauci, the top scientist on the Coronavirus taskforce, is being reproached after it was revealed last month that he was "moving the goalposts" on coronavirus herd immunity. But his long history of misleading the American public, or getting things completely wrong, remains unscrutinized — until now.Before I get started on Dr. Fauci's handling of the coronavirus and his handling of the HIV/AIDS crisis and other major outbreaks of infectious diseases, I want to be clear that the point of this article is not to push covid-denialism. I can already envision some mainstream media hack, foaming at the mouth, gesturing wildly towards this article, and earning his paycheck with some snippy line about how conspiracy theories spread at a rate rivaling the deadly pandemic.As of the writing of this article, 375,000-plus Americans have died because of the coronavirus. While the fault for this has been overwhelmingly blamed on Donald Trump, by his side throughout the entirety of the crisis has been Dr. Anthony Fauci, who, it seems, was given some kind of criticism vaccine generations ago, immunizing him for the kind of scrutiny one might expect for a career politician who has led the National Institute of Allergy and Infectious Diseases for 37 years.Instead, Fauci has attained a cult leader-like status in the minds of many Americans. A Change.org petition to have People Magazine name Fauci the "Sexiest Man Alive" is nearing 30,000 signatures. On the web, you can buy Dr. Fauci blankets and prayer candles. One erotic fiction author has come forward to claim that Fauci was the inspiration for the male love interest in her 1991 book called "Happy Endings."The point of this article is to show that, far from his portrayal in the media as Saint Anthony Fauci, his analysis on major issues in his field: AIDS, Cholera, and Coronavirus, has been disastrously off the mark on numerous occasions, with potentially deadly consequences. If Dr. Fauci's record had been scrutinized by the media, it is entirely possible that we wouldn't be in the situation we are in today, with as many as 4,000 of our fellow citizens succumbing to this disease every day.The Times Dr. Fauci Went 'Mask Off' With HaitiansOn February 1, 2010, less than a month after the devastating earthquake that destroyed much of Haiti, Anthony Fauci went on the National Institute of Health's radio program to talk about health concerns in Haiti following the quake.The audio of the interview sits unlisted on YouTube with only six views at the time of the writing of this article. In it, Fauci says "We often hear people say, mistakenly, but understandably, they're concerned about an outbreak of cholera. There is no cholera in Haiti, so it would be extremely unlikely that there would be an outbreak of cholera in Haiti."RARE AUDIO: Dr. Fauci WRONGLY predicted "there is no cholera in Haiti so it would be extremely unlikely that there would be an outbreak." Then, as the UN was beginning to cover up its role as the source, Fauci claimed cholera was already "there somewhere" https://t.co/1UrnZMcsrE pic.twitter.com/gp2vYYCBSM— Alex Rubinstein (@RealAlexRubi) January 13, 2021Fauci was dead wrong. According to the United Nations, the cholera outbreak that followed in the next months eventually infected 800,000 Haitians, killing more than 9,000. But since the source of the outbreak was the United Nations itself, they tried to cover up its origins.As rumours were mounting that it was the UN that caused the outbreak, Fauci placed the blame elsewhere. "If there is no problem with sanitation it just lurks there and lives in the water, not as a disease," Fauci told CNN. "But the microbe was there somewhere in the water in Haiti. In situations where you have natural disasters like floods, hurricanes and earthquakes, if you don't have the microbe lurking there, then you don't get an outbreak."Poor sanitation, Fauci said, helped trigger the outbreak.The same day as CNN's report, the United Nations Stabilisation Mission in Haiti put out a press release supposedly meant to "shed light" on the "rumours," but ultimately denied any culpability by citing its compliance with international waste management standards. This was, of course, a lie.As Haitian activist and Twitter user Madame Boukman has tweeted, "I remember after the UN's cholera attack against Haiti, Anthony Fauci blamed 'unsanitary' Haitians, just like he blamed us for HIV."During the height of Fauci's research on HIV/AIDS, much of which he served as a main public face of government AIDS policy, he was a major proponent of the "Four H's." The four H's referred to governmental designations of "risk groups" and included homosexuals, heroin addicts, hemophiliacs, and Haitians.As Fauci explained in a 1984 video lecture, "Now, the Haitian situation has created some controversy in this country, and the reason is that we have, public health officials have designated the Haitians as a separate risk group. Now, the objection to that, and it's a reasonable objection, is that it discriminates against Haitians. Why should you call the Haitians a separate risk group? We call them a separate risk group because only a very small percentage of the Haitian population, their AIDS can be explained by homosexual activity or IV drug use, so there's something else going on there."Despite Fauci's acknowledgement of discrimination against Haitians, he continued to present them as a separate risk group in public comments and medical journals.As one Haitian-American writer, Èzili Dantò, commented, "I remember when Dr. Anthony Fauci gave disease a Black face." She goes on to claim that Africans and Haitians were painted as "diseased.""I remember how back then, Haiti workers working at nursing homes, hospitals, hotels, cafeterias, driving taxi cabs, and in private homes as housekeepers and cooks were stigmatized and forced to 'social distance' – (i.e. got laid off, fired!) from the general population," Dantò wrote.One theory as to why AIDS spread more rapidly in Haiti than other places is that predatory blood plasma centers such as Hemo-Caribbean set up shop in Haiti to target poor people who would be willing to sell their blood, and didn't use proper sanitary precautions, such as changing needles. Nonetheless, the idea that Haitians constituted a separate risk group for AIDS is now widely rejected.Turning the Dial Back on AIDS AwarenessFauci was an early researcher on the AIDS epidemic. Archival photos show him examining AIDS patients in the early 1980's. In 1986, the Washington Post was reprinting comments from Fauci's colleagues in glowing profiles saying the distinguished doctor was "about as close as you could find" to "Superman." In interviews and news reports, Fauci's heroics in the early days included his innovative efforts to find a cure. For example, Fauci experimented with an "innovative procedure involving bone-marrow transplants from a healthy identical twin to a twin brother with AIDS." The Washington Post and Fauci himself avoided mentioning when recounting this dramatic event that the procedure ended the patient going blind and dying. At the time, newspapers across the country touted the unorthodox method as a possible lead to an AIDS cure, waiting until the end of their articles to mention this important outcome of the procedure.When we talk about the HIV/AIDS crisis, it's easy to shrug off the mistakes of leaders at the time: there was a good deal of confusion in the early days about how the virus was spread. It also appears to be true that Fauci fought for more funding of HIV/AIDS research.Since Fauci was well-known to AIDS activists prior to his role in handling the coronavirus, a number stories popped up in the media discussing how he was a hero of the calamity and how he was the target of protests from the most prominent AIDS activist group ACT UP. Peter Staley, a leader of the organization, and Larry Kramer, another leader of the group, began speaking up in defense of Fauci at the beginning of the coronavirus pandemic. Back in the day, they called Fauci a murderer. But before his death in May of 2020, Kramer told the New Yorker in a profile of Fauci that he was "'the only true and great hero' among government officials in the AIDS crisis."Today, when he is not fawning over Hillary Clinton or hyping up the threat to the United States posed by Vladimir Putin, Staley himself interviews Dr. Fauci. He also recruited Barbra Streisand "for [a] surprise Fauci birthday party on Zoom," mainstream media has reported.However, certain facts of how Fauci handled the AIDS crisis have been omitted from profiles on Fauci that have come out since the coronavirus pandemic.The book "And the Band Played on: Politics, People, and the AIDS Epidemic" by Randy Shilts devotes a good amount of attention to one incident in which Fauci single-handedly turned back the page on progress in the social milieu around AIDS that the scientific community had worked so hard to improve.Liberal influencers have recommended the book as Fauci "has a starring, and heroic, role." Yet the book only contains 15 references to Fauci, and they are not particularly flattering.In 1982, it was already well-established how AIDS was transmitted: semen, blood, and "blood products." Nonetheless, media and medical journals at the time had the same inherent flaw they do today — the profit motive. As always, sensationalism carried more weight than fact.In 1983, the Journal of the American Medical Association (JAMA) was publishing research on children with HIV/AIDS. There were two competing lines of thought from the data they were working with. The first was that children with AIDS had gotten it from their mothers' blood while still in the uterus, which was promoted by Dr. Arye Rubinstein (no relation.) JAMA had initially drawn a line through the section of Rubinstein's research paper that showed that, though they eventually published the entire thing at his insistence.Then, Dr. James Oleske published a paper in JAMA claiming AIDS "was originally described in homosexual men and subsequently in intravenous drug abusers, Haitians, and hemophiliacs… Recently, we and others have encountered a group of children with an otherwise unexplained immune deficiency syndrome and infections of the type found in adults with AIDS… Our experience suggests that children living in high-risk households are susceptible to AIDS and that sexual contact, drug abuse, or exposure to blood products is not necessary for disease transmission."Oleske's paper totally ignored Rubinstein's research. And Dr. Fauci did too. He reportedly never read Rubinstein's paper and instead wrote an editorial on Oleske's."In the current issue of The Journal, Oleske et al present data that are of potentially great importance in the continually evolving saga of AIDS," Fauci wrote. "This is much different from the situation with the male homosexual, IV drug user, adult Haitian, or hemophiliac who was otherwise well for decades and in whom an unexplained, devastating immune deficiency then developed.""The implications of AIDS in this patient population are several. It took some time for people to believe that AIDS was indeed transmissible," he continued. "The finding of AIDS in infants and children who are household contacts of patients with AIDS or persons with risks for AIDS has enormous implications with regard to ultimate transmissibility of this syndrome. First, it is possible that AIDS can be vertically transmitted. Perhaps even more important is the possibility that routine close contact, as within a family household, can spread the disease. If, indeed, the latter is true, then AIDS takes on an entirely new dimension.""If we add to this the possibility that nonsexual, non-blood-borne transmission is possible, the scope of the syndrome may be enormous," Fauci wrote.Fauci's editorial unleashed a wave of hysteria around AIDS. First, the American Medical Association put out a press release on Oleske's study and Fauci's interpretation. Then, the Associated Press ran a story under the headline "AIDS Disease Could Endanger General Population." The AP story was then followed by The New York Times and USA Today.Fauci blamed the media for sensationalizing his comments "out of context." He pointed out that nothing he said was conclusive; he was only saying that household contact spreading AIDS was a possibility.According to Shilts' book, "The report created a lasting impression on the public that would raise the hysteria level around AIDS for years to come. Scientists just aren't sure how AIDS is spread, the thinking went." He continues, "the report of routine household contact lent scientific credibility to ungrounded fears; the social damage would linger for years. The fear inspired by this one story defined the context within which AIDS was discussed for the next crucial months."Later that year, anti-gay columnist Patrick Buchanan used Fauci's editorial to call on the mayors of San Francisco and New York to cancel their gay pride parades, and two doctors held a press conference calling for not just the parades to be cancelled. The doctors also held that all gay bars should be closed, food handlers should be screened for AIDS, and deceased aids patients should be buried in airtight coffins, according to Shilts.Despite Fauci remarks, which essentially cried fire in a crowded theater, he was promoted to director of the National Institute of Infectious Diseases the following year.Pandemic Pandemonium and PropagandaYou should be forgiven for having missed the most recent example of Fauci lying, as the New York Times dropped the bombshell of a piece on Christmas Eve. The paper of record reported that Dr. Fauci was "quietly shifting" his estimate on the percent of the population that needs to be resistant to the coronavirus in order for it to die out:"In the pandemic's early days, Dr. Fauci tended to cite the same 60 to 70 percent estimate that most experts did. About a month ago, he began saying '70, 75 percent' in television interviews. And last week, in an interview with CNBC News, he said '75, 80, sIn a telephone interview the next day, Dr. Fauci acknowledged that he had slowly but deliberately been moving the goal posts."Fauci explained himself: "When polls said only about half of all Americans would take a vaccine, I was saying herd immunity would take 70 to 75 percent.""Then, when newer surveys said 60 percent or more would take it, I thought, 'I can nudge this up a bit,' so I went to 80, 85," he said, adding "I think the real range is somewhere between 70 to 90 percent. But, I'm not going to say 90 percent."In other words, the man who has become the most trusted voice on the coronavirus in the United States, has tailored his public statements — presented to us as scientific assessments — to fit nicely with public opinion.But it's far from the first time, or even the most egregious example, of Fauci either misleading or being dead wrong on the coronavirus or other viruses and infectious diseases, which, it probably need not be pointed out, is supposed to be his area of expertise.Marc Thiessen, who likely knows a thing or two about lying to the American public given that he was a speechwriter for George W. Bush, published in September a pretty succinct chronology of Fauci's false statements on the coronavirus. While he was careful to equivocate often times, I'll briefly rehash what he has said which has been, basically, the complete opposite of what happened:January 21, 2020: Fauci said the virus "is not a major threat for the people of the United States, and this is not something that the citizens of the United States right now should be worried about."January 26, 2020: "The American people should not be worried or frightened by this. It's a very, very low risk to the United States, but it's something that we, as public health officials, need to take very seriously."January 31, 2020: "We still have a low risk to the American public, but we want to keep it at a low risk."February 03, 2020: "I think you are going to see a dampening down."February 17, 2020: "I don't think people should be frightened. The risk right now, today, currently, is really relatively low… right now, don't worry about it. Be more concerned about influenza." He added that the "danger" of the virus was "just minuscule" and you should "skip the masks unless you are contagious."February 28, 2020: "I don't think it's gonna be [bad], because I think we'd be able to do the kind of mitigation. It could be mild."February 29, 2020: "Right now, at this moment, there is no need to change anything that you're doing on a day-by-day basis."March 10, 2020: "As a nation, the risk is relatively low."As YouTuber and comedian Jimmy Dore has repeatedly hammered, Dr. Fauci, on March 8, told 60 Minutes that there was no reason for most Americans to wear masks."When you see people, and look at the films in China, South Korea, whatever, everybody's wearing a mask. Right now, in the United States, people should not be walking around with masks," he said."You're sure of it, because people are listening really closely to this," Dr. Jon LaPook, the 60 Minutes host, pressed.Fauci doubled down.I should pause here to note that China has only seen 4,634 deaths due to the coronavirus. In South Korea, there have been only 1,140.On June 12, journalist Katherine Ross questioned Fauci: "Why were we told later in the Spring to wear them [masks], when we were initially told not to?"Fauci responded: "The reason for that is that we were concerned — the public health community, and many people were saying this — were concerned that it was at a time when personal protective equipment… were in very short supply."Fauci said that his reason for misleading the American public was that they wanted to make sure the healthcare workers had priority access to personal protective equipment. While a lie is a lie, this rationale is reasonable. Yet in that very same interview with 60 Minutes, Fauci had already warned that everyone wearing masks could lead to shortages.In short, Fauci, in June, justified his lie about the importance of wearing masks with the same justification he had already coupled with his lie a few months prior. The story went from everyone wearing masks not being an effective prevention and potentially causing shortages to masks being effective but there's no longer the threat of a shortage.These are the maneuvers of a politician, not a scientist. And as a politician, Fauci has also done his patriotic duty to malign Russia, warning NBC's Today Show that he was "skeptical" of the "safety" of Russia's coronavirus vaccine.The Sputnik V vaccine is 91.4 percent effective according to the official website. Early reports claimed it was 95 percent effect, a figure experts agreed with. In comparison, the Pfizer vaccine is said to be 95 percent effect and the Moderna vaccine 94.1 percent effective, however those two have been available for far less time than Russia's, so those figures may change.So why was Fauci so adamant against the Russian vaccine? And why was he initially critical of the United Kingdom's approval of the Pfizer vaccine, claiming they "ran around the corner of the marathon and joined it in the last mile?" For somebody who has railed against vaccine skepticism, he has spread his fair share of it.Was he just echoing the anti-Russian rhetoric of everybody else that appears on national televised news? It could be worse. The National Institute of Health, which Fauci has longstanding ties to, has joint ownership of the Moderna vaccine.The web of connections between Fauci, the National Institute of Health, the National Institute of Allergy and Infectious Diseases and major industry players like the Bill and Melinda Gates Foundation, which has used poor Africans as "guinea pigs for drug experiments" are myriad. A simple Google search combining the aforementioned keywords turns up a dizzying number of results which have not surfaced in coverage of US coronavirus policy.While the media has blamed the Trump Administration for the failures of the coronavirus response in the United States, its own failure to critically examine the record of the country's coronavirus czar is likely not to change on January 20 alongside the White House transition. Joe Biden will keep Dr. Fauci on his coronavirus taskforce, and the media will keep its uncritical promotion of Saint Anthony Fauci.Alexander Rubinstein is an independent reporter on Substack. You can subscribe to get new articles from him delivered to your inbox here, and support his journalism here.The post Saint Anthony Fauci: The Hidden History appeared first on We Are Change.
Amazon Demands In-Person Union Vote After Arguing Mail-In Ballots "Raise Risk of Fraud"Posted: 23 Jan 2021 04:30 PM PSTSurprise! Mail-in ballots raise the risk of fraud—according to Amazon.In a Thursday filing with the National Labor Relations Board (NLRB), the Seattle-based online retail giant formally requested that a group of Alabama warehouse trying to form a union be required to vote in person, rather than by mail, according to Bloomberg. The company also requested a postponement of the vote so the NLRB can reconsider its earlier ruling which gives workers the next two months to vote by mail.A group of workers at Amazon's Bessemer, Alabama, warehouse filed paperwork in November for an election to decide whether to be represented by the Retail, Wholesale and Department Store Union, a rare step for workers at a company whose U.S. workforce isn't unionized. The NLRB, which oversees union votes, earlier this month said the vote would be conducted by mail, citing standards set up during the pandemic to keep workers and staffers safe. –BloombergAmazon objected to the NLRB's decision – saying they had 'unfairly dismissed the company's argument' that its facility is safer than the surrounding Jefferson County, which hit a 20% COVID-19 positive test rate earlier this month. The company argues that in-person voting would have "fully minimized any risk of transmission," and that the NLRB's decision on mail-in votes was "based on speculation and conjecture, and without ever balancing the purported risk of virus spread against the public policy that 'strongly favors' allowing employees to vote in person."The world's largest online retailer said that a mail election raised the risk of fraud and the coercion of workers. It also said the process would depress turnout, arguing that as many as 29% of its more than 5,800 employees eligible to vote wouldn't do so or would return incorrectly completed ballots. –BloombergThe solution, according to Amazon? Hold the election in a heated tent in the facility's parking lot in conjunction with software designed to ensure social distancing. The NLRB says conditions are too dangerous for in-person voting, and that acquiescing to Amazon's demands might give workers the impression that government employees conducting the vote might be receiving inappropriate benefits from the company."The most important factors in my decision are the safety of all election participants and the enfranchisement of all voters," wrote the NLRB's acting regional director in the Board's decision, adding "Both of these factors weigh in favor of a mail ballot election."Republished from ZeroHedge.com with permissionThe post Amazon Demands In-Person Union Vote After Arguing Mail-In Ballots "Raise Risk of Fraud" appeared first on We Are Change.
A Large U.S. Military Convoy Rolled Into Syria on First Day of Biden PresidencyPosted: 23 Jan 2021 04:10 PM PSTTwo separate reports from Middle East news sources at the end of this week strongly suggest that both Russia and the United States are building up their forces in war-torn Syria within the opening days of the Joe Biden administration.First, Syrian state media is alleging a major US build-up and reinforcements sent to "illegitimate bases in Hasakah countryside".The report in Syria's SANA details:"…that a convoy consisted of 40 trucks loaded with weapons and logistical materials, affiliated to the so-called international coalition have entered in Hasaka countryside via al-Walid illegitimate border crossing with north of Iraq, to reinforce illegitimate bases in the area."Damascus said further that tons of US heavy equipment was observed going toward building up US positions at Conoco oil and gas field: "Over the past few days, helicopters affiliated to the so-called international coalition have transported logistical equipment and heavy military vehicles to Conoco oil field in northeastern Deir Ezzor countryside, after turning it into military base to reinforce its presence and loot the Syrian resources," SANA wrote further.This comes at a moment Biden's Syria policy and direction is still largely a big unknown – though it remains that his cabinet looks to include foreign policy hawks – particularly many of the same officials responsible for Obama's both overt and covert interventions in Libya and Syria upon the start of the so-called 'Arab Spring'.For now President Biden is likely simply to continue Trump's policy of keeping a contingent of American special forces troops stealing occupying Syria's oil and gas fields.Meanwhile a separate story on the same day as the reported US convoy reinforcements says Russia too is busy building up its forces in an area near where Americans and Turkish patrols are occupying northeast Syria.A Syrian child searching for food in a waste dump, and seen behind him the Syrian oil wells that are under the USA occupation.USA is bringing misery to all of Syria. pic.twitter.com/YVAkCYatAl— Lebanese News and Updates (@LebanonaME) January 20, 2021According to Beirut-based Al Masdar News:The Russian Armed Forces sent more reinforcements and heavy military equipment to the Al-Qamishli Airport this week, as they strengthen their presence east of the Euphrates River.According to the latest reports from the Al-Hasakah Governorate, the Russian Armed Forces deployed more troops to the frontlines with the Turkish military and their allied militants near the key town of Tal Tamr.This is based on Russian military sources featuring footage of a Russian IL-76 cargo landing a Qamishli Airport which is the "second time in ten days that they have brought in more reinforcements and military equipment."Russian military cargo plan landing in northern Syria on Thursday:Russia has also lately sent more ships to patrol off Syria's Mediterranean coast, out of the naval base at Tartus.Likely this latest rush to ensure greater Russian 'readiness' is based on the "unknowns" represented by the presidential transition in Washington. However, there's little doubt Biden will keep up the severe sanctions which are currently crushing what's left of the Syrian economy, with civilians bearing the brunt of suffering.
Israel also appears to be ramping up its airstrikes inside Syria, claiming to be targeting Iranian positions amid concerns Biden will be "soft" on the Islamic Republic and so-called Iranian influence in Syria and Lebanon.Republished from ZeroHedge.com with permissionThe post A Large U.S. Military Convoy Rolled Into Syria on First Day of Biden Presidency appeared first on We Are Change.
California Refuses to Disclose COVID-19 Data Used to Drive LockdownsPosted: 23 Jan 2021 04:03 PM PSTCalifornia Governor Gavin Newsom (D) promised months ago that the state's COVID-19 policy decisions would be driven by transparent data that would be shared with the public.Now, his administration is refusing to disclose key information used to determine when lockdown orders are implemented or rescinded – and has denied a public records request filed with the California Health and Human Services (CHHS) Agency on May 28 by the Center for American Liberty (CAL) seeking both the data and science behind the state's lockdown decisions, according to Fox News.State health officials now say they rely on a 'very complex set of measurements that would confuse and potentially mislead the public,'AP reports.In short, California says you're too stupid to understand their rationale for mandating thousands of businesses into financial ruin through what appear to be arbitrary and unscientific decisions. To wit, at least two California judges have struck down the state's draconian mandates over lack of scientific evidence to support lockdowns and restaurant restrictions.Not only that, according to SFGATE, there's growing speculation that California's ban on outdoor dining may have contributed to the state's COVID-19 surge. Not the best of optics as as a GOP effort to recall Newsom continues to gain momentum.According to CAL executive director Mark Trammel, the Golden State won't answer why, for example, they won't answer why indoor religious services are strictly forbidden while other venues where people gather are just fine."If it's safe enough to go to a marijuana dispensary or Macy's or Costco that same standard should apply to parishioners in our congregation they should be able to sep in pews and wear a mask," Trammel told Fox News in a recent interview.Dr. Lee Riley, chairman of UC Berkeley's School of Public Health infectious disease division thinks the state's lack of transparency is troubling."There is more uncertainty created by NOT releasing the data that only the state has access to," he told the Associated Press in an email.More via AP:Newsom, a Democrat, imposed the nation's first statewide shutdown in March. His administration developed reopening plans that included benchmarks for virus data such as per capita infection rates that counties needed to meet to relax restrictions.It released data models state officials use to project whether infections, hospitalizations and deaths are likely to rise or fall.As cases surged after Thanksgiving, Newsom tore up his playbook. Rather than a county-by-county approach, he created five regions and established a single measurement — ICU capacity — as the determination for whether a region was placed under a stay-at-home order.In short order, four regions — about 98% of the state's population — were under the restrictions after their capacity fell below the 15% threshold. A map updated daily tracks each region's capacity.At the start of last week, no regions appeared likely to have the stay-at-home order lifted soon because their capacity was well below 15%. But within a day, the state announced it was lifting the order for the 13-county Greater Sacramento area.Suddenly, outdoor dining and worship services were OK again, hair and nail salons and other businesses could reopen, and retailers were allowed more shoppers inside.Local officials and businesses were caught off guard. State officials did not describe their reasoning other than to say it was based on a projection for ICU capacity.State health officials relied on a complex formula to project that while the Sacramento region's intensive care capacity was below 10%, it would climb above 15% within four weeks. On Friday, it was 9%, roughly the same as when the order was lifted."What happened to the 15%? What was that all about?" asked Dr. George Rutherford, an epidemiologist and infectious-diseases control expert at University of California, San Francisco. "I was surprised. I assume they know something I don't know."Trying to explain the quagmire, CA Health and Human Services Agency spokeswoman Kate Folmar said (with a straight face?) that officials are committed to transparency – and that projected ICU capacity is based on several variables – including available beds and staffing that can change regularly."These fluid, on-the-ground conditions cannot be boiled down to a single data point — and to do so would mislead and create greater uncertainty for Californians," she said.According to First Amendment Coalition Executive Director David Snyder, the state's lack of disclosure is disturbing."The state is wielding extraordinary power these days — power to close businesses, to directly impact people's livelihoods and even lives — and so it owes it to Californians to disclose how and why it makes those decisions," he said, adding that secrecy "is exactly the wrong approach here and will only breed further mistrust, confusion and contempt for the crucial role of government in bringing us out of this crisis."Republished from ZeroHedge.com with permissionThe post California Refuses to Disclose COVID-19 Data Used to Drive Lockdowns appeared first on We Are Change.
"It Was All a Lie": Biden-Linked WHO Adviser Admits COVID-19 "Likely" Leaked From Wuhan LabPosted: 23 Jan 2021 03:53 PM PSTA World Health Organization (WHO) adviser who previously worked under President Clinton and then-Senator Joe Biden has broken his silence over the origins of the COVID-19 pandemic.Jamie Metzl – who served as Deputy Staff Director of the Foreign Relations Committee under Biden (2001-2003), after serving on the National Security Council (1997-1999) and the State Department (1999-2001) under Clinton, waited until three days after Biden's inauguration to tell the Toronto Sun that he thinks COVID-19 was most likely an accidental lab leak in Wuhan."There's no irrefutable evidence," said the Kansas-born Metzl, a senior Atlantic Council fellow who was appointed to the WHO expert advisory committee on human genome editing in 2019. "There's just more evidence and as more evidence arrives, the case for accidental lab leak, in my view, increases."What about the original theory that this all started in a wet market in Wuhan?That was a lie. And the Chinese government knew very early on that that was a lie. And so in the face of overwhelming evidence in May of last year, the Chinese government shifted its position.Do you get the idea of scary viruses being created in a lab may seem a little sci-fi?It may feel like sci-fi to people but what's happening is sci. There is a field of study called "gain of function" research, which is highly controversial in which some scientists amplify the virility of viruses. We know that the Wuhan Institute of Virology was involved in gain of function research on bat coronaviruses.Is it because this specifically started in China that we still don't know how COVID-19 started?If there had been an outbreak in Congo or some country in Africa and that country, in the earliest days of the pandemic, prevented World Health Organization investigators from going onto the scene of the outbreak, for nearly a month, the world would have gone berserk.Will a change of the U.S. administration help find an answer?Biden will be tougher on China than President Trump because President Biden is very smart and strategic and he understands that American power and American strength doesn't rest on bluster, it rests on principles, it rests on partnerships, and alliances and accountability. And the Trump administration unfortunately gave China a pass by over politicizing the question of the origin of the virus by alienating America's partners and allies.* * *All of this begs a simple question; if a senior Atlantic Council fellow who operated at high levels of government under Democratic presidents is suddenly 'coming out' with the Wuhan lab leak theory, three days after Biden's inauguration, is the official narrative about to change?Republished from ZeroHedge.com with permissionThe post "It Was All a Lie": Biden-Linked WHO Adviser Admits COVID-19 "Likely" Leaked From Wuhan Lab appeared first on We Are Change.