Russia Phasing Out US Dollar in Major Arms Deals With China & They're NOT the Only Ones
Ruble for whole caboodle: Russia phasing out US dollar in major arms deals with China
Published time: 28 Jan, 2019 13:40Get short URL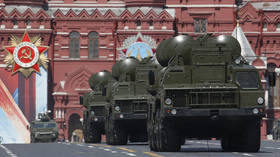 Russian S-400 Triumph medium-range and long-range surface-to-air missile systems © Reuters / Sergey Karpukhin
Russia's Federal Service for Military-Technical Cooperation announced the start of negotiations with its Chinese counterparts in an effort to counter off Washington's sanctions.
"We are holding negotiations with our Chinese partners. The most important thing is to avoid disparities in other sectors due to the transition to mutual settlements in national currencies," the service's chief Dmitry Shugayev told NTV.ALSO ON RT.COMUS using false accusations on trade to 'intimidate' countries – China
He added: "However, the sanctions have another negative aspect, namely to intimidate our partners quite unceremoniously."
Shugayev told TASS earlier that he did not see any threat from Washington's punitive measures against contracts with China for the supply of Su-35 fighter jets and S-400 air defense systems.
S-400 is a long-range air defense system designed to protect strategically important sites. It is capable of destroying multiple aerial targets at an extremely long range of up to 400 kilometers (nearly 250 miles).
In September, the United States imposed sanctions on China due to the country's purchase of 10 Sukhoi Su-35 fighter jets along with S-400s from Russia.ALSO ON RT.COMRussia phasing out US dollar in military contracts in favor of local currencies – trade minister
Following the introduction of US sanctions, Russian Trade Minister Denis Manturov said that Moscow was dropping the greenback in major arms deals and switching to the Russian ruble and the national currencies of its partners.
At the moment, China's stock of orders for Russian military products exceeds $7 billion.
For more stories on economy & finance visit RT's business section
Saudi Arabia wants to kill the petrodollar – economist
Published time: 16 Nov, 2017 13:42Get short URL
Saudi Arabia's King Salman welcomes Trump to dance with a sword during a welcome ceremony at Al Murabba Palace in Riyadh © Jonathan Ernst © Reuters
The United States and Saudi Arabia are so interdependent that a rift would mean disaster for the petrodollar system and the greenback's reserve currency status, warns economist Brandon Smith. He is sure Riyadh is planning to ditch the dollar.
"I believe the next phase of the global economic reset will begin in part with the breaking of petrodollar dominance. An important element of my analysis on the strategic shift away from the petrodollar has been the symbiosis between the US and Saudi Arabia. Saudi Arabia has been the single most important key to the dollar remaining as the petrocurrency from the very beginning," Smith wrote in an article for his website Alt-market.com.Read moreChina could shatter petrodollar by compelling Saudi Arabia to trade oil in yuan
The site claims its goal is to "facilitate barter networking and the exchange of knowledge and ideas for thriving in a faltering monetary environment."
According to the economist, Saudi Arabia's Crown Prince Mohammed Bin Salman has been seeking ways of cutting dependence on the US dollar. Smith says the country's Vision 2030 program may be not about reducing oil's share in the economy, but killing the petrodollar.
"Prince Mohammed's revolutionary "Vision for 2030" developed as he entered power was touted as a means to end Saudi reliance on oil revenues to support economic stability. However, I believe this plan is NOT about ending reliance on oil, but ending reliance on the US dollar. In fact, the plan indicates a move away from the dollar as the world's petrocurrency and a de-pegging of the riyal from the dollar," he wrote.
A 1974 agreement between US President Richard Nixon and Saudi King Faisal meant Riyadh has been accepting dollars for all its oil exports.
"Prince Mohammed has also established much deeper ties to Russia and China, creating bilateral agreements which may end up removing the dollar as the mechanism for oil trade between the nations," Smith added.

As Iran Dumps Dollar, Congress Quietly Slips in Bill for 'Use of Force Against Iran'
By Jack Burns – February 1, 2017
X
Spread the love
On March 21, The Islamic Republic of Iran will cease using the U.S. dollar in all of its financial reporting. The decision to stop using the dollar as a reference has been in the works for some time but was expedited after the Trump administration decided to include Iran as one of the seven countries banned from entering the United States.
Iranian PressTV reported, "Valiollah Seif, the governor of the Central Bank of Iran, was quoted by domestic media as saying that Iran would either replace the US dollar with a new common foreign currency or use a basket of currencies in all official financial and foreign exchange reports."
Seif reportedly stated the country of Iran needs a much more stable foreign currency, that the dollar is insignificantly found in exchange houses throughout the country, and Iran would be better-suited trading in European Union Euros, Chinese Yen, or in United Arab Emirates Dirham.
Following Trump's plan, Iran, Iraq, Libya, Somalia, Sudan, Syria, and Yemen have all been banned from entering the US for a period of at least 90 days. The decision has angered globalists who see borders as just one more man-made obstacle to freedom to travel the world, as well as anyone with family or conducting business in those countries.
Even with all the angst and outrage, if Iran goes ahead with its plan to replace the dollar in its monetary system, the country's theocratic leaders run the risk of falling victim to U.S. vengeance.
In fact, the United States is already preparing for potential conflict with Iran, the US has introduced H.J.Res.10 – Authorization of Use of Force Against Iran Resolution.
This resolution was quietly introduced last month with absolutely no media attention in spite of the fact that it "authorizes the President to use the U.S. Armed forces as necessary in order to prevent Iran from obtaining nuclear weapons."
Other countries and their leaders have attempted to do the same thing as Iran, but it backfired in their faces and they were subsequently invaded by the US. TFTP's Jay Syrmopoulos reported in January,NATO's involvement in Libya, "was not for the protection of the people, but instead it was to thwart Gaddafi's attempt to create a gold-backed African currency to compete with the Western central banking monopoly."
Likewise, the involvement of the USA in Libya's affairs, "was also driven by a desire to gain access to a greater share of Libyan oil production, and to undermine a long term plan by Gaddafi to supplant France as the dominant power in the Francophone Africa region."
Just as in Libya, Iraq's Saddam Hussein waded into the currency controversy when he announced Iraq would no longer sell Iraqi oil in dollars. According to The New American, "Iraqi despot Saddam Hussein, once armed by the U.S. government to make war on Iran, was threatening to start selling oil in currencies other than the dollar just prior to the Bush administration's 'regime change' (George W. Bush) mission." The year 2000 Time article stated Saddam's purpose for making the change was for Iraq to no longer deal "in the currency of the enemy".
In 2006, just prior to Syria's Bashar Al-Assad being called by U.S. officials as a genocidal war criminal who needs to step down, the Chicago Tribune reported "Syria has switched the primary hard currency it uses for foreign goods and services from the U.S. dollar to the euro in a bid to make it less vulnerable to pressure from Washington. The decree signed by Syrian Prime Minister Naji al-Otari on Monday ordered government bodies and public-sector companies to use euros to pay for foreign transactions." The announcement may seem insignificant, but it may have been the last straw in an already chilly relationship with Syria. After all, Syria had made business arrangements with nearly all of America's foes and major competitors; Cuba, Venezuela, Argentina, Iran, Russia, and China.
That plan backfired quickly after the U.S. targeted Assad for removal, going so far as to provide arms and cash to Sunni rebels in a proxy war against Syria's Assad.
Donald Trump has said he may pursue a more diplomatic solution. However, that is yet to be seen. For the moment, he's simply banning all immigration from Syria amid talk of establishing "safe zones" for Syrians to be able to remain in their homeland. It remains to be seen if the terms "safe zone" are equivalent to what the previous Bush administrations called "no-fly zones," a tactical move which led to air superiority over Iraq and Libya, later leading to those countries' downfalls.
As The Free Thought Project has reported on numerous occasions, Muammar Gaddafi, Saddam Hussein, and Bashar Al-Assad all attempted to move away from the dollar and replace it with another currency. All three saw their countries destroyed. Only Assad remains in power for the moment, protected only by Russia, and Syrian ally Iran. But after Russia withdraws, one could only expect the conflict to resume, with the expressed intents and purposes of overthrowing Syria and allowing for Western companies to enter and exploit Syria's natural resources, and establish a more dollar-friendly national currency.
Make no mistake, the US has no problem invading Iran and will do so on a whim — all the while, maintain support of the citizens — in the name of spreading freedom. 
Spread the love
Saudi Arabia Dumps United States 'Petro-Dollar' As Sole Oil Settlements. It was S. Arabia taking out the petrodollar by continuing to pump oil. SA is aligning with China and fighting the CIA's retaliation mercenaries [al-Qaeda] in Yemen with Egypt, who also just removed the Muslim Brotherhood who is the parent of ISIS, al-Qaeda, al-Nusra, KLA,…
Iran and Russia have replaced the U.S. dollar between the two countries. This article states also that Iran replaced the U.S. dollar in its oil trade with India, China and Japan. China and Chile have also signed agreements to conduct trade in their local currencies.
americanfreepress.net › World
Russia and China Move to Dump the Dollar, Threatening the New World Order. June 14, 2017 Staff World 5. As long predicted, the dollar's dominance on the world's economic stage is wavering and likely to completely collapse soon given the move away from the dollar by Russia, Iran, and China. By Matthew Raphael Johnson. Many have been predicting it.
www.pravdareport.com/world/asia/04-08-2017/138335-brics_usa-0
BRICS countries strike fatal blow on US dollar supremacy. This organization, which includes Brazil, Russia, India, China and South Africa, becomes a powerful counterweight to the Group of Seven. Today, the BRICS countries account for 26% of the Earth's territory, 42% of the world's population (almost three billion people) and 27% of world GDP.