Every Media Sells a Point of View: Here's Proof! Migrants Are Being Ping Ponged Between Powerful Interest Groups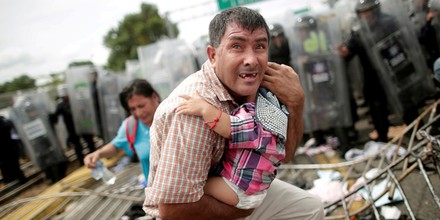 By Christian Edwards
Business Insider
November 28, 2018
A report from The Daily Beast suggests that the right-leaning Sinclair Broadcast Group gave over 100 of their local news outlets a "must run" segment to broadcast: a defense of the US Border Patrol's use of tear gas against migrants, including children crossing the border, on Sunday.
Sinclair Broadcasting Group, which is based in Maryland, is the largest television station owner in the United States. According to SeattlePi.com, "The company distributes 'must-run; segments to its newsrooms, requiring they air them within 48 hours," which "typically feature conservative commentary, including a recurring segment from former Donald Trump official Boris Epshteyn."
My Comment:  First these people's countries have been destroyed by colonial powers and empire including U.S. and U.K. and NATO.  Then they are financed by Zionist convicted felon George Soros to come to the United States.  These migrants are being used and abused as pawns by the powers that be:  US Government vs Zionist Mafia.