Larry Klayman, Attorney Sues ex-President O'bama and Also Endorses Common Law
Obama Sued In "La La Land" for Allegedly Inciting Violence in Defiance of Trump's So Called "Muslim Ban"
Larry Klayman Was Allegedly Assaulted by Muslim Protester at LAX Airport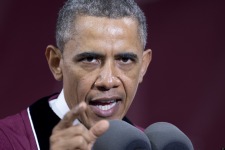 (Los Angeles, California, February 2, 2017). Today, Larry Klayman, the founder of Judicial Watch and now Freedom Watch and a former Justice Department prosecutor filed suit against former President Barack Obama, now a private citizen, for allegedly calling on radical anarchists, blacks and Muslims and other Trump haters to "protest" the president's recent moratorium on immigration from seven terrorist Middle Eastern countries. The complaint, which was filed in the U.S. District Court for the Central District of California (Case No. 2:17-CV-00836), alleges that Obama and his radical surrogates, agents and co-conspirators, including but not limited to Black Lives Matter, Louis Farrakhan, Nation of Islam, Al Sharpton, the Council for American Islamic Relations (CAIR) and others have used the president's immigration executive order as a pretext to again incite violence in defiance of President Trump, culminating in Klayman allegedly being assaulted by a Muslim and Arabic speaking "protester" in the baggage claim area of Southwest Airlines last Sunday evening around 8:45 pm. A copy of the complaint can be found at
www.freedomwatchusa.org
.
Klayman had this to say upon filing the complaint:
"Obama and his alleged co-conspirators in the radical black and Muslim communities in particular, are using the so-called Trump Muslim ban to destabilize the Trump presidency and the nation. While peaceful protest is lawful, threatening and violent protest and assault is not, particularly when conducted in a secure but vulnerable airport such as LAX, which has previously been subject to terrorist attack. Indeed, just a few weeks ago a terrorist attack was also carried out by a person who was influenced by ISIS, and who had apparently converted to Islam, in the baggage claim area of Ft. Lauderdale International Airport, killing 5 persons. As a result, as alleged in my complaint, filed in 'La La Land,' ironically one of Obama's favorite places given the supportive and generally leftist entertainment industry (and now Berkeley), Obama and his accomplices should be held liable for again stoking and inciting violence as they have previously against law enforcement and others. This simply cannot be permitted in a civilized society, even if Obama is angry that his failed 'legacy' is now being dismantled by President Trump."
For an interview, contact daj142182@gmail.com or (424) 274 2579.
View Complaint
http://www.freedomwatchusa.org/pdf/170202-Filed%20Obama%20Comp.pdf
My Comment:  The University of American Common Law is in Ukraine!!!!!  Powers Controlling USA clearly Do Not Want the Rest of Us to Know About This!!!!