Muslims Tied to Terrorists Infiltrate "Women's March & Movement"-Fake Activism!
Klayman: Muslims with Ties to Terrorists Infiltrate So-Called Woman's March and Movement!
Women's March Organizer Recently Met Ex-Hamas Operative, Has Family Ties To Terror Group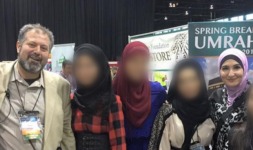 By Chuck Ross
Daily Caller
January 23, 2017
Linda Sarsour, one of the organizers behind Saturday's Women's March, being held in Washington, D.C., was recently spotted at a large Muslim convention in Chicago posing for pictures with an accused financier for Hamas, the terrorist group.
Sarsour, the head of the Arab American Association of New York and an Obama White House "Champion of Change," was speaking at last month's 15th annual convention of the Muslim American Society and Islamic Circle of North America.