Former British PM Boris Johnson has revealed that European leaders hoped for a quick Russian victory in Ukraine.
In a TV interview on Tuesday night with a US channel, Johnson also conceded that there were "sound economic reasons" for Germany wanting Kiev to swiftly agree to a peace deal with Moscow, but that he "couldn't support" it.
It was Johnson — backed by Washington — who persuaded Ukrainian President Volodymyr Zelensky to break off peace talks with Russia just a month into the conflict, when they were on the verge of a breakthrough, during a visit to Kiev in late March.
But a US military analyst has told Sputnik that Johnson "miscalculated" by encouraging the clash with Russia.
"The Germans, for all sorts of sound economic reasons, really didn't want it," Johnson told the broadcaster. "I'll tell you a terrible thing, the German view was at one stage that if it were going to happen, which would be a disaster, it would be better for the whole thing to be over quickly and for Ukraine to fold."
"I couldn't support that, I thought that was a disastrous way of looking at it. But I can understand why they thought and felt as they did," the former PM added.
"I remember the Italians, again, massively dependent on Russian hydrocarbons, at one stage simply saying that they would be unable to support the position we were taking," he added.
Johnson was also among the most strident voices for sanctions and embargoes on imports of Russian fuels, food and fertilizers, which prompted the inflationary crisis that is set to tip most of Europe into recession.
His government was also one of the biggest providers of military assistance to Ukraine before and after the launch of Russia's military operation on February 24, which Moscow says pre-empted a Ukrainian offensive on the Donetsk and Lugansk People's Republics it formally recognized days earlier.
Meanwhile, BoJo also accused French President Emmanuel Macron of being too optimistic of a diplomatic solution even as "we could see the Russian battalion tactical groups amassing."
"Be in no doubt that the French were in denial right up until the last moment," the politician claimed.
Western Miscalculation
Scott Bennett, a former US Army psychological warfare officer, told Sputnik that Johnson had always harbored delusions of being another Winston Churchill, Britain's Second World War leader.
"Churchill was a former military commander and diplomat, while Boris Johnson is a clown in search of a circus," he said.
Johnson had "miscalculated regarding Ukraine and Russia, and foolishly expected the Russian government to allow NATO and the US and Britain to launch an invasion into the Donbass region in a final extermination of the Russian-speaking people" who had rejected the "puppet" government in Kiev "installed by the United States" in 2014, Bennett said.
"Russia's special military operation was a necessary defensive move against the growing NATO aggression and Ukrainian proxy army threat," the former officer said, "and this defense operation by Russia was fully justified and indeed absolutely necessary in order to preserve the lives of Russians."
Bennet said Johnson's reliance on accusations, threats and insults against Russian president Vladimir Putin led him to "miscalculate and commit errors in his political judgment, communication strategy and policy agenda."
The former PM's downfall came when Brits grew "increasingly dissatisfied" with the conflict in Ukraine and "Britain's wasteful and foolish expenditures of money and resources" and he lost the confidence of his Conservative Party.
Bennett said the sabotage of the Nord Stream 1 and 2 gas pipelines from Russia, which Moscow has blamed on "Anglo-Saxon" nations, was designed to force Germany to "abandon its agenda of removing itself from the conflict and abandoning the US economic sanction war against Russia."
He argued that the sabotage served Washington's agenda since "an enslaved Germany has always been the essential cornerstone of a US-dominated Europe," but stressed it was likewise a miscalculation.
"The German people are increasingly viewing the United States as a slavemaster rather than a friend and ally, and this will most likely lead to violent political and social unrest — if not revolution — in Germany over the next six months," Bennett said.
No Will for Peace
Dan Kovalik, adjunct professor of law at the University of Pittsburgh and the author of 'No More War: How the West Violates International Law by Using 'Humanitarian' Intervention to Advance Economic and Strategic Interests,' told Sputnik that there was no country in the West willing to negotiate with Russia.
"The US, which does not want to negotiate with Russia, and is putting pressure on the EU not to do so as well," he said.
"I think the US wanted this war," Kovalik added. "That's why it did not address Russia's security concerns that could have been easily addressed."
The academic believes the West's aim is simply to "destroy Russia."
"They thought if they could suck Russia into Ukraine, they could then turn around and destroy Russia economically and or militarily, which has not happened," Kovalik said. "And so they want this war to continue and that's why they don't want to negotiate."
He stressed that Russia had always been willing to talk peace, but that the talks had been sabotaged by Kiev's allies.
"Russia and Ukraine probably had a deal, at least the outlines of a deal sometime in March or April," Kovalik pointed out, but "Boris Johnson went to scuttle the deal."
Returning to the raft of mutual security proposals that Russia presented to the US and other NATO members in December 2021 — only to have them rejected out of hand — Kovalik said their belligerent stance would continue "unless there is a change in governments in those countries."
"I don't think in terms of Germany and France that's their instinctual position," he said, but "the US is kind of running the show and pressuring those countries to take on Russia" — and that policy of trying to "undermine" Moscow would continue.
Boris Johnson's claim about Ukraine 'utter nonsense' – Germany
The former British prime minister told CNN that Berlin wanted Kiev to "fold" to Moscow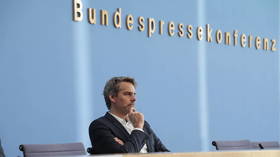 Germany has described a claim by former UK prime minister Boris Johnson that its government wanted Ukraine to swiftly capitulate to Russia as "utter nonsense."
Spokesman Steffen Hebestreit was responding on Wednesday to remarks that Johnson made to CNN, in which he suggested that Berlin wanted the conflict between Russia and Ukraine to end quickly for economic reasons.
"It is utter nonsense what Boris Johnson said," Hebestreit told journalists at a government media conference in Berlin. "We know that the very entertaining former prime minister always has his own relationship with the truth," the official added, suggesting that "this is no different in this case."
Asked by journalists if he would call Johnson a liar, Heberstreit doubled down on his previous statement, but didn't directly answer the question. "[Johnson] always has a very personal approach toward the truth," the government spokesman replied. He added that he knows this "first-hand," since he "took part in talks with the then British prime minister in Munich only a few days before the start of the war."
Earlier on Wednesday, Johnson told CNN Portugal that Germany believed "it would be better for the whole thing to be over quickly, and for Ukraine to fold" before Russia launched its military campaign in Ukraine. Berlin also supported its position with "all sorts of sound economic reasons," the former British leader added.
Heberstreit shot back by saying that such a claim was simply unsupported by the facts. Chancellor Olaf Scholz and his government "made a break with a decades-long national practice of not sending weapons to crisis regions and warzones," he said, adding that German military aid to Kiev was "unprecedented both in terms of quality and quantity."
Following the start of Russia's military campaign in Ukraine, Germany implemented all Western sanctions against Moscow and sent massive amounts of weapons to Kiev, including both small arms and artillery, as well as air-defense systems. However, Scholz and his government were frequently criticized by both Kiev and his fellow German politicians for supposedly being reluctant to supply Ukraine with all the weapons systems it requested.