Gang Rapes Of Children Have Become a Common Occurrence in Sweden Under Liberals; Conservative MP Now Elected
https://thewashingtonstandard.com/shocking-graphic-report-swedish-girl-gang-raped-tortured-msm-remains-silent/
NEW STUDY: SPIKE IN GANG RAPES IN SWEDEN OWING TO MIGRATION
NEWS:
Eighty-two of 112 convicted of gang rape are foreign-born
You are not signed in as a Premium user; we rely on Premium users to support our news reporting. 
Sign in
 or 
Sign up today!
STOCKHOLM (ChurchMilitant.com) – A Swedish newspaper is reporting that migrants are a majority of gang rape convicts in the country.
Aftonbladet reported Monday that a study of 112 boys and men convicted of gang rape found that 82 of them were born in countries outside of Europe. Most of the migrants were citizens of Afghanistan, Iraq and Somalia.
This is despite the fact that gang rapes made up a small percentage of rape cases, with 29 of 286 rape victims alleging they were raped by multiple men. But gang rapes have more than doubled in four years, with 11 convictions in 2013, as compared to 29 in 2017.
Another report from Swedish tabloid 
Expressen
found 32 of the 43 gang rape convicts between 2016–2017 are foreign-born. And Swedish website "
Gang Rape Sweden
" claimed that between 2011–2015, 105 of the 125 persons accused and convicted of gang rape or sexual assaults were born outside of Sweden.
Criminology professor Henrik Tham commented on the statistics reported Monday, 
saying
, "I do not question that there is a clear overrepresentation. That there are cultural differences I do not exclude. But how much does it play? There are very few cultures that allow that kind of behavior."
Both reports claimed that the perpetrators of gang rape ranged between 15 and 20 years old. All 43 gang rape convicts between 2016–2017 were about 21-years-old when they committed the crime.
Between 2011–2015, 105 of the 125 persons accused and convicted of gang rape or sexual assaults were born outside of Sweden.
Gab
Tweet
The report on Monday found that seven out of ten assailants were between 15 and 20 years old, with the victim's median age being 15 years old. However, in some instances, both the convicts and victims were younger than 15.
Now referred to as the "
Rape Capital of the West,
" Sweden has experienced an unprecedented influx of Muslims since the 1970s when the country decided to become multicultural. According to 
Gatestone Institute
, an international nonprofit policy council, the country has suffered a 1,472 percent increase in rapes since pushing immigration in 1975.
But the country has a history of 
downplaying
 the number of rapes committed by migrants, going so far as to refuse to publish official statistics of crimes committed.
The Swedish government has sympathized with rapists and acquitted criminals while making excuses for the staggering number of cases, including Swedes are more likely to report crimes and laws have widened the definition of rape.
Police forces have also covered up gang rapes allegedly committed by migrant males. In February, Swedish police officer Peter Springare voiced his frustration over the country's shielding of gang rape criminals, saying, "There are also ethnic Swedes engaged in group violence but not in the same numbers as foreign-born offenders."
He also said despite the fact the issue of gang rapes is "new," it is a result of the last 10–15 years of immigration policy. He is currently under investigation by Bergslagen police who have begun an internal investigation into his comments.
Last year, Springare received similar backlash for claiming that the all serious criminal activity in Sweden is owing to migrants. "Here we go," he 
wrote
. "This is what I've handled from Monday–Friday this week: rape, rape, robbery, aggravated assault, rape-assault and rape, extortion, blackmail, assault, violence against police, threats to police, drug crime, drugs, crime, felony, attempted murder, rape again, extortion again and ill-treatment."
"Suspected perpetrators — Ali Mohammed, Mahmod, Mohammed, Mohammed Ali, again, again, again Christopher … what is it true? Yes, a Swedish name snuck in on the edges of a drug crime. Mohammed, Mahmod Ali, again and again," he 
continued
.
Following his statements, Springare was accused of inciting racial hatred, but after an investigation was conducted, the charges were dropped.
He was not the only one to come under fire for shedding light on the migrant crisis. In January 2017, Czech author Katerine Janouch was accused of "
spreading Russian propaganda
" for suggesting more Swedish citizens were learning how to fire a gun as cases of criminal activity increased.
But a Swedish citizen defended her, saying, "Katerina pointed out there are a number of areas in Sweden where the police, fire services, emergency services, won't go, and they are not the only ones."
Obviously this Liberal PM doesn't care how many CHILDREN get gang raped or even if they die as long as she can access the Money Her Position Lets Her-Psychopath Magdalena Andersson Resigns.
Magdalena Andersson: Swedish PM resigns as right-wing parties win vote
By Maddy Savage & Tiffany Wertheimer
BBC News, Stockholm and London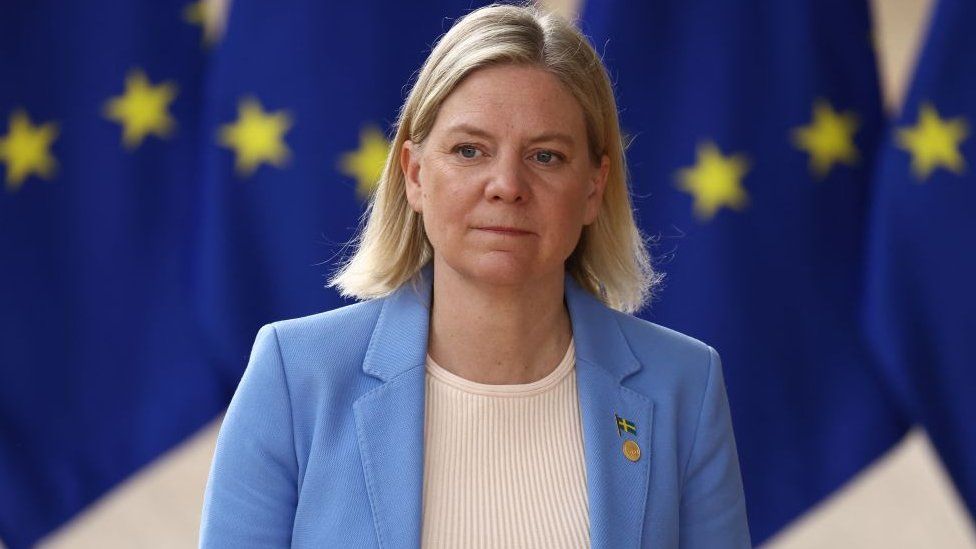 Sweden's prime minister has resigned after her government was defeated in Sunday's election.
Magdalena Andersson's centre-left bloc lost narrowly to a bloc of right-wing parties, 176 seats to 173, with 99% of the votes counted.
Moderate Party leader Ulf Kristersson is now expected to form a government.
His right-wing grouping includes the Sweden Democrats, a far-right party that has campaigned against rising gang shootings.
It is a huge blow to Andersson's Social Democrats, which gained votes compared to the last election, and remain Sweden's largest party.
But in Sweden, it is bloc politics that usually decides who gets into power and the right bloc has scored a razor-thin majority.
The final result is still to be confirmed after a recount, which is standard practice in Sweden.
Ms Andersson accepted defeat at a news conference on Wednesday. She formally offered her resignation on Thursday.
"In parliament, they have a one or two seat advantage," she said. "It's a thin majority, but it is a majority."
The close-fought election campaign was dominated by gangs, immigration and integration issues, as well as soaring electricity prices.
Ms Andersson was the Nordic nation's first female PM when she took office last year – she quit on the first day, before returning soon after.
She has been edged out by a four-party right-wing block made up of the Sweden Democrats, Moderate Party, Christian Democrats and Liberals.
It is a momentous turning point for Swedish politics – the Sweden Democrats was once treated as a pariah by political parties, but has now won around 20% of the vote.
It vowed to "make Sweden safe again" by bringing in longer prison sentences and restricting immigration.
However the party's leader Jimmie Akesson will not become prime minister, because he does not have the support of the other right-wing parties to take on the job.
Instead, Ulf Kristersson, leader of the Moderates has said he will start work to form a government.
"I am ready to do all I can to form a new, stable and vigorous government for the whole of Sweden and all its citizens," he said on Wednesday.
It remains unclear whether Mr Kristersson's government will involve a coalition or formal cooperation with the Sweden Democrats. He has already held talks this week with the leaders of the Christian Democrats and Liberal parties as well as the nationalists.
The Sweden Democrats is a party born out of a neo-Nazi movement at the end of the 1980s, which has slowly grown stronger while attempting to polish its image.
Although many of its policies are right-wing, it sits to the left of some other parties in the bloc on some economic issues, such as protecting the current level of unemployment insurance.
It started off growing its support base among rural working class voters, but this has now broadened. This year it has almost doubled its support amongst first-time voters, with some 22% of 18-21-year-olds voting for the party according to Swedish Public Service broadcaster SVT's exit poll survey.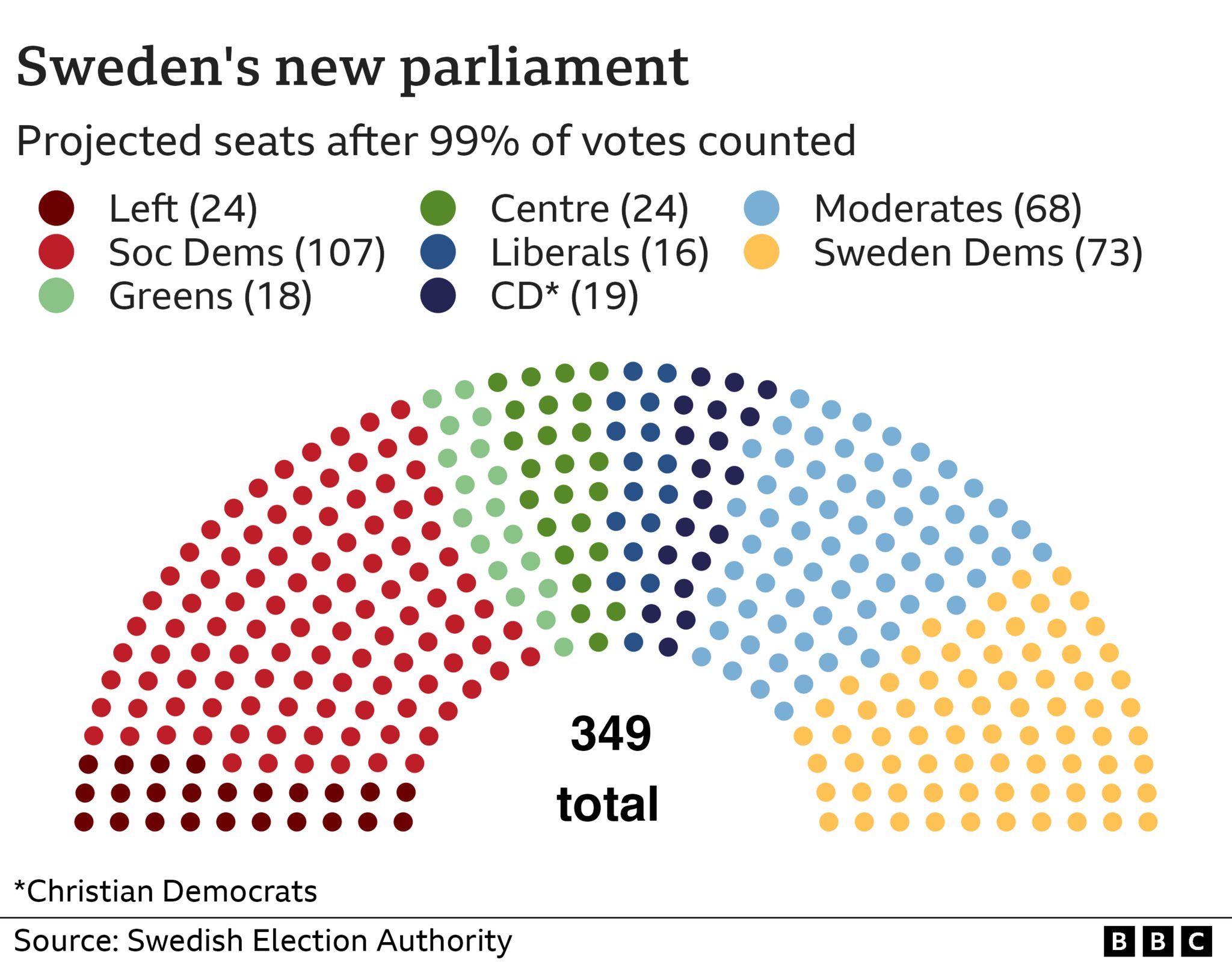 In 2019 Mr Kristersson started talks with the Sweden Democrats after years of declining to cooperate with them – a move which has now changed Sweden's political landscape.
Ms Andersson told reporters on Wednesday that she understood those concerned at the party's growing popularity. "I see your concern and I share it," she said.
Magdalena Andersson's Social Democrats had governed Sweden since 2014 and dominated the country's political landscape since the 1930s.
Sunday's vote was one of the closest elections ever in Sweden, with thousands of overseas and postal votes needed to be counted to get a clearer picture of who the winner was.
Sweden: Four in Five 'Refugees' Have Vacationed in the Country They Fled From. But Swedes Have Had Enough. By Paul Joseph Watson.
A new survey has found that almost four out of five refugees living in Sweden have vacationed in the countries that they originally fled from. …

"According to the survey, they do not wish, however, to return home permanently," reports Remix News. "When asked whether they plan to permanently return to their country of birth in the future, just 2 percent say they do, while 16 percent say maybe — 81 percent of those who arrived in Sweden from non-European countries say they do not, primarily because they believe Sweden to be a better country to raise their children."

The migrants are able to slip in and out of Sweden because there is no punishment for doing so, unlike in countries like Switzerland and Germany, where refugees who return to their home countries without permission face losing their asylum status. …
Self-styled "humanitarian superpower" is now the crime capital of Europe:
Over the last 20 years, Sweden has taken in more refugees per capita that any other western country, a process which has seen Sweden go from being one of the safest countries in Europe to the second most dangerous.

The unemployment rate for migrants is four times higher than native Swedes, with some migrant-heavy areas seeing jobless levels as high as 78 per cent.
More Swedes are now realizing what danger they are in:
The Swedes held an election on Sunday.  It was very close and vote counting and recounting went for a few days, but the result is now in:
Swedish right prepares for power as PM accepts election defeat. By Reuters.
The Moderates, Sweden Democrats, Christian Democrats and Liberals appear set to get 176 seats in the 349-seat parliament to the centre-left's 173 seats …

The election marks a watershed in Swedish politics with the anti-immigration Sweden Democrats … on the threshold of gaining influence over government policy.

The success of the party, which took over from Kristersson's Moderates as the country's second biggest, has raised fears that Sweden's tolerant and inclusive politics are a thing of the past.

However, their mantra that Sweden's ills — particularly gang crime — are a result of decades of overgenerous immigration policies have hit home with many voters.
Despite the best propaganda from their betters that money can buy. Unsubverted democracy is so dangerous!