Game Changer: Russia Wants Russian Rubles to Pay For Gas Starting March 31st (3 Days)
28 Mar, 2022 09:14HomeBusiness News
Russia sets ruble gas payment deadline
President Putin says 'unfriendly countries' must switch to its currency by March 31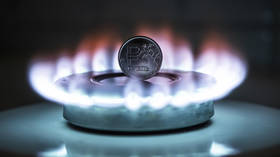 © Getty Images / Diy13
Russian President Vladimir Putin has authorized the government, the central bank, and Gazprombank to take the necessary steps to switch all payments for Russian natural gas from "unfriendly states" to rubles starting March 31.
The measure targets "member states of the EU and other countries that have introduced restrictions against citizens of the Russian Federation and Russian legal entities," the mandate published on the Kremlin website reads.
Russia will stop shipping natural gas to countries refusing to settle payments in rubles, Kremlin spokesperson Dmitry Peskov said on Monday.
The decision, first announced last week, came as Russia's oil trade has been left in disarray as importers put orders on hold due to the latest sanctions introduced against Moscow over its military operation in Ukraine.READ MORE: Gas payments in rubles would backfire on EU sanctions – media
The conflict in Ukraine and the anti-Russia sanctions that followed have raised concerns of a global economic crisis. Skyrocketing commodity prices are sending the costs of consumer goods, energy, and food ever higher, giving rise to fears of a possible recession in many countries and even hunger in some parts of the world.
Russia's decision to switch payments to its domestic currency has been made in response to the unprecedented penalties imposed by the US and its allies on the country's financial system.
The ruble plummeted to record lows after Western nations and Japan blocked Russia's access to some of its international reserves. Since last week's currency-switch announcement, the ruble has reached its strongest level against the US dollar and the euro in nearly a month.
For more stories on economy & finance visit RT's business section
Comment: This will lead to the U.S. Dollar Collapsing. We in the United States Will All be in Poverty as people starve b/c our Mis-Leaders Imposed Sanctions on Russia. Our leaders don't care about us. If they did they wouldn't do this. They are run by the Synagogue of Satan Jews. As such Uncle Sam has become Uncle Satan kowtowing to the Synagogue of Satan.
28 Mar, 2022 08:03HomeBusiness News
India ready to bypass dollar in trade with Russia
A mechanism allowing the switch to domestic currencies is expected to be operational this week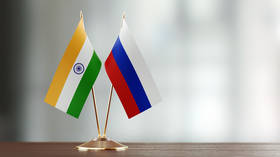 © Getty Images / MicroStockHub
A system allowing direct rupee-ruble payments in trade between Russia and India could be launched this week, the president of the Federation of Indian Export Organizations (FIEO), A Sakthivel, told CNBC on Wednesday. The arrangement would allow India and Russia to carry out financial operations bypassing the US dollar. Russia is effectively blocked from using US currency due to Western sanctions over the conflict in Ukraine.
According to the official, the Indian government is working on a proposal to allow up to five nationalized Indian banks to be engaged in the rupee-ruble trade mechanism, and discussions between the central bank governor, the finance minister, and the banks on the matter have already been held. The arrangement would let Indian exporters continue doing business with Russia despite sanctions banning, among other things, international payment mechanisms in the country, such as SWIFT. It would also let India continue buying Russian energy exports and other goods.
According to Sakthivel, the Indian economy could profit from sanctions Russia is facing, as they give Indian exporters an opportunity to expand on the Russian market.READ MORE: US urges India to think twice before buying Russian oil
"Export to Russia is not much, only in agriculture and pharmacy products. Now that the whole of the West is banning Russia, there will be a lot of opportunities for Indian firms to enter Russia," he stated.
India's finance ministry and the Reserve Bank of India have not yet commented on the new trade arrangement.
Unlike the US and the EU, India has not criticized Russia over its military operation in Ukraine, and has abstained from condemning Moscow during the recent UN voting rounds. When asked whether India's continued commerce with Russia would draw Western ire, Sakthivel said his country had taken a "neutral stand" on the situation in Ukraine.
"The government will take into account all the factors. The government is playing it very carefully," he stressed.
India exported $3.3 billion worth of goods to Russia in 2021, mostly pharmaceutical products, tea, and coffee. In terms of imports, India bought $6.9 billion worth of Russian products, including arms and defense goods, mineral resources, fertilizers, metals, diamonds and other precious stones. India also imports Russian oil, with recent media reports stating that the country's major refiner, Indian Oil Corp, has stepped up purchases of Russian crude over the past month. India is also reportedly considering buying raw materials from Russia and Belarus for fertilizer production amid skyrocketing commodities' prices.
For more stories on economy & finance visit RT's business section