StopTheCrime.net: Early Warnings of Earthquake in San Francisco
EARTHQUAKE: EARLY WARNING – SAN FRANCISCO – 68 (Sixty-eight) SF high-rises have potential flaws prone to crack in quake, report says – SFChronicle.com 11/2018
This is a developing story . . .
You will read our insider comment
Quote – William S. Cohen, United States Secretary of Defense in April, 1997
Two San Francisco Chronicle articles
and THE CONCLUSION – About Earthquakes . . .
This Earthquake Landmark Report includes building locations and maps. . .
These maps are handy for identifying building locations that are specifically vulnerable for structural steel weld joint fractures during a quake.
San Francisco high-rise buildings have LIKELY been identified for direct targeting. It will be important to track those rogue agencies that WILL likely target these buildings with (DEW's) Directed Energy Weapons. The coming quake attacks to bring down or damage these buildings beyond structural repair will also likely worry those current occupants.
ELF Waves Cause Earthquakes – Force from a distance!
We have learned that East Coast news coverage did not cover the California fires of 2017 and 2018 as in-depth as the media coverage for hurricanes. However, we are informed they would cover earthquakse since there would be MORE photo and coverage value than with the fires. Really!
Remember the U.S. Military conducted Operation Sea Spray over San Francisco in the 1950's. (You can look that operation up for yourself).
_______________________________________________________________________
Quote – From William S. Cohen, United States Secretary of Defense in April, 1997
"Others are engaging even in an eco-type of terrorism whereby they can alter the climate, set off earthquakes, volcanoes remotely through the use of electromagnetic waves."
— United States Secretary of Defense William S. Cohen, April, 1997
Secretary Cohen made this statement at a conference on Terrorism, Weapons of Mass Destruction and U.S. Strategy in his official capacity as the US Secretary of Defense; thus this can be taken as an official position of the United States. Further he used the word "are," not "could," "might" or "maybe sometime in the future." He further added: "It's real, and that's the reason why we have to intensify our efforts." If the United States Secretary of Defense says that the earth and the sky have been turned into weapons, and are being used as such in present time, I believe we should take this statement very seriously.
WEATHER WARFARE: The Military's Plan to Draft Mother Nature is not "conspiracy theory." there is solid evidence from military and scientific sources that intentional environmental modification (EnMod) is the 600-pound gorilla at the global warming debate that everyone is pretending isn't there.
___________________________________________________
Dozens of high-rises dotting the city's skyline – 68 in all – share a set of features that could render them particularly vulnerable when the next major earthquake strikes.
The buildings were all completed between 1964 and 1989, and all have steel skeletons. Beneath the buildings' skin, the joints connecting the vertical columns and horizontal beams are fused together with a welding technique that experts now know is particularly susceptible to fracture during an earthquake.
The weakness of the welds wasn't widely known when the Loma Prieta quake struck San Francisco in 1989. It wasn't until January 1994 – after the Northridge quake in Los Angeles – that developers realized the welds were prone to crack in an earthquake.
Since San Francisco inspectors never checked for the same kinds of fissures after the magnitude 6.9 Loma Prieta, damage to the buildings' frames could have gone undetected for decades.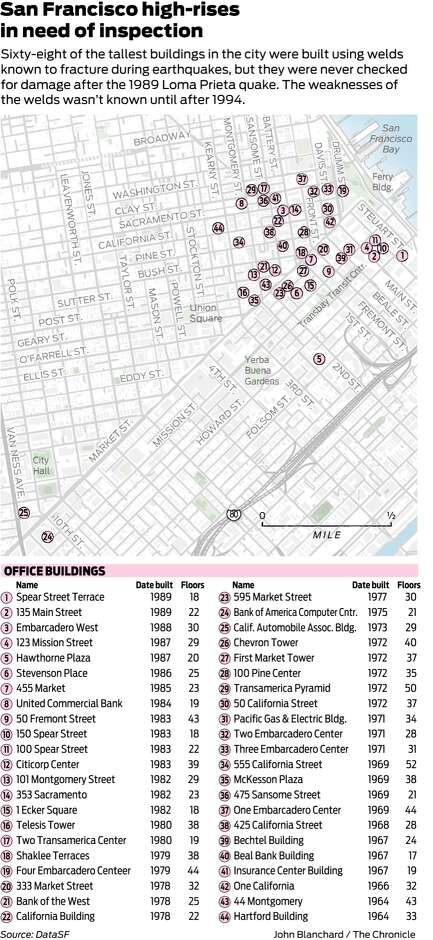 That doesn't necessarily mean the high-rises are unsafe, but city officials won't know for sure until inspections are completed. City officials are figuring out how to implement new requirements to ensure that buildings that might have sustained unseen damage from the Loma Prieta quake get the scrutiny they need.
"We don't want to cause panic that these are very dangerous buildings," said Danielle Hutchings Mieler, a principal analyst in the city's Office of Resilience and Capital Planning. Some of the buildings might have been privately inspected for insurance appraisals or when the building goes up for sale.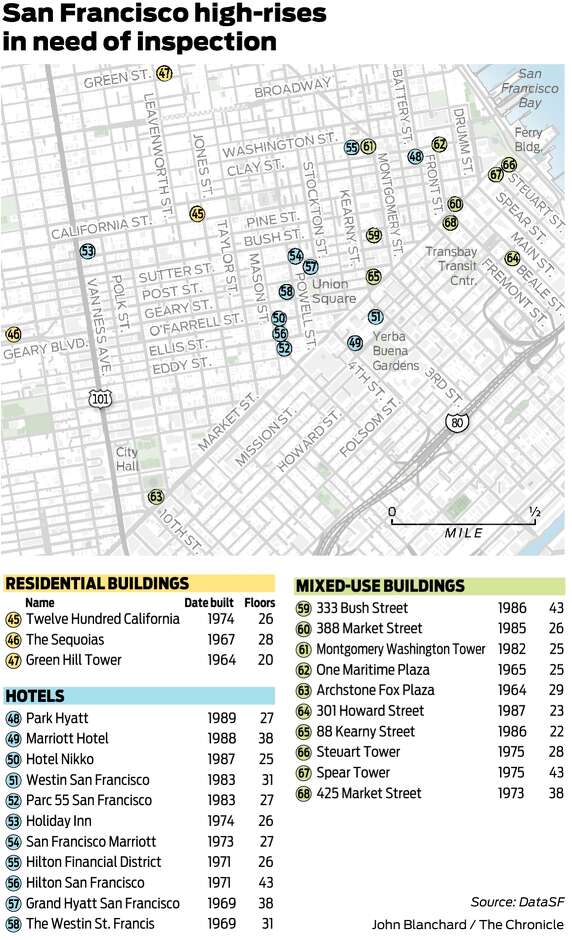 Plus, Hutchings Mieler said, it's "unlikely that there is much significant damage – the shaking levels from Loma Prieta weren't very strong in most parts of downtown."
The report was written by experts from the Applied Technology Council, a nonprofit California research organization. It focused on buildings at least 240 feet tall, or around 18 stories.
The report was commissioned by former Mayor Ed Lee after revelations that the Millennium Tower on Mission Street was sinking and tilting to one side. The building's troubles sparked fears about what could happen to it and similar structures in a major earthquake.
"San Francisco must continue to lead on seismic safety, especially in our tall buildings. Experts agree that if we inspect and repair buildings now, we improve safety and reduce damage tomorrow," Kelly said in a statement sent by a spokesman. "The city should take the advice of professional engineers to ensure that tall buildings are safe for residents, workers and visitors."The U.S. Geological Survey estimates that San Francisco has a 72 percent chance of getting hit by at least a 6.7-magnitude earthquake by 2043.
The weaknesses in the moment-frame welds weren't fully exposed until the 6.7-magnitude Northridge quake in Los Angeles. No steel-frame buildings collapsed in that earthquake, Deierlein said, but subsequent inspections revealed that those particular welds were prone to crack when the earth heaved.
"Frankly, Northridge pointed out that the whole profession was a little blindsided by this," Deierlein said.
Currently, San Francisco's building codes automatically require seismic upgrades when construction alterations affect two-thirds of a building's floors, but that's a rarity for high-rises. As a result, "even the most collapse-prone buildings almost never receive the scrutiny intended by the code," the report said.
Exactly how city officials will go about altering building codes to require inspections for moment-frame weld damage in high-rises completed before the Loma Prieta quake in 1989 remains in question. Certain changes might be more effective as legislation, others may only require administrative changes, Hutchings Mieler said.
The city could, for example, require a moment-frame weld inspection when building owners get permits to perform renovations or other work at their property. And beginning next year, officials will begin amending the city's building code as part of a process that happens every three years to ensure that local regulations comply with changes to state law.
"It's obvious what the next step is for us – addressing the potential damage in these buildings," Hutchings Mieler said.
"What we don't have right now is a way to relay, 'If you found X number of damaged welds, how does that translate into a trigger that would require an upgrade.'"
FIRES RAGE – in The Land Down Under . . .
is Queensland Targeted with DEW's?

 

Climate Change "IS" Weather Control . . . and their plans forewarned of the different weaponized weather attacks that will be used.


 

The City of Melbourne Climate Change Adaptation Strategy and Action Plan is provided in the link below:

 

Excerpts from the PLAN:

Risks and impacts addressed

CoM was forewarned that by 2030, the City is likely to be significantly affected by warmer temperatures and heatwaves, lower rainfall, intense storm events and flash flooding1. In addition, four potential extreme event scenarios for the broader Melbourne region required a more comprehensive assessment of these climate change risks: * Less rainfall and more chance of drought

* Extreme heatwaves and bushfires

* Intense rainfall and wind storms

* Sea level rise

Each risk was assessed on a 1 to 5 scale for its likelihood of occurring and the consequences. Critical risks requiring
the most serious management and

monitoring attained a combined rating of 7 or more. All critical risks have been detailed to identify their risk attributes, stakeholders, recommended adaptation measures and next steps.

Immediate impacts of intense rainfall and wind events, heatwaves and droughts

Queensland bushfire emergency continues for Deepwater and areas around Mackay, Rockhampton
Residents in parts of central Queensland are again being told to leave immediately as bushfires flare up in Winfield and Captain Creek as well as Broken River west of Mackay.

·        

 

120 fires continue to burn across Queensland

·        

 

A leave now alert is in place for 

Stanwell, Kabra, The Caves, Winfield, Captain Creek, Broken Hill, Deepwater, Baffle Creek, Rules Beach

 and 

Oyster Creek

·        

 

Residents need to stay informed regarding fires in 

Gracemere, Undullah

, and 

Round Hill

·        

 

The

 Campwin Beach

 and 

Wamuran 

fires have been downgraded to advice level

·        

 

More than 60 schools are closed around the state

Here's the ABC's Lexy Hamilton-Smith with the latest from emergency management HQ:

They are saying that conditions are extreme, not catastrophic. And the winds are picking up this afternoon which is why we have lot more spot fires at this point. We have spoken with the Fire Brigade, they say the fires yesterday near Gladstone, there were flames up to 20m high, and some residents who look like they have lost a bit of property have said it was like tornado winds, so extremely frightening in that area. So while there is some relief today and round here at headquarters, there are few smiles on people's faces at this point. They say it is still dangerous and people have to be on extreme alert.

And James Hancock in Gracemere:

People I've spoken to describe the terrifying scene as the fire storm approached yesterday. They are counting their blessings today that no properties were damaged. Following on from what Lexy has said, I am outside Gracemere, next to Kabra and the latest advice for the Kabra fire, formerly the Gracemere fire, is for residents to prepare to leave. The latest information is firefighters are battling the fire on several fronts, in the process of putting in firebreaks to protect homes. Some homes are threatened by the fire at Kabra and in surrounding areas. I am outside the Kabra pub where a staging post has been set up by firefighters as they monitor the fire ground and send resources. Water bombers are in the air this afternoon helping firefighters on the ground to try to get on top of the blaze. Certainly it is a changing situation minute by minute and the latest information for the Kabra fire is for residents to prepare to leave with the fire threatening homes.