Activism! With FreedomWatchUSA.org (Deep State Zionist Mafia Running a Coup Against Elected President)
Klayman: Another Hack Leftist Judge! The Legal System Has Virtually Collapsed! Go towww.FreedomWatchUSA.org to Join Our Judicial Section Strike Force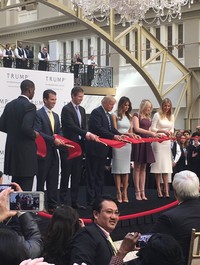 By Stephen Dinan
The Washington Times
July 26, 2018
President Trump's proceeds from his business empire are "emoluments" under the Constitution, so a lawsuit challenging the president's refusal to distance himself from his hotels can move forward, a federal judge ruled Wednesday.
District Judge Peter J. Messitte said Maryland and the District of Columbia have "convincingly argued" that Mr. Trump may be enriching himself from his hotels while serving as president.
Support Our Cause and Join Our Fight!
Your help is urgently needed!
Dershowitz: 'No Federal Crime, No Impeachable Offense'
Legal expert Alan Dershowitz (Genya Savilov/Getty Images)
By Solange Reyner    |   Tuesday, 24 July 2018 10:02 PM
Harvard law professor Alan Dershowitz on Tuesday questioned why President Donald Trump's legal team waived the privilege to secret recordings between Trump and former lawyer Michael Cohen, following the release of a portion of the audio on CNN.
"Why waive this lawyer-client communication? It's an honest conversation, and it ends up with the president doing the right thing," Dershowitz said. "Why do you have it out there?"
When asked whether the tapes would hurt Trump, Dershowitz said "this is all political."
"There is no crime here – there's no federal crime, no impeachable offense," he added. "This is all how the president looks in the court of public opinion."
The portion CNN aired included then-candidate Trump discussing arrangements related to the payment to former playmate Karen McDougal.
"I need to open up a company for the transfer of all of that info regarding our friend David," Cohen told Trump, likely a reference to American Media CEO and chairman David Pecker.
McDougal was silenced by Pecker, who bought her story for National Enquirer and then spiked it.
Trump interrupts Cohen, asking, "What financing?"
Cohen tells Trump, "We'll have to pay," and then Trump is heard saying "pay with cash."
But the audio is not clear on whether Trump meant to pay with cash or not pay with cash.
Cohen says "no, no," but it is unclear what is said next.
Dershowitz told Cuomo the attorney, Cohen, led the client, Trump, to "do the right thing."
"Well, here you have the client maybe saying, 'let's pay cash,'" Dershowitz explained of the audio exchange. "The lawyer says, 'no, no, no; do it by check.' And the client comes back and said, 'I'll do it by check.'
"That's a typical conversation. I've had that conversation a dozen times with clients, and you persuade them to do the right thing."
Dershowitz did admit, though, in the "big picture," this audio shows:
"Number one, Lanny is a terrific lawyer – and so there is a real lawyer who is now against Trump, unlike [Michael] Avenatti and some of the others – a really, really good lawyer who is on this case.
"Second of all, you have a situation where, you know, [Cohen's] going to flip. There's no question. He's now made it clear."
Read Newsmax: Dershowitz on CNN Audio: 'There Is No Federal Crime Here' | Newsmax.com
Urgent: Do you approve of Pres. Trump? Vote Here in Poll