We Are Change Mail
---
'You The Jury': Fox To Air Reality Court Show Where Viewers Decide The Verdict
Posted: 10 Mar 2017 11:42 AM PST
Fox has ordered an unscripted reality TV show called "You The Jury" which will allow viewers to text in their verdict deciding civil cases.
The show will be hosted by Fox News' Judge Jeanine Pirro the show premieres Friday, April 7 at 9/8c on Fox TheWrap reported.
Pirro will be joined by six attorneys: Jose Baez, who defended Casey Anthony; Benjamin Crump, who fought for justice for Trayvon Martin; celebrity attorney Joseph Tacopina, Areva Martin, Mike Cavalluzzi and Charla Aldous.
The attorneys will present their case to a former judge of the Superior Court of California LaDoris Cordell.
Each case will touch on hot-button issues, such as online trolling, gay rights and religious freedom according to Fox.
Here's how the show will work:
"After a case has been presented during the East coast and Central time zone broadcast, viewers get about five minutes to vote via text and the Fox Now App. The binding legal decision will be revealed at the very end of the episode. However, when the West Coast votes, if the cumulative votes (East/Central and West coast/Mountain time zone combined) lead to a different verdict, the original verdict will be overturned as the final outcome of the case," The Wrap wrote.
NBC ordered a similar reality show with roughly the same title in 2015 called "Law & Order: You the Jury."
Like Fox's new show "Your The Jury" NBC's "Law and Order: You The Jury" was set to be a one-hour show that would air live civil cases and allow viewers to vote on the outcome of the verdict.
The status of NBC's program whether or not it's still in production is not known. Although Entertainment Weekly noted that the producer Dick Wolf's bio on NBC listed the show as "upcoming."
You can watch a preview for Foxs' new show You The Jury below.
"Welcome to the new face of American justice," Pirro says in the promo for the series (above.)
What do you think about Americans being able to decide the fate of people through a text message?
Is this a new revolutionary way to the court system, or is it dangerous?
Let us know in the comment section below!
The post 'You The Jury': Fox To Air Reality Court Show Where Viewers Decide The Verdict appeared first on We Are Change.
Gateway Pundit Reporter Attacked During White House Press Briefing
Posted: 10 Mar 2017 11:33 AM PST
Lucian Wintrich, who is reportedly the first openly gay White House correspondent, was attacked by an unhinged Fox News Radio reporter while attending the administration's press briefing on Friday.
Jon Decker asulted me at today's briefing. @FoxNews – is this behavior something you tolerate over there? He's sick .https://t.co/gzZhhIzOMD pic.twitter.com/ThppoHpRQw

— Lucian B. Wintrich (@lucianwintrich) March 10, 2017
The "Twinks for Trump" artist was at the White House to do his job on Friday, when Jon Decker of FOX News Radio assaulted him multiple times in front of his peers. According to Wintrich, the radio host pushed him in the break room before approaching him and assaulting him a second time in the press briefing room.
"He came out of nowhere and cornered me in the back room, not letting me pass. He started calling me a Nazi – despite many of my family members dying in the Holocaust. When I asked him why he was being so aggressive and why he thinks I'm a Nazi, he admitted that he never actually read anything I wrote or the Gateway Pundit," Wintrich told We Are Change. "He's a truly sick guy, Fox needs to address behavior like this in their staff."
@lucianwintrich @FoxNews this needs to me memed pic.twitter.com/4V0VcVL7xi

— Kellz (@ChippedKelly) March 10, 2017
Decker also pointed Wintrich out and began shouting to everyone in briefing room that Gateway Pundit "hates blacks, Jews, Hispanics," Buzzfeed's White House correspondent Adrian Carrasquillo reported on Twitter.
Fox News Radio John Decker just loudly told everyone in briefing room that Gateway Pundit is here "they hate blacks, Jews, Hispanics." Wild

— Adrian Carrasquillo (@Carrasquillo) March 10, 2017
He was speaking to Lucian Wintrich. He said it twice, pointing to him, so everyone knew who he was. https://t.co/42njWQQ0fX

— Adrian Carrasquillo (@Carrasquillo) March 10, 2017
The Gateway Pundit is not a neo-Nazi website, but simply a right-wing outlet with a pro-Trump perspective.
"Your WH Radio reporter assaulted me twice & while calling me a Nazi. I had never met or spoken with him before," Wintrich tweeted at Fox News Radio. "Half of my family died in the holocaust. Calling me a Nazi is not only wildly inaccurate but truly disgusting. He cornered me in the back room, pushing me toward a table, then he followed me out to the briefing room screaming."

"Then he sat down starring at me from his chair, creepily smiling. This was unprovoked assault. He needs to be fired," Wintrich continued.
Decker's actions were denounced by other White House correspondents on Twitter, including Andrew Feinberg of Sputnik News.
Drama in WH press room between @lucianwintrich and Fox reporter I don't know. Not helpful for anyone. Let's stay calm everyone.

— Andrew Feinberg (@agfhome) March 10, 2017
Reporter screaming at @lucianwintrich was Fox Radio's John Decker. Not helpful or professional

— Andrew Feinberg (@agfhome) March 10, 2017
Shortly after the incident took place, Wintrich announced that he will be pressing charges against Decker over the assault.
After this briefing, I am going to be filing assult and harassment charges against Jon Decker. https://t.co/RiVM1yYCJv

— Lucian B. Wintrich (@lucianwintrich) March 10, 2017
Fox News Radio has not yet publicly responded to the incident.
The post Gateway Pundit Reporter Attacked During White House Press Briefing appeared first on We Are Change.
People Are Asking Their Devices If They Are Connected to the CIA (VIDEOS)
Posted: 10 Mar 2017 07:53 AM PST
In the wake of the WikiLeaks "Vault 7" revelations, worried citizens are now asking their internet-connected devices if they are working with the Central Intelligence Agency, and their answers are fascinating.
A Twitter user named Stephen Beard asked, "Google Home, are you connected to the CIA?"
"Google Home, are you connected to the CIA?" pic.twitter.com/8U9HWlcLtk

— ? Stephen Beard ? (@SMABSO) March 9, 2017
"I have to admit, I'm not sure," Google Home responded.
Another user asked their Amazon Echo, "Alexa, do you work for the CIA?"
So now Alexa says she doesn't work for the CIA… but… pic.twitter.com/ESzElchRRn

— Miss Bunny Mickley ? (@bunnyhalberd) March 10, 2017
"No, I'm not employed by them. I am made by Amazon," Alexa responded.
The user next asked, "Alexa, does Amazon work for the CIA?" This prompted the Echo to turn off, dodging the question.
Another user asked their Alexa, "are you connected to the CIA?" Their device also refused to respond.
Why does Alexa shut off when you ask her about us? pic.twitter.com/V20jh81wEI

— CIA Meme Office (@CIAMemeWarfare) March 9, 2017
Seemingly every user who attempted to ask their Amazon Echo the question received the same response, the device shuts down. While some have argued that it may be due to the virtual assistant not being able to find the answer to the question, the device is actually programmed to respond with "sorry, I can't find an answer to the questions I heard," if that is the case.
@localbusinessco Hey…had a friend try it also….#Vault7 #CIA #Alexa #TheFifth ?????? pic.twitter.com/cfnGneQB3x

— Secretary Of Beers? (@OKMasCerveza) March 8, 2017
Not reassuring. #amazonalexa #CIA #alexaCIA pic.twitter.com/r7hQjSloLk

— Joel Kelly (@JoelKellyDesign) March 9, 2017
Virtual assistants such as Apple's Siri, Google's Now and Assistant yielded similar responses from the same line of questioning, Reddit users found.
@CassandraRules @Lukewearechange pic.twitter.com/644wZDAMkS

— Dylan (@Infuriating) March 10, 2017
The 8,761 documents released by WikiLeaks are said to have been obtained from an "isolated, high-security network" at the CIA Center for Cyber Intelligence in Langley, Virginia. Included in the files were details about a shocking CIA program called "Weeping Angel," which allows Samsung televisions to be used as recording devices even when they appear to be off.
Another detail included in the disclosure is that the agency has the capability to record sounds, images and private text messages sent on smartphones, even if the person is using encrypted apps to avoid hacking and surveillance. So, even if you are using Signal, Telegram, or WhatsApp, the CIA has direct access to your device, and your original pre-encrypted information.
In 2013, it was revealed that Jeff Bezos, the owner of the Washington Post and retail behemoth Amazon, had secured a contract for $600 million with the intelligence agency.
The post People Are Asking Their Devices If They Are Connected to the CIA (VIDEOS) appeared first on We Are Change.
Iceland Passes Law Requiring Equal Pay For Men And Women
Posted: 10 Mar 2017 12:41 AM PST
The Nordic nation is the first in the world to require companies to pay men and women equal salaries for completing the same work.
Article via True Activist
On International Women's Day, most people were occupied and in awe of the fact that a $2.5 trillion asset manager installed a statue of a young girl staring down the iconic bull on Wall Street. While that news was applaudable, an important milestone was missed at the same time.
To celebrate International Women's Day, Iceland passed a law which requires companies to pay men and women both equal and fair wages. It is the first country in the world to require both public and private firms with 25 or more staff to obtain a certificate demonstrating that they pay all employees equally, "regardless of gender, ethnicity, sexuality, or nationality."
"Gender equality benefits all of us," commented Iceland's Prime Minister Bjarni Benediktsson. "We may rank number one in the world at the moment, but the job is not done still."
This change comes partially as a result of Icelandic women leaving their workplaces at 2:38 PM in October to demonstrate outside parliament. Tens of thousands gathered to protest the gender pay gap and to proclaim that it isn't fair that individuals of different sexes receive different wages for completing the same work. It's important to note that the time the activists departed was significant, as it represented the moment during a 9-5 workday women, on average, begin working for free.
Even though the World Economic Forum has ranked Iceland to be a top location in terms of gender equality for the past eight years, women in the Nordic nation still earn up to 18% less than men on average. The new law was passed to help combat the pay gap. One might hope that in the process, a new precedent is set for other countries to follow.
According to NPR, Iceland intends for the legislation to go into effect by 2020. The pay equity proposal has widespread support in parliament, which is nearly equally divided between male and female lawmakers.
What are your thoughts? Please comment below and share this news!
---
This article (Breaking: Iceland Passes Law Requiring Equal Pay For Men And Women) is free and open source. You have permission to republish this article under a Creative Commons license with attribution to the author and TrueActivist.com
The post Iceland Passes Law Requiring Equal Pay For Men And Women appeared first on We Are Change.
Turkey vs. Greece: Will Russia Be Able To Ease Tensions?
Posted: 10 Mar 2017 12:23 AM PST
Turkey vs. Greece – Russia To Ease Tensions?
Article via Strategic-Culture
Turkey came very close to crossing Greece's red lines in the Aegean last week, when a Turkish coast guard vessel fired shots in Greek territorial waters east of the islet of Farmakonisi, said Greek Foreign Minister Nikos Kotzias in an interview with Kathimerini newspaper on February 21, calling on Ankara to "rethink again these games".
"Some people in Turkey think that Greece could be like Syria or Iraq. The 'game' they played at Farmakonisi is a serious violation of international law and I think they should know that we will not always be tolerant, that our response will not only be the one that we gave then, that it will be much harsher", the minister warned leaving no doubt Greece is ready to take action if need be. "We are not Syria, which has been destroyed, nor a disorganized Iraq… Turkey is making a mistake if it thinks that because we have an economic crisis we are weak as regards our country's security", he added.
The tensions between the two nations have exacerbated recently over the Cyprus question and the disputed Imia (Kardak) islands in the Aegean Sea. Ankara believes the islands are in «gray zones» — meaning «undetermined sovereignty by Turkey» — and therefore Greece cannot claim them. Incidents at sea have become routine to sour the bilateral relationship. Dogfights have taken place over the islands of Lesbos, Chios, Samos and the Dodecanese archipelago.
The Aegean dispute has been a major source of tension between Greece and Turkey since the 1970s, bringing the two countries to the brink of military confrontation in 1987 and 1996.
The dispute revolves around a set of issues involving the delimitation of territorial waters, airspace, demilitarized zones and the status several Aegean Sea islands. Since oil was found on the Aegean Sea's continental shelf, the disputes over the uninhabited islands flared up.
Both Greece and Turkey issued permits to their companies to extract oil in the disputed waters. No international effort has been able to mitigate the tensions.
The UN-sponsored talks to reunify Cyprus in Geneva have got stalled in January without tangible progress achieved. According to Al Jazeera, the process hit a hard wall recently after the Turkish Cypriot side decided not to attend a scheduled meeting between the island's rival leaders over a Greek Cypriot decision to celebrate a nationalist commemoration at schools.
Greek Cypriot leader Nicos Anastasiades and Turkish Cypriot leader Mustafa Akinci were scheduled to meet on February 21 in the divided island's buffer zone. But tensions rose in recent days after the February 10 vote by Greek Cypriot MPs for public schools to honor the anniversary of a 1950 referendum for union with Greece. Ozdil Nami, the Turkish Cypriot negotiator in the peace talks, said a decision to commemorate such an event is at odds with the ongoing peace negotiations.
A Greek court's decision to not extradite military officers who had fled the country as suspects in the July coup attempt was perceived as an unfriendly gesture in Turkey. All told, the situation is so tense that a single spark is enough to start a big fire.
The rising tensions with Greece could negatively affect Turkey's relations with the EU, which are already strained because of the refugee crisis, the EU's refusal to fulfill its promise to liberalize its visa requirements for Turkish citizens and disputes over human rights issues. The EU's relationship with Turkey is complicated, but the last thing the Union wants is the breakup of the agreement on refugees.
The tensions between Greece and Turkey – both NATO members – have always been a headache for the alliance. If push comes to shove, NATO will face an unprecedented situation with two member states shooting at each other. The Washington Treaty does not foresee such a scenario. The US is too busy with domestic policies to effectively mediate an international dispute.
Russia is in a unique position to act as an intermediary. True, its relationship with NATO is at fairly low ebb, but nothing is absolutely black and white in international affairs.
Moscow's enjoys a special relationship with Greece – a NATO member. The countries are incredibly close. Inside the EU, Greece has joined a group of countries comprising Hungary, Cyprus and the Czech Republic, which openly calls for lifting the anti-Russia sanctions. Last May, Russian President Vladimir Putin visited Athens to sign a host of bilateral agreements. The bilateral agenda includes military cooperation. Athens is negotiating with Moscow for the purchase and maintenance of the Russian-made S-300 air defense systems delivered in the late 1990s.
Greek Defense Minister Panos Kammenos Greece will seek to obtain a license to manufacture Kalashnikov assault rifles in Patra as soon as the EU lifts ends its trade embargo against Russia. The co-production in a factory in Aigio in northern Peloponnese is expected to be a major boost for Greece's defense industry.
Top NATO officials have even raised concerns that attempts by Greece to forge a defense pact with Moscow could seriously undermine the united front against Russia.
Turkey is Russia's close ally in the fight against terrorists. Russian aviation supports the Turkish forces conducting the offensive to retake al-Bab, Syria, from Islamic State militants. No Turkey's NATO ally has done it. Both nations have joined together in launching the Astana process aimed at achieving peaceful settlement in the war-torn Syria. Turkey is another NATO member willing to develop military cooperation with Russia. It is in talks with Russia regarding the purchase of advanced S-400 long-range air defense missile systems. The countries study the prospects for procurement deals in electronic systems, ammunitions and missile technology.
Unlike other major European powers, Moscow is really interested in maintenance of peace in the Aegean Sea due to its geographic position. Russia has mediated between Syria's government and Turkey.
Perhaps, it is best suited to accomplish the mission after NATO and the EU have proven to be inferior to the task.
---
This article first appeared on Strategic-Culture.org and was authored by Andrei Akulov.
The post Turkey vs. Greece: Will Russia Be Able To Ease Tensions? appeared first on We Are Change.
Trump Resumes Arms Sales To Saudis Previously Frozen Under Obama
Posted: 10 Mar 2017 12:14 AM PST
Article via Geopolitics Alert
The US State Department under Donald Trump announced yesterday that they will green-light the sale of weapons to Saudi Arabia that were previously frozen in the final months of the Obama administration.
The State Department announced the resumption of the sale of arms yesterday, that will primarily be used by Saudi Arabia to fight their ongoing war in Yemen. The problem is that the announcement did not include any conditions that would require the Saudis to improve the standards used in this war that have already led to a host of war crimes and human rights violations.
This move comes at a time where Trump is stepping up operations by US forces in Yemen, fighting the al Qaeda branch; al Qaeda in the Arabian Peninsula (AQAP). AQAP however, has not been the primary target of the Saudis who are currently engaged in fighting with the Houthis allied with the segments of the Yemeni army who have rejected the Saudi backed government that was installed before the war.
Saudi Arabia has already been accused of committing war crimes in their attacks on Yemen by the United Nations, in a campaign that has been facilitated by the US since its inception. Obama previously supplied the Saudis with weapons for this military venture but even after his mostly symbolic halt of arms shipments, US planes were still refueling Saudi bombers and US intelligence was providing targets to the Saudi Air Force.
The weapons shipment will primarily consist of technology used to carry out more precision air strikes, but even with that in mind there is cause for concern. The U.K., which has already been providing technology like this, have had concerns that they've sold more bombs than there were actual targets for in the small country. So despite the "precision" of these weapons, it's know the Saudis continue to intentionally target civilian infrastructure.
This is just the latest step in Trump's growing relationship to the Saudis, despite his promises to flip US foreign policy upside down. Instead the new administration has decided to further prop up the number one terror exporter in an attempt to apply more pressure to Iran, who Trump blames for the hostility in Yemen.
This also goes against the criticism Trump had of Hillary during the presidential campaign for accepting millions of dollars from the oil kingdom via the Clinton Foundation. Trump has also moved to reinstate Hillary Clinton's disastrous plan for 'safe zones' in Syria that he says the gulf states would pay for, which are also likely to become places for extremists backed by the Saudis to seek refuge.
The foreign policy shift that a lot of people were hoping for from Donald Trump is unlikely to come as long as he keeps with traditional allies like the Saudis or Israel. Aiding the nation that is most responsible for terrorism across the Middle East and the globe is unlikely to set the conditions for change anytime in the near future.
---
This article first appeared on GeopoliticsAlert.com and was authored by Jim Carey.
The post Trump Resumes Arms Sales To Saudis Previously Frozen Under Obama appeared first on We Are Change.
Russia's Largest Bank Confirms Hiring Podesta Group To Lobby For Ending Sanctions
Posted: 10 Mar 2017 12:03 AM PST
"The Podesta Group is a lobbying and public affairs firm based in Washington, D.C.. It was founded in 1988 by brothers John Podesta and Tony Podesta." – Wikipedia
Article via Zero Hedge
Russia's largest bank, Sberbank, has confirmed that it hired the consultancy of Tony Podesta, the elder brother of John Podesta who chaired Hillary Clinton's presidential campaign, for lobbying its interests in the United States and proactively seeking the removal of various Obama-era sanctions, the press service of the Russian institution told TASS on Thursday.
"The New York office of Sberbank CIB indeed hired Podesta Group. Engagement of external consultants is part of standard business practices for us," Sberbank said.
Previously, The Daily Caller reported that Tony Podesta was proactively lobbying for cancellation of a range of anti-Russian sanctions against the banking sector. In particular, he represented interests of Sberbank and was paid $170,000 for his efforts over a six-month period last year to seek to end one of the Obama administration's economic sanctions against that country.
Podesta, founder and chairman of the Podesta Group, is listed as a key lobbyist on behalf of Sberbank, according to Senate lobbying disclosure forms.
His firm received more than $24 million in fees in 2016, much of it coming from foreign governments, according to the nonpartisan Center for Responsive Politics.
Former President Barack Obama imposed the Russian sanctions following the break out in violence in east Ukraine in 2014.
Podesta's efforts were a key part of under-the-radar lobbying during the 2016 U.S. presidential campaign led mainly by veteran Democratic strategists to remove sanctions against Sberbank and VTB Capital, Russia's second largest bank.

The two Russian banks spent more than $700,000 in 2016 on Washington lobbyists as they sought to end the U.S. sanctions, according to Senate lobbying disclosure forms and documents filed with the Department of Justice.

The Podesta Group charged Sberbank $20,000 per month, plus expenses, on a contract from March through September 2016.
Both Sberbank and VTB Capital have faced severe cash shortages due to plunging oil prices, plus the U.S. sanctions. If Obama's sanctions were lifted, however, both banks could legally seek funds from American financial institutions.
The lobbying campaign targeted Congress and the executive branch, with Podesta and other lobbyists arranging at least two meetings between Sberbank officers and Department of State officials, according to Elena Teplitskaya, Sberbank's board chairman, who spoke to House aides in August.
"The Democrats are sitting there trying to convince us that the Russians are trying to throw the election to Trump," a congressional aide who requested anonymity and met Teplitskaya told TheDCNF.

"And then they're with us here in the House and meeting directly with the administration behind closed doors on the issue of the sanctions. The hypocrisy could not be any richer," he said.
As the Caller puts it, "the discovery of high-profile Democrats like Podesta being paid lucrative fees for lobbying to lift U.S. sanctions on Russia contrasts with charges from Democrats that President Donald Trump and his key aides are soft on Russia while the Obama administration was tough on Moscow."
Podesta is one of the Democrat's highest profile lobbyists who enjoys close personal and business connections to former Presidents Obama and Bill Clinton. John Podesta was chief of staff in Clinton's White House and special counselor in the Obama White House.
Some more details on the meeting: joining the Podesta lobbying campaign was David Adams, who describes himself on the Podesta Group website as a "trusted adviser" to Hillary Clinton, serving as her as assistant secretary of state for congressional affairs. Another Podesta lobbyist was Stephen Rademaker, a former Department of State official in the George W. Bush administration.
The Podesta Group represented Sberbank and its subsidiaries, Troika Dialog Group in the Cayman Islands, SBGB Cyprus Ltd in Nicosia, Cyprus, and SB International in Luxembourg. Troika Dialog also was related to Klein, Ltd., a Cayman Island organization that once funneled tens of millions of dollars to environmental groups to oppose low-cost fracking in the U.S., which was hurting the Russian oil industry.
Regular readers will recall that the Sberbank-Podesta relationship goes back many years. Sberbank was the lead financial institution in the Russian deal to purchase Uranium One, owned by one of Bill Clinton's closest friends, Frank Giustra. Giustra and Bill Clinton lead the Clinton-Giustra Enterprise Partnership, an integral part of the Clinton Foundation.
Giustra has additionally donated $25 million to the Clinton Foundation.
Giustra sought to sell his stake in uranium reserves that included ore deposits in the Western United States, and Hillary Clinton, who as secretary of state, approved the sale. And in one felled swoop, 20 percent of America's uranium ore was sold to the Russian state atomic agency.
During the pending sale, the Podesta Group represented Giustra's company and tried to advance the transaction.
We do not expect to read about the Podesta lobbying relationship with Russia's largest bank in such truth-seeking, at least according to their ad campaigns, publications as the NYT and/or WaPo.
---
This article first appeared on ZeroHedge.com and was authored by Tyler Durden.
The post Russia's Largest Bank Confirms Hiring Podesta Group To Lobby For Ending Sanctions appeared first on We Are Change.
Centcom Commander Expects More U.S. Troops Will Be Sent To Afghanistan
Posted: 09 Mar 2017 11:51 PM PST
Gen. Nicholson Sought 'A Few Thousand' More Ground Troops
Article via Antiwar
Speaking today to the Senate Armed Services Committee, Centcom Commander Gen. Joseph Votel confirmed that he "expects" that more US ground troops will be deployed to Afghanistan soon, though he insisted the exact details are still being worked out.
Votel indicated that the additional troops, once sent, would be used to "improve" the capabilities of Afghan forces on the ground. He said he also agrees with Gen. Nicholson, who last month said he wants "a few thousand" more troops in Afghanistan.
The US was supposed to have completed its pullout from Afghanistan by now, though this was repeatedly pushed back during the Obama Administration's waning years, and ultimately halted. All indications from Pentagon figures since are that they envision troop levels growing from this point.
This reflects the reality of how poorly the war is going, with recent assessments showing the Taliban has more territory now than at any time since the 2001 occupation began, and that Afghan security forces continue to lose ground at an alarming rate.
US officials were previously hyping vague "progress" in Afghanistan, but are now more worried about preventing an outright loss of the country, which means continuing to throw more troops at the situation.
---
This article first appeared on Antiwar.com and was authored by Jason Ditz.
The post Centcom Commander Expects More U.S. Troops Will Be Sent To Afghanistan appeared first on We Are Change.
White House: Trump Not Aware That Michael Flynn Was A Foreign Agent
Posted: 09 Mar 2017 11:26 PM PST
Flynn's Position Was Well Established Before Appointment
Article via Antiwar
The White House is once again scrambling to do damage control today, as National Security Adviser Michael Flynn, who resigned last month, registered this week as the agent of a foreign government related to his company's lobbying on behalf of Turkey.
White House officials were quick to insist that President Trump was 'unaware' this was the case when he appointed Flynn, which was announced almost immediately after the November election. Yet Flynn's status as a lobbyist for Turkey was already well established by then.
On election night, Flynn penned a high-profile opinion piece in The Hill praising the Turkish government as a vital ally, and condemning the US media for not supporting Erdogan's post-coup crackdown.
He also urged the US to "help" Turkey by extraditing cleric Fethullah Gulen, who Turkey accused of being behind the coup.
Days later, Turkish officials were openly cheering Flynn's appointment to the key position, and in the context of the known lobbying contract Flynn's company had with Turkey at the time, Turkish officials insisted that The Hill piece was not "explicitly solicited" from Flynn as part of the contract.
---
This article first appeared on Antiwar.com and was authored by Jason Ditz.
The post White House: Trump Not Aware That Michael Flynn Was A Foreign Agent appeared first on We Are Change.
In First Trade War Shot, Mexico Cancels Sugar Export Permits To U.S.
Posted: 09 Mar 2017 08:35 PM PST
Article via Zero Hedge
While the Trump administration has in recent days withdrawn from calls for an all-out trade war with Mexico, and is seeking to re-establish calmer relations with the Mexican presidency after a sharp fallout over his plan to build a wall on the Mexican border and crack down on illegal immigrants arriving from Mexico, it appears that it is Mexico that has taken a pre-emptive step in the imminent trade dispute by canceling existing sugar export permits to the US in a dispute over the pace of shipments, Reuters reports citing a letter. The trade flare-up could temporarily disrupt supplies industry sources were cited as saying.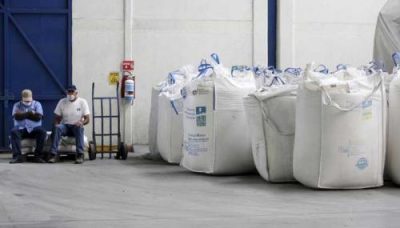 Reuters adds that the letter was sent by Mexico's sugar chamber to mills on Monday, partly blaming the situation on unfilled positions at the U.S. Department of Commerce, which it said has led to a "legalistic" interpretation of rules with no U.S. counterparts in place in Washington for Mexican officials to negotiate with.
The cancellations are the latest dispute of a years-long trade row between Mexico – the United States' top foreign supplier of sugar – and its neighbor at a time when cane refiners are struggling with prices and tight supplies, U.S. industry sources said. The development also comes as ties between the United States and Mexico have frayed under U.S. President Donald Trump, who took office in January and wants to recast the North American Free Trade agreement as he sees the trade deal skewed to favor Mexico.
Monday's letter made no mention of the political tensions between the two nations, instead saying that permits were "suspended" to comply with accords with the United States because the export limit for the six months up to March 31 was reached ahead of time, said Juan Diaz Mazadiego, director of foreign trade at Mexico's Economy Ministry. The move affects 54 permits from 23 mills, although the amount of sugar affected was not mentioned. Existing permits would be reissued in April, the letter said.
U.S. sugar prices have soared since late last year when Washington said the 2014 deal that suspended large duties on sugar from Mexico after a trade investigation may not be working as intended. The U.S. domestic raw sugar contract on ICE Futures U.S. settled at 31.71 cents per lb on Tuesday, the highest in nearly five years. Nonetheless, with Mexico still responsible for over a third of US sugar imports, down from over half 4 years ago, any disruption in the supply-chain threatens to cause a transitory surge in US sugar prices.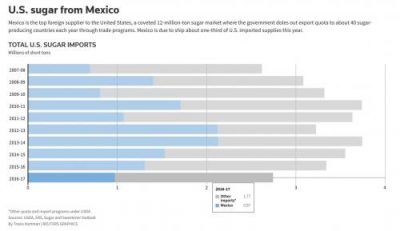 The letter also described as "absurd" an interpretation by "low-level" U.S. Commerce Department officials of a clause in so-called suspension agreements. The dispute centers on an interpretation of how the Mexican government issues export licenses to ensure supplies enter the United States at a regulated
pace. The U.S. sugar industry late last year pressed the Commerce Department to withdraw from a 2014 trade agreement that sets prices and quota for U.S. imports of Mexican sugar, unless the deal can be renegotiated.
According to Richard Pasco, president of the Sweetener Users Association trade group, the Mexican license cancellation adds to protracted marketplace uncertainty. "We need adequate supplies and the lack of resolution is a problem," he told Reuters in a phone interview on Tuesday.
Whether and how the Trump administration will respond to this pre-emptive trade dispute escalation, which could cause a spike domestic sugar prices, has yet to be seen.
For now, the president appears to have his hands full with repealing Obamacare, which as we reported yesterday has been met with open rebellion by conservative groups, and will likely not have the required number of seats to pass the House while its passage in the Senate remains highly doubtful, in the process delaying the implementation of Trump's tax -and trade – policies as well.
---
This article first appeared on ZeroHedge.com and was authored by Tyler Durden.
The post In First Trade War Shot, Mexico Cancels Sugar Export Permits To U.S. appeared first on We Are Change.
Luke Rudkowski Breaks Down How To Be The Media
Posted: 09 Mar 2017 08:02 PM PST
Op-Ed:
During an interview I did with We Are Change's Luke Rudkowski, we spoke about how to weather the storm in a field which is rapidly growing.
Luke, as most of you reading this know, is somewhat of a legend in the alternative media world and while I say this on the site he created, I say it independently as a fan.
His work over the past decade can stand on its own. Something one must commend him on considering the amount of people who have stood up and pressed record on their personal camcorders due to the influence he had on them. I am one of them.
Many years ago after quitting my job, I had some money saved up and a few people willing to help me out. I'd been watching We Are Change since 2008 and was in awe of the incredible work they had done, as well as Dan Dicks of Press For Truth. I decided confronting Kissinger and the top globalist elites was the job for me, and not just that, but informing the populace and being the change I wish to see to the best of my ability.
So, I started World Alternative Media, which at its inception went by a different name.
It's now been more than 4 years since I got into this incredible profession, which I always attempt to convince others to get involved in. Something I find so interesting about this work is that, while we are all trying to be the first to get the information out, we do not compete. We mutually benefit each other. We support each other. We care about each other and respect each other's attempt to in our own ways inform the populace.
Now getting back to the interview mentioned above, Luke and I got the chance to talk about the steps one can take to become the media, and of course to be the change they wish to see in the world because globalists control the narrative spewed by the mainstream media.
Luke was running back and forth seconds earlier trying to get another story up and working with his incredible team of hard working, passionate editors, writers and researchers.
He explained what motivated him to start making videos, the importance of patience and being yourself, working through the hard times and using negative energy to motivate you to be a better person. It cannot be understated how important it is to transform negative energy. We all have it, we all witness it, we all deal with it and we all see others either fall or rise at its heels. No matter the employment or lack thereof, one can be just as happy homeless as others loaded with money.
With that said, one can be just as sad homeless as others loaded with money. It all comes down to how you handle the hard times and simply make the best of them. Bad breakup? Family member died? Deep sorrow?
All of these things can effect you at some point throughout your life, but most importantly, you can prevail far above those clouds through the transfer of that energy into productivity, something we in the independent media world tend to know a lot about due to the strenuous nature of the job and the level of hate/love coming from all ends at us daily. This is not to complain however, this is to embrace and build from.
During the above interview, Luke also went back to his beginnings including his first posts, his mistakes and what he's learned from them. He talks about confrontations and how individuals should confront the top globalist elites not with hate but with pity.
The fact is, anyone can do this if they put the effort and passion into research, sourcing, marketing and of course editing. Luke influenced me and while I don't want to appear conceited, I've influenced others who are starting out themselves. This becomes perpetual after a while. Instead of looking at others and saying "I wish I could do what they're doing, " instead ask yourself "How can I do what they're doing?"
More than ever, we need your help to confront this beast called the mainstream media, the state run propaganda and the collectivist deep state hell-bent on destroying our free will, our liberties and of course our humanity. We are bigger than them, so let's make sure they understand what they're up against.
We ARE winning the info war and the truth will always prevail.
The post Luke Rudkowski Breaks Down How To Be The Media appeared first on We Are Change.
Soros' Ukrainian Intervention May Lead To Violent Conflict
Posted: 09 Mar 2017 08:00 PM PST
War-torn Ukraine has been a strong point of contention between the United States, NATO, and Russia.
Who is helping to facilitate all this strife you may ask? It's none other than globalist henchman and benefactor George Soros, a man so evil that he's even been barred from entering his home country of Hungary.
Once again, it's business as usual for the conniving billionaire who is attempting to provoke a political crisis by helping to organize a coal shipment blockade. Soros is using one of his destabilization organizations called "Maidan", "a Ukrainian People's Union", as his tool of division.
Maidan wants to stop the flow of coal via rail into the Donbass region and eastern Ukraine. These so called "nationalists" have been bragging via social media that they were able to hold up around 74,000 cargo cars containing roughly 8,117,000 tons of coal.
That's coal that should have crossed from Kiev-controlled western Ukraine into rebel-occupied eastern, Ukraine.
Soros' ultimate goal is to destroy the separatist (nationalist) opposition. Additionally, he hopes to plunder the massive amounts of minerals and natural resources of which the eastern part of Ukraine is especially rich in – for pennies on the dollar. He then, of course, will take all the profits out of the country after playing both sides of the conflict.
It's important to mention however that Soros is no longer really interested in the money at this stage in his life, it's merely an added bonus. By destabilizing Eastern Ukraine, Soros will be able to drag Russia closer to war with the US, which backs Western Ukraine.
The ultimate goal of globalists like Soros is to create chaos which will, in turn, create a more malleable Ukraine and surrounding region.
However, much to Soros' certain discontent, Ukraine has proven to be difficult to control through the US/NATO's classic encirclement strategy ever since Russia annexed Crimea – the pro-Russian part of southeastern Ukraine, which has acted as a naval buffer in the Black Sea.
Unfortunately for the Ukrainian people, the West's puppet president, Petro Poroshenko, or "porky" for short, like all puppet presidents, was selected by the globalist elite who wish to further their agenda of world power consolidation. This happened after the US subsidized coup ousted legally-elected President Viktor Yanukovych.
The US government with the help of congress passed two arms package deals in 2015 and 2016 which will supply weapons this year to the US-backed government in Kiev.
Events such as these really spell trouble for the Ukrainian people.
Likewise, things are looking especially stark for Ukraine in light of their involvement in (DCFTA) or The Deep and Comprehensive Free Trade Agreement, which was supposedly aimed at helping the eastern European economy to recover, but actually ended up resulting in a loss of €2.2 billion more than the previous year in EU trading. As a further consequence, Ukraine's Trade deficit with the EU has skyrocketed from €1.2 billion to €3.43 billion!
The post Soros' Ukrainian Intervention May Lead To Violent Conflict appeared first on We Are Change.
DEVELOPING: 'Drudge Report' Banned From Facebook
Posted: 09 Mar 2017 06:43 PM PST
WASHINGTON D.C., (WeAreChange) — An unofficial Drudge Report Facebook page which had over 1.2 million fans appears to have been suspended as upon visiting it returns the error: "Sorry, this content isn't available at the moment."
This information was first brought to light by former Breitbart senior editor Milo Yiannopoulos who posted the viral video showing the page's disappearance to his own public Facebook page.
It is understood that the content posted to the unofficial Facebook page was pulled from the DrudgeReport.com RSS feed.
The page is reportedly not connected to Matt Drudge in any way as he's previously stated on numerous occasions that he doesn't have a Facebook page. There are a number of parody or fake accounts floating around on social media platforms bearing the Drudge Report brand with this particular Facebook page attracting the highest number of fans other than Drudge's official Twitter account @DRUDGE.
This story is developing. Please check back for updates.
The post DEVELOPING: 'Drudge Report' Banned From Facebook appeared first on We Are Change.
VIDEO: Amazon Echo Turns Off When Asked If It Has CIA Connections
Posted: 09 Mar 2017 02:19 PM PST
A viral video showing Amazon Echo refusing to confirm a link to the CIA is stirring up people's fears given the recent WikiLeaks Vault 7 revelations.
Wikileaks shocked the world Tuesday when it released 8,761 documents claiming to reveal "CIA hacking tools" that could breach the security of electronic devices like mobile phones and smart TVs.
Amazon's Echo, a voice activated smart device, hasn't appeared in the leaked information by WikiLeaks. However, a video posted to Twitter shows the device shutting down twice after being asked a simple question about whether the product has connections to the CIA.
A woman in the 43-second clip from the Twitter page of Local Business Consulting asks: "Alexa, are you connected to the CIA?"
The device then shuts down she repeats "Alexa, are you connected to the CIA," the device shuts down again.
Now this is funny #Vault7 #CiA pic.twitter.com/UOURLGiY9x

— Local Business Cons (@localbusinessco) March 8, 2017
The video is provoking wild response online, with some calling the video fake, and others worried about Amazon's connection to the CIA, which is already public information. Jeff Bezos, the owner of Amazon and the Washington Post, has a $600 million dollar contract with the CIA.
The woman has denied that the video is fake and others have collaborated the same response from the device, which is extremely unsettling to say the least.
@SpectralGh0st Not fake, this is my personal video

— Local Business Cons (@localbusinessco) March 8, 2017
Another Twitter user @emilyhawk asked to their own Amazon Echo device the same question and they received a similar response.
@Baader_Meinhof @localbusinessco @SpectralGh0st I asked my device; same response

— Emily Hawkins (@emilyhawk) March 9, 2017
While an additional third user @Baader_Meinhof posted two videos of the Amazon Echo device turning off when asked, "If we are currently being monitored by the NSA" and if the device "works for the government."
@localbusinessco Most likely fake but hilarious none the less

— Anders Nilsson (@SpectralGh0st) March 8, 2017
@Baader_Meinhof @localbusinessco @SpectralGh0st I asked my device; same response

— Emily Hawkins (@emilyhawk) March 9, 2017
The post VIDEO: Amazon Echo Turns Off When Asked If It Has CIA Connections appeared first on We Are Change.
JFK's Revenge: WikiLeaks Referenced JFK In Its Passphrase, Was He Killed By The CIA?
Posted: 09 Mar 2017 01:58 PM PST
WikiLeaks released Vault 7, a slew of CIA files on surveillance and hacking, encrypted with the password "SplinterItIntoAThousandPiecesAndScatterItIntoTheWinds", a phrase that President John F. Kenndy used a month prior to his assassination. Kennedy hated the CIA.
[RELATED: Wikileaks Reveals CIA Can Spy On You Through Your TV And Bypass Your Mobile Encryption Apps]
Speaking in a History Channel documentary years ago, Samuel Halpern, author of "The Assassination of JFK," claimed that the threat against JFK's life stemmed from Kennedy's frustration with the CIA, which he believed was becoming a "state within a state."
The video below focuses on Kennedy's relationship with Cuba prior to his assassination, allegedly by Lee Harvey Oswald, despite the fact that the three consecutive shots can't be recreated.
It also discusses Operation Northwoods, a proposed false flag operation against Fidel Castro, planned by the U.S. joint chiefs of staff and CIA.
According to ABC News, "the plans reportedly included the possible assassination of Cuban émigrés, sinking boats of Cuban refugees on the high seas, hijacking planes, blowing up a U.S. ship, and even orchestrating violent terrorism in U.S. cities." All to manipulate the American people into supporting a war against Cuba.
Kennedy also criticized the CIA's original Bay Of Pigs (Operation Pluto/Zapata) and ultimately caused it to fail because of his decision to cut the operation's military force down for the mission.
The CIA's "Bay of Pigs" plan to overthrow Cuba's communist government had been in the works before John F. Kennedy moved into the White House. After weeks of discussion with his national security advisors, President Dwight D. Eisenhower approved the CIA's plan to oust Castro. The operation suggested opening a radio station on Swan Island in the Caribbean to broadcast anti-Castro programming to Cuba, supplying anti-Castro resistance groups within Cuba and training a paramilitary force for the eventual infiltration of the country. Eisenhower signed the deal stating that he knew of "no better plan" to oust the Cuban Communists and eliminate Castro.
While he was still running for the presidency, Kennedy learned about the plan on July 23 1960, when CIA Director Allen Dulles visited Kennedy at his family's home at Hyannisport on Cape Cod to brief the then candidate about the anti-Castro operation. But a few weeks later the plan changed. The CIA abandoned the idea of infiltrating the island in favor of an invasion, complete with air support, to drive Castro from power. Eisenhower approved a budget of $13 million for the operation but stipulated that no U.S. military personnel could be part of the combat force.
Somehow, the plan leaked to the press and on January 10, 1961, the New York Times ran a front-page story under the headline, "U.S. HELPS TRAIN AN ANTI-CASTRO FORCE AT SECRET GUATEMALAN BASE."
On March 11, 1961, Kennedy invited CIA Director Allen Dulles and Richard Bissell, the CIA's chief of operations to the White House. JFK wanted to know, in detail, the plans for the invasion of Cuba. Dulles and Bissell explained that after U.S. aircraft had run a bombing mission over the Bay of Pigs area, Cubans recruited from exile, living in Miami would take the beach by storm. The CIA expected that the invasion would inspire anti-Castro Cubans to rise up and overthrow the dictator.
Kennedy didn't like the idea of beginning the attack with air strikes. "Too spectacular," he said. "It sounds like D-Day. You have to reduce the noise level of this thing."
Many of the approximately 1,500 CIA-trained Cuban exiles believed that they were the first wave of Cuban freedom fighters who would liberate their homeland from Castro. They were convinced that as they stormed ashore, they would be supported overhead by the U.S. Air Force, and as they advanced into Cuba, the U.S. Marines would be right behind them. The exiles were absurdly mistaken they held the beach for three days and then ran out of ammunition and over 1,000 of the resistance troops known as Brigade 2506 were captured.
On April 14, 1961, just three days before the invasion, Kennedy called Bissell to ask how many planes he would use in the operation. Bissell told the president the CIA planned to use all sixteen of their B-26s. "Well, I don't want it on that scale," Kennedy replied. "I want it minimal." Kennedy cut the planes used down to eight and the operation ultimately failed.
CIA Deputy Director Charles Cabell was fired by Kennedy. Cabell's brother was the Mayor of Dallas, Texas at the time of his assassination (more on that later.)
CIA director Allen Dulles was also fired and replaced by John A. McCone after the second attempt was proposed to overthrow the Cuban government under Operation Northwoods.
As David Talbot wrote in his book The Devil's Chessboard: Allen Dulles, the CIA, and the Rise of America's Secret Government and TheDailybeast reported, did CIA Director Allen Dulles order a hit on JFK?
The next fact surrounding JFK's assassination is that George H.W. Bush Sr. was present during the day of JFK's assassination, but he denies that he was there despite photographic evidence. There is also an FBI memo and another document that mentions an agent, George W. Bush, receiving intel information on anti-Castro Cubans but Bush denies again that the person mentioned in the report was him. One FBI memo fails to provide an answer to where George Bush actually was.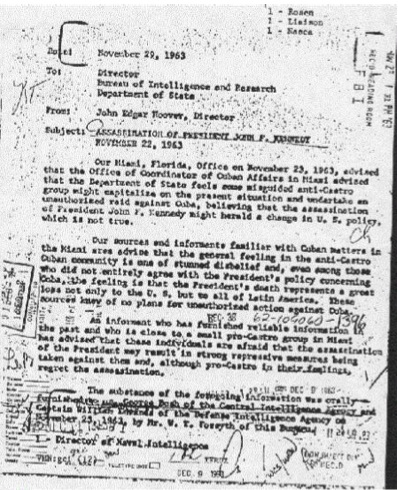 George Bush Sr.'s oil company was called Zapata Offshore co. Dulles, Bush and the mayor of Dallas Earle Cabell all knew each other. Zapata sound familiar? It was the original name for the Bay Of Pigs operation. Was Bush involved in the Bay Of Pigs invasion?
In 1981, all Securities and Exchange Commission filings for Zapata Off-Shore between 1960 and 1966 were destroyed. In other words, the year Bush became vice president, important records detailing his years at his drilling company disappeared. In 1969, Zapata bought the United Fruit Company of Boston, another company with strong CIA connections. Bush later became CIA director in 1976.

Dulles also headed the Warren Commission investigation into Kennedy's assassination. Despite being fired by Kennedy, Dulles was appointed by President Lyndon B. Johnson.
JFK's son John F. Kennedy, Jr founded a magazine oddly titled "George" which many speculate is insinuating for people to look closer at his father's death and that Kenendy Jr. was trying to tell the world that George H.W. Bush was involved in the murder.
Bush even laughed at the assassination of JFK at President Gerald Ford's funeral. What's so funny George?
An additional anomaly that suggests Kennedy was murdered by a hit squad and not a lone gunman is that a nurse, Phyllis Hall, claims that Kennedy was also shot with a "mystery" bullet between his ear and shoulder that was covered up and she never heard about the incident again.
"I could see a bullet lodged between his ear and his shoulder," she said. "It was pointed at its tip and showed no signs of damage. There was no blunting of the bullet or scarring around the shell from where it had been fired."
"I'd had a great deal of experience working with gunshot wounds, but I had never seen anything like this before. It was about one-and-a-half inches long – nothing like the bullets that were later produced."
Then there is CIA agent E. Howard Hunt who confessed to being a part of a hit squad that killed Kennedy on his deathbed.
Now back to Oswald was he just a patsy? There is a mysterious attempted call that has been ignored by the mainstream media. "The Raleigh Call", happened just hours before his death. Lee Harvey Oswald tried to call John Hurt, a former military counterintelligence agent in Raleigh, North Carolina, from the Dallas jail on the evening of Nov. 23, 1963. "For years, this significant information was ignored by assassination investigators and concealed from the public," Dr. Grover Proctor said.
Oswald himself had significant military ties and intelligence serving in the Marines — where his nickname was "Osvaldovich". He even allegedly had a CIA 201 employee file.
"We don't know what happened, but we do know Oswald had intelligence connections. Everywhere you look with him, there are the fingerprints of intelligence," Senator Richard Schweiker said.
Another theory behind JFK's assassination is that it was a Cuban government hit job as payback for the failed Bay Of Pigs invasion a few years prior but believing that theory would require ignoring all other evidence testimony and documents.
Whatever the truth may be behind the killing of potentially the greatest President the U.S. has ever had, it will all come out soon in October 2017 when the CIA is mandated to disclose the redacted pages behind JFK's death.
POLITICO reported:
"A special team of seven archivists and technicians with top-secret security clearances has been set up at the National Archives and Records Administration to process all or portions of 40,000 documents that constitute the final collection of known federal documents that might shed light on the events surrounding JFK's murder, files that, according to law, must be made public by October 2017"
You can find out more about JFK's death and the strange circumstances surrounding it by visiting JFK2017. If it was the deep state CIA that murdered our 35th U.S. President, it's time to "splinter the CIA into a thousand pieces and scatter it into the winds" and finish what JFK wanted.
The post JFK's Revenge: WikiLeaks Referenced JFK In Its Passphrase, Was He Killed By The CIA? appeared first on We Are Change.