We Are Change Mail
---
U.S. Attorney Preet Bharara Fired By Trump Administration After Refusing To Resign
Posted: 11 Mar 2017 12:14 PM PST
U.S. Attorney Preet Bharara best known for prosecuting political corruption was fired after refusing to submit a letter resignation after the DOJ on Friday had asked all 46 remaining Obama-appointed U.S. attorneys to resign.
I did not resign. Moments ago I was fired. Being the US Attorney in SDNY will forever be the greatest honor of my professional life.

— Preet Bharara (@PreetBharara) March 11, 2017
Bharara confirmed that Jeff Sessions fired him on Saturday tweeting out "I did not resign. Moments ago I was fired. Being the US Attorney in SDNY will forever be the greatest honor of my professional life."
Trump had previously asked the Obama-appointed Southern District of New York, U.S. attorney, Preet Bharara, to stay on.
Jeff Sessions also asked him to stay; the prosecutor told The New York Times.
In late November, Bharara said that then president-elect Trump had asked to see him to discuss "whether or not I'd be prepared to stay on as the United States attorney to do the work as we have done it, independently, without fear or favor for the last seven years." "We had a good meeting," Mr. Bharara said. "I said I would absolutely consider staying on. I agreed to stay on."
Bharara's office was working through an investigation of New York City Mayor Bill de Blasio and about to start the trials of two close allies to New York Gov. Andrew Cuomo as well as is allegedly investigating the Clinton Foundation.
Bharara has been one of the few attorneys who pressed charges against Wall St in the aftermath of the financial crisis. Although, some have accused Bharara of not being strict enough on the institutions found to have been criminally liable with virtually no bankers ending up in jail, and instead it was mostly shareholders being punished with banks forced to pay nearly a quarter trillion in legal fees and settlements over the past decade for violations from RMBS selling, to LIBOR, to FX and gold market rigging Zerohedge reported.
He's prosecuted nearly 100 Wall Street executives and brought legal challenge to the four largest banks in the U.S. according to The Hill.
Such resignation requests are a normal business as part of a transition of power from one administration to another.
Meanwhile, Trump personally let two U.S. attorneys know that he wouldn't accept their resignations. One Rod Rosenstein, is currently going through a confirmation to become the new deputy attorney general the other Dana Boente, the acting deputy attorney general.
The post U.S. Attorney Preet Bharara Fired By Trump Administration After Refusing To Resign appeared first on We Are Change.
Watergate Journalist Bob Woodward Claims US Presidents Leaked Classified Information To Him
Posted: 11 Mar 2017 10:41 AM PST
Watergate journalist and Washington Post editor Bob Woodward admitted to Fox's Bill O'Reilly that past Presidents of the United States – both Democrats and Republicans – had leaked classified information to him in the past.
O'Reilly and Woodward got into a heated exchange over the recent leaks of President Trump's administration, ultimately leading to Woodward's disclosure.
The Accidental Whistleblower: to defend WaPo on Trump anon sources Woodward spills the beans on Obama & Bush classified leaks #WoodwardGate pic.twitter.com/ezPnSxhNYn

— Suzie Dawson (@Suzi3D) March 11, 2017
Treason In The Air
Obama Wiretapping #Trump & #Wikileaks #CIA#DeepState #Woodward #WoodwardGate #POTUSLeaks ??https://t.co/VJZ2mPjZHs

— AnonymousScandinavia (@AnonScan) March 11, 2017
"The President's conversations with the Mexican President and Australian Prime Minister were leaked, were leaked do you consider that a legitimate form of reportage?" O'Reilly asked Woodward.
Woodward responded, "First off you are in error when you think that some how we passively sit around and wait for leaks, we go and talk to people."
"I didn't say that. I didn't assume that. I asked you a direct question: those two conversations from a President to two foreign leaders were leaked by somebody who had access to them. Do you consider that a legitimate reportage?" O'Reilly reiterated his question.
"Because it informed people about what happened, those were legitimate stories, and they were verified," Woodward said.
O'Reilly interrupted, "It might have put the country in jeopardy, it certainly whipped up anti-American sentiment in Mexico."
"Well, look, we tried to report the news  and the second and third bounce is not something that can be controlled."
O'Reilly then interrupted a second time: "I want you to be clear. I'm not disparaging you or your paper. I want to know who the leakers are and what agencies cannot control these people and I think you do too."
"You would be surprised… I have had President's in Republican and Democratic administrations provide information that is technically classified. I've had very senior people in the Pentagon…"
O'Reilly interrupted a third time: "Yeah, they say it's off the record, don't print it."
"No, no, it's not. It's 'This is what happened, check it out, this is the way it can be reported and dealt with.' Bill, you know that it happens all the time and the question here is that, can it be done in a careful and fair way and I believe it has."
O'Reilly then conveniently cut to a commercial break.
Meanwhile on Twitter, the shock revelation is being discussed under the hashtag #WoodwardGate.
Upshot of #WoodwardGate: if you're a President or his pet biographer, leaking & printing classified info is no problem. Anyone else? TREASON

— Suzie Dawson (@Suzi3D) March 11, 2017
The post Watergate Journalist Bob Woodward Claims US Presidents Leaked Classified Information To Him appeared first on We Are Change.
Are The Side Effects Of Antidepressants Worse Than The Symptoms Of Depression?
Posted: 11 Mar 2017 02:13 AM PST
Article via Truth Theory by Jess Murray
Whilst many patients have been prescribed pills to help their condition, those who suffer from depression have claimed that the side-effects to antidepressants are sometimes considered worse than the depression itself, according to reports. Some users have said that taking the commonly prescribed pills has ruined their lives, whilst others claim that the tablets have made them suicidal.
Claire Hanley told the BBC's Victoria Derbyshire programme about the effects that antidepressants had on her body, claiming, "I was getting seizure-like symptoms, where my muscles were jolting around of their own accord." Hanley started taking the pills whilst caring for her ill mother alongside studying for her final exams at Cambridge University.
However, she suffered severe side-effects after her GP prescribed a stronger dose of tablet. She said, "Within two weeks I'd tried to take my own life twice. I felt disorientated and sick and had digestive problems and infections, it was really extreme. I don't even know how to begin. All I can remember is being on the bedroom floor in a kind of semi-conscious state having seizure after massive seizure."
Now, 20 years since she first took the tablets, Hanley claims that she still suffers from the consequences of taking the mixture of prescribed drugs that were given to her in an attempt to treat the side-effects of the original antidepressants. She said that the side-effects mean that she has constant muscle ache and fatigue, and spends most days in bed.
According to reports, one in 100 people suffer from severe side-effects from taking SSRIs, which are designed to increase the serotonin levels in the brain which is thought to improve the symptoms of depression.
However, some experts now believe that a bigger percentage of people than expected are suffering the negative consequences of taking the drugs. Professor David Healy, from the psychiatric unit at Bangor University, believes that the drugs make "one in four people become more anxious, rather than less", and claims that "some people become very agitated and some go on from that to become suicidal. The drugs can become the problem that they're then used to treat."
The drug companies refused to comment on the initial report by the BBC, but a GP in West London, Dr Sarah Jarvis, stated that doctors do not prescribe antidepressants lightly, and they are effective at helping many people with depression, adding that for most people, the drugs are effective. She said, "I think for people with severe depression, they may need to try two or three [different types of antidepressant] before they find one that does work for them, but for most people we can find a medicine which will help them and for whom the benefits will outweigh the risks."
Antidepressants cost the NHS around £780,000 per day, and between 2005 and 2012 there was a 54% increase in the number of children prescribed antidepressants in the UK. The common side effects of anti-depressants include dizziness, headaches and feeling sick.
According to some experts, including Professor David Healy, a side effect of taking the drugs is finding it difficult to reduce the dose.
He said, "There's a large number of people – and it seems to be more women than men – who have great difficulties trying to reduce the dose. And if they halt the treatment, they can become terribly agitated, they can become suicidal. When you look at the clinical trials that have been done, the taper phase – the point where the person is trying to come off the drug – is the riskiest period. That's the point where the person is most likely to commit suicide, or the most likely to do terrible things."
Dr Jarvis claimed, "What we need to bear in mind is that some patients who have taken these have been very vulnerable, they've been very anxious and it can be very difficult to tell what is anxiety and what is the tablets."
---
THIS ARTICLE IS OFFERED UNDER CREATIVE COMMONS LICENSE. IT'S OKAY TO REPUBLISH IT ANYWHERE AS LONG AS ATTRIBUTION BIO IS INCLUDED AND ALL LINKS REMAIN INTACT.
Jess Murray is a wildlife conservationist and writer who has spent a lot of time working and studying in South Africa. She is now striving to spread awareness about global conservation issues and the truth behind faux conservation facilities throughout the world.
The post Are The Side Effects Of Antidepressants Worse Than The Symptoms Of Depression? appeared first on We Are Change.
FBI Paid Best Buy's Geek Squad To Increase Surveillance, According To Court Documents
Posted: 11 Mar 2017 02:01 AM PST
With the release of Wikileaks Vault 7, everyone is talking about government surveillance again. It is Deja Vu of 2013 all over again.
Turns out the CIA and NSA aren't the only ones spying on the population though, the FBI just got caught using Best Buy's Geek Squad to increase their own surveillance apparatus, and the details from unsealed court records are worrying.
The FBI trained Geek Squad technicians on law-enforcement operational tactics, shared lists of targeted citizens to covertly increase surveillance of the public, and encouraged searches of computers, even when unrelated to a customer's request for repairs.
They would then pay the technicians $500 each time they found evidence that could launch criminal probes into their customers, OCWeekly reported.
A Feb. 27, 2008, agency document shows the FBI "seeking the training of the Geek Squad Facility technicians designed to help them identify what type of files and images would necessitate a call to the agency."
"Agent assignments have been reviewed and are appropriate for operation of this source," that the paid informant "continues to provide valuable information on child pornography matters" and has "value due to his unique or potential access to FBI priority targets or intelligence responsive to FBI national and/or local collection."
The issue came to light when a gynecologist named Mark Rettenmaier was indicted with two felony counts of possession of child pornography in November 2014 after Geek Squad discovered an image on his computer in the course of performing repairs that Rettenmaier paid for.
According to court records, Geek Squad technician John "Trey" Westphal, an FBI informant, reported he accidentally located on Rettenmaier's computer an image of "a fully nude, white prepubescent female on her hands and knees on a bed, with a brown choker-type collar around her neck." Westphal notified his boss, Justin Meade, also an FBI informant, who alerted colleague Randall Ratliff, another FBI informant at Best Buy, as well as the FBI. Claiming the image met the definition of child pornography and was tied to a series of illicit pictures known as the "Jenny" shots, agent Tracey Riley seized the hard drive TechDirt reported.

This isn't necessarily a problem, considering companies performing computer repairs are legally obligated to report discovered child porn or pirated software to law enforcement. The big difference in this situation is there is an added incentive – a paycheck. These Geek Squad members had been paid $500 for digging around in customers' computers and reporting their findings to the FBI. That changes the motivation from legal obligation to a chance to earn some additional extra cash by digging around in files that may not be essential to the repair an overreach.
What should be taken away from this is that the FBI directed Geek Squad to search through customers computers without probable cause.
There is also a very problematic scenario when you introduce any type of financial incentive. What if a Geek Squad employee decides to start planting child pornography on customers computers, just to get paid?
Then there is the issue of a parent having a picture of their own child in the bathtub or something of a similar nature on the computer and the Geek Squad agent falsely accusing someone reporting them to the FBI. And what if a customer has legal pornographic images of a girlfriend, boyfriend, husband, or wife– it's a severe invasion of privacy.
Another issue is that malware can secretly implant files on the computer. There is malware that will implant child porn on a person's computer, which is why that can't be relied upon and more so a person's own search history and capturing their IP address on a child porn site is more reliable than metadata.
That may be why a federal appellate court declared in February 2011 (USA v. Andrew Flyer) in an unrelated case that "pictures found on unallocated space did not constitute knowing possession because it is impossible to determine when, why or who downloaded them."
However in this case, during a search of Rettenmaier's seized iPhone, prosecutors say the phone contained more than 800 pictures of naked or partially nude girls including some taken during gynecological exams the LA Times reported.
One former agent confirms in her declaration that the employee who alerted the FBI to alleged child pornography found on the computer of the defendant in this case, had been signed up by the FBI as a "confidential human source" (CHS) in 2009 two years before the offending content was discovered in this case but contends that this worker was "never asked" to "search for child pornography or evidence of any other crime on behalf of the FBI."
However, in a December 19th order, in this case, the judge notes that emailed communications may hint at a deeper connection between the agency and the Geek Squadder.
For instance, in Oct. 2009, this agent emailed the Best Buy staffer to set up a meeting "to discuss some other ideas for collaboration." The since-retired agent now says she has no "independent recollection of what 'collaboration'" refers to in that email, blaming her memory lapse on brain damage caused by Lyme disease.
TechDirt notes that Rettenmaier's defense attorney, James D. Riddet has also accused FBI agents of lying to a federal Judge to obtain a search warrant.
Adding that this is a "violation of the fourth amendment which protects against illegal search and seizure."
Meade strongly denies that he was an FBI asset and said that he didn't report the image to get paid he did it because of Best Buy's own policies.
"I never reviewed evidence or communicated to the FBI out of a motivation to get paid by the FBI or any other law-enforcement agency," Meade wrote.
Best Buy released a statement stating that any employee that finds child pornography is required to report it to law enforcement.
"'If we discover child pornography in the normal course of servicing a computer, phone or tablet, we have an obligation to contact law enforcement. We believe this is the right thing to do, and we inform our customers before beginning any work that this is our policy,' vice president for communications Jeff Haydock said.
While We Are Change doesn't have any sympathy for pedophiles and purveyors of child pornography, we worry about how the information was obtained by agents at Best Buy without a warrant.
Let us know what you think in the comment section below!
The post FBI Paid Best Buy's Geek Squad To Increase Surveillance, According To Court Documents appeared first on We Are Change.
Solar-Powered Floating Farm Could Produce 20 Tons Of Vegetables Daily
Posted: 11 Mar 2017 12:03 AM PST
The future of farming is sustainable and not land-based.
Article via True Activist
The future of agriculture is here with what's being called a Smart Floating Farm, designed by Forward Thinking Architecture, that could produce 8,000 tons of vegetables annually. The concept was selected as one of the Winners of the Sustainable Entrepreneurship Award 2016 (SEA) in the category of Lifestyle and Culture.
The modular floating farms are not a reality yet but the concept behind it is sustainable and highly necessary with the rapidly growing human population and the equally declining access to natural resources.
As the move away from traditional farming on land, there have been a number of farm concepts, such as vertical hydroponic gardening, that have taken off in urban settings to create a more sustainable future. The Smart Floating Farm (SFF) is joining the ranks in replacing land farms and its high crop yield could make it a serious contender for what comes next in food production.
Inspired by Chinese floating fish farms, these vegetable farms take food to the next level connecting 200×350 meters units that are rectangular and can attach to other modules via walkways. The farms harvest sunlight and rainwater to care for the crops and even desalinate the ocean water underneath it to be as independently viable as possible.
The people behind the design clarified, however, that the farms are "not meant to solve all of humanity's hunger problems or to replace existing traditional agriculture. The driver behind the project is to open a new initiative which can be complementary and compatible with other existing production methods in order to help reduce food risk associated problems in different areas of the globe."
The units are composed of three levels, the first of which is a rooftop photovoltaic power plant that features skylights, solar panels, rainwater collectors, wind turbines and wave energy converter systems. The middle level is where the greenhouse would exist, which would be complete with automated hydroponics and micro-climate control for crop cultivation. The bottom level would house fish farms, a slaughterhouse, wave barriers and protection, a desalination plant and a package facility.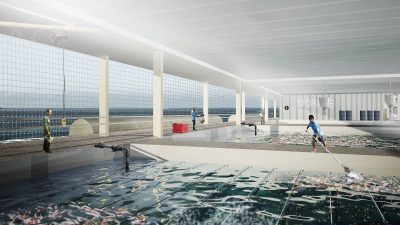 The hydroponics would make the greenhouse free from soil, pesticides, reliance on precipitation or fertile land, all of which are critical reasons to turn away from traditional farming. The shift away from traditional farming has been brought on by a number of other factors as well. Less availability of open spaces in ideal locations for farming is a major reason, but also climate change, drought, and harm to wildlife and natural resources has caused those working in innovation to question what the future of farming could look like. Turning to waterways is a great because there is no shortage of ocean for farms to be set up on and it could make local farming and food supply more available to people living on coasts or even large lakes.
This design would be virtually automatic and require little human intervention to keep running throughout the year. What types of produce and fish would be grown in the farms depends on what's needed in that particular region, but the firm developed a chart for the possible combinations of crops it could produce with the farms.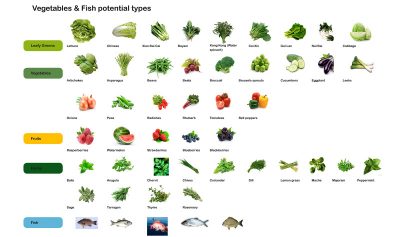 What are your thoughts on these floating farms? Please share, like, and comment on this article!
---
This article (Solar-Powered Floating Farm Could Produce 20 Tons Of Vegetables Daily) is free and open source. You have permission to republish this article under a Creative Commons license with attribution to the author and TrueActivist.com
The post Solar-Powered Floating Farm Could Produce 20 Tons Of Vegetables Daily appeared first on We Are Change.
Ikea's Hydroponic System Allows You To Grow Vegetables All Year Round Without A Garden
Posted: 10 Mar 2017 11:34 PM PST
Article via Truth Theory by Jess Murray
Ikea's indoor garden system is the perfect option for those who wish to grow their own food all year round but don't have the garden space to be able to do it.  Ikea's indoor hydroponic garden allows anyone to grow fresh produce at home without the need for soil or any previous gardening experience.
The hydroponic system of the garden means that adequate light and water are everything that is needed to grow the plants successfully, meaning that there is no need for soil. According to the report, many of the vegetables that are widely available today are grown using this method. The absorbent foam plugs that come with the Ikea system enable the seeds to sprout, and then proceed to keep the seeds moist without over-watering them. Following the germination of the seeds, all that needs to be done is to transfer the entire foam plug into its own separate small pot and fill it with pumice stones, which can retain a lot of water.
The pots can then be transferred to a growing tray that is equipped with a solar lamp, which will provide the plants with enough nourishment to last all year round. The system is so efficient that it can even be successful in rooms without any sunlight, although they can be placed on a windowsill that gets a lot of sun if it is convenient. The growing tray is additionally equipped with a built-in water sensor, which ensures that the plants are given the perfect amount of water. Helena Karlén, from the Swedish University of Agricultural Sciences, said, "The challenge was to make growing plants in a hydroponic system simple, so that anyone could succeed…"
Named in the KRYDDA/VÄXER series, the design was born out of a collaboration with agricultural scientists in Sweden, with a target audience of those who live in apartments or don't have a garden, as well as people who want completely fresh produce even during the cold winter months. Whilst the system is not the first indoor hydroponic system, it is a more affordable option than most, and ideal for those with minimal space. It also fits with Ikea's notably forward-thinking over the past few years, as they follow an eco-friendly trend towards sustainability.
To check out more indoor gardening devices, click here.
---
THIS ARTICLE IS OFFERED UNDER CREATIVE COMMONS LICENSE. IT'S OKAY TO REPUBLISH IT ANYWHERE AS LONG AS ATTRIBUTION BIO IS INCLUDED AND ALL LINKS REMAIN INTACT.
Jess Murray is a wildlife conservationist and writer who has spent a lot of time working and studying in South Africa. She is now striving to spread awareness about global conservation issues and the truth behind faux conservation facilities throughout the world.
The post Ikea's Hydroponic System Allows You To Grow Vegetables All Year Round Without A Garden appeared first on We Are Change.
Study Confirms Pot Is NOT A Gateway Drug, Can Treat Tobacco And Opioid Addiction
Posted: 10 Mar 2017 11:23 PM PST
Article via Organic Titanic
In the latest of dozens of studies proving the healthful benefits of cannabis, researchers in Canada found not only can marijuana be effective in managing pain, but it can reduce a user's dependency on tobacco, alcohol, and can replace a number of prescription medications — including antidepressants.
Weed, they also found, simply isn't the "gateway drug" politicians and detractors have claimed it is for decades.
Published in the International Journal of Drug Policy, the study — comprised of 271 participants enrolled in Canada's Marihuana for Medical Purposes program — is considered one of the first to evince how cannabis can help alleviate substance addiction.
"[T]his study is the first to specify the classes of prescription drugs for which cannabis is used as a substitute, and to match this substitution to specific diagnostic categories," the study findings state.
Called the first comprehensive study of people enrolled in Canada's medical marijuana program, researchers pointedly found cannabis does not act as a gateway drug — the primary premise of pot prohibition.
Indeed, weed has been targeted by so-called anti-drug groups for years as the gateway to harder and ostensively dangerous substances, facilely providing the impetus for politicians and officials to keep it pegged as a Schedule 1 drug — alongside heroin, cocaine, and LSD.
For the study to prove not only that isn't true, but that cannabis can replace opioid painkillers and other pharmaceuticals — as well as alcohol and tobacco — makes it foundational, if not revolutionary.
"Cannabis is perceived to be an effective treatment for diverse conditions," wrote lead researchers, Philippe Lucas from the University of Victoria and Zach Walsh from the University of British Columbia, "with pain and mental health the most prominent."
Analyzing the 107 questions study participants answered online, concerning "demographics, patterns of use, and cannabis substitution effect," researchers found a whopping 63 percent used weed in place of prescription medications — 30 percent of whom replaced pharmaceutical opioids with cannabis.
Fully 16 percent turned to weed as an alternative to benzodiazepines — such as Xanax or Valium — for treating anxiety and insomnia, while 12 percent chose cannabis over antidepressants to relieve symptoms of depression.
One-quarter of participants had substituted cannabis for alcohol, and for 12 percent, weed was preferable to tobacco — three percent of respondents even replaced hard drugs with pot.
Essentially, the findings could be viewed by the pharmaceutical industry and prohibition-loving politicians as a threat to the wallet.
However, for-profit prisons, police, and attorneys likely will salivate at the telling detail that 42 percent of participants obtained their cannabis through unregulated or illegal channels.
Of course, that's by design of the U.S.' global war on drugs. Maintain cannabis as a Schedule 1 drug without medical benefit — despite mountains of solid scientific evidence to the contrary — and Big Pharma easily maintains a skyrocketing profit margin on opioid and other medications.
Backlogged court systems, overcrowded prisons, and extortive penalties levied through police complete the circle of pot prohibition profiteers.
"The findings that some authorized patients purchase cannabis from unregulated sources and that a significant percentage of patients were charged for medical cannabis recommendations highlight ongoing policy challenges for this federal program," the study authors conclude.
High Times points out that "[a]s we've seen in the United States, keeping medical marijuana in an illegal status not only creates an unsafe scenario for the patients who obviously can benefit from it, but also results with a major revenue loss. Not to mention the health, law enforcement and social costs resulting from the opioid epidemic facing our country."
Considering the findings from this breakthrough study and others proving the seemingly endless medical and psychological benefits of cannabis, those societal costs prove insignificant in the eyes of those who keep this miraculous plant highly illegal or difficult to obtain.
---
This article (Study Confirms Pot Is NOT A Gateway Dug, Can Treat Tobacco And Opioid Addiction) by Claire Bernish is free and open source. You have permission to republish this article under a Creative Commons license with attribution to the author and TheFreeThoughtProject.com
The post Study Confirms Pot Is NOT A Gateway Drug, Can Treat Tobacco And Opioid Addiction appeared first on We Are Change.
Activist Gets Punched In The Face After Confronting Teens Who Were Torturing A Seal
Posted: 10 Mar 2017 08:00 PM PST
This woman was walking her dog when she noticed teenagers abusing a baby seal. Though she was punched for confronting them, her activism likely saved the creature's life.
Article via True Activist
Activist Sarah Tough is being commended for taking a stand against animal cruelty when she witnessed teenagers at Crimond Beach in County Durham, England, "torturing" a baby seal. The 25-year-old wrote on Facebook that she was walking her dog when she spotted teenagers messing with the wild animal as if it were a toy.
"Got punched in the nose by some little smack head because him and his pals were torturing a baby seal on Crimdon Beach, rolling him around and burying it in the sand, letting their dog on it." wrote Tough. "Told them to "f*** off or I'd call the police."
The aggressors didn't react nicely to Tough's confrontation and one of the individuals punched her in the face. Within seconds, her dog bit the attacker and the assaulters ran off. The brave woman then called the RSPCA, reports Metro. She wrote:
"[They] got there in record time and gave him some food. He's fine but very scared and exhausted. I have a nose piercing and the punch meant that my piercing punctured my septum. The rest of them started to laugh when I was hit."

"Luckily it's not broken but there was a lot of blood and it was like a searing hot pain," she added. "It's still sore now. I'm not so worried about myself though, I'm just glad the seal is safe."
Like her name suggests, the activist is tough and deserves respect for stepping up when no one else was around. "I took one for the seal team. Hah!" she wrote.
Sarah Tough was walking her dog when she spotted teenagers abusing a baby seal.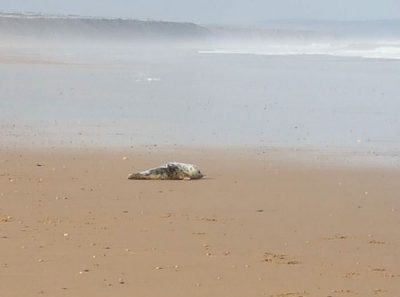 She confronted them and was punched. Then, her dog bit the attacker and they ran off.
The seal is now okay thanks to her activism and aid from the RSPCA.
What are your thoughts? Please comment below and share this news!
---
This article (Activist Gets Punched In The Face After Confronting Teens Who Were Torturing A Seal) is free and open source. You have permission to republish this article under a Creative Commons license with attribution to the author and TrueActivist.com
The post Activist Gets Punched In The Face After Confronting Teens Who Were Torturing A Seal appeared first on We Are Change.
U.S. Coalition Airstrikes Kill 23 Civilians In Northern Syria
Posted: 10 Mar 2017 07:46 PM PST
Attack Targeted Village Southeast of ISIS Capital of Raqqa
Article via Antiwar
A flurry of airstrikes by planes belonging to the US-led anti-ISIS coalition attacked the village of al-Matab today, just southeast of the ISIS capital city of Raqqa.
The strikes killed 23 civilians, according to the Syrian Observatory for Human Rights, with at least eight of them children.
Coalition spokesman Col. John Dorrian confirmed that US warplanes were carrying out airstrikes in the area in question, but said there was no way to know whether their airstrikes were the ones causing the casualties. He promised an investigation.
Of course, US investigations into airstrikes in Iraq and Syria almost never result in credible death tolls, with most of the investigations scrapped before any conclusion is reached, and the "official" US death toll less than 10% of the civilian toll from strikes reported by NGOs.
US officials are claiming a number of ISIS leadership figures have been trying to flee southeast from Raqqa into Deir Ezzor Province, and that the US and their allies are trying to cut off the road between the two. Whether bombing civilians in a village in the area is part of that plan is unclear.
---
This article first appeared on Antiwar.com and was authored by Jason Ditz.
The post U.S. Coalition Airstrikes Kill 23 Civilians In Northern Syria appeared first on We Are Change.
Jeff Sessions Asks All Remaining Obama-Appointed U.S. Attorneys To Resign
Posted: 10 Mar 2017 07:36 PM PST
Article via Zero Hedge
In a move that will likely provoke further media, and pundit, fury despite it being a routine act that is concurrent with every change in administration, Attorney General Jeff Sessions has asked all remaining Obama-appointed U.S. Attorneys for their resignation.
Sarah Isgur Flores, Director of Public Affairs at the Department of Justice, released the following statement:
"As was the case in prior transitions, many of the United States Attorneys nominated by the previous administration already have left the Department of Justice. The Attorney General has now asked the remaining 46 presidentially appointed U.S. Attorneys to tender their resignations in order to ensure a uniform transition. Until the new U.S. Attorneys are confirmed, the dedicated career prosecutors in our U.S. Attorney's Offices will continue the great work of the Department in investigating, prosecuting, and deterring the most violent offenders."
Trump had previously asked the Obama-appointed U.S. attorney in Manhattan, Preet Bharara, to stay on. In addition, the Obama-appointed U.S. attorney in Alexandria, Virginia, Dana Boente, is currently serving as acting deputy attorney general, and Trump has nominated the Obama-appointed U.S. Attorney for Maryland, Rod Rosenstein, for the deputy attorney general, Politico adds.
However, as NBC adds, Preet Bharara is one of the Attorneys asked to resigns, suggesting that something may have changed in the amicable realtionship between Trump and Bharara in the past few months.
The issue of removing U.S. attorneys at the change of administration has been a contentious one in past years. According to Politico, in 2007, President George W. Bush's administration sought to defend his firing of eight U.S. attorneys by asserting that President Bill Clinton had fired all sitting U.S. attorneys in 1993 "in one fell swoop," as a top aide to Attorney General Alberto Gonzales put it. However, that was not true.
In both the Clinton and Bush administrations, the vast majority of U.S. attorneys were replaced in the first year, the Los Angeles Times reported in 2007. The Clinton team asked for resignation letters in March, but also allowed many prosecutors to stay until their successors were confirmed. Trump has not yet formally nominated anyone to a U.S. attorney post.
Today's decision, long-overdue accoring to many, comes less than two months after then President-elect Trump said on January 18 he would allow U.S. attorneys appointed by President Barack Obama to remain in their roles for the time being.  Before the announcement, officials in several U.S. attorneys' offices told The Huffington Post they had received no guidance from the incoming administration on whether they were expected to resign when Trump became president.
"Currently serving U.S. Attorneys and U.S. Marshals were informed today that they are able to stay in place after January 20th while the process for identifying and confirming successors is further determined," Wyn Hornbuckle, a DOJ spokesman, said in a statement. The Executive Office for United States Attorneys informed the officials of the decision, he said.
As a reminder, it is standard practice for a new president to appoint his own U.S. attorneys, who are political appointees.
In retrospect, this decision should perhaps have been taken earlier, especially in the context of the constant pushback Trump's immigration EO – both original and revised – has received by various Obama-appointed Attorneys in the past month.
The bottom line, however, is that what Sessions has done, is considered standard operating procedure, and if anything Trump was late making the announcement. Sessions' request for the U.S. attorneys' resignations comes as he prepares to implement a series of significant policy shifts at the department, pushing for tougher prosecution of gun and drug offenses and parting company with the Obama administration's embrace of more lenient sentences for some drug convicts.
---
This article first appeared on ZeroHedge.com and was authored by Tyler Durden.
The post Jeff Sessions Asks All Remaining Obama-Appointed U.S. Attorneys To Resign appeared first on We Are Change.
Wikileaks Document Proves U.S. Consulate In Frankfurt, Germany Serves As Secret CIA Base
Posted: 10 Mar 2017 05:37 PM PST
Publishing company Wikileaks released over 8000 files of data this week, and it looks as if we will have months of reading material before we can fully assess the impacts.
If the source is as solid as Wikileaks claims, and Edward Snowden approves of, then it is about we started asking ourselves some questions about the integrity of our software that we have installed on our computer, among many other things.
According to the documents, the CIA has a secret base located in Frankfurt, Germany:
The document goes on to be what seems to be a manual for a spy heading over to Frankfurt. Here the document shows that the location of the secret base is located at the US Consulate in Frankfurt.
Of course, the the US Consulate in Frankfurt is located right at the location described in the document above. Termed the "Center for Cyber Intelligence Europe Engineering" or CCIE/Engineering, the hackers are allegedly given free reign to travel without border checks to 25 nearby European countries. At this CCIE/Engineering center, the spies apparently harness responsibility over Europe, Africa, and the Middle East.
View of giant covert CIA hacker base in Europe–the US "Consulate" in Frankfurt https://t.co/rIKhFzapTF

More: https://t.co/GM37Ilwa9g

— WikiLeaks (@wikileaks) March 8, 2017
One can only speculate about what really goes on at the US Consulate in Frankfurt, but since other documents suggest the use of 'zero day' exploits, it might be safe to say that the people of America deserve some answers. One of these exploits, Fine Dining, is scary to say the least:
As Wikileaks claims, and the evidence seen in this document illustrates, a CIA spy can attack a computer with USB drive and even have witnesses around to see it happen. Apparently the Fine Dining attack system can make the screen show over 24 applications, such as Chrome, Breakout2, Prezi, or McAfee whilst infecting and perhaps destroying the helpless computer
Wikileaks says that only 1% of the Vault 7 documents have been released so far, so there will likely be much more to report on this topic in the coming days. For now, one can only wonder how the country of Germany is going to respond to the news that there could be a CIA spy base in Frankfurt.
WikiLeaks has released less than 1% of its #Vault7 series in its part one publication yesterday 'Year Zero'.

— WikiLeaks (@wikileaks) March 8, 2017
The post Wikileaks Document Proves U.S. Consulate In Frankfurt, Germany Serves As Secret CIA Base appeared first on We Are Change.
Ex-CIA Boss Blames Millennials For Government Leaks
Posted: 10 Mar 2017 05:19 PM PST
Article via The Anti-Media by Carey Wedler
The CIA's chickens have come home to roost as distrust of the agency swells amid recent revelations from Wikileaks regarding the agency's extensive spying and hacking practices.
Rather than examining the problems inherent to the CIA's extensive power to hack into smart phones, for example, the government has focused its efforts on a quest to discover who leaked the sensitive documents.
In one apparent attempt to explain away the damning findings, former CIA Director Michael Hayden recently told BBC news that millennials are the weak link because they do not view loyalty and secrecy in the same light as previous generations.
"In order to do this kind of stuff, we have to recruit from a certain demographic," he said in reference to government surveillance. "And I don't mean to judge them at all, but this group of millennials and related groups simply have different understandings of the words loyalty, secrecy, and transparency than certainly my generation did."
He continued:
"So we bring these people into the agency – good Americans all, I can only assume – but again, culturally, they have different instincts than the people who made the decision to hire them, and we may be running into this different cultural approach."
He singled out Chelsea Manning and Edward Snowden, both millennial whistleblowers who made massive waves when they revealed nefarious activities on the part of the federal government.
On one hand, Hayden is correct in his assessment that millennials have different understandings of "loyalty, secrecy, and transparency." As the Intercept pointed out:
"A 2013 Pew poll found that millennials were more skeptical of government surveillance than any other age group — with 45 percent of millennials saying it was more important for the federal government to 'not intrude on personal privacy, even if that limits its ability to investigate possible terror threats' than 'to investigate possible terrorist threats, even if that intrudes on personal privacy.'"
They compared with just 26% of those aged 65 and older.
Further, at least some members of previous generations did appear to display more fervent loyalty to the government. Renowned journalist Carl Bernstein reported in 1977 that journalists were covertly working in tandem with the CIA — and that they felt a strong sense of duty and loyalty to the agency in doing so:
"[T]the journalists tended to see themselves as trusted friends of the Agency who performed occasional favors—usually without pay—in the national interest.
Bernstein reported that one prominent columnist later said, "I'm proud they asked me and proud to have done it. The notion that a newspaperman doesn't have a duty to his country is perfect balls."
Still, leaking sensitive documents in defiance of established authority is not just a trait of the modern generation or era. Around the same time journalists were proudly working with the CIA, others were subverting the government's secrecy. The Intercept notes:
"Consider Daniel Ellsberg, who was 40 when he leaked the Pentagon Papers to the press in 1971, exposing widespread government deceit about the Vietnam War. Or Mark Felt, who was almost 60 when he helped formed the basis for the Watergate stories under the pseudonym 'Deep Throat.'"
This is a historical trend spanning centuries. In 1772, Benjamin Franklin leaked letters from then-Governor of Massachusetts Thomas Hutchinson in which the state leader discussed "repressing the rights of colonists."
Try as Hayden might to blame his agency's woes on millennials, the fact remains that distrust of government is growing among all generations, and apparently, among whistleblowers of all ages. William Binney, an NSA whistleblower, was not a millennial. Nor were Jeffrey Sterling or John Kiriakou.
Evidently, millennials do not hold a monopoly on listening to their consciences and acting accordingly — nor does the CIA hold a monopoly on secrecy. At least, not anymore.
---
Creative Commons / Anti-Media / Report a typo
The post Ex-CIA Boss Blames Millennials For Government Leaks appeared first on We Are Change.
VP Mike Pence: We Will Use 'Full Force Of The Law' Against WikiLeaks
Posted: 10 Mar 2017 12:55 PM PST
The U.S. will use the "full force of the law" to go after those responsible for the latest WikiLeaks release if the documents are found to be authenticate CIA documents, Vice-President Mike Pence has warned.
"Trafficking in national security information, as is alleged WikiLeaks has done here, is a very serious offense," Pence told Fox News on Thursday.
.@VP: "Trafficking in national security information…is a very serious offense." #SpecialReport pic.twitter.com/tcDOmQL7pA

— Fox News (@FoxNews) March 9, 2017
"It represents a compromise of the security of the American people," he added.
Pence went on to say that President Donald Trump will take offense to the release "very seriously" and "use the full force of the law and resources of the United States to hold all of those to account that were involved."
"This president and this administration will take that very seriously and use the full force of the law and resources of the United States to hold all of those to account that were involved," Pence said.
He said that "no resource will be spared" in holding the guilty parties responsible if the 'Vault 7' release is proven to contain legitimate information into the inner-workings of the CIA.
WikiLeaks on Tuesday released a massive trove of documents called Vault 7 which includes 8,761 documents that purport to reveal the CIA's extensive hacking and surveillance capabilities.
The release includes descriptions of hacking tools, engineering notes, internal communications, and redacted names of agents having conversations about how to exploit security.
It exposes details of the CIA's "global covert hacking program," including "weaponized exploits" used against well-known products including "Apple's iPhone, Google's Android and Microsoft's Windows software as well as Mac OSX and Linux and even Samsung TVs, which are turned into covert microphones" by the Central Intelligence Agency.
The FBI and CIA announced Wednesday that they would collaborate on a joint probe of the documents' release hunting for the leaker dubbed Snowden 2.0.
The CIA has denied any wrong doing in a statement, claiming that they don't spy domestically on Americans and that Wikileaks endangered national security.
"It is CIA's job to innovative, cutting-edge, and the first line of defense in protecting this country from enemies abroad," it said in a statement. "America deserves nothing less."
"The American public should be deeply troubled by any WikiLeaks disclosure designed to damage the Intelligence Community's ability to protect America against terrorists and other adversaries."
Wikileaks has begun working with tech companies to fix the exploits revealed in the large cache of documents stating in a press conference on Thursday that they would begin leaking the source code to tech companies working to help fix the vulnerabilities in devices.
The post VP Mike Pence: We Will Use 'Full Force Of The Law' Against WikiLeaks appeared first on We Are Change.
The U.S. Just Sent Hundreds Of Troops Into Syria
Posted: 10 Mar 2017 12:29 PM PST
Article via The Anti-Media
A number of leading outlets, including the New York Times, are now reporting that the U.S. is sending more and more ground troops into Syria. According to the New York Times, the U.S. just sent an additional 400 troops to Syria to help prepare for a looming fight in Raqqa, ISIS' supposed capital in Syria.
The majority of the public will likely shrug this off as a minor development in the global war on terror because that is how the media presents the story.
However, there are a number of issues with U.S. troops being deployed to Syria — issues the corporate media refuses to acknowledge.
1. Illegality
War needs a legal basis. A country can't just send troops to another country because they feel like it. The only check the world currently has to protect itself from unjust wars is a combination of domestic and international legal systems that severely restrict the conditions under which a war can be launched. In the case of the United States, the superpower is bound not only to the international legal principles surrounding war, but also to a number of domestic principles that require congressional authorization to be given first. In the case of Libya in 2011, Barack Obama famously bypassed Congress and launched air strikes on the Libyan government. This was rarely questioned by the mainstream media.
Without permission from the Syrian government, which — whether we like it or not — holds the seat at the U.N. and was elected in 2014, the U.S. cannot legally launch troops into its territory.
2. Morality
Because the media rarely touches on the legality of the U.S.-led war on terror, there seems to be a widespread sentiment that even though the legal implications are quite damning, these operations are still the right thing to carry out given the context. For example, people often ask, "So what should we do? Nothing?" in response to the terror that ISIS has wreaked across Iraq, Syria, Libya and Yemen.
So what can one say in response? First, it was U.S. policies that created ISIS in the first place by disbanding the Iraqi army in 2003, leaving hundreds of thousands of military officers without jobs. It was Obama's policies that put ISIS in Libya and that helped ISIS grow in Iraq and Syria. A good example of this can be seen in the instances where ISIS took its major strongholds in Iraq and Syria while the U.S. completely sat on their hands and did nothing.
Leaked audio of former Secretary of State John Kerry confirmed the U.S. was purposely watching ISIS grow so the terror group could put pressure on the Syrian government to come to the negotiating table. The U.S. clearly cannot claim the moral high ground regarding the war on terror.
3. The Travel Ban
Trump's original travel ban heavily targeted Syria and its refugees. His new travel ban, which removes Iraq but leaves in Iran, still puts heavy restrictions on refugees fleeing Syria. In order to see the point of this statement, just reverse the countries in your head and picture the following scenario: Syria, a rich and wealthy tourism hotspot, has barred citizens of the United States from entering its country. On top of this, Syria is sending trained assassins into the United States without any legal basis.
One country bans the other but sends ground troops to invade its territory at the same time. Sound fair?
4. War with Syria
In October of last year, Anti-Media reported on the possibility that the current U.S.-backed offensive in Mosul was just an excuse to push ISIS back into Syria for an upcoming offensive on Raqqa, which would give the U.S. more of an excuse to conduct operations in Syrian territory. The intention of this is, of course, to put added pressure on the Syrian regime, which made significant advances in Aleppo last year with the assistance of Russian air power.
ISIS reinforcements fleeing Mosul and arriving in Syria are putting greater pressure on the Syrian regime. The United States was fully aware of this, but it did not seem to be of any concern to the American air force, which has done nothing but watch it unfold.
In tandem with the arrival of American troops, Saudi Arabia has also expressed its intention to send ground troops into Syria with the express purpose of ensuring that liberated areas of Syria do not fall into the hands of the Syrian regime, Hezbollah, or Iran.
Make no mistake. These operations are laying the groundwork for a direct confrontation with Syria and/or Iran — two countries that have the backing of the Russian air force and have close ties to China and North Korea.
"The upshot is that it's still unclear who will take Raqqa when Mosul falls," said one senior official involved in discussions, as reported by the Guardian. "The Americans are still hedging on the Kurds, even though the Turks are adamantly opposed. The Russians want the Syrian army and the rebels to do it, under their tutelage."
Whose interests are being served here? Certainly not the people of the Middle East, and certainly not the American public, either.
***
While some people naively looked to Trump as a powerful revolutionary who could stand up to the corporate elite, it has become increasingly clear that even if Trump wanted to change America's foreign policy strategy, his hands have already been tied. Trump's expansive military budget should quash any discussion on this issue as he seeks to increase the size and scope of the already massive American military.
---
Creative Commons / Anti-Media / Report a typo
The post The U.S. Just Sent Hundreds Of Troops Into Syria appeared first on We Are Change.