Countries With Fastest Trains Don't Include USA, Canada or EU-Ones With Deplorables as Leaders
High speed trains are popular means of mass transportation, intracity and international. According to market research firm Datamonitor, the global rail industry will reach a value of $850 billion this year. Due to rising fuel prices which continue to make car and air travel more expensive, governments around the world are going ahead with their high speed train projects. With the innovations in technology and computer science, new and faster engines and travel methods revolutionize the railway sector. Here you can find an overview of the 5 countries with the fastest trains today.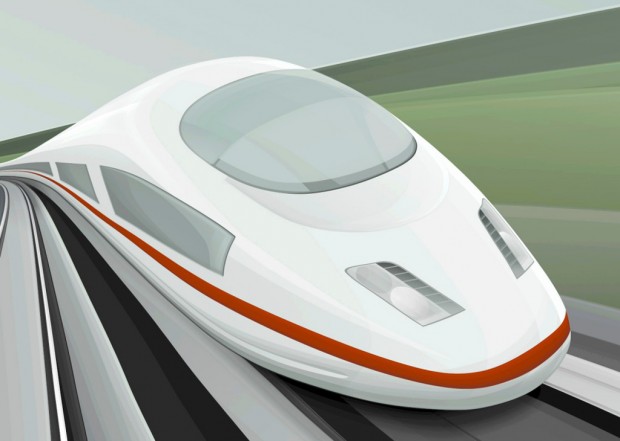 5. Spain
Train: AVE Class 103
Speed: 403 km/h – 251 mph
Capacity: 404 passengers
With 5,520 kilometer / 3,433 miles of tracks, Spain has the longest high speed railway network in Europe. At present Spain has six high speed lines and several under construction. By the year 2020 the government plans to have 90% of its population within 55 km / 31 miles of high speed rail transportation. The AVE series manufactured by a number of train manufacturers including Alstom, Siemens and Bombardier are the fastest trains in Spain. The AVE Class 103 train manufactured by Siemens began operating commercially in 2007, and recorded a top speed of 403 km/h – 251 mph during a test run between Zaragoza and Madrid. But for the sake of passenger's safety the maximum top speed on commercial trains in Spain is 300 km/h – 186 mph. The euro-zone debt crisis and Portugal's austerity plan have stopped a major expansion plan connecting Madrid and Lisbon, which would have cut down the travel time between the two cities from nine hours to two hours and forty five minutes.
4. Germany
Train: Transrapid TR-07
Speed: 434 km/h – 270.3 mph
Capacity: Experimental
Home to world's largest maker of high speed trains, Siemens; Germany has always been the forerunner of high speed rail technology. German companies ThyssenKrupp and Siemens have developed high speed monorail trains called Transrapid system that operates on magnetic levitation (maglev) technology, and can reach to a top speed of 500 km/H – 311 mph. The Shanghai Maglev train in China was the first commercial Transrapid to carry people in 2004, which recorded a top speed of 430 km/h – 267 mph. The magnetic levitation trains were developed in Germany, but were never used commercially there. Maglev has faced several problems, including high costs and an accident that killed 25 people in 2006 during a test run. Instead, the Inter City Express (ICE) has been running throughout the country since 1991, with a top speed of 320 km/h – 199 mph, connecting German cities with the cities in Belgium, Switzerland, Netherlands, and Austria. The ICE train accident in 1998 near Eschede, a German village that claimed lives of 101 people is considered as the world's deadliest high speed rail accident ever.
3. France
Train: TGV V150
Speed: 574 km/h – 357 mph
Capacity: Experimental
France sped ahead of the rest of European countries to build the first fully operational high speed rail system by launching the TGV trains in 1981, which served between Paris and Lyon. The train now serves 150 destinations within France and neighboring countries. The train runs at a speed of up to 320 km/h – 200 mph, but the experimental TGV V150 recorded a maximum speed of 574 km/h – 357 mph in 2007, making it the second fastest train in the world. TGV's high speed technology is being used in trains of many European countries like the Netherlands, the UK, Germany and Belgium. Recently Alstom, the French train maker signed a deal to build a high speed rail line in Iraq linking the cities of Basra and Baghdad.
2. Japan
Train: JR-Maglev MLX01
Speed: 581 km/h – 361 mph
Capacity: Experimental
Japan was the first country to operate high speed trains, by opening the world's first modern high speed rain in 1964. The introduction of the first series of the Tokaido Shinkansen bullet trains which traveled at a top speed of 209 km/h – 130 mph was the first breakthrough the Japanese had made in this field. In the first three years the bullet trains carried over 100 million passengers. These trains continue to operate on the world's busiest railway lines even today, carrying 378,000 passengers a day. The Japanese have been developing maglev trains since the 1970s. The government has approved a maglev line between Osaka, Nagoya and Tokyo, with a price tag of $112.4 billion. The completion date for this project is estimated to be 2027. This high speed project is supposed to cut the travel time between Osaka and Tokyo to just over an hour from the current two hours and 18 minutes. The experimental JR Maglev MLXQ01 is currently being considered as the world's fastest train with a top speed of 581 km/h – 361 mph, which hit achieved during a test run in 2003.
1. China
Train: Traction Power State Key Laboratory Test Project
Speed: 1,200 km/h – 745 mph
Capacity: Experimental
With more than 9,650 kilometers / 6,000 miles of routes in service, China has the world's largest high speed rail network. The 1318 kilometer – 819 mile Beijing- Shanghai line is the longest high speed rail route, which was opened earlier this month, adding to China's huge high speed rail network. 60 million cubic meters of concrete was required to make this route, which is twice the amount that was used in the Three Gorges Dam. The train usually operates at a speed of 300 km/h – 186 mph, but has recorded a maximum speed of 486 km/h – 302 mph in a test run. When the first high speed line opened in China in 2007 about 40.6 million people travelled on it in just the first two years. By the end of 2015 the Chinese government plans to expand their rapidly growing high speed rail network to 45,000 kilometers – 28,000 miles. Beginning of 2011, scientists of Southwest Jiaotong University managed to develop a vacuum maglev train that was able to run with a speed of 1,200 km/h – 745 mph at the Traction Power State Key Laboratory. Running in a vacuum tunnel that eliminates air friction, this experimental project broke the speed record set by JR-Maglev. According to Shuai Bin, the vice dean of the Traffic Department of the Jiaotong University, this would mean that passengers would be able to travel from Guangzhou to Beijing in less than two hours, while the same travel distance takes 3 hours by plane.
by Shailesh Rade