WeAreChange.org Daily Mail
---
WATCH: Off-Duty Police Officer Assaults 13 Year-old Boy Then Discharges His Weapon; Protest Ensue
Posted: 23 Feb 2017 11:24 AM PST
Protest have erupted after an off-duty unnamed police officer assaulted a 13-year-old boy for not getting off his lawn grabbing him and later getting into a physical confrontation with him resulting in the firing of his gun.
This is my video on what happened during the whole situation yesterday and the man was in the wrong for even pulling out his gun, like honestly I understand why he would think of showing it to get the kids off n away from him but taking it out and firing it was hella wrong he had no aim Im guessing it was accidental but He could've hurt one of us there.? this ain't right!

Posted by Jay Gonzalez on Wednesday, February 22, 2017
The incident happened in Anaheim, California around 2:40 p.m. Tuesday near Euclid Street and West Palais Road, close to Loara High School, according to the Anaheim Police Department.
"The confrontation began over ongoing issues with juveniles walking across the officer's property," Anaheim police said in an updated statement issued Wednesday after cellphone video of the altercation was posted on YouTube.
Which has since been removed from Youtube for "violating community guidelines."
In the now deleted nine-minute YouTube video of the confrontation the teen can be heard making claims that the officer got upset with a girl who was walking on his lawn who called her a "cunt" the boy then came to the girl's defense, prompting the confrontation between the two.
The boy "is alleged to have threatened to shoot the off-duty officer," Anaheim police said. That account is disputed in the video by the boy himself and by the boy's parents who say that the boy identified as Christian Dorscht told the cop that 'I'm going to sue you for hitting me. I'm a minor,'" Johnny Dorscht Christian's father said OC Weekly reported.
The unknown police officer discharged his weapon endangering dozens of teens including some who appear to be minors.
JUST IN: Hundreds protest in Anaheim after an off-duty LAPD cop grabbed a teenager and fired his weapon during a scuffle on his lawn. pic.twitter.com/ry6W56fkh1

— Fusion (@Fusion) February 23, 2017
Info regarding an off-duty #LAPD officer involved shooting on 2/21/17 in Anaheim-Your patience is appreciated as the investigation continues pic.twitter.com/fbkeum3wS5

— LAPD HQ (@LAPDHQ) February 23, 2017
"You've been resisting this whole time," the man told Christian, who can be seen in the video clutching the youth and refusing to let go. "Punch a kid in the nuts, that's a little pussy move," Christian responded. "Let me go, for the last time!"
A taller boy then tries to break the officer's grip. While another boy rushes the officer and tackles him into a small hedge, still holding the 13-year-old.
The taller boy then takes a swing at the officer. Other teens approach and the officer.
Then in a matter of a few seconds, the officer, with one hand still on the 13-year-old, reaches into his waistband and pulls out a handgun.
The person recording the video backs away, and the view of the confrontation is temporarily blocked.
A single gunshot is then heard.
The officer can be seen pulling the teen over the hedge as the person recording and other witnesses run away from the scene. Kneeling over the teen, the officer appears to tell the older man with the crutch to call 911.
"The little kid said, 'I'm going to sue you,' and then the guy thought he said, 'I'm going to shoot you.' That's when he started grabbing the little kid," Gregory Perez, 16, told the Orange County Register.
Police made it clear that "No one was struck by the gunfire, and the officer admitted firing the weapon."
The officer was placed on administrative leave and was not arrested, according to an LAPD statement issued Wednesday night despite assaulting a 13-year-old boy KTLA5 reported.
The 13-year-old was arrested on suspicion of making criminal threats and battery, while another teen a 15-year-old was arrested on suspicion of assault and battery.
Hundreds protested against police brutality Wednesday night resulting in 24 arrested for misdemeanor matters KTLA5 reported.
Approx 24 arrests made for misdemeanor charges including failure to disperse #anaheim #arrests #protest #apd

— Anaheim PD (@AnaheimPD) February 23, 2017
The protests resulted in the unknown cops house being vandalized including having rocks thrown at the windows and his garage tagged with graffiti.
While the Anaheim Mayor Tom Tait said the city is committed to a thorough investigation.
 "Like many in the community, I've seen the video and I'm very concerned about what it shows," Tait said in a released statement. "Anaheim is committed to a full and impartial investigation. Our city will move forward without delay."
What do you think about a cop attacking a teen for walking on his lawn then discharging his firearm? Let us know in the comment section below!
The post WATCH: Off-Duty Police Officer Assaults 13 Year-old Boy Then Discharges His Weapon; Protest Ensue appeared first on We Are Change.
Regulations have Made the Practice of Medicine an Obstacle Course of Criminality
Posted: 23 Feb 2017 11:20 AM PST
Article Via: The Daily Sheeple
This criminalization of everyday life is not just insanely costly and insanely counter-productive–it's insanely punitive.
The average person has little exposure to the criminalization of everyday enterprise in America via over-regulation and outsized penalties for even accidental violations of rules and regulations. One field that continues to be burdened with excessive/counter-productive regulations and outsized penalties is the practice of medicine.
I received the following email from a physician correspondent:
"As you will see, physicians have to deal with the federal government's increasingly crazy and copious rules (like which patients they can screen for disease and how often).

The following is an email ad I received for an expensive service that provides no benefit to the ill and injured of America. It's bureaucratic nonsense."
Here is the email ad:
Can you afford a $1.1 million penalty and a 50-year exclusion from Medicare? That's what one New Jersey provider is facing. And he's not alone. In the last couple of months a facility in Utah is now under a 30-year exclusion, and a New York physician is now excluded from Medicare for five years.

These penalties and exclusions not only affect those providers that are intentionally fraudulent. Even an innocent mistake can land you in serious legal and financial hot water. Being tagged as "excluded" by the Office of the Inspector General (OIG) can crush your practice — especially considering the new guidelines that went into effect just a couple of days ago (on Feb. 13th).

Tomorrow, a leading healthcare attorney will walk you through the new exclusionary rules that just took effect so that you can really understand what will keep you off of the OIG's hit list.

Here are just a few of the practical, easy-to-implement tactics you'll receive by attending this 60-minute online training:

–Determine specifically who you should screen (individuals and entities) and how often

–Avoid being placed on the list for lack of compliance if there is a match on your team

–Find out what other legal actions can have collateral damage resulting in exclusion

–Learn how to get reinstated onto Medicare after an exclusion period expires

–Head off the top "flags" that lead to exclusions

–Master documentation requirements making your files audit-proof

–And so much more…

To make matters worse, if you employ an excluded employee (even accidentally), any funds paid to them must be paid back to Medicare/Medicaid promptly, and if you don't take action quickly enough your entire practice could be at risk. Are you really ready to lose serious revenue by getting thrown out of Medicare and your other private insurers?

Don't take the chance. Invest just 60 minutes of your time and attend this step-by-step, plain-English online training session that will provide you with the tools you need to protect yourself, your staff and your practice. Don't wait, sign up today.
This is just the tip of the iceberg of healthcare compliance costs and penalties that are far more punishing than the "crimes." If you wonder why America pays the highest cost per person for uneven healthcare coverage and care, take a look at this chart of the administrative system that has mushroomed into an incredibly costly bureaucratic monster that provides zero care.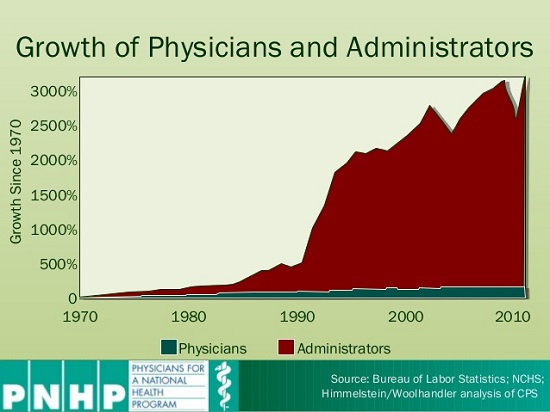 Add layer after layer after layer of new complex regulations to the practice of medicine, and soon enough you need millions of paper-pushing employees to monitor compliance, enforce compliance, pursue administrative and criminal charges of non-compliance, file claims and counter-claims, defend the innocent from false accusations, write hundreds of pages of new regulations, and so on.
Yes, there is a place for common-sense regulations, and procedures to vet caregivers and track standards of care, etc.
But the system is now so onerous and out of control that the practice of medicine now requires far more attorneys and compliance-regulatory-paper-pushers than it does doctors and nurses.
This is but one example of America's obsessive penchant for criminalizing and over-regulating everyday life. No wonder America has over 20 million people with felony convictions, many for drug-related offenses that should have been treated as medical conditions (such as addiction).
In America, every "crime" deserves a heavy and often-life-destroying penalty–even non-compliance "crimes" committed by overworked innocents.
This criminalization of everyday life is not just insanely costly and insanely counter-productive–it's insanely punitive. It is the output of a sick society, a sick culture and a sickness-unto-death system of governance.
This article first appeared on TheDailySheeple.com and was authored by Hugh Smith

The post Regulations have Made the Practice of Medicine an Obstacle Course of Criminality appeared first on We Are Change.
Reddit Permanently Suspends Collective-Evolution For Asking NASA A Question On ET Life
Posted: 23 Feb 2017 08:46 AM PST
Reddit has suspended Collective-Evolution's Reddit account after asking a question during the seven planet discovery AMA "when is NASA going to reveal what is known about ET life?"
Collective evolution asked a simple question backing their question up by factual testimony by Paul Hellyer a former Canadian Defense Minister who said: "there are at least four known ET races."
"Collective Evolution Media asks: When is NASA going to reveal what is known about ET life? Former defense minister of Canada Hon. Paul Hellyer has said there are at least four known ET species communicating with humans. He is certainly not the only high ranking whistleblower on this topic. When is NASA going to address this? Thanks!," they asked.

They felt their question, at the very least, would tell them "what the public was thinking about the subject, and hopefully perhaps get a response back from NASA," instead they received a nice red Reddit ban hammer and a permanent account deletion.
As well as backlash from the Reddit community calling the question "silly" adding that "NASA was here to answer serious questions only, and not conspiracy theories."
Hold on Reddit community conspiracy theories have no basis the topic of UFO's and extraterrestrials has a lot of basis there are hundreds of military, NASA employees, and other well-respected profession whistleblowers.
If I were Collective-Evolution, I would have gone a step further and asked a more brazen question not holding back like:
"When is NASA going to reveal what is known about ET life? Do you realize you have a programming director Wayne Hale on tape saying that you have been chasing objects for many many years in the sky but rarely have been able to pinpoint their origin and have determined that these crafts don't pose any hazard?" In addition to that, there are multiple NASA whistleblowers and military personnel as well as world leaders known thanks to Wikileaks who all believe we are not alone why don't you tell the truth?"
Further, I would add "If Extraterrestrial life and UFO's don't exist what are these leaked NORAD documents barring pilots from speaking about their experiences and what are these other government documents that I have been collecting over the years? Finally, what are these Apollo mission tapes discussing a "bogey at 10 o clock high" an "unidentified flying object" and what does your astronaut mean when he says "it seems to be flying along with us?" What is "it" I suppose your own programmer Wayne Hale answered that question when he said that "for many many years we have have been chasing these objects in our skies." Also, NASA, if there is no Extraterrestrial life and UFOs are the imagination of crazy conspiracy theorist why have UFO sightings increased?" Which would result in me being permanently banned like Collective-Evolution for asking damn relevant questions and providing information that you the public deserves to know exist.
#LEAK:
ALIEN LIFE & MILITARY BLACK PROJECT DOCUMENTS & EVIDENCE:https://t.co/t7A7iThqj3#BlackProjects #Disclosure pic.twitter.com/i03550IUGg

— AKilluminati (@An0nKn0wledge) January 21, 2016
[RELATED: Wikileaks X-FILES: John Podesta's Alien Emails Disclosure?]
[RELATED: Shocking UFO Footage Released By Chilean Navy Matches Several Other Well Known Sightings]
[RELATED: Jean-Claude Juncker Declares He Talked With Extraterrestrials About Brexit]
[RELATED: DISCLOSURE: ALIEN DISCLOSURE ADVOCATE LEAKS NORAD DOCUMENTS ON UFOS]
The post Reddit Permanently Suspends Collective-Evolution For Asking NASA A Question On ET Life appeared first on We Are Change.
A New Perspective on Depression – Perhaps We've Had it Wrong all Along
Posted: 23 Feb 2017 08:44 AM PST
Article Via: AntiMedia
The phenomenon of depression is among the most common psychological disorders in the United States. It is estimated that about 16 million Americans experience a depressive episode every year, while around 350 million (5% of the world's population) suffer from some form of depression. The symptoms vary from weight gain, weight loss, insomnia, and oversleeping to an inability to feel pleasure, sadness, and loss of focus. The causes for depression vary as well, but common depressive episodes revolve around major events such as death, illness, and loss.
The general understanding within the medical community is that depression is a psychological disorder cured with antidepressants, a little therapy, and perhaps engagement in extracurricular and outdoor activities. However, one theory suggests depression is more than a mental disorder.
In a 2009 publication by Paul W. Andrews of Virginia Commonwealth University and J. Anderson Thompson, Jr. of the University of Virginia, depression was observed as an evolutionary trait for extensive analysis and problem-solving. The abstract of the publication reads:
"[…] Depressed people often have severe, complex problems, and rumination is a common feature. Depressed people often believe that their ruminations give them insight into their problems, but clinicians often view depressive rumination as pathological because it is difficult to disrupt and interferes with the ability to concentrate on other things. Abundant evidence indicates that depressive rumination involves the analysis of episode-related problems. Because analysis is time consuming and requires sustained processing, disruption would interfere with problem-solving."
The paper continues:
"The analytical rumination (AR) hypothesis proposes that depression is an adaptation that evolved as a response to complex problems and whose function is to minimize disruption of rumination and sustain analysis of complex problems. It accomplishes this by giving episode-related problems priority access to limited processing resources, by reducing the desire to engage in distracting activities (anhedonia), and by producing psychomotor changes that reduce exposure to distracting stimuli. Because processing resources are limited, the inability to concentrate on other things is a tradeoff that must be made to sustain analysis of the triggering problem […]"  
In other words, the inability to feel pleasure or enjoyment during depressive episodes may be the brain ridding itself of distractions to focus on solving the problem causing the depression. This challenges the familiar remedy of going out or having fun as an effective approach, as this theory suggests the whole point of depression is to analyze and solve. The research and their sources can all be found in the publication "The Bright Side of Being Blue: Depression as an Adaptation for Analyzing Complex Problems," which can be read for free here.
Interestingly, this theory supports the idea that self-inquiry, if guided and structured, can effectively combat depressive episodes. This common method is referred to as "The Socratic Method." It is a system of questioning based on the teachings of ancient Greek philosopher Socrates. In this method, a therapist suggests questions for the patient to ask themselves. This series of circumstantial questioning leads the patient on a path of self-analysis, dissecting their perspectives and allowing them to understand their problems and approach the roots of their depression with clarity. Critical thinking as a cure for depression. Who would have thought?
While depression is indeed complicated, and cases should not be generalized or considered the same, these theories, methods, and results do indicate it is possible that proper therapy may be more effective in treating depression than SSRIs and other mood stabilizers. While medication has been effective in treating some, it rarely acts as a long-term solution, hence the common scenario of stacking medications on top of one another to combat each other's side effects. Additionally, these medications don't actually cure anything. They amount to putting a band-aid on a gaping wound that requires stitches. The problem isn't just the bleeding — the problem is the open wound.
Addressing the roots of depression is far more important than putting the symptoms to rest while allowing the demons that create them to continue plaguing people's minds. It simply puts a haze between the person and the influence of the disorder. An effective method of curing depression is also economically wise, especially since America, as a society, spends around $210 billion a year treating depression — and much of that money flies right into the pockets of pharmaceutical companies. However, there is hope on the horizon, as methods like problem-solving therapy and research into psychedelic treatment are becoming more common. Watch out, Big Pharma.
This article first appeared on TheDailySheeple.com and was authored by The Daily Sheeple
The post A New Perspective on Depression – Perhaps We've Had it Wrong all Along appeared first on We Are Change.
Project Veritas Releases #CNNLeaks Offers $10,000 Award To Expose Media Malfeasance
Posted: 23 Feb 2017 07:10 AM PST
James O'Keefe has delivered his promise releasing the first batch of hundreds of hours of leaked CNN footage in Wikileaks style.
#EXPOSINGTHEMEDIA Part I: Project Veritas #CNNLeaks are live now. @CNN are you ready? https://t.co/j9jobQMbeF

— James O'Keefe (@JamesOKeefeIII) February 23, 2017
The website is also down at the moment probably from the influx of people trying to download the information.
The audio was obtained at CNN's Atlanta headquarters in 2009.
O'Keefe noted that since the announcement of the release they have had two whistleblowers come forward.
O'Keefe also announced a "$10,000 Award for Content Which Exposes Media Malfeasance."
"Project Veritas is determined to expose malfeasance, corruption and wrongdoing," said Project Veritas founder and president James O'Keefe. "We want to become a destination where citizen journalists can come forward, work with us and make a real impact. That's why today, we're announcing a $10,000 award for anyone that comes forward with legally obtained materials exposing media malfeasance.  If you have hidden audio recordings, video tapes or documents inside of a news room or media institution–and the material is good enough–I will pay you $10,000."
This is getting juicy grab your popcorn this is going to be a wild ride.
In a press release Project Veritas said:
Project Veritas released 119 hours of raw audio in a WikiLeaks style dump, with over 100 more hours still yet to be released. The audio was secretly recorded in 2009 by an anonymous source inside CNN's Atlanta headquarters who we are identifying as Miss X. The tapes contain soundbites from current and previous CNN employees Joe Sterling, Arthur Brice, and Nicky Robertson, as well as numerous others. Project Veritas is also offering a $10,000 award for content that exposes media malfeasance.
The tapes show CNN's misrepresentation of polling data:
Miss X: "I read a CNN poll that was taken on June 26 and 28th, and I know that the hearing for the case, the fire fighters case was on the 29th, so the poll was done right before it, and those are still the poll results we're reporting, so I asked someone in DC who does the poll results about why we hadn't updated it, and said there were a few newer polls from last week and the week before and there's CBS news polls and a Rasmussen poll, and he said we don't use Rasmussen, and I said does CNN plan to do another poll if we're only using that. He said we're not going to be doing another poll, those are the results we'll be using. So I don't see how that's reporting all sides because that poll said hold for release until Friday the 10th."

Arthur Brice: "Who did you talk with?"

Miss X: "Paul [CNN's Deputy Political Director Paul Steinhauser]."
Arthur Brice: "Yeah, he's your director. Yeah, he's pretty high up in the food chain. I agree. I think it's dishonest to use outdated information if new information shows something that is in variance with what you're reporting. It's just, it's dishonest."
The same apathy towards reporting accurate poll numbers was seen in the way CNN released inaccurate poll numbers about Supreme Court Justice Sotomayor.
Miss X: "This wasn't released until two weeks after. So can we say a newly released poll?"

Joe Sterling: "No, you can't say that. You can't say that at all. This isn't a newly released."

Miss X: "But it says newly released on Friday."

Joe Sterling: "I know, how did we write about this? Did we write a wire about this?

"I don't think we stand to change how people think of her [Sotomayor]. Geez, I mean if someone picked this up it's not going to change—it's not going to change anybody's opinion."
Richard Griffiths, who is now CNN's Vice President and Senior Editorial Director, was caught explaining that the role of a journalist is to "aid the afflicted and afflict the comfortable."
"If we are journalists, what is our role as a journalist? What is the fundamental role as a journalist, for us to do?

"Tell a story. Tell what's going on. There's a secondary corollary to that, right? Aid the afflicted and afflict the comfortable. To a degree, right? Is that not part of the traditional role of a journalist. It's actually one of the things I can be most proud of as a journalist. You know we try to show the ugly side of humanity so we can do something about it. It's hard, very hard."
In the secretly recorded tapes, CNN's liberal, anti-Republican, and anti-Fox News bias is clear.
"Fox News, I think Fox News is unbearable. It's horrible," said Nicky Robertson, who was at that time the CNN Assignment Desk Editor.
Joe Sterling, who was then the News desk editor for CNN's online venue 'The Wire' was also recorded speaking profound liberal bias.
 "That issue, climate change, I mean science is pretty much on board and there are a few dissenters.  There's no debate.  It's like you know, born-agains saying there's a debate over, you know creationism, and all that stuff.  There is no debate."
(THIS IS A DEVELOPING STORY)
The post Project Veritas Releases #CNNLeaks Offers $10,000 Award To Expose Media Malfeasance appeared first on We Are Change.
Former President Jimmy Carter Realizes Renewable Energy Is The Future Will Build 1.3 Megawatt Solar Power Station
Posted: 23 Feb 2017 05:44 AM PST
Former President Carter, an outspoken critic of fossil fuels and the elite structure who once declared that "America is no longer a Democracy it's an oligarchy" has made another huge leap towards change leasing his peanut farm in Georgia to SolAmerica to provide renewable energy to his city.
Carter a long-time advocate for renewable energy,  leased his 10-acre peanut farm in his hometown to a solar energy company SolAmerica, which is to develop a 1.3-megawatt station that is expected to provide power for more than 50 percent of the electricity in the city Albany Herald reported.
Carter's valiant effort could power an estimated 200 homes while it isn't all of Georgia it's definitely a start.
"Rosalynn and I are very pleased to be a part of SolAmerica's exciting solar project in Plains," said Carter in a press release about the project. "Distributed, clean energy generation is critical to meeting growing energy needs around the world while fighting the effects of climate change. I am encouraged by the tremendous progress that solar and other clean energy solutions have made in recent years and expect those trends to continue."
"I first became acquainted with renewable energy when I was 11 years old," the former President said. "We lived in a home west of Plains, about two and a half miles. We didn't have electricity in our house. We didn't have running water in our house, and my daddy installed a windmill. We then had an indoor bathroom for the first time and a shower bath. My daddy punched holes in the bottom of a tin bucket. Water would pour in the bucket and dribble out on us, so that was our shower bath. That was a very great improvement in my life depending on energy from the sun for wind power."
According to Carter, during his time as governor and later as President, he began to realize the importance of developing renewable energy and it became very clear to him setting a long-term goal that he is now beginning to see come to fruition.
"When I got elected President, I was very eager to see this done, but I even learned about the need for (renewable energy) in an international political way when I was governor," Carter said. "Richard Nixon was president, and as you may or may not remember, back in those days we had an Arab boycott against America, and they refused to send us oil that we needed for gasoline and other purposes. When I was governor, we had very tight restraints on gasoline purchases in America, so when I got to be president, I was very eager to do something about it if I could."
Carter, as President, created the Department of Energy in 1977 and the Federal Energy Regulatory Commission, in addition, he signed the Public Utility Regulatory Act, all of which were ultimately catalysts for the advancement of renewable energy in the U.S.
Carter was also the first President to have solar panels installed on top of the White House which were only unfortunately later removed by his successor President Ronald Reagan.
"With the help of Congress, we approved an energy department as well as an education department," Carter said Wednesday. "We allotted a great deal of money, several billions of dollars, for research and development in energy. A lot of people have asked me lately, 'We know what Reagan did when he took over and removed the panels, but what do you think President Trump's going to do?' And I don't really know yet.
Carter noted that he hasn't talked to Trump about this specifically but that he feels that his own administration provided jobs from renewable energy and that he believes that renewable energy is a good opportunity for Trump to "look at and see how we can produce a lot of jobs in America just by increasing our production of renewable energy."
"I haven't talked to Trump about this specifically, but while I was in the White House, as you may know, there was a lot of economic problems in the whole world. However, during my administration, we had a great increase in jobs in America. In fact, no other President has had more per year than we did, and a lot of those jobs came from renewable energy, the search for a way to use wind and energy from the sun directly and otherwise. That is a good opportunity for President Trump to look at and see how we can produce a lot of jobs in America just by increasing our production of renewable energy."
"We are honored to work with President Carter and his family on this project in Plains, as President Carter's leadership on renewable energy matters is well-known and much appreciated in our industry," said SolAmerica Executive Vice President George Mori. "There remains a great deal of untapped potential in renewable energy in Georgia, and elsewhere in the U.S. We believe distributed solar projects like the Plains project will play a big role in fueling the energy needs of generations to come."
[RELATED: Jimmy Carter: "Medical Marijuana Cured My Cancer"]
The post Former President Jimmy Carter Realizes Renewable Energy Is The Future Will Build 1.3 Megawatt Solar Power Station appeared first on We Are Change.
Proposed House Bill Would Seek To Respect Individual State's Marijuana Laws Barring Federal Raids
Posted: 22 Feb 2017 08:27 PM PST
House Bill H.R.975 To amend the Controlled Substances Act to provide for a new rule regarding the application of the Act to marijuana, and for other purposes.
Passage of this Act would halt federal officials from prosecuting individuals and businesses in the 29 states that permit either the medical or legalized decriminalization for adults to use and distribute marijuana lawfully. Ending the raids on marijuana dispensaries and on private citizens in states that have voted to accept marijuana.
Congressman Dana Rohrabacher (R-CA) along with six other Republicans and six Democrats re-introduced the legislation entitled "The Respect State Marijuana Laws Act"  for the third time in the U.S. House of Representatives to protect people from being prosecuted under the "Controlled Substances Act" as long as they are following their particular state's laws regarding marijuana.
Rohrabacher has previously introduced similar bills in 2013 and 2015.  This time around, however, the Bill, was co-sponsored by a bi-partisan group of 12 additional House Representatives.
Twenty of his colleagues in the House, including seven Republicans, co-sponsored the previous Respect State Marijuana Laws Act of 2015, which was introduced in the 114th Congress.
Rohrbacher himself is a known big proponent of legalized medical marijuana.  Last year, he publicly claimed to use medical marijuana for his arthritis pain while in office.
"I tried it two weeks ago, and it's the first time in a year and a half that I had a decent night's sleep because the arthritis pain was gone," Rohrabacher said speaking to NORML, the National Organization for the Reform of Marijuana Laws March of 2016.
"This is commonsense legislation that is long overdue," Robert Capecchi, director of federal policies for the Marijuana Policy Project said. "It is time to end marijuana prohibition at the federal level and give states the authority to determine their own policies.
"States throughout the country are effectively regulating and controlling marijuana for medical or broader adult use," Capecchi said. "Federal tax dollars should not be wasted on arresting and prosecuting people who are following their state and local laws."
Eight states and D.C. have enacted laws making possession of limited amounts of marijuana legal for adults 21 years of age and older.
Four states — Alaska, Colorado, Oregon, and Washington — have established systems for regulating the production and sale of marijuana.
Twenty-eight states, D.C., and the U.S. territories of Guam and Puerto Rico have adopted comprehensive medical marijuana laws that allow seriously ill patients to access medical marijuana if their doctors recommend it.
As Rohrbacher stated, more and more adults are turning toward medical marijuana over pharmaceutical pills as their choice so much so Medicare prescriptions have dropped after medical marijuana has been legalized because Americans are depending less on the pharmaceutical industry and more on a natural plant.
Research showed that legalized medical marijuana caused a sharp decline in the purchasing of prescription medicationss. Using data on all prescriptions filed by Medicare D enrollees from 2010 to 2013, it was found that the use of prescription drugs was replaced with marijuana for health problems that marijuana could substitute for. For health problems where marijuana could not substitute, like blood-thinners, prescriptions didn't drop. Bacause of this painkiller overdoses resulting in deaths have dropped a staggering 25%.
[RELATED: Medicare Prescriptions Drop After Medical Marijuana Legalized]
[RELATED: Painkiller deaths drop by 25% in states with legalized medical marijuana]
The full text of the bill is below you can keep up to date on the status of the bill by clicking here.
SECTION 1. SHORT TITLE.

This Act may be cited as the "Respect State Marijuana Laws Act of 2017".

SEC. 2. RULE REGARDING APPLICATION TO MARIHUANA.

Part G of the Controlled Substances Act (21 U.S.C. 801 et seq.) is amended by adding at the end the following:

SEC. 710. RULE REGARDING APPLICATION TO MARIHUANA.
"Notwithstanding any other provision of law, the provisions of this subchapter related to marihuana shall not apply to any person acting in compliance with State laws relating to the production, possession, distribution, dispensation, administration, or delivery of marihuana.".
The post Proposed House Bill Would Seek To Respect Individual State's Marijuana Laws Barring Federal Raids appeared first on We Are Change.
Interracial Couple Repeatedly Victimized by Racist Graffiti Charged $100 per Day by City Until Removal
Posted: 22 Feb 2017 08:18 PM PST
Article via AntiMedia
Stamford, Conn. — An interracial couple in Stamford, Connecticut, is being fined $100 a day by local government for failing to remove a racial slur that was spray painted on their garage door. Despite the fine, the common law husband and wife say the graffiti will remain until authorities "do their job" and find the person or persons responsible.
"I cannot believe it. At this time, someone could write this. Those times were supposed to be way back in the '60s and I was born in '61," 56-year-old Lexene Charles told the Stamford Advocate back in mid-January when the incident took place. "It's ridiculous for those things to be going on."
Local police responded to the home of Charles, who is black, and his wife, Heather Lindsay, who is white, on a Saturday morning to discover someone had spray painted the n-word on the couple's garage door.
"Our civil rights are being violated," said Lindsay, 59, who's lived in the home since 1990.
Stamford's assistant police chief called the incident "disgusting" and promised it's "something we have under investigation," yet over a month later the couple says little by way solving the case has happened — and that now the city is actually penalizing them for failing to paint over the slur.
"The city of Stamford has issued the couple a blight citation, which carries a $100 daily fine," the Stamford Advocate reported Monday. For her part, Lindsay doubled down on her vow to keep the slur up until authorities find those responsible and "not just cover it up and sweep it under the table as they have done in the past."
Lindsay claims the couple's home has been vandalized several times and that a handful of their neighbors have hurled racial slurs at her African-American husband.
The case has caught the attention of the NAACP, and representatives of both local and state chapters of that organization held a conference at the couple's Stamford home on Monday.
"For them to be called nig—-, it must be so hurtful that they can easily just erase the board and suffer within, quietly by themselves, and act like nothing happened," said Darnell Crosland, legal counsel for NAACP's state chapter. "And in fact, that's what the Stamford police asked them to do. They were requested to take the sign down…and to just act normal, like nothing happened."
Crosland, like the targeted couple, called on authorities to simply do their jobs:
"What we want you to do is to go canvass this neighborhood and find out who did this. What we want you to do is to put a patrol car out here and act like you give a damn, and make sure these people are protected."
The president of Stamford NAACP, Jack Bryant, called the incident a "scathing insult" that could have "a lasting effect not only on the family residing in that house, but also on Stamford as a community."
As for the couple's ongoing, daily fine, the city's director of public safety, Ted Jankowski, defended it in an emailed statement:
"The neighbors were very upset when the incident occurred and truly felt for the couple. However, the residents who have condemned the racial incident are upset and are complaining about continuing to see the racial slur and how it is disturbing the peace in the quiet neighborhood."
This article first appeared on TheAntiMedia.org and was authored by James Holbrooks
The post Interracial Couple Repeatedly Victimized by Racist Graffiti Charged $100 per Day by City Until Removal appeared first on We Are Change.
Seven Earth-Sized Planets Discovered in One Solar System – Three in Habitable Zone, Says NASA
Posted: 22 Feb 2017 07:52 PM PST
Article Via: The Daily Sheeple
NASA has designed a Disneyland-esque travel poster to the new system.
Astronomers have confirmed that an "ultra cool dwarf" star 40 light-years away from Earth called Trappist-1, although not particularly active, has seven Earth-sized planets revolving around it.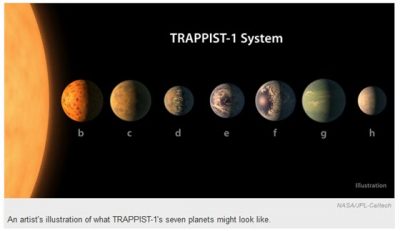 Although all seven could have liquid water on the surface, only three are considered in the "habitable zone" where life is possible.
The planets were detected using Nasa's Spitzer Space Telescope and several ground-based observatories are described in the journal Nature.

Lead author Michaël Gillon, from Belgium's University of Liège, said: "The planets are all close to each other and very close to the star, which is very reminiscent of the moons around Jupiter."

"Still, the star is so small and cold that the seven planets are temperate, which means that they could have some liquid water – and maybe life, by extension – on the surface." (source)
Because of its close proximity to Earth, the planets will be much easier for astronomers to study than some of the other systems out there. The next phase of research will focus on the atmospheres found on each planet as a clue toward whether or not they could be sustaining "biological activity".
This article first appeared on TheDailySheeple.com and was authored by The Daily Sheeple
The post Seven Earth-Sized Planets Discovered in One Solar System – Three in Habitable Zone, Says NASA appeared first on We Are Change.
Muslim Americans raise funds to Repair Vandalism of Historic Jewish Cemetery
Posted: 22 Feb 2017 04:35 PM PST
A fundraiser by Muslim Americans to repair a vandalized Jewish cemetery in St. Louis, Missouri, has exceeded its initial goal today.
An effort by a Muslim group to raise $20K to fix a badly vandalized Jewish cemetery met its goal in three hours. https://t.co/ZFDVx23BVL

— Jessica Huseman (@JessicaHuseman) February 21, 2017
It was reported that Jewish Community Centers around the country have been bombarded by menacing phone calls including bomb threats. Jewish communities are struggling to deal with this new wave of intimidation.
America is a nation built on the principle of religious tolerance. We must protect our houses of worship & religious centers. #JCC

— Ivanka Trump (@IvankaTrump) February 20, 2017
While none of the bomb threats have led to violence, Monday's calls came around the same time as another attack; Roughly 170 Jewish graves in a Missouri cemetery were desecrated over the weekend, according to The Washington Post.
JCC threats, cemetery desecration & online attacks are so troubling & they need to be stopped. Everyone must speak out, starting w/ @POTUS.

— Hillary Clinton (@HillaryClinton) February 21, 2017
Titled "Muslims Unite to Repair Jewish Cemetery," the online fundraiser was set up on Tuesday and broke its initial $20,000 goal in a few hours. The figure surged past $90,000 by Wednesday.
The campaign was organised by Linda Sarsour of MPower Change and Tarek El-Messidi of CelebrateMercy. The proceeds from the campaign will go directly to the Chesed Shel Emeth Cemetery in light of the damage.
Tarek El-Messidi is an American Muslim social entrepreneur and speaker. Linda Sarsour is a Palestinian-American progressive political activist and former executive director of the Arab American Association of New York.
CelebrateMercy is a non-profit organization, founded in 2010. Its aim is to teach the life and character of the Prophet Muhammad, through online webcasts, campaigns, events, and social media. MPower Change is a grassroots movement of Muslim Americans working to build social, spiritual, racial, and economic justice for all people.
LaunchGood is a global crowdfunding platform to support Muslims by helping them raise funds for their campaigns. This campaign hopes to send a message of unity:
"Through this campaign, we hope to send a united message from the Jewish and Muslim communities that there is no place for this type of hate, desecration, and violence in America. We pray that this restores a sense of security and peace to the Jewish-American community who has undoubtedly been shaken by this event."
This is such a beautiful thing.https://t.co/grBbo1hetz

— J.K. Rowling (@jk_rowling) February 21, 2017
The perpetrators of the cemetery vandalism and their motives have not yet been established. Police in University City, an inner-ring suburb of St. Louis, have launched an investigation. They are reviewing video surveillance at the cemetery, which is operated on a not-for-profit basis by the Chesed Shel Emeth Society, and calling on anyone with information to come forward.
The post Muslim Americans raise funds to Repair Vandalism of Historic Jewish Cemetery appeared first on We Are Change.