We Are Change Mail
---
Trump to Add 'Historic' $54 Billion to Military Spending Budget
Posted: 27 Feb 2017 11:00 AM PST
President Donald Trump will propose to increase defense spending by 10 percent in his first budget plan.
Article via Zero Hedge
As observed earlier in the day, as part of the leaked preliminary Trump budget, the president was set to unveil major spending increases for U.S. defense offset by cuts to federal agencies, and other non-defense sectors. And on Monday morning, the first details emerged, including that the boost to defense spending is expected to be about 10 percent, or some $54 billion, and will be revenue neutral, offset by cuts in non-defense areas, and will not "add a dime to the deficit." As Trump said, he is seeking a "historic increase" in military spending.
"This budget will be a public safety and national security budget," Trump told state governors at the White House. "It will include an historic increase in defense spending to rebuild the depleted military of the United States of America at a time we most need it," he said.
One of the officials cited by Reuters said Trump's request for the Pentagon included more money for shipbuilding, military spending on aircraft and establishing "a more robust presence in key international waterways and chokepoints" such as the Strait of Hormuz and South China Sea.
A second official said the State Department's budget could be cut by as much as 30 percent, which would force a major restructuring of the department and elimination of programs. Some defense experts have questioned the need for a large increase in U.S. military spending, which already stands at roughly $600 billion annually. By contrast, the United States spends about $50 billion annually on the State Department and foreign assistance.
The White House will send federal agencies their proposed 2018 budget allocations at noon Monday, according to an Office of Management and Budget official. The official provided no specific details during a call with reporters about the rest of the budget, including the baseline figure being used for the cuts or over what period they would be made. The initial blueprint of the president's budget will be released in mid-March, and the administration's entire fiscal proposal is expected later in the spring.
The outline due next month will include only targets for discretionary spending programs, which represent around one-third of total federal spending. The blueprint won't include proposed changes on tax policy or mandatory spending.
To offset the defense spending increase, the White House is seeking corresponding cuts of $54 billion in non-defense categories, including "large spending cuts" to foreign aid, the EPA, the State Department and safety programs. The official also added that most agencies would see funding reductions.
"Most federal agencies will see a reduction as a result," the official said, with cuts falling most heavily on "lower priority" programs as well as foreign aid. When asked where the extra $54 billion will be spent, the official said "predominantly it will go to the Pentagon," but declined to name specific offices.
According to The Hill, the budget will fundamentally alter the spending rules known as the sequester brokered in a 2013 deal between President Obama and Congress. That agreement set a cap on discretionary spending across the federal government, which affected defense and non-defense spending equally.
The punchline: according to the White House, the budget, at least as it stands right now, won't add a dime to the deficit, suggesting that if only for the time being, the dramatic debt-funded spending spree remains on hold.
According to the WSJ, the Trump administration said the funding request will show that Mr. Trump is following through on promises he made during his campaign to boost military spending and put "America First," a campaign theme he sounded in his inaugural address last month. It isn't clear how the offsetting cuts will allow him to also make good on promises to ramp up funds for border security, infrastructure and veterans' health care.
For now we await more details. As the NY Times reported overnight, Trump's plan which is a collaboration between budget director, Mick Mulvaney; NEC director Gary Cohn; and Steve Bannon, is meant to make a "big splash" and has been carefully timed to come the day before the president's address to Congress.
---
This article first appeared on ZeroHedge.com and was authored by Tyler Durden.
The post Trump to Add 'Historic' $54 Billion to Military Spending Budget appeared first on We Are Change.
BREAKING: Abu Sayyaf militants behead German Hostage in the Phillipines
Posted: 27 Feb 2017 09:55 AM PST
After the deadline for a $600'000 ransom had expired, 70 year old Jurgen Kantner was beheaded in a video of the killing.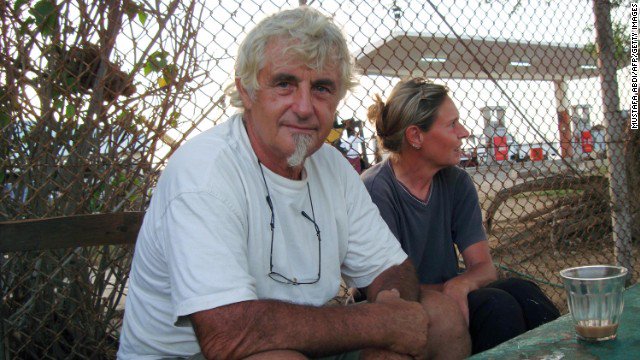 Both The Phillipines and Germany confirmed and condemned the Monday beheading of the elderly captive by Abu Sayyaf militants tied to ISIS. They posted a video of the execution after a deadline for his ransom passed, Reuters reports.
The video depicted a machete-armed militant who beheaded Kantner, following a plea for help in two short video messages, claiming he would be killed if the ransom was not paid. Jesus Dureza, presidential adviser on the Phillipine peace process, stated officials had gone through all possible methods to save Kantner, who was held on the tiny island of Jolo in the southern Sulu province.
"We grieve as we strongly condemn the barbaric beheading of yet another kidnap victim. There must be a stop to this killing of the innocent and the helpless," Dureza added.
However, Dureza had made no comment on the ransom in his interview on the killing. The Phillipines' military pledged to bring Kantner's killers to justice, and to pursue further opportunities to save hostages taken by Abu Sayyaf. German chancellor Angela Merkel called for a global front against terrorism, condemning the barbaric act. Her spokesman, Steffen Seibert added, "the chancellor condemns this hideous attack that shows, once again, how unprincipled and barbarous terrorists act. We've all got to stand together in the fight against terrorists."
Abu Sayyaf – "Bearer of the Sword" – is a radical Islamist organisation that exploits the ongoing instability within the Southern Philippines by laundering tens of millions of dollars from piracy and ransom payments. They stockpile these resources primarily into weapons, boats, and up-to-date navigational assets. Kantner was captured in November when sailing on a 53-footer yacht near Sabah, in eastern Malaysia. He was subsequently brought to Jolo. His partner was executed when she resisted the militants.
The Philippines' armed forces have had violent encounters with Abu Sayyaf in the past. Twelve soldiers were killed by Aby Sayyaf militants in a skirmish in August 2016, also on the southern island of Jolo.
The radical militants currently hold captive 26 hostages; of which 13 are Vietnamese, seven Filipinos, one Dutch National, a Japanese, two Indonesians, and two Malaysians, reports claim. Experts believe they are unwilling to free any without ransom payments. Philippines Foreign Secretary Perfecto Yasay spoke to the U.N. Human Rights Council in Geneva, claiming Malina was seeking technological aid from allies to specify the hostages' locations.
Kidnappings for ransom payments have been a long-term lucrative business in the Sulu region, and the trend has continued to rise in recent years.
The post BREAKING: Abu Sayyaf militants behead German Hostage in the Phillipines appeared first on We Are Change.
Shocking Spike In Radiation Levels At Fukushima Cripples Two Surveillance Robots
Posted: 27 Feb 2017 09:55 AM PST
Radiation levels at Fukushima have recently reached 530 sieverts per hour, a massive increase compared to the 73 sieverts per hour recorded after the disaster in 2011.
Article via True Activist
While media attention has largely drifted away from the 2011 meltdown at the Fukushima Daiichi Nuclear Power Plant in the years since the disaster, a recent and disturbing development has once again made Fukushima difficult if not impossible to ignore.
On Feb. 2, Tokyo Electric Power Company, or TEPCO, quietly released a statement regarding the discovery of a hole measuring 2 meters in diameter within the metal grating at the bottom of the containment vessel in the plant's No. 2 reactor.
Though news of this hole is indeed concerning, even more shocking was the associated jump in radiation detected in the area. According to estimates taken at the time of the hole's discovery, radiation inside the reactor was found to have reached 530 sieverts per hour, a massive increase compared to the 73 sieverts per hour recorded after the disaster. To put these figures in perspective, NASA's maximum amount of radiation exposure permitted for astronauts over their entire lifetime is 1 sievert.
Human exposure to 5 sieverts would kill half of those exposed within a month, while 10 sieverts would prove fatal to nearly all exposed within a matter of weeks. An official with Japan's National Institute of Radiological Sciences told the Japan Times that medical professionals with the organization had never even considered working with such high levels of radiation.
TEPCO initially tried to counter public fears by stating that most of the reactor's nuclear fuel remained in the containment vessel despite the hole. However, on Feb. 3, TEPCO spokesman Yuichi Okamura was quoted as saying that "it's highly possible that melted fuel leaked through." At the time, TEPCO said that it would send a robot into the area to survey the full extent of the damage in order to definitively determine whether fuel had leaked outside of the reactor into the surrounding environment.
The first robot, deployed on Feb. 16, was unable to conduct any meaningful measurements, as the extreme conditions within the reactor forced operators to abandon it within the containment vessel. The "scorpion" robot, manufactured by Toshiba, was meant to record images of the reactor's interior and collect accurate — instead of estimated — data on the levels of radiation within. Within three hours of deployment, the device stopped responding to operators despite its stated ability to withstand high levels of radiation. TEPCO has not commented on its new plans to gauge the damage recently uncovered in the reactor in the wake of the robot's malfunction.
When a second robot was sent to investigate, it also failed.
One of the world's worst nuclear disasters grows even worse.
Despite a lack of widespread media coverage and TEPCO's reassurances that things are under control, there is concern that the nuclear disaster at Fukushima — already one of the worst nuclear disasters in human history — is quickly growing even worse.
PBS News reported last year that more than 80 percent of the radioactivity from the three damaged reactors was released into the Pacific Ocean, as 300 tons of radioactive water have leaked from the reactors every day since an earthquake and subsequent tsunami crippled the plant in 2011.
The Pacific Ocean may have diluted much of the radiation, due to its massive volume, yet radiation and debris from the disaster have been detected along the western coast of Canada and the United States. Traces of Fukushima radiation were first detected in early 2015, when trace amounts of cesium-134 and cesium-137 appeared in samples collected near Vancouver Island. Then, in December of last year, researchers at the Woods Hole Oceanographic Institution detected seaborne cesium-134 along the Oregon coast.
Though no link between the presence of radiation has been officially established, fisheries along the entire western coast of North America have been collapsing. Last month, the U.S. secretary of commerce reported on the failure of nine salmon and crab fisheries in Alaska, California, and Washington — all due to "unexpected" yet steep declines in fish populations.
While scientists and government authorities alike are "stumped" as to the cause, fish caught along the West Coast have shown high increases in the levels of cesium for years — as far back as 2014. Researchers have maintained that fish, however, are still "safe" to eat despite the fact that at least one group of doctors agrees that there is "no safe level of radionuclide exposure, whether from food, water or other sources, period."
The Japanese government, TEPCO, and mainstream media continue to insist that this massive release of radiation into the environment has had no effect on human or environmental health. However, thyroid cancer rates have soared in Japan, with 131 children developing thyroid cancer in the six years since the disaster. That total is equivalent to about 600 thyroid cancer cases per million children, while the child thyroid cancer rate elsewhere is about one or two children per million per year.
Despite the marked increase in cancer rates, TEPCO and the Japanese government insist that Fukushima radiation is "unlikely" to result in a greater incidence of cancer cases. However, exposure to Iodine-131, the main radionuclide released into the air and water during the meltdown, is known to increase human risk of thyroid cancer and is the most clearly defined environmental factor associated with thyroid tumors, suggesting that a correlation between radiation and exposure likely exists.
This latest breach in one of the plant's damaged reactors as well as TEPCO's inability to even properly gauge the extent of the damage suggests that we have yet to see the full devastating potential of the Fukushima nuclear disaster.
What are your thoughts? Please comment below and share this news!
---
This article (Concern Over Fukushima Increases As Radiation Cripples Two Robots) by Whitney Webb is free and open source. You have permission to republish this article under a Creative Commons license with attribution to the author and True Activist.
The post Shocking Spike In Radiation Levels At Fukushima Cripples Two Surveillance Robots appeared first on We Are Change.
WATCH: Spanish Scientists Use Bioprinter To Create Functional Human Skin
Posted: 27 Feb 2017 09:34 AM PST
Spanish scientists from Madrid have created an astronomical technological advancement — a bioprinter that prints human skin.
First, the robots came for your jobs, now they are coming for your skin. It seems like a movie scenario, but scientist at the Universidad Carlos III de Madrid (UC3M), CIEMAT (Center for Energy, Environmental and Technological Research), have created artificial authentic human skin.
[RELATED: The Shift Towards Business With Little to No Humans]
The skin has many feasible uses and can be used to transplant to patients or for use in research testing of cosmetic, chemical, and pharmaceutical products that go into the human body.
Skin "can be transplanted into patients or used in business settings to test chemical products, cosmetics or pharmaceutical products in quantities and with timetables and prices that are compatible with these uses," Professor José Luis Jorcano head of the Mixed Unit CIEMAT/UC3M in Biomedical Engineering said.
The group added that "we use only human cells and components to produce skin that is bioactive and can generate its own human collagen, thereby avoiding the use of the animal collagen that is found in other methods," they said.
This is one of the first living human organs created using bioprinting and is a real milestone for medical science.
Last year researchers at Harvard University made the first 3-D-printed heart-on-a-chip with integrated sensing.
When the skin is put on the market, it means that people who have had life-altering permanent skin damage can have their bodies repaired with skin that will resemble their own.
So what is a bioprinter as compared to a regular printer? According to the study, the bioprinter uses Bioinks as opposed to the normal inks a paper printer uses.
"Bioinks are key to 3D bioprinting, according to the experts. When creating skin, instead of cartridges and colored inks, injectors with biological components are used. In the words of Juan Francisco del Cañizo, of the Hospital General Universitario Gregorio Marañón and Universidad Complutense de Madrid researcher. "Knowing how to mix the biological components, in what conditions to work with them so that the cells don't deteriorate, and how to correctly deposit the product is critical to the system." The act of depositing these bioinks, which are patented by CIEMAT and licensed by the BioDan Group, is controlled by a computer, which deposits them on a print bed in an orderly manner to then produce the skin," the study said.
Currently, this development is in the phase of being approved by different European regulatory agencies to guarantee that the skin that is produced is adequate for use in transplants on burn patients and those with other skin problems. In addition, these tissues can be used to test pharmaceutical products, as well as cosmetics and consumer chemical products where current regulations require testing that does not use animals.
This may in the future allow scientist to create skin regeneration to achieve a technological marvel where human skin heals itself.
On the otherhand, some may argue that this is a giant leap towards "transhumanism," a world where humans begin to take on robotic features.
Whatever your take, you can't argue that this isn't a huge discovery for medical science.
What do you think of this amazing technological advancement? Let us know in the comment section below!
The post WATCH: Spanish Scientists Use Bioprinter To Create Functional Human Skin appeared first on We Are Change.
Peru to Purchase Military Equipment From the USA
Posted: 26 Feb 2017 07:04 PM PST
Pedro Pablo Kuczynski is the president of Peru, and a former U.S. citizen. Before President Trump won the election, it was reported that he would cut off ties between the two countries. Recently, he met with President Trump in Washington.
The two leaders exchanged some kind words before getting down to business. Kuczynski decided to purchase some military vehicles from the United States, and also wanted to discuss some strategies with President Trump on how to help Latin America grow. Kuczynski said that the fight against corruption was also a central part to this discussion.
Kuczynski, a former employee of the IMF and World Bank, was reported to tell Trump he prefers "bridges to walls," and that he envisions a world where people can move freely. This comes after Peru and Colombia agreed to stand together to protect Mexico from any economic hardship that the wall may cause. It is still unclear how they plan to do this.
Peru, which faces a faces a potable water shortage and incomplete infrastructure, hopes to continue building positive relationships with the U.S. despite what will happen. It is now clear that Kuczynski does not plan to sever ties with the U.S. after all.
Trump confirmed with Kuczynski that he will be attending the Summit of the Americas conference in March of 2018 in Lima, which is a diplomatic meeting of all of the countries in the Americas. At the last Summit of the Americas meeting, President Obama met with the Raúl Castro in the first face-to-face meeting between the leader of these two countries.
Peru and the United States signed a free trade agreement in 2009, and were both involved in the Trans-Pacific Partnership before Trump withdrew the U.S. from the trade agreement by executive order on January 23, 2017. Kuczynski was not a fan of the TPP to begin with, and hopes to establish a better trade international trade deal including the U.S. soon.
The post Peru to Purchase Military Equipment From the USA appeared first on We Are Change.
What is The Purpose of Pain?
Posted: 26 Feb 2017 06:11 PM PST
What is the purpose of pain in our lives – and is it avoidable?
I met with a private client recently and his story was shocking.
For the sake of our story, let's call him Jonathon. Jonathon is a young man in his early twenties who is struggling with substance abuse. He has been in and out of treatment centers for the past 4 years and is battling heavily with guilt, shame, and regret. His inner battle with these destructive emotions stems from the fact that his first and only child passed away at the age of 3.
At that time, he was doing better than the mother of his child, Nicole. He was more on top of his addiction issues than she was. He and his mother had custody of the child and were doing their best to raise him. One day, they both had work and Nicole offered to watch their son, Jack. With some hesitation, Jonathon agreed to bring Jack to her house.
While he was at work, Nicole was playing with Jack in her backyard by the pool.
She went inside for what felt like a blink of an eye and upon her return found her son, deceased on the bottom of the pool floor. As you could imagine, Nicole, Jonathon, and his mother were devastated.
At the age of 20, Jonathon was now experiencing one of the most painful circumstances a human being can endure; the loss of a young child.
Upon hearing this story I found myself pondering the purpose of pain in our lives.
Was this something Jonathon had to go through to clear some karmic debt?
Was this something Jonathon had to go through in order to learn a particular lesson?
Was this something Jonathon could have avoided by making different decisions?
Or was this just something that happened to become a part of Jonathon's reality?
Why do some people experience such tragedy in life, while others seem to have a much smoother ride?
Since time immemorial, philosophers have contemplated this question and produced various answers.
Some would claim that Jonathon may have taken the life of a child in a previous incarnation; and therefore now he must endure the pain he once caused to another.
Others would claim that the "Ways of God" are beyond understanding and he can do nothing but accept His Fate.
Others, who are more cynical, may say that God had nothing to do with it and Jonathon is merely facing the consequences of the poor decisions he has made throughout his life.
Either way, none of the above explanations provide Jonathon with insight on how to move forward successfully in his life.
What would you do if you were Jonathon?
How would you respond to his circumstances?
How do you respond to the pain that you experience in your own life?
One of my favorite words in the English language is responsibility.
It is comprised of two words: response and ability.
Each and every one of us has the ability to respond to whatever cards life deals us.
How you choose to respond to life will determine the role pain plays in shaping your present and your future.
In his book, A Man's Search for Meaning, Victor Frankel indirectly explains the difference between pain and suffering.
Pain is inevitable, while suffering is a choice.
Victor Frankel endured and survived the hell of the Holocaust to teach the world that pain can become tolerable when you give it meaning.
When you view the pain you experience as unnecessary and unjustifiable you only prolong your suffering and create your own mental prison.
I am not suggesting that you seek a life of pain; but rather suggest that you decide not to suffer.
Whenever you find yourself in a painful situation, whether it be caused by a death in the family, financial insecurity, conflicts in relationships, or a common dose of self-doubt, view that pain as necessary.
Do not fight against it, but rather welcome it with open arms.
Greet it at the front door and allow it to come inside your home (mind and body).
Strive to find the meaning and purpose that is hiding behind it.
After the brutality of the Holocaust claimed the lives of his mother, father, brother, and wife, Victor Frankel, who endured pain that the majority of us cannot imagine, still decided to find meaning and purpose within his experiences.
He utilized that meaning and purpose to develop logo therapy, which is a form of existential analysis.
By the time he passed away in 1997, his book had already sold over 10 million copies and had been translated into over 24 languages.
His message so deeply resonated within me and forever remains etched into my mind, body, and soul.
As for Jonathon, I am sincerely sorry for his loss.
I do believe it is possible for him to avoid some of the pain that awaits him in his potential future.
But as far as the pain that is already present, the only question left for him to answer is how will he respond to it?
Will he be able to turn his tragedy into some form of a triumph?
The pain that you experience in life is like clay.
It is up to you to mold your pain and define it's meaning.
What meaning will you give to your pain today?
The post What is The Purpose of Pain? appeared first on We Are Change.
WATCH: ISIS STRAPS BOMB TO A DEFENSELESS PUPPY PMU RESCUES
Posted: 26 Feb 2017 04:21 PM PST
The Islamic State has repeatedly proven that they are the most ruthless terrorist group in the world, but this horrifying video takes things to a whole new level.
The Al-Hashd Al-Sha'abi militia group in Syria recently released horrifying video footage that shows that ISIS fighters had strapped a defenseless puppy with a suicide bomb belt.
The authenticity of the video is unclear, but if authentic, the video appears to show that Islamic State fighters fitted the puppy with a bomb belt for a 'martyrdom' attack.
A Twitter user alleged that the bomb was being to sent to the Iraqi Popular Mobilisation Units (PMU), which is a state-sponsored group assembled to battle with the jihadis in Iraq.
In 2014, the group was incorporated into the country's armed forces to help fight on the battlefield as major cities were overtaken by terrorists, the Express reported.
In the video, three men affiliated with the PMU are seen crouching over the small dog talking to the camera as they disarm the devices.
They then go on to tell the camera the dog is strapped together with four bottles and they have removed the explosives.
"We have disarmed the explosives and taken them off," the group said.
They then add if detonated, the dog bomb could have killed three of four people.
The PMU members claimed the dog was sent around the corner to where they were positioned to be used in a remote detonation attack.
The group called ISIS 'sick' and asked what was this animal's crime, adding that ISIS has no morals and that they will never defeat us.
"ISIS has just sent an innocent animal with explosives wrapped around it to our position to try and blow our troops up," the group said.
"The animal is being sent to the Baghdad Zoo for a nice break from the war zone and well away from ISIS fighters trying to blow animals up for their sick war.
"What was this animal's crime? Even animals, ISIS booby, traps them and send them out against us they have no morals, they will never defeat us those dirty ISIS fighters."
This is fine RT @todayinsyria: #Iraq | #ISIS strap bomb to puppy and send to Iraqi PMU pic.twitter.com/2JG3zqNpXh

— Yoenis Cespedes (@AppFlyer) February 26, 2017
The post WATCH: ISIS STRAPS BOMB TO A DEFENSELESS PUPPY PMU RESCUES appeared first on We Are Change.
This posting includes an audio/video/photo media file: Download Now
223 Killed In Iraq As Civilians Flee Heavy Fighting in Mosul
Posted: 26 Feb 2017 03:46 PM PST
Heavy fighting in Mosul responsible for 223 deaths.
Article via Antiwar
About 1,000 civilians crossed the front lines in Mosul on Saturday to escape Islamic State territory and were whisked away to safety by security forces. Among them were people originally displaced from Hammam al-Alil. Other civilians say that militants forced them to move to Mosul from Samarra to be used as human shields. Authorities believe that the militants are still relocating civilians for this very use, this time from the outskirts of Mosul to central neighborhoods.
The Saudi Arabian Foreign Minister Adel al-Jubeir met with Prime Minister Haider al-Abadi to foster reconciliation between the two countries. Relations have been tense since Iraq's invasion of Kuwait in 1990.
At least 223 were killed and 65 more were wounded in the latest violence:
In Mosul, a roadside bomb killed a journalist and wounded her cameraman. Another cameraman was wounded in a separate bombing. Two security personnel were shot and wounded. The bodies of two militants were seen in Josaq. Dozens of dronestargeted security forces, but no casualties were reported. An airstrike killed 10 militants and wounded three more.
Five Iraqi soldiers were killed and 22 were wounded in clashes near the Mosul airport.
Landmine killed more than 50 people trying to escape Daesh territory in Sahaji.
In Mazraa, militants killed a family of four. A suicide bomber killed one person.
Bombs at the Bai Hassan oilfield killed one guard and wounded two more.
The body of a militiaman was found in Falahat.
Gunmen killed a man in Quirich.
In Qaim, airstrikes left 60 militants dead and 30 wounded.
Over 50 militants were killed in clashes at the Ghazlani base on Friday.
Sixteen militants were killed in a strike on Badush.
A strike on Hawija left 15 militants dead and wounded four more.
Four militants were killed in an accidental blast at an explosives factory in Metabijh.
In Tal Afar, a militant commander was killed.
---
This article first appeared on Antiwar.com and was authored by Margaret Griffis.
The post 223 Killed In Iraq As Civilians Flee Heavy Fighting in Mosul appeared first on We Are Change.
Bitcoin, Gold, Silver and USD On The Rise! Bubble or Boom?
Posted: 26 Feb 2017 02:47 PM PST
In this video, Luke Rudkowski interviews Consultant & Derivatives Trader in the realm of Economics, Finance, Blockchain & Bitcoin Tone Vays. The two discuss the recent rise of Bitcoin, silver, gold and the USD on the economic world market and give you some perspective on what is happening. For more about Tone check out https://twitter.com/tonevays
Visit our MAIN SITE for more breaking news https://wearechange.org/
PATREON https://www.patreon.com/WeAreChange?a…
SNAPCHAT: LukeWeAreChange
FACEBOOK: https://facebook.com/LukeWeAreChange
TWITTER: https://twitter.com/Lukewearechange
INSTAGRAM: http://instagram.com/lukewearechange
STEEMIT: https://steemit.com/@lukewearechange
OH YEAH since we are not corporate or government WHORES help us out https://wearechange.org/donate
We take BITCOIN too
12HdLgeeuA87t2JU8m4tbRo247Yj5u2TVP
The post Bitcoin, Gold, Silver and USD On The Rise! Bubble or Boom? appeared first on We Are Change.
College Administrators are Now Encouraging Students to Snitch on Other Student's Offensive Speech
Posted: 26 Feb 2017 02:25 PM PST
Article Via The Daily Sheeple
If you thought that life in America's college campuses had reached peak crazy, you'd be wrong. It turns out that the politically correct culture which has entangled our upper education system, is taking a turn for the Orwellian (if it hadn't already).
Adam Steinbaugh of the Washington Examiner has been investigating these schools, and he's found that the administrators are encouraging students to snitch on each other (and their professors). Not to expose criminal behavior or cheating, but to target inappropriate speech. He found that 230 colleges have what are called "Bias Response Teams," which are made up of either campus cops or administrators, and whose sole job is to investigate mostly anonymous claims of offensive speech.
And as you might expect, these schools define "bias" in extremely vague and subjective terms. What may shock most people however, is that it isn't reserved for stifling conservative opinions, as would be typical of a college campus. It can include anything that offends anyone.
At Appalachian State University, students reported on one another for chalked messages that were pro-Trump as well as chalked messages calling Trump a "RACIST." The former were reported by students as "hate speech," the latter "politically biased slander" that was "unlawful."

While students at Ohio State University reported each other for comparing Hillary Clinton to Hitler, students at Texas Tech were whispering to administrators that the Black Student Union's tweets in support of the Black Lives Matter movement offended them. Meanwhile, the University of Oregon saw it fit to dictate "community expectations" to students who had the audacity to complain about oppression.
Fortunately the punishment for expressing literally any opinion isn't too severe. The students and professors who are ratted out are usually reprimanded by administrators, and forced to endure conversations on the Civil Rights movement, and how their words hurt others. The punishment is however, still pretty creepy.
Article was originally seen at TheDailySheeple.com and was authored by Daniel Lang
The post College Administrators are Now Encouraging Students to Snitch on Other Student's Offensive Speech appeared first on We Are Change.