Celtic fans vow to cover UEFA disciplinary fine & match it for Palestinian charities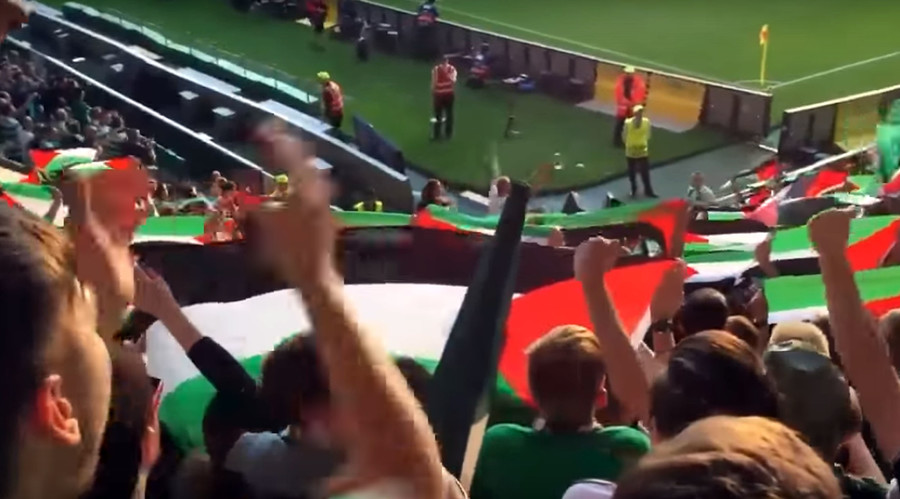 Celtic FC fans have promised to foot the bill and match any potential fines that UEFA imposes on their team over the flood of Palestinian flags displayed at a recent game against an Israeli team – and send the donated cash to help Palestinians.
VIRAL: Celtic fans defy UEFA ban to fly sea of Palestine flags in match against Israelis (PHOTOS, VIDEO)
Despite the Union of European Football Associations' (UEFA) ban on political statement displays at football matches and prior Glasgow police warning against any provocations, last week the Scottish fans flooded Celtic Park with anti-Israeli displays.
Following the massive showcase of support by Celtic fans for the Boycott, Divestment and Sanctions (BDS) movement against Israel during Wednesday's match with Hapoel Be'er Sheva, UEFA announced that disciplinary proceedings have been opened against Celtic FC on charges of "display of an illicit banner."
To protest against the UEFA move to impose a fine for unsportsmanlike behavior, Scottish fans have launched a donation campaign under the hashtag #matchthefineforpalestine in which they promise to send the cash raised to the Palestinians.
"In response to this petty and politically partisan act by European football's governing body we are determined to make a positive contribution to the game and today launch a campaign to #matchthefineforpalestine. We aim to raise £15,000* [US$19,560] which will be split 50/50 between Medical Aid Palestine (MAP) and to the Lajee Center, a Palestinian creative cultural children's center in Aida Refugee Camp, Bethlehem," the crowdfunding page for the campaign says. So far the fans have managed to raise over £23,000.
Over the weekend the Israeli police threatened Celtic fans with arrest if anyone is caught with Palestinian flags in Hapoel's Turner stadium when the teams face off again in Israel on Tuesday in the Champions League first playoff round. Celtic won the first leg 5-2.