TESLA; THE GREATEST HUMANITARIAN INVENTOR WHO EVER LIVED!
The World's First Aura Photograph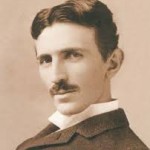 A century ago, famed electrical engineer and inventor, Nikola Tesla took the world's first aura photograph. Tesla knew that all living creatures are "electrical" in nature, and that auras are the light waves associated with the electrical "vibrations".Today, auras are being recognized in the both scientific and medical communities as a key indicator heath and other physical factors., as modern technology is finally catching up with the wisdom of the ancients.