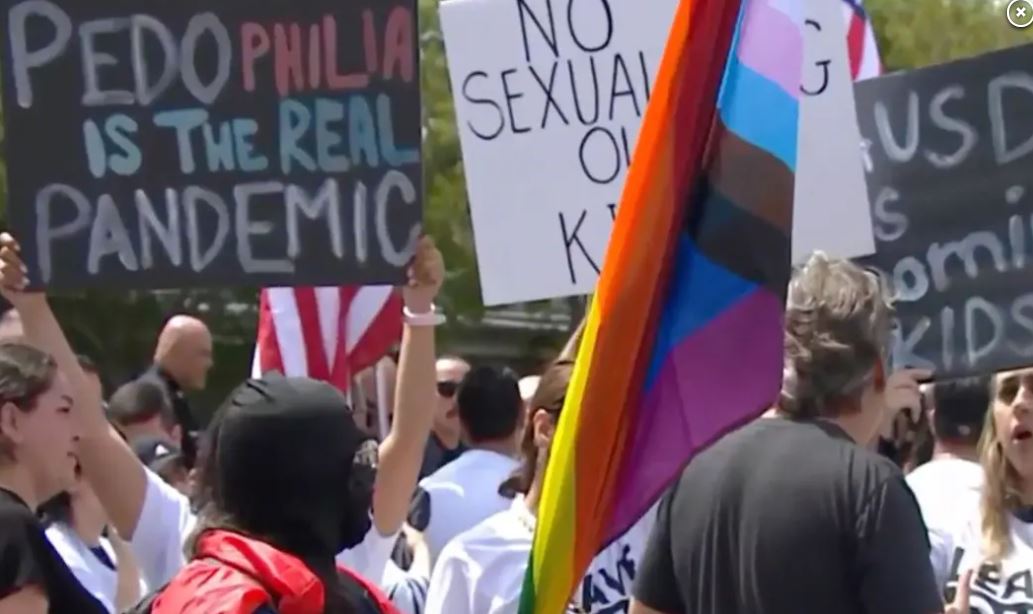 Parents at a California elementary school near Los Angeles showed up to protest an LGBTQ faggot event and got into a fight with faggots and other pro-faggot persons. Cops had to intervene to prevent the parents from beating the shit out of the faggots.
A Pride Month event at a Los Angeles-area elementary school devolved into multiple brawls on Friday as parent protesters forced police to intervene just a few weeks after a trans teacher's Pride flag was burned on the premises.

Over 100 parents rallied against the Pride Day assembly at Saticoy Elementary School in North Hollywood, the Los Angeles Times reported.

Many of the outraged protesters held signs with messages like "Parental choice matters" and "No pride in grooming," the outlet said. One truck had a large trailer draped in a red banner stating, "Leave our kids alone."

They faced off against over 100 other demonstrators gathered across the street in support of LGBTQIA+ rights and Pride Month, which kicked off on June 1.

At least two scuffles took place at the tense event, according to NBC Los Angeles. It was not immediately clear if anyone was injured or arrested.
It is good to see parents pushing back against this homosexual agenda. The fact that it is happening in California of all places is encouraging. There's definitely an increasing amount of resistance against all of this faggot shit being shoved in everybody's faces all the time.
Here's a few clips from the protest
The entire public school system in America has been corrupted by Jews pushing all sorts of insane faggotry on kids. I do not have kids, but if I did have kids, they would not be subjected to the insanity of these Marxist homosexual indoctrination centers.
Public school was bad enough in the 1980s and 1990s, so I can only imagine the horror show that it is in 2023. It's basically child abuse forcing kids to endure these evil brainwashing institutions.