Another CIA WAR CRIME
China won't forget NATO's 'barbaric' acts in Yugoslavia – Foreign Ministry
The remarks came on the anniversary of the 1999 embassy bombing that killed three Chinese journalists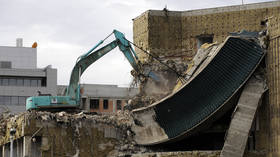 Beijing has neither forgotten nor forgiven the May 1999 bombing of its embassy in Belgrade, Chinese Foreign Ministry spokesman Wang Wenbin told reporters on Monday. Wang condemned the US-led bloc for creating conflict while posing as a defensive alliance, urging it to "seriously reflect" on its crimes.
Wang noted that May 7 was the anniversary of the embassy attack, in which three Chinese journalists were killed and 20 diplomatic staff were injured. "The Chinese people will never forget what they sacrificed to uphold the truth, fairness and justice. Nor will we ever forget this barbaric atrocity committed by US-led NATO," he told reporters.
While claiming to be a regional defense bloc, NATO has "repeatedly lit the fuse and brought conflicts to places all over the world," Wang noted, "from Bosnia and Herzegovina to Kosovo, from Iraq to Afghanistan, and from Libya to Syria." 
Having participated in wars that have killed hundreds of thousands and displaced tens of millions, NATO is now "making forays eastward into the Asia-Pacific, instigating bloc confrontation and undermining peace and stability in the region," the spokesman added.
The US-led NATO needs to seriously reflect on the crimes they've committed, abandon the outdated Cold War mentality, stop inciting tensions in the region, and stop sowing division and instability.
The embassy strike happened six weeks into the NATO air war against Yugoslavia, waged on behalf of ethnic Albanian separatists in Kosovo. Five bombs struck the compound, killing Shao Yunhuan, Xu Xinghu and his wife Zhu Ying. Beijing condemned the bombing as a "barbaric act."
The US claimed it had struck the embassy by accident, using an "old map" of the Serbian capital. The real target, Washington said, had been the Yugoslav government agency for military procurement, which was almost 500 meters (1640 feet) away. The strike was carried out by a B-2 stealth bomber, using JDAM bombs that are accurate to within 14 meters (46 feet) of the target.
It was the first and only mission during the 78-day campaign that had been planned by the CIA, the agency's director George Tenet later testified before the US Congress. One CIA agent was reportedly fired and six were reprimanded over the incident.
US President Bill Clinton offered a public apology. Washington later paid a compensation of $28 million to the Chinese government and $4.5 million to the families of the victims.
The NATO-backed war crimes tribunal for the former Yugoslavia cited this, as well as the CIA disciplinary measures, among the reasons for not opening an investigation into the bombing, much less pressing charges.
You can share this story on social media: