Military Personnel Exposed to Cancer Causing Chemicals
by Admin · Published · Updated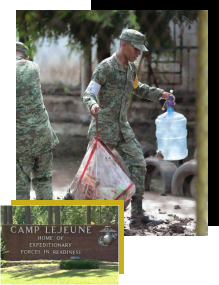 SIGNIFICANT Compensation May Be Available
Marine Corp Base Camp Lejeune in NC served contaminated water to Marines & their families for more than 3 decades.
If you lived, worked, or served at Camp Lejeune, you may be entitled to SIGNIFICANT Compensation

"The water at Camp Lejeune was a hidden hazard, and it is only years later that we know how dangerous it was."

– Secretary Robert McDonald
US Department of Veteran Affairs
Camp Lejeune water contamination settlement amounts are estimated to be 

$6.7 billion
What Happened at Camp Lejeune?
Texic chemicals & wastewater polluted the water supply at Camp Lejeune for more than 3 decades, leading to severe illness and death

Toxic wastewater & chemicals were dumped into storm drains, polluting the water and endangering servicemen and their families
The VA has denied claims of affected individuals for years.
A new law passed in 2022 allows affected individuals to sue and recover damages they deserve.
Our team will fight to get you a settlement you deserve
By clicking 'Do I Qualify' and submitting my request, I confirm that I have read and agree to the privacy policy of this site and that I consent to receive emails, phone calls and/or text message offers and communications from Total Injury Help, and its network of lawyers and advocates at any telephone number or email address provided by me, including my wireless number, if provided. I understand there may be a charge by my wireless carrier for such communications. I understand these communications may be generated using an autodialer and may contain pre-recorded messages and that consent is not required to utilize Total Injury Help services. I understand that this authorization overrides any previous registrations on a federal or state Do Not Call registry. Accurate information is required for a free evaluation.
If you or a loved one served, worked, or lived at Camp Lejeune between 1953 and 1987, you may be entitled to a significant settlement. Act quickly – time is limited!
Camp Lejeune Water Contamination
Routine water testing in 1982 found that drinking water sources at Camp Lejeune were contaminated with benzene, trichloroethylene (TCE), tetrachloroethylene, or perchloroethylene (PCE), and vinyl chloride (VC), all of which are known to be carcinogenic or harmful to humans. Contamination of water was documented at up to 300 times acceptable levels in some cases.
Camp Lejeune water contamination sources included leaking underground water storage tanks and waste disposal sites. The contaminated wells were mostly closed by February of 1985; however, those who had been exposed have faced cancer and other serious health problems related to the chemicals. Health conditions may include: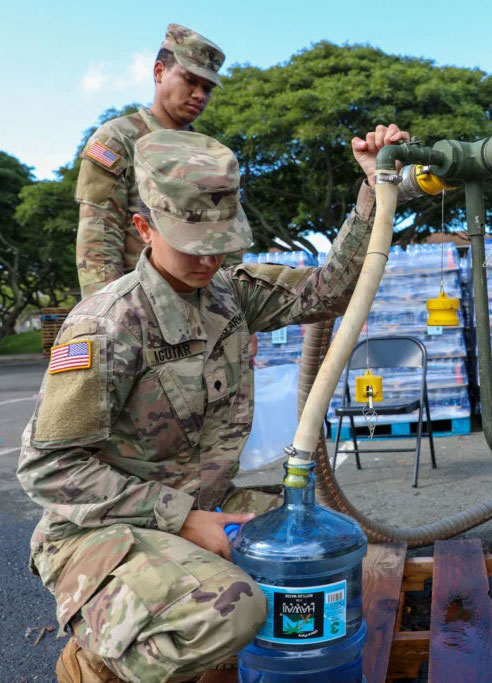 > 

MDS(Myelodysplastic syndromes)


> 

Miscarriage

> 

Multiple myeloma


>

 Neurobehavioral effects

>

 Non-Hodgkin's lymphoma

>

 Parkinson's disease

>

 Renal toxicity

>

 Scleroderma

>

 Other injury
>

 Bladder cancer

>

 Breast cancer


>

 Cardiac birth defects

>

 Esophageal cancer

>

 Female infertility

>

 Hepatic steatosis

>

 Kidney cancer

>

 Leukemia

>

 Liver cancer

>

 Lung cancer
Time is running out – Fill out the form to see if you qualify!
A recent law passed by Congress entitles affected individuals to compensation, but time is limited. Complete the form TODAY to make sure you have the best chance to receive the justice you deserve.
Our team will call you as soon as possible to discuss your options and collect information needed to get the settlement you deserve. This is completely free with no obligations.
Your attorney will fight for you to receive the best possible compensation. There are no up-front costs to you. Your attorney will only get paid when a settlement is won for your case.
Camp Lejeune Justice Act of 2022
The Camp LejeuneJustice Act of 2022 is a bipartisan bill intended to ensure that individuals – veterans, their family members or other individuals living or working at the base between 1953 and 1987 – who were harmed by water contamination at Camp Lejeune receive fair compensation. Many of these individuals have had their claims inappropriately denied or delayed, resulting in additional harm.
The Bill is making its way through Congress as part of the Honoring Our PACT Act of 2022, which passed the U.S. House of Representatives on March 4, 2022. The Act will permit people who worked, lived, or were exposed in-utero, to contaminated water at Camp Lejeune between 1953 and 1987, to file a claim in U.S. federal court.
People or loved ones of those who lived, worked, or were stationed at Camp Lejeune who experienced a water toxicity-related illness may be eligible for compensation.