Broken Skull as a Biological Male Almost Beat to Death a Biological Woman/The War Against Heterosexuals=Trannie Rights
When transgender fighter Fallon Fox broke her opponent's skull in MMA fight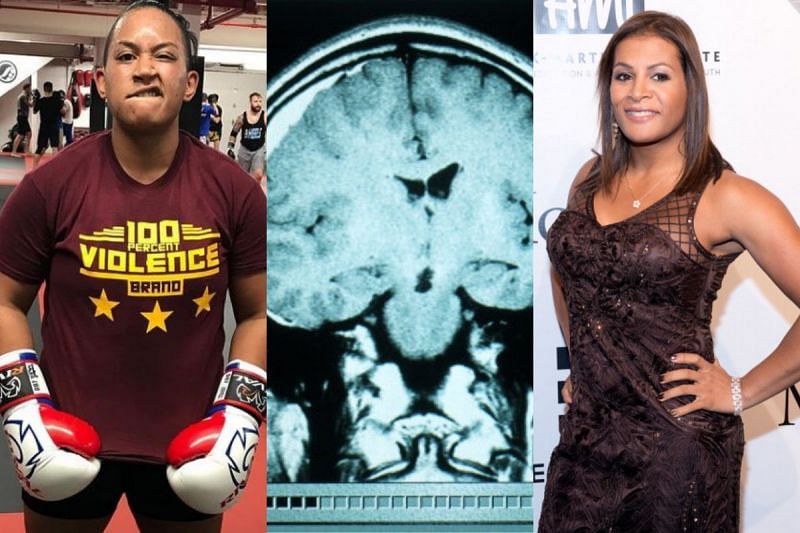 Bhavesh Purohit FOLLOWANALYST4199Modified 01 Mar 2021 NEWS SHARE   
Fallon Fox, the first MMA fighter to come out as transgender, once fractured the skull of her opponent in an MMA fight in 2014.
Fox was challenging Tamikka Brents at CCCW (Capital City Cage Wars) event, where the 45-year-old fighter brutally defeated her American opponent. The fight lasted just over two minutes after the referee was forced to halt the contest.
Brents received seven staples to her head, and also suffered a concussion. She was overpowered by Fox to an extent that even the orbital bone inside her skull was fractured.
Comment: She's lucky she didn't go blind.
Fallon Fox became a subject of controversy following her bloody outing with Brents, which was her last MMA fight. Even though she received a green light from Florida's athletic commission that allowed her to compete in women's MMA, several experts and her fellow competitors opposed to her being granted a fighting license.
Comment: Letting Trannies compete as "women" in Mixed Martial Arts is EXTREMELY DANGEROUS for the women involved!
Brents later went on to claim that Fox's grip and strength was different from other women she had fought.
"I've fought a lot of women and have never felt the strength that I felt in a fight as I did that night. I can't answer whether it's because she was born a man or not because I'm not a doctor. I can only say, I've never felt so overpowered ever in my life and I am an abnormally strong female in my own right. Her grip was different, I could usually move around in the clinch against other females but couldn't move at all in Fox's clinch," Brents told Whoa TV.
https://www.instagram.com/p/r8QUdhisNV/embed/captioned/?cr=1&v=13&wp=500&rd=https%3A%2F%2Fwww.sportskeeda.com&rp=%2Fmma%2Fnews-when-transgender-fighter-fallon-fox-broke-opponent-s-skull-mma-fight#%7B%22ci%22%3A0%2C%22os%22%3A1515.4000000953674%7D
Ronda Rousey claimed she can KO Fallon Fox
Fallon Fox's presence in women's MMA met with heavy unrest. There were also some speculation regarding the potential fight between Fox, and the then UFC women's bantamweight champion Ronda Rousey.https://f54ab041841f3a487e5f2e4c4bc178bb.safeframe.googlesyndication.com/safeframe/1-0-38/html/container.html
At first, Rousey claimed that she would knock out Fallon Fox, but later went on to clear the air by suggesting that she is not open to a fight against her.
"I can knock out anyone in the world… I feel like if you go through puberty as a 'man' it's not something you can reverse… There's no undo button on that," Rousey told The New York Post.
Edited by aditya.rangarajan
Follow Up on Brent's Horrific Injuries:
It's not just a common fracture you stupid turd. This is what the opponent had to say about her injuries ""Hello everyone…i am so very blessed, grateful and thankful to have you all in my life…shining love, prayers and positive energy my way during this experience. So i have multiple fractures in my right cheek, roof of mouth and upper jaw and i will have to get 2-3 metal plates surgically implanted to pull things together again. the cheek is the worst and there are few skull pieces indented and floating out place. the roof of my mouth is cracked up middle and i can feel bones moving up into my sinuses and inner skull but bones are binding together slowly. TMJ area of jaw is cracked as well mid jaw causing my right side upper teeth to move inward and my teeth are not lining up properly but close. so next friday it looks like i will go into surgery and have these things fixed followed by possibly wiring my jaw shut for 2-4 weeks. yay!! but i know that i am blessed regardless…could have hit my eye, nose or front teeth and been a lot worse."41 Reply
herrittchFri Feb 26 2021Men fight women because they're weak against other men. Nothing here to be proud of. Just another abusive MAN.

gathers.annieSun Mar 14 2021herrittchI've definitely mentioned this to people and it's as if they're incapable of believing that it can be the case. Fallon served in the military was probably bullied all his life for his small stature, most likely faced a lot of female rejection even probably had a female higher up who in his mind emasculated him. Probably has unresolved childhood trauma… lots of detransitioned men describe all of this as reasons why they didn't accept their gender identity. Nobody talks about detrans because being trans is the IT thing just as back in the 90s in middle school all the girls claimed to be bisexual for attention, now it's kids on tiktok pretending to have d.I.d for attention, sympathy and likes. Detrans explained how drs are quick to have them transition because it's a huge payday and their traumas are never fixed after changing.