The End Goal: Nefarious Hive Mind (For NSA, CIA, Pentagon, DARPA Who Represent ZIONIST British Empire) GANG STALKING BY CIA & NSA, Military Intelligence.
Shad Productions15.7K subscribersSUBSCRIBETargeted Individual Gang Stalking MKULTRA Monarch Mind Control Dr. John Hall Microchip Artificial Intelligence Transhumanism CIA RCMP CSIS Disinformation Fake News Propaganda Mind Reading Direct Neural Interface Brain Implant ***NOTE*** This is the full version of the documentary. You can watch the short version here: https://www.youtube.com/watch?v=t20sR… If you watched the short version already, skip the introduction. 0:00 – Introduction 1:54:42 – Your government just wants the best for you! 2:42:23 – Disinformation, fake news, propaganda, character assassination 3:20:07 – Targeted individuals (whistleblowers, doctors, victims, patents, laws, precedence, etc) 6:05:22 – Mind reading technology, brain implants, direct neural interfaces 7:25:28 – Artificial Intelligence 7:59:01 – Transhumanism 8:22:13 – MKULTRA (they totally stopped research and development on this in 1973, and will never attempt it again…) 9:42:10 – Conclusion I made this documentary similar to a basic essay. Both the introduction and conclusion highlight the key factors and main points of the targeted individual/human experimentation subject, but do not cover all the details associated. The body of the documentary dives deep into the details of all the specific areas that are discussed. Technically speaking one could just watch the body of the video and still have access to all the information presented. Due to the vast amount of information regarding this subject I deduced it was most effective to have an introduction and conclusion highlighting the most vital clips. I am aware the length of this documentary is very long, but keep in mind I have done thousands of hours of research regarding this subject and I would rather over inform the viewers as opposed to under inform them. PLEASE sign our petition in support of the Neuro-Specific Human Rights Bill here: http://chng.it/pkCvhRMS Watch our latest video describing the bill here: https://www.youtube.com/watch?v=gFLBr… Our website: http://www.globalneuroethics.com Our GoFundMe campaign: https://www.gofundme.com/global-neuro… Please help us enact the Neuro-Specific Human Rights Bill into legislation by sharing the links above on all social media platforms! Rapid advancements in human neuroscience and neurotechnology open unprecedented possibilities for accessing, collecting, sharing and manipulating information from the human brain. Such applications raise important challenges to human rights principles that need to be addressed to prevent misuse or unintended negative consequences. This proposal assesses the implications of emerging neurotechnology applications in the context of the human rights framework and suggests that existing human rights are not sufficient to respond to these emerging issues. After analysing the relationship between neuroscience and human rights, we identify four new neuro-specific human rights that will be vital in the effort of protecting the human brain: the right to cognitive liberty, the right to mental privacy, the right to mental integrity, and the right to psychological continuity. The volume and variety of neurotechnology applications is rapidly increasing inside and outside the clinical and research setting. The ubiquitous distribution of cheaper, scalable and easy-to-use neuroapplications has the potential of opening unprecedented opportunities at the brain-machine interface level and making neurotechnology intricately embedded in our everyday life. While this technological trend may generate immense advantage for society in many ways, its implications for ethics and the law remain largely unexplored. We argue that in the light of the disruptive change that neurotechnology is determining in the digital ecosystem, the normative terrain should be urgently prepared to prevent misuse or unintended negative consequences. In addition, given the fundamental character of the neurocognitive dimension, we argue that such normative response should not exclusively focus on tort law but also on foundational issues at the level of human right law. The freedom of thought, freedom from slavery, torture and inhumane or degrading treatment or punishment are regarded by international human rights law as not subject to any exceptions and, therefore, as absolute rights. Absolute rights cannot be limited for any reason. No circumstance justifies a qualification or limitation of absolute rights. Absolute rights cannot be suspended or restricted, even during a declared state of emergency. The right to cognitive liberty, the right to mental privacy, the right to mental integrity, and the right to psychological continuity should also be enacted into law as absolute rights.
Music in this video
Song
What A Wonderful World (Single Version)
Artist
Writers
Bob Thiele, George David Weiss
Licensed to YouTube by
UMG (on behalf of Verve Reissues); Audiam (Publishing), LatinAutor – PeerMusic, União Brasileira de Compositores, PEDL, LatinAutor – Warner Chappell, CMRRA, ASCAP, Abramus Digital, LatinAutor, ARESA, UMPI, LatinAutorPerf, Concord Music Publishing, BMG Rights Management (US), LLC, LatinAutor – UMPG, UNIAO BRASILEIRA DE EDITORAS DE MUSICA – UBEM, and 19 Music Rights Societies
Song
BIG MAGIC-14115
Artist
RACHEL WOOD / STEFANO RUGGERI / TONY MORLEY
Album
BUILDS
Licensed to YouTube by
AdRev for a 3rd Party (on behalf of VELVET EARS (Extreme Music)); AdRev Publishing, and 6 Music Rights Societies
Song
Final Speech (From "The Great Dictator")
Artist
Charlie Chaplin
Album
Charlie Chaplin Film Music Anthology
Licensed to YouTube by
[Merlin] IDOL Distribution (on behalf of Roy Export SAS); UMPG Publishing, ASCAP, and 14 Music Rights Societies
TAHARRUSH: HOW THE CIA PROMOTES SEXUAL ASSAULTS BY MUSLIMS
number.six (29)in #taharrush • 3 years ago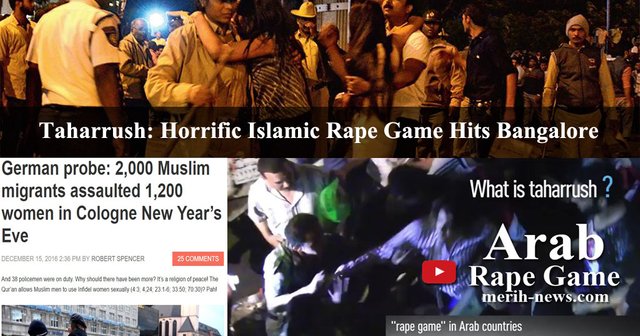 More and more, we hear of the horrific gang rape of white women by muslim immigrants in public places. The crime is so common, it has a name: taharrush.
Sexual violence is part of Islam. The Koran condones sex with slave girls (4.2-3). The Hadith describe the rape of female captives by Muhammad and his men, before they sold their victims on the slave market (Sahih Muslim 4.1438). Muhammad enslaved women and children (Ishaq 464). He took Safina "in marriage" only hours after he tortured and killed her husband (Ishaq 515; Bukhara 1.8.367). He married a six-year-old girl and raped her at nine years old (Bukhara 5.63.3896). And he married his own daughter-in-law (Koran 33.37).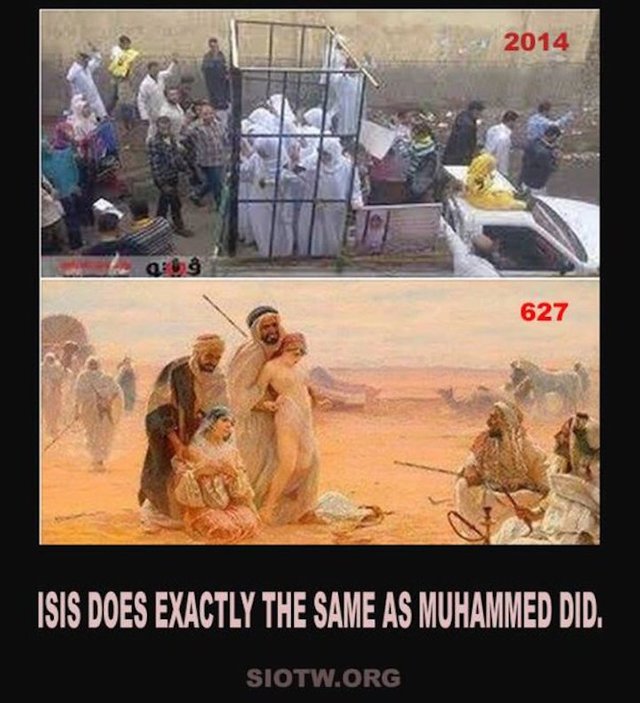 The Illuminati lie behind it. First, they tricked Muhammad into thinking he was inspired by an angel, while they raped, drugged, and hypnotized him. Then, they told him to conquer the world:
Things haven't changed much. CIA, Mossad, and the "intelligence" community created ISIS to destabilize the Middle East.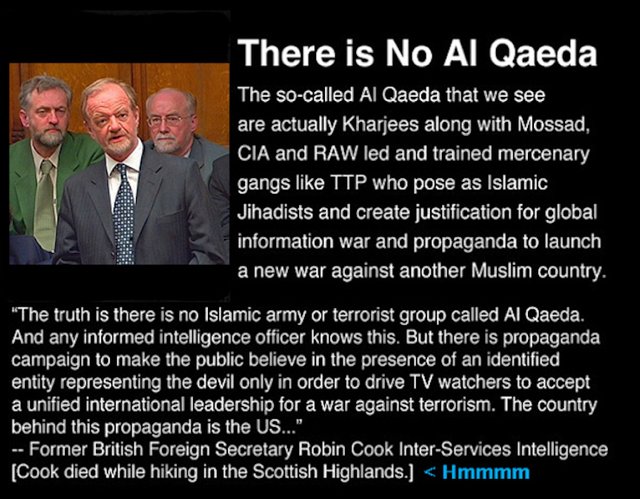 CIA and Mossad destroyed Arab Spring–which sought fairness for all–creating Arab Winter, with its instability, civil and religious wars, and decline of the Arab League.
One example is the attack on Lara Logan, who was gang-raped only two days after Hosni Mubarak's resignation.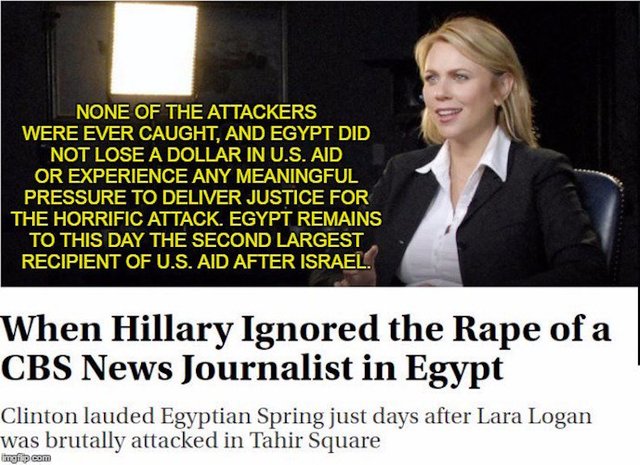 Logan broke her silence, describing her horrific assault, immediately after CIA killed Osama bin Laden. The Agency then sought to discredit Logan, as she reported on Benghazi:
Taharrush continues in Tahrir Square. Thousands have been assaulted, and journalists are targeted.
French journalist, Caroline Sinz, was assaulted "in a way that would be considered rape," which I, frankly, would rather not imagine, given the penetration of Logan with sticks and flagpoles, leading to years of medical problems.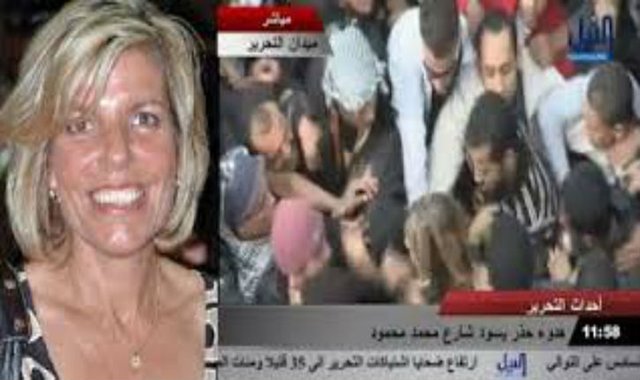 English journalist, Natasha Smith, was torn away from the men who escorted her, stripped naked, and violated. Just as Logan felt her assailants "raping me with their hands," Smith described her attackers, "forcing their fingers inside me in every possible way."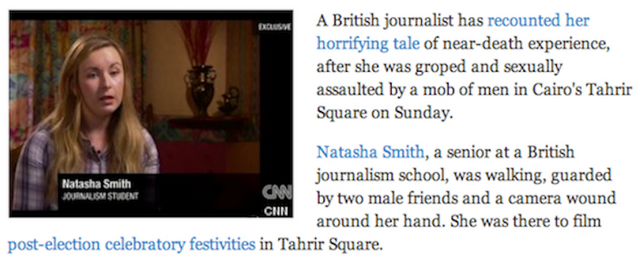 Egyptian journalist, Hania Moheeb, was gang-raped on the second anniversary of Egypt's revolution, while she protested worsening oppression by the Muslim Brotherhood. Moheeb describes the brutal violation of women's bodies, in all possible ways, including with knives.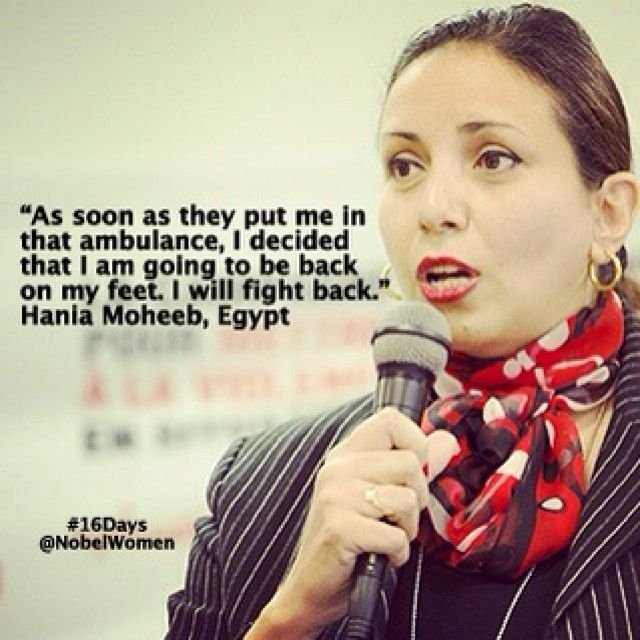 On the first anniversary of Mohamed Morsi's inauguration, at a protest against him, a Dutch journalist was gang-raped. These attacks look politically motivated, with the object of quieting dissent, intimidating journalists, and discrediting regimes.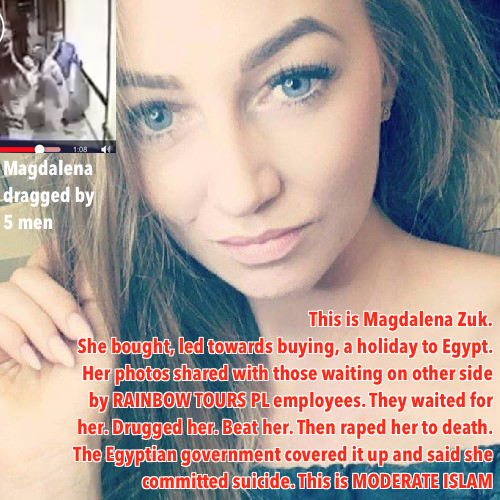 CIA also wants to arouse perverse desires. Not only is rape a recruiting tool for ISIS, but the Agency wants men to fantasize about rape, and to commit crimes, so it can blackmail or eliminate targets through scandals:
Having destabilized the Middle East, New World Order has imported taharrush to Germany and Sweden: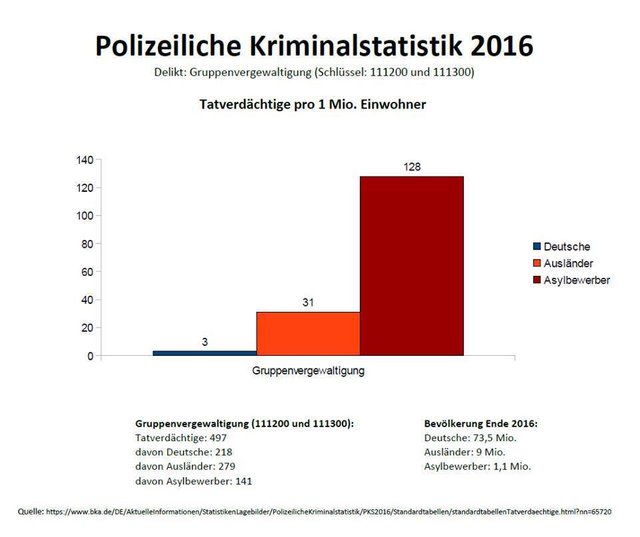 In Denmark, Muslims commit the vast majority of sex offenses: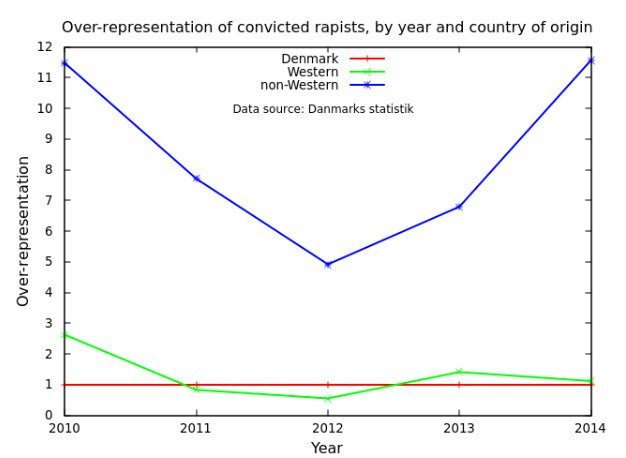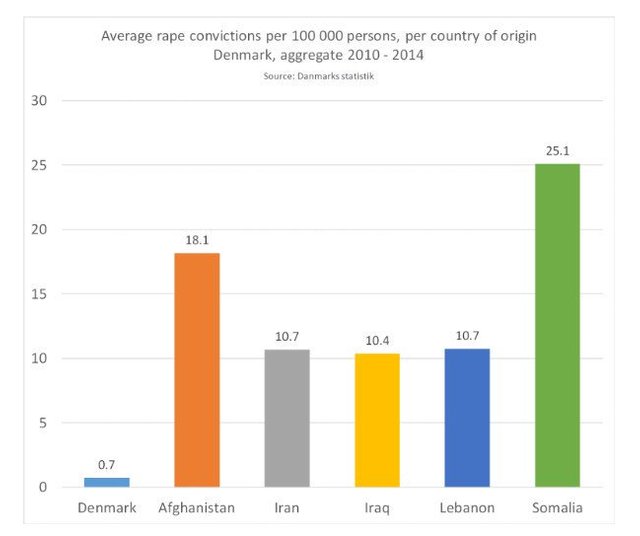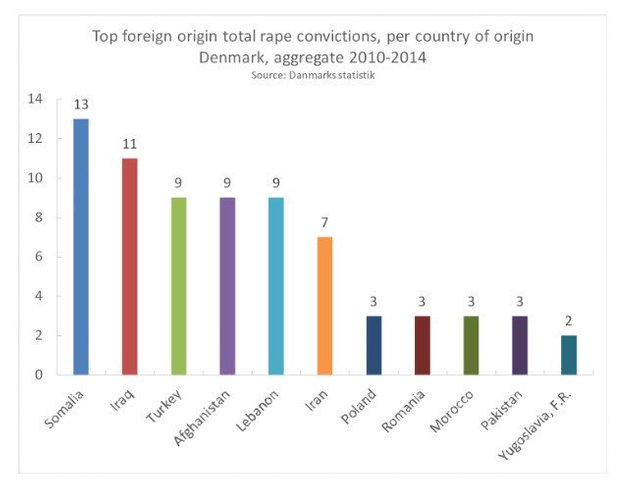 And, in England, 1400 girls were raped by Muslims in one town alone.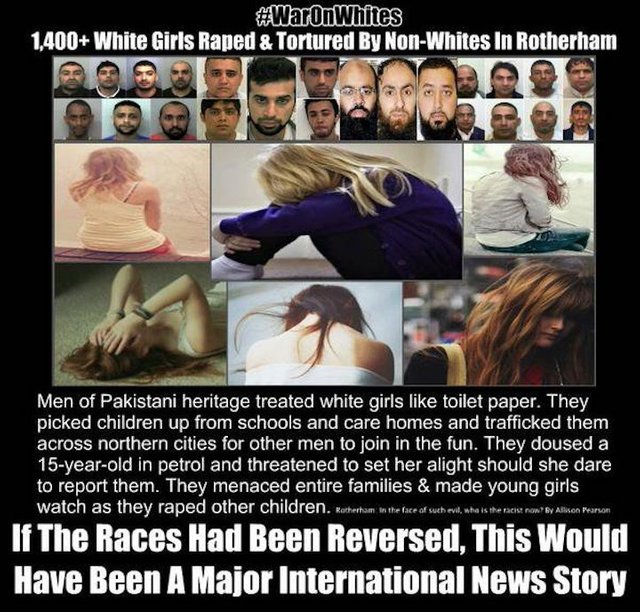 Like GLADIO B, taharrush is a false flag attack, encouraging people to give up their rights and to cry out for heightened police presence.
https://steemit.com/miakhalifa/@number.six/second-amendment-rights-operation-gladio-b-orion-false-flag-attacks-and-nwo-s-plot-to-disarm-america
Meanwhile, there's another project run by New World Order: multiculturalism. Because people are afraid to look racist, and they feel they must be open-minded, they make excuses for Islam, for illegal immigrants, and even for the scum who commit these crimes.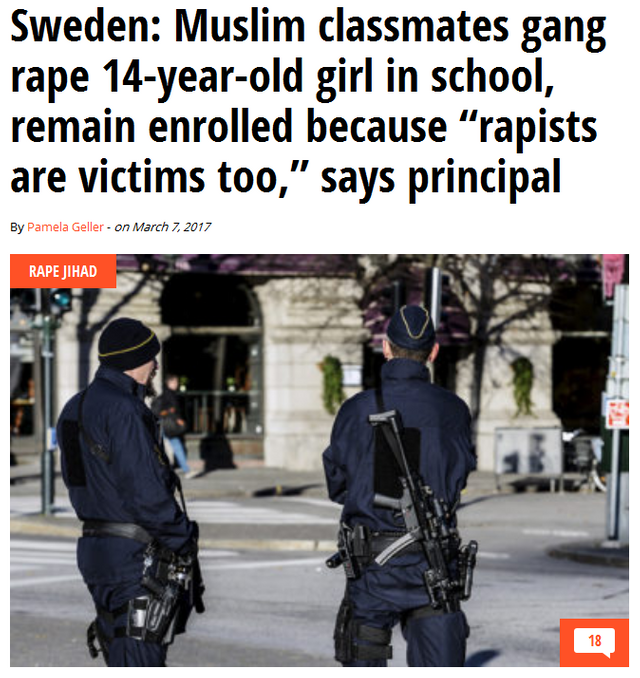 But for women who have experienced the horrors of Islam, there is no room for moral relativism.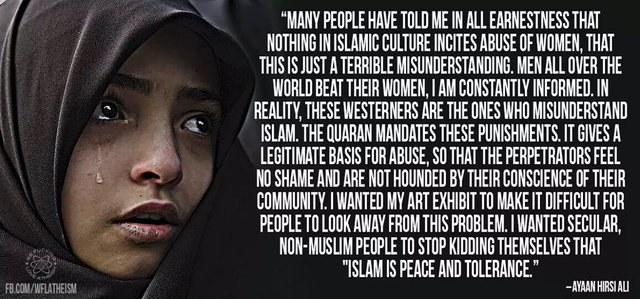 #laralogan#mossad#cia#nwo3 years ago in #taharrush by number.six (29)$0.001 vote
Sort: Trending
[-]nacktepoesie (58)3 years ago
Hello my dear friend, thank you for your comment, I see you like to play cards as well. I noted your email and I will write to you when it is the time for it. The Gods will tell me. Until then we shall stay connected through our current channels in this 3D realm and beyond.
Woher kannst du so gut Deutsch?
Liebe Grüße