America Is Becoming USSA (Communist)
Americans No Longer Live In A Free Society
January 18, 2021 | Categories: Guest Contributions | Tags: | Print This Article
Americans No Longer Live In A Free Society
And unity is in the trash bin of history
The Establishment Who Control US Media and Universities Are Determined to Destroy Trump Supporters
Trump Lawyer Ousted as Law School Professor
Harvard Students Demand School Revoke Degrees For Trump Supporters Who Work In Government
Go to Harvard University and Learn to be a Totalitarian.
Graduate students and alumni of the Harvard Kennedy School have dishonored the name of President Kennedy by demanding:
"Harvard must revoke the degrees of alumni whose incendiary language and subversion of democratic processes — rooted in a history of white supremacist voter suppression — incited the violent insurrection on January 6."
As this demand reveals, Harvard no longer produces educated people. It produces indoctrinated and brainwashed people full of hatred.
It produces presstitutes that only lie and never tell the truth.
The First Thing All Totalitarian Revolutions Do Is Ban Free Speech
The American & European Presstitutes Are Working Overtime to Drive a Stake Through the Heart of Free Speech
The American Left Wants to Prevent Trump Administration Members from Writing Books
Americans will never again hear the other side.
https://www.publishersweekly.com/pw/by-topic/industry-news/publisher-news/article/85329-industry-members-unite-to-block-trump-administration-book-deals.html
American supporters of Donald Trump expressing growing interest in obtaining Russian passports – Foreign Ministry
18 Jan, 2021 14:27Get short URL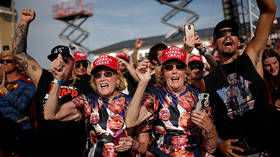 FILE PHOTO Supporters of U.S. President Donald Trump attend a campaign rally at Ocala International Airport in Ocala, Florida, U.S., October 16, 2020. © REUTERS/Carlos Barria
By Jonny TickleRussian Foreign Ministry spokesperson Maria Zakharova has revealed that followers of US President Donald Trump are showing increased interest in acquiring Russian citizenship following Joe Biden's November election victory.
Speaking to TV show host Vladimir Solovyov on Sunday evening, Zakharova claimed that Trump supporters fear persecution because of their political views.
"The most popular comment I receive from Americans on my personal social media accounts is how to get Russian citizenship," she explained on TV channel Russia-1.ALSO ON RT.COMRussia says American system 'archaic' & not up to 'modern democratic standards' after rioters raid Washington's Capitol building
Following the storming of the US Capitol Building on January 6, Trump and some of his most ardent supporters were banned from Twitter and other social media. Apple also temporarily removed microblogging site Parler from its App Store, a network popular with far-right Americans. Following the restrictions, some right-wing Americans have expressed concern that they are going to be oppressed due to their views.
"We wouldn't care about this situation, but it is combined with them being a nuclear power with the largest military budget and the same country that endlessly implements illegal sanctions against our country," she noted. "All of this is against the background of a deep crisis that affects every American. It's disturbing."READ MOREShrewd Pompeo has set his sights on being the anointed flag bearer for Trumpism in the 2024 election
Zakharova has previously branded the US election system as "archaic," claiming that it "creates opportunities for numerous violations."
The US presidential election took place on November 3 and was won by former vice president Joe Biden. Despite trailing far behind in the popular vote and Electoral College support, Trump has refused to concede, and has sought to overturn the election in court. His attempts have been rejected.
On January 6, disgruntled Trump supporters stormed the Capitol Building in Washington in an effort to prevent Congress from confirming the result of the election. The violent insurrection caused five deaths, including one police officer, and led to various members of the Trump administration turning against him.
Think your friends would be interested? Share this story!
Follow RT onTrends:Russia newsLIKE RT ON FACEBOOK