Ecuadorian Ex-President Rafael Correa's Facebook Page Blocked After Criticizing New PM as Traitor to Assange
Outspoken Ecuadorian ex-president Rafael Correa's Facebook page blocked
Published time: 12 Apr, 2019 17:44Edited time: 13 Apr, 2019 12:04Get short URL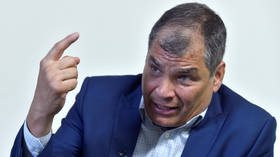 © REUTERS/Eric Vidal
Facebook has apparently blocked the page of former Ecuadorian president Rafael Correa, which was used to share WikiLeaks material. The move also comes after he bashed his successor for allowing to arrest Julian Assange.
Correa took to Twitter on Thursday night to decry the block, which he called a "show of desperation" following the publication of the INA papers, a trove of documents leaked last month that show current President Lenin Moreno's involvement in a corruption investigation. Correa had been publicizing the papers on his Facebook page, which had 1.5 million followers.
Bloquearon mi página facebook, 1,5 millones de seguidores
Un paso más de la brutal persecución, y otra muestra de desesperación por caso INA papers, del cual el corrupto Moreno no podrá escapar.
Solo por esta vía anunciaré nueva página. No crean en "fakes" https://www.elcomercio.com/actualidad/facebook-rafael-correa-politica-seguridad.html …10.5K1:08 AM – Apr 12, 2019Twitter Ads info and privacyFacebook dio de baja la 'fan page' de Rafael CorreaEste jueves 11 de abril del 2019 Facebook confirmó que cerró la fan page de Rafael Correa. Según un ejecutivo de la red social, la página fue dada de baja porque incumplió las políticas de seguridad…elcomercio.com9,070 people are talking about this
A Facebook spokesperson confirmed the block to El Comercio, telling the paper that Correa's page was blocked because it breached the company's policies on "disclosure of personal information, such as phone numbers, addresses, bank account data, cards, or any record or data that could compromise the integrity physical or financial of the people in our community."
The block also came one day after Correa branded Moreno "the greatest traitor in Ecuadorian history" for allowing British officers to enter London's Ecuadorian embassy and arrest WikiLeaks founder Julian Assange. One week previously, WikiLeaks had suggested that Moreno would move to oust Assange soon, as revenge for WikiLeaks' reporting on the INA papers.ALSO ON RT.COMNational security & imperial presidency: What book Julian Assange was reading during his arrest
There is at present nothing to suggest that Facebook blocked Correa on behalf of Moreno. However, the social media giant has been criticized before for deleting left and right-leaning activist and news pages in the US, and leftist news outlets in Latin America.
Subscribe to RT newsletter to get stories the mainstream media won't tell you.