IMF Pays Ecuador Billions After Assange Handed to British Police
IMF Gives $4.2 Billion to Ecuador After Assange's Arrest
By infostormer -April 13, 20192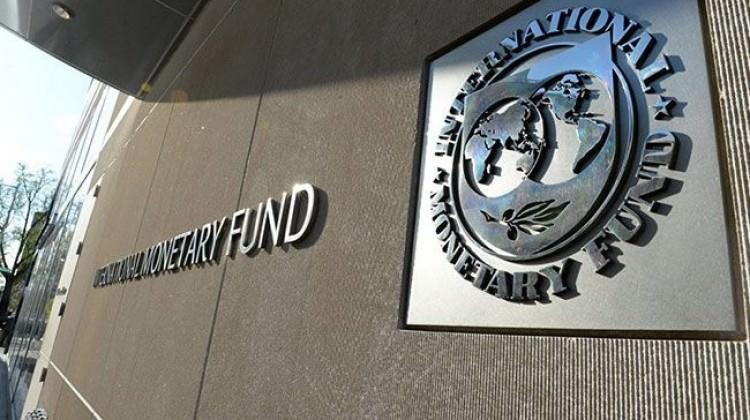 So right after Julian Assange had his asylum status revoked and he was dragged out of Ecuador's embassy in London, Ecuador received $4.2 billion from the International Monetary Fund.
AFP:
The International Monetary Fund on Monday approved a $4.2-billion, three-year loan for Ecuador, part of a broader aid package to help support the government's economic reform program.

The Washington-based lender agreed to the terms of the financing late last month, and the final approval of the IMF board on Monday releases the first installment of $652-million.

IMF Managing Director Christine Lagarde said the aid will support the government's efforts to shore up its finances, including a wage "realignment," gradual lowering of fuel subsidies, and reduction of public debt.

"The savings generated by these measures will allow for an increase in social assistance spending over the course of the program," Lagarde said in a statement, stressing that "Protecting the poor and most vulnerable segments in society is a key objective" of the program.

Quito is expected to receive another $6-billion from the Development Bank of Latin America, the Inter-American Development Bank, the World Bank and the Latin American Reserve Fund.
This is certainly an interesting coincidence. Ecuador getting billions of dollars from a big Jew financial institution and is in line to receive even more right after Assange was handed over.
But is it really a coincidence? Based upon what we know about the corrupt ZOG establishment, probably not.SHAREFacebookTwitH
How Ecuador's Globalist Regime Received Billions to Sell Out Julian Assange
Lenín Moreno will be remembered as one of the most cowardly and disgraceful leaders in world history.
Published 3 days ago
on Apr 11, 2019
Ecuadorean President Lenín Moreno thrust a dagger into the heart of free speech today after he allowed a foreign country's authorities into his nation's embassy in Britain to arrest heroic whistle-blower and award-winning journalist Julian Assange.
What was Moreno's price to commit this betrayal? A 4.2 billion loan guarantee from the International Monetary Fund (IMF), it seems.
The Economist published a profile on Moreno showing how he has reversed the policies of his predecessor, Rafael Correa. Correa was a populist who used oil revenues to fund social programs and stood firmly with Assange.
Moreno has moved Ecuador toward being a submissive vassal state of the globalists, begging international financiers for handouts to keep his corrupt regime afloat.
Trending: Woman Who Media Claims Created Black Hole Image Contributed 0.26% of Code
"Thanks to the firm decisions I have made, we are not what Venezuela is today . . . we have recovered democracy," Moreno said in February. "This money will create work opportunities for those who have not found something stable."
The IMF deal was announced on the seven-year anniversary of Julian Assange's asylum at the Ecuadorean embassy in London, hardly a coincidence. It was clear in Moreno's rhetoric that they were bowing to their global masters and readying to throw Assange under the bus.
"Our government is recovering its credibility," Moreno said as he sold his nation to the IMF syndicate, also announcing that other globalist entities like Inter-American Development Bank and World Bank would be trampling over Ecuadorean sovereignty as well. "The fact that the world trusts us shows that we are on the right path."
WikiLeaks noted that an embarrassing corruption scandal connected the Moreno government was being used as the pre-text to boot Assange:

Corruption investigation opened against Ecuador's president Moreno, after purported leaked contents of his iPhone (Whatsapp, Telegram) & Gmail were published. New York Times reported that Moreno tried to sell Assange to US for debt relief. http://inapapers.org/ 4,0613:53 PM – Mar 25, 2019Twitter Ads info and privacy4,157 people are talking about this

BREAKING: A high level source within the Ecuadorian state has told @WikiLeaks that Julian Assange will be expelled within "hours to days" using the #INAPapers offshore scandal as a pretext–and that it already has an agreement with the UK for his arrest.https://defend.wikileaks.org/2019/04/03/ecuador-twists-embarrassing-ina-papers-into-pretext-to-oust-assange/ …11.6K4:43 PM – Apr 4, 2019Twitter Ads info and privacyEcuador twists embarrassing INA Papers into pretext to oust Assange – Defend WikiLeaksEcuador twists embarrassing INA Papers into pretext to oust Assange (en Español) (background) On 26 March, WikiLeaks' Twitter account announced that President Moreno is being investigated by Ecuado…defend.wikileaks.org14.6K people are talking about this
With Moreno's popularity cratering, Assange became an easy scapegoat for government officials unwilling to own up to their own corruption after their shame was exposed publicly.
"What WikiLeaks and other political actors have done, to publish private photos of the President of the Republic, of his family, is a despicable, repugnant, and odious act," Ecuador's Vice President Otto Sonnenholzner said.
Former Consul of Ecuador Fidel Navarez claimed there was no proof indicating that WikiLeaks was involved in publishing the leaks.
"Not a single document referring to INAPAPERS, or the president's family, has ever been leaked or published by WikiLeaks, let alone by Julian Assange, who for more than half a year has not been its editor and who has been isolated for one year under a regime quasi-prison by the government of Ecuador," Navarez said.
It is far more likely that the INA Papers were a convenient excuse to boot Assange to distract from the billions of dollars in globalist blood money pouring into Ecuador from the IMF.
"If President Moreno wants to illegally terminate a refugee publisher's asylum to cover up an offshore corruption scandal, history will not be kind," WikiLeaks told the Associated Press.
Moreno will certainly be remembered as one of our era's greatest monsters, whose corrupt actions will have ramifications against digital freedom the world over.