The Synagogue of Satan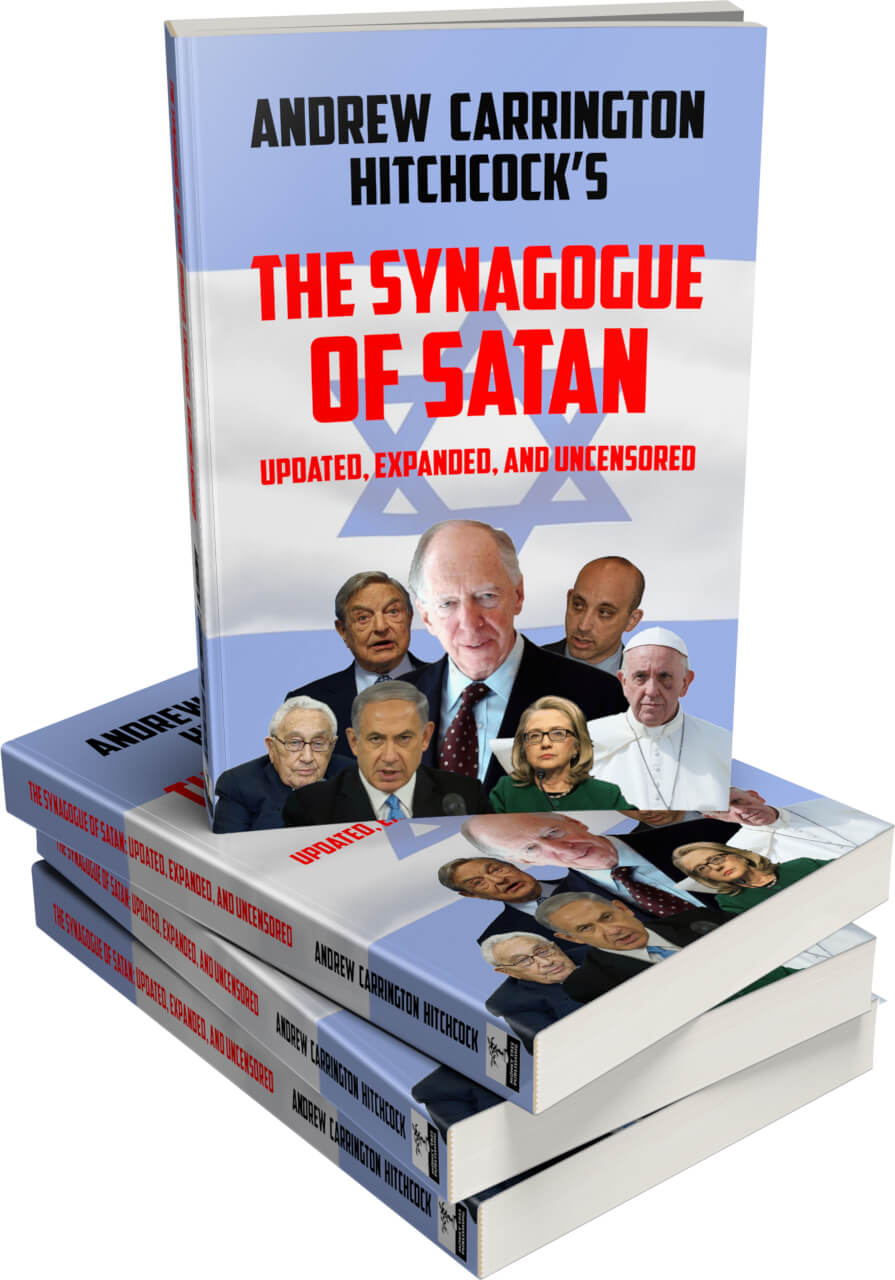 The Andrew Carrington Hitchcock Show (303) The Synagogue Of Satan Updated, Expanded, And Uncensored – Part 12 (1978 – 1991)
March 22, 2017 by achitchcock
On today's show I continued the series in which I will be reading my book, "The Synagogue Of Satan Updated, Expanded, And Uncensored," (now banned by Amazon) in its entirety.
On today's show I read years 1978 – 1991.
Click Here To Listen To The Show
Click Here To Buy A Signed Copy Of This Book
Click Here To Buy A Copy Of This Book Direct From The Publisher (Make Sure You Do A Google Search On, "Lulu Coupon Code," Before You Purchase As There Are Daily Discounts Out There That Range From 15% To 25%)
Click Here For The Andrew Carrington Hitchcock Show Archive Where You Can Listen To Or Download All My ShowsCategoriesShowsPost navigationGuest Appearance: March 21, 2017 – With Ted MidwardA Demonstration Of Yahweh's Love For His Children And How You Can Help One Of Them: Laurence Burns
SUBSCRIBE
Enter your email address to be notified when each new show is available.
Email Address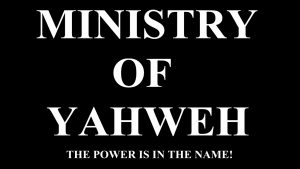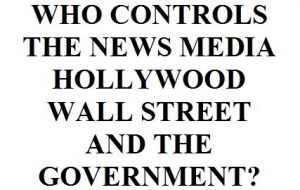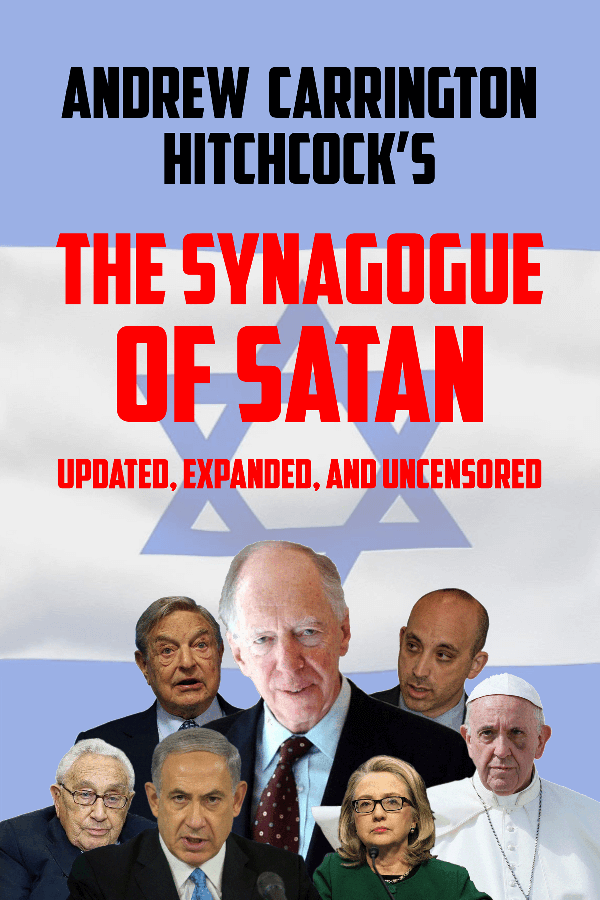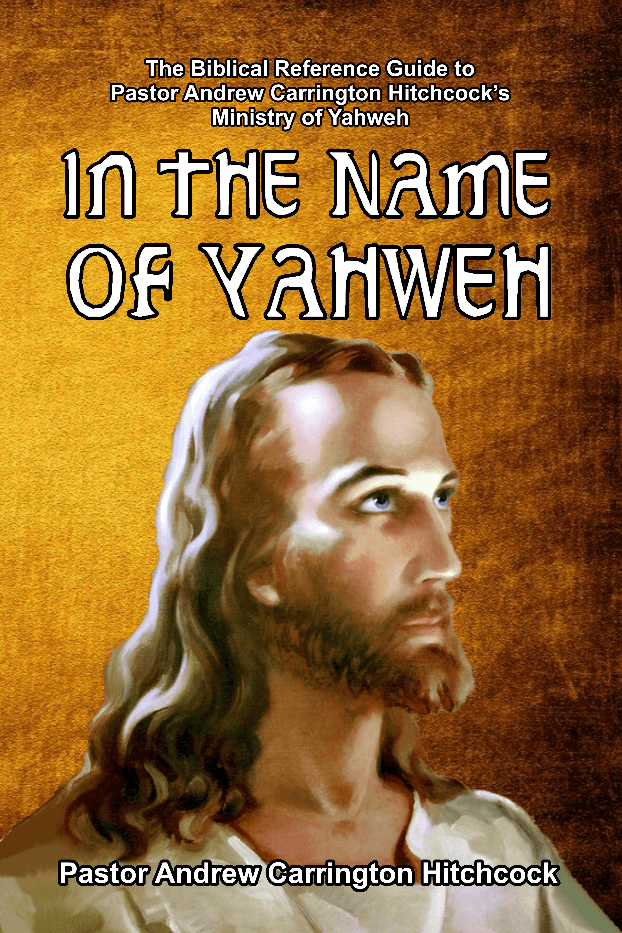 YOU CAN LISTEN LIVE EVERY DAY@ 10AM EST/3PM UK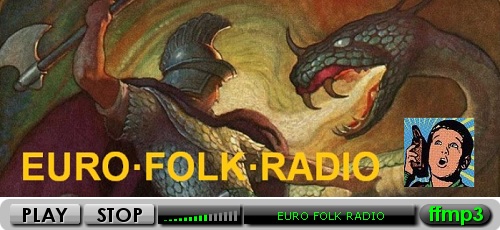 In the Name of Yahweh
In the first book of its kind, Pastor Andrew Carrington Hitchcock takes us on a trip from the beginning of time, where the struggle between good and evil that we are witnessing today on a global scale was created. Through Biblical texts, Pastor Andrew reveals:
The White Race are the Israelites that descend directly from Yahweh as His literal children on this planet.
Numerous quotes from the Jews' most holy book—the Talmud—in which they advocate pedophilia with toddlers, and repeatedly threaten non-Jews with theft of their property, violence, and even death.
How the Israelites fell into apostasy and subsequently chose a King to rule over them instead of Yahweh.
The disappearance of the Israelites from the Bible as they migrated westward.
How the Israelites changed their name to Christians.
How Christians are instructed not to adhere to man's law or to believe anything a Jew tells them.
How the Jews not only took responsibility for the persecution and crucifixion of Jesus Christ, but how they passed that responsibility onto their children.
Jesus Christ's genetic line traced all the way back to Adam.
Jesus Christ's repeated claim that He has come only for the lost sheep of the House of Israel, which are today's White race.
Jesus Christ's repeated claims that the Jews are the children of Satan, including how the Jews are responsible for all the righteous blood shed on Earth from Cain's murder of Abel.
How those who deny Jesus Christ are collectively the anti-Christ.
How the mass immigration into White nations that we are experiencing today is clearly referenced in Scripture as one of the last methods the children of Satan will use to destroy the White race.
That we are in the Last Days, and under the control of "The Synagogue of Satan," and how you can protect yourself during these perilous times.