HO! HO! HO! HO! HO! LARRY KLAYMAN AND JUDGE MOORE GET SASH BARON COHEN'S SHOW TAKEN OFF THE AIR BY LAWSUIT!
Klayman: Judge Moore and I Killed This Vile Show! Go to www.LarryKlayman.com to View Judge Roy Moore's Complaint vs. Sasha Baron Cohen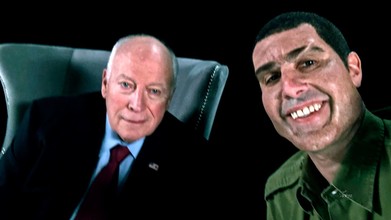 By Louis Casiano
Fox News
December 20, 2018
Sacha Baron Cohen's controversial comedy series "Who is America?" will not return for a second season, the actor announced this week.
Baron Cohen uttered "No" when asked about a renewal during a rare out-of-character interview with Scott Feinberg for the Hollywood Reporter's "Awards Chatter" podcast.
"I will never be able to get a politician to bare his buttocks while screaming 'God bless America!' and screaming the N-word," Baron Cohen added.
My Comment:  Still Klayman has his work cut out for him because these Zionist networks are like a Medusa's head!  Near them their sisters three, the Gorgons, winged
With snakes for hair— hatred of mortal man—
What better emissaries could Satan have?
Klayman: One Must Assume Napolitano Is Striking Back at Trump Because He Did Not Get the AG Job or Some Other Position in the Administration!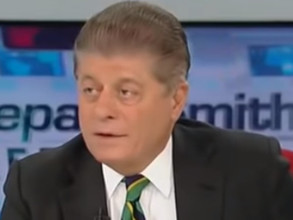 Real Clear Politics
December 20, 2018
FOX News Channel judicial analyst Judge Andrew Napolitano and host Shep Smith talk about the worst-case scenario for President Trump with regard to conspiracy charges related to Michael Cohen paying women for silence.
SHEP SMITH: You say as you always do that collusion isn't a crime. Conspiracy is a crime, but a minute ago you said there is already a conspiracy and it involves the president.
Support Our Cause and Join Our Fight!
Your help is urgently needed!
Klayman: The Impending Dem Impeachment and Mueller's Witch Hunt Has Weakened Trump With NoKo and With the Border Wall! The President Is Seen as Being in Retreat!
NBC News
December 20, 2018
SEOUL, South Korea — North Korea said Thursday it will never unilaterally give up its nuclear weapons unless the United States removes its nuclear threat first, a bombshell statement that could rattle the fragile diplomacy between Washington, Seoul and Pyongyang.
The statement carried by the official Korean Central News Agency came amid a deadlock in nuclear negotiations between the United States and North Korea over the sequencing of the denuclearization process and removal of international sanctions.
Pro-Clinton and Anti-Trump Senate Intel Committee Demands Documents and Testimony From Dr. Jerome Corsi
Establishment Republican Committee Chairman Richard Burr in Dems' Hip Pocket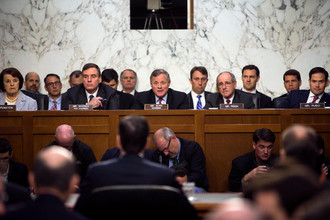 (Washington, D.C., December 18, 2018). Today, Larry Klayman, former U.S. Department of Justice prosecutor and founder of both Freedom Watch and before that Judicial Watch, announced the receipt of a demand by Republican Chairman Richard Burr and Ranking Democrat Member Mark R. Wagner for Dr. Jerome Corsi, who has already been threatened by Special Counsel Robert Mueller and his leftist, pro-Clinton, anti-Trump Democrat conflicted prosecutors, with indictment if he does not testify falsely against President Donald Trump, to produce a wide-ranging array of documents and then testify concerning alleged Russian collusion.
The demand, which was received late last Friday, is clearly harassment by a "Never Trumper" Republican Chairman and his very close Ranking Democrat member. That all of this documentation was demanded to be produced on December 28, 2018, just after the Christmas holiday, speaks to this harassment.
Given that both Burr and Warner are strong supporters of Special Counsel Robert Mueller, their motivations are unnecessary and transparent. Indeed, the demand requires that all documentation already produced by Dr. Corsi to Mueller be produced to them, in addition to other politically and partisan-motivated demands such as the demand to produce any communications that relate in any way to "derogatory information about Hillary Clinton…" See page 2 of Senate Intel Demand of December 14, 2018, visually embedded below.
Klayman had this to say on behalf of Dr. Corsi upon receipt of Burr's and Warner's Senate Intel Committee Demand:
"Republican Chairman Burr and Ranking Democrat Warner — two "love birds" who are attempting to take down the President of the United States — want to use my client as a whipping boy to mete out their anti-Trump and pro-Clinton agenda. It is telling that, following revelations by Edward Snowden and others of illegal and unconstitutional surveillance of millions of Americans by the FBI, NSA and CIA, as well as the illegal unmasking and surveillance of persons in and around presidential candidate Donald Trump and later his presidential transition, that both of them looked the other way and did nothing when I asked them well over a year ago to investigate this. Instead, they chose to join forces and collaborate to bring down President Trump. Burr and Warner are birds of a feather: two political hacks whose actions speaker louder than their anti-Trump establishment words! My client will not be railroaded and held out to dry by them in their joint effort to destroy the president."
For more information, contact daj142182@gmail.com or (424) 274 2579.