Bundy Sues Feds for Civil Rights Violations in Bunkerville Standoff Case
Ryan Bundy Sues Feds for Civil Rights Violations in Bunkerville Standoff Case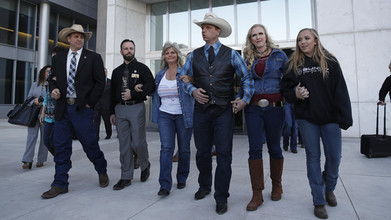 By Rob Lauer
360 News – Las Vegas
November 4, 2018
Today, candidate for Nevada Governor Ryan Bundy filed a lawsuit against the Federal Government regarding their prosecution of him and other family members claiming "malicious prosecution."
Bundy retained Larry Klayman, the founder of Judicial Watch and Freedom Watch to represent him. Ryan Bundy spent two years in federal jail awaiting trial only to have the case thrown out after U.S. District Court Judge Navarro found Federal Prosecutors had failed to turn over numerous documents in Bundy's case leading to a full dismissal.
Bundy Son Suing U.S. Officials for Nevada Standoff Prosecution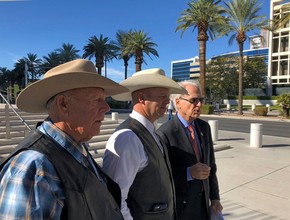 By Ken Ritter
Washington Post
November 4, 2018
LAS VEGAS — A rancher's son now campaigning as an independent for Nevada governor filed a lawsuit Wednesday against current and former U.S. government officials, alleging malicious prosecution after a 2014 armed standoff with federal land agents.
Ryan Bundy and his father, Cliven Bundy, said outside the U.S. courthouse in Las Vegas that prosecutors tried to wrongfully convict them for peacefully stopping a roundup of Bundy cattle by U.S. authorities from federal land near the family ranch in Bunkerville.
Bundy Launches Radio Ad Calling Laxalt a 'RINO' for Supporting 'Red Flag' Laws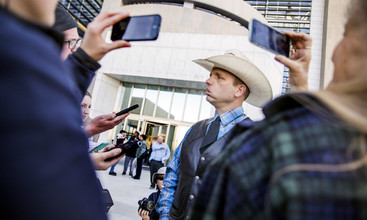 The Nevada Independent
November 4, 2018
Independent gubernatorial candidate Ryan Bundy is running a radio ad slamming Republican gubernatorial hopeful Adam Laxalt for supporting "red flag" gun laws.
The ad, which played in a Reno radio market on Friday, attacks Laxalt over his position on the "red flag" gun laws, that allow law enforcement or family members to petition a court to temporarily seize firearms from people who pose serious threats of violence to themselves or others.
Klayman: Leftist Jennifer Rubin Is an Embarrassment to Fellow Jews!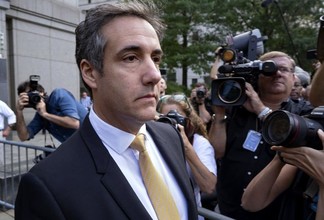 By Jennifer Rubin
Washington Post
November 4, 2018
Vanity Fair reported Friday that President Trump's former personal lawyer Michael Cohen said Trump made blatantly racist comments to him from time to time.
According to Cohen, Trump remarked in response to Cohen's observation that his rally crowds were overwhelmingly white, "That's because black people are too stupid to vote for me." Cohen also claims Trump said, "Name one country run by a black person that's not a shithole. . . . Name one city." Cohen also recalls that while traveling in Chicago in a rough neighborhood, Trump said, "only the blacks could live like this." (When someone says "the" blacks or "the" Hispanics, it's generally not going to be a compliment.)