Dr Duke & Andy Hitchcock of UK on the Coming South African White Holocaust!
DownloadToday Dr. Duke and British author and radio show host Andy Hitchcock had a discussion of the genocide of whites in South Africa, which is being supported by the Zio establishment.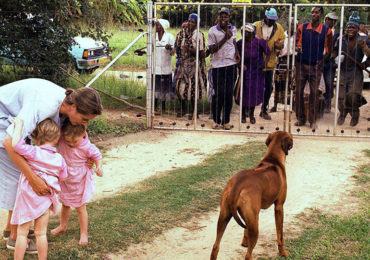 FARM ATTACK: STABBED 20 TIMES, PLASTIC BAG PULLED OVER HIS HEAD, HANDS & FEET BOUNDED, SURVIVES
---
News, Accidents, Robberies & Incidents | Western Cape | SABC
---
14 Oct 2017, Prince Alfred Hamlet: The following four Suspects is Wanted in connection with a Farm Attack. Photos of four suspects was posted on Twitter by the Head of AfriForum Community Safety, Ian Cameron.
Earlier reports indicated that the victim, Mr Wilhelm van der Merwe, was tied up and stabbed multiple times by two unidentified men.
Van der Merwe survived the attack and was admitted to a Cape Town Hospital in a critical condition.
A Reward of R10,000 will be paid to anyone with Information that leads to the Arrest of the Suspects.
CONTACT DETAILS:
Prince Alfred Hamlet
CAS 55/10/2017
Business Robbery
Please Contact WO JANECKE on Tel: (023) 313 3133 or Cell: 079 893 9861
TAP IMAGES BELOW TO EXPAND GALLERY:
RT RT RT FARM ATTACK WANTED NOTICE: Here are the attackers who nearly killed Mr Van Der Merwe in Koue Bokkeveld, WC. Let's make them famous.
Previously Reported: 11 Oct 2017, Cape Town: The DA in the Western Cape has called for an increased police presence in the Koue Bokkeveld area near Ceres. This follows a brutal attack on a farmer in the area.
Wilhelm van der Merwe was tied up and stabbed multiple times by two unidentified men. Van der Merwe is in a critical condition in a Cape Town Hospital.
DA Constituency Head in the Witzenberg region, James Vos, the large area is serviced by only one police station and this is not enough:
"This attack clearly indicates that there is a total lack of rural safety policing units to adequately safeguard our agricultural sector against these onslaughts. Any attack against a farm worker, farmer or any person involved in the agricultural sector is unacceptable because these are the people that provide food for our nation. Therefore we need to implement rural safety units."
TAP IMAGES BELOW TO EXPAND GALLERY:
Listen to the show for the full story.
Please share this show widely. And please keep us on the air and on-line. Please visit our contribution page or send your contribution to:
P.O. Box 188, Mandeville, LA 70470
Thank you.
Click here and look for the show dated 8-27-18.
Our show is aired live at 11 am replayed at ET 4pm Eastern
Check out this Duke video on the white genocide in South Africa:
Here is Mark Collett's recent viral video:
Be sure to check out Mark's Twitter feed. And follow him while you're at it.