Klayman: Criminals Mueller and Rosenstein Bring Timed Indictments to Humiliate Trump & Derail Trump-Putin Summit
Klayman: Criminals Mueller and Rosenstein Bring Timed Indictments to Humiliate Trump and Derail Trump-Putin Summit. Go towww.FreedomWatchUSA.org to Remove Mueller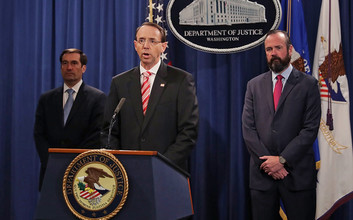 (Admin Comment:  Two Zionists Representing Rothschild Zionist Mafia Humiliate President Trump.)
By Ken Dilanian, Kenzi Abou-Sabe, Dartunorro Clark and Tracy Connor
NBC News
July 13, 2018
WASHINGTON — Twelve Russian intelligence officers have been indicted in connection with the bitcoin-funded hacking of Democratic organizations and the Hillary Clinton campaign "with the intent to interfere" in the 2016 election, officials announced Friday.
The charges, brought by special counsel Robert Mueller and announced by Deputy Attorney General Rod Rosenstein, come at a diplomatically sensitive time — just days before President Donald Trump meets formally for the first time with Russian President Vladimir Putin in Helsinki.
Support Our Cause and Join Our Fight!
Your help is urgently needed!
My Comment:  Mueller-Zionist;  Rosenstein-Zionist are both Israel Firsters.  They want WW3 and if Trump won't comply they will use every fabrication and out right lie to make him look bad and depose him.  This is the way of the Rothschild ZIONISTS!  The Deep State is a ZIONIST Deep State and the sooner America realizes this the BETTER!