Prince William Infuriates Israel With Truth on Royal Visit: 'Occupied' East Jerusalem
'Occupied' East Jerusalem: Prince William infuriates Israel with statement on royal visit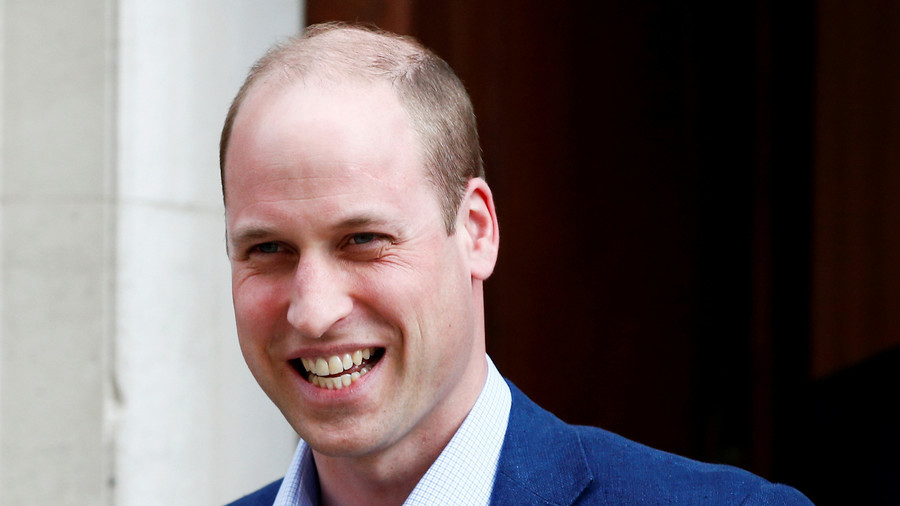 Prince William has angered Israel's Jerusalem Affairs Minister Zeev Elkin by referring to East Jerusalem as part of the Occupied Palestinian Territories (OPT), in a statement detailing his upcoming trip to the Middle East.
In a facebook post, Israel's Elkin was enraged by the Prince's OPT reference, claiming Jerusalem was "unified" and "has been the capital of Israel for over 3,000 years."
Elkin wrote: "It's regrettable that Britain chose to politicise the Royal visit. Unified Jerusalem has been the capital of Israel for over 3,000 years and no twisted wording of the official press release will change the reality. I'm expecting the prince's staff to fix this distortion."
The Duke of Cambridge is due to arrive in the region on June 25 to embark on a tour of Jordan, Israel and the Occupied Palestinian Territories. As part of that tour, the prince will visit the occupied Old City of Jerusalem.
Kensington Palace has released a statement detailing that the prince would be meeting Palestinian Authority President Mahmoud Abbas in Ramallah, as well as visiting refugee communities; enabling him to enjoy the company of young Palestinians and "celebrate Palestinian culture, music and food."
It's details of the prince's second day that has infuriated Elkin. The statement goes on to say: "The next day's programme in the Occupied Palestinian Territories will begin with a short briefing on the history and geography of Jerusalem's Old City from a viewing point at the Mount of Olives."
The Old City is located in East Jerusalem which has been considered occupied since 1967 under international law. Furthermore, the UN Security Council considers "all legislative and administrative measures and actions taken by Israel, including expropriation of land and properties thereon, which tend to change the legal status of Jerusalem are invalid and cannot change that status."
Official details have not yet been released on what religious sites will be included in the prince's trip but, according to Israeli news website Ynet News, an informed source has said that William would visit Al-Aqsa Mosque, the Church of the Holy Sepulchre, the Church of Saint John the Baptist and Al-Buraq (Western) Wall.
My Comment:  This is a Positive Development.  Reminds me of Jacqueline Kennedy and her daughter Caroline not supporting the rapist in the family:  William Kennedy Smith.
DOCUMENT: Crime
William Kennedy Smith, Sleazeball
Six figures settled sex harassment claim by former employee
JUNE 20–Trouble just seems to follow this William Kennedy Smith guy.
The Kennedy clan member, who was acquitted of rape in 1991, has recently faced civil claims for sexually harassing female co-workers at the Chicago not-for-profit organization he chairs. While a judge this year tossed a lawsuit filed by his former personal assistant, Smith reportedly paid six figures in an out-of-court settlement to a second woman who worked for his Center for International Rehabilitation (CIR).
While Laura Hamilton did not file a lawsuit against Smith, her lawyers last year prepared a 40-page federal complaint that, absent a settlement, would have landed in U.S. District Court in Washington, D.C.. Since a TSG source was kind enough to provide us with a copy of Hamilton's draft complaint, her account of Smith's remarkably sleazy and scary behavior will not be permanently cloaked by a subsequent confidentiality agreement.
In this excerpt, Hamilton describes Smith, a medical doctor, as a creepy predator who targeted many women who worked for CIR, which describes itself as a "humanitarian network of individuals and organizations that promotes the full potential of people with disabilities through education, innovation, and advocacy."
Smith, Hamilton charged, referred to a handicapped man she dated as "that amputee" and often improperly touched her. When she became pregnant, Hamilton, who worked at CIR for nearly seven years, said that Smith frequently entered her office and gave unwanted massages, explaining that pregnant women "glowed" and he found them "irresistible."
She also recounted attending a 2001 UNICEF conference in New York and bunking in the "guest apartment" of Smith's mother, Jean Kennedy Smith. On the second night of Hamilton's stay, Smith showed up unannounced at the apartment and began massaging her neck and back and stroking her belly. Hamilton, seven months pregnant at the time, rebuffed Smith when he tried to kiss her.
"Instead of allowing her to leave the room, Dr. Smith continued to rub Ms. Hamilton's belly, inched his hand below her waist, and stuck his tongue in her ear. Ms. Hamilton abruptly stood up and rushed out of the room," the draft states. Hamilton claimed that she barricaded her door that evening, adding that Smith told her the following morning that "it was all [he] could do not to come in [her room] last night."
During an October 2002 conference in Croatia, Smith "maneuvered himself" into her hotel room and quickly "produced and unwrapped a condom, making it clear that he had intended to have sexual intercourse with her," according to Hamilton's complaint. Fearing for her job and believing that she "had no choice," Hamilton "submitted to Dr. Smith's unwelcome sexual advances and felt degraded and humiliated afterward."
Rashida Adams, one of Hamilton's lawyers, declined to discuss the complaint, saying only that Smith and Hamilton "have resolved their dispute." Attorney Barbara Brown, who defended Smith in several sexual harassment matters, told TSG, "I'm not authorized to speak to you." (23 pages)