The Election of Judge Moore is Being Hijacked by Jewish & Manipulated Blacks With Bold Lies!
Half Truths & Globalist Bias of The NY Times Front Page Headlines

___________________________________________________________________
        DECEMBER, 2017   1 FED RESERVE NOTE
___________________________________________________________________
"We read and rebut their vile crap so you won't have to!"
*****************************************
FRIDAY / DECEMBER 1, 2017

Elena Mason, center, spoke with canvassers for Doug Jones's campaign in West Anniston, Ala., this month.
N Y Times: Black Voters Could Sway an Alabama Senate Race Rocked by Scandal
From the days of the post-Civil War "carpetbaggers" (cough cough) — to the establishment of the Jewish-led NAACP (National Association for the Advancement of Colored People) in 1909 — to the 1950's-60's agitation known as the "civil rights movement" ™  — outside troublemakers have incited and organized gullible local Blacks and internal Dixie libtards (yes, they do exist) to change the stubbornly conservative and patriotic Christian South into a social, cultural and moral cesspool that would better fit with the Jewish Northeast and Jewish Hollywood. This socially subversive dynamic is clearly evident in the obsession with blocking the election of conservative Alabama Judge, Roy Moore, to the US Senate.
1. 1860's American political cartoon depicting an opportunistic Jewish carpetbagger invading the vulnerable post-war South  2. Financier Jacob Schiff (cough cough) was one of the early financial backers of the NAACP — a Marxist front group that worked to convert conservative southern Blacks to the cause of Marxism.  3. From left: Ralph Abernathy, Marxist Loser King Jr., Ralph Bunche, and Rabbi Abraham Joshua Heschel(cough cough) march in Selma, Alabama.

 *
Northern Jews came down to Dixie by the bus-loads to march and agitate alongside their oh-so-beloved Blacks — using them only as battering rams to attack White America. Notice the signs written in Hebrew and English.

*
Now, once again, on the basis of 40-year old unsubstantiated allegations, Blacks, particularly females, are being aggressively courted to turn out for the upcoming special election and vote against the falsely accused "harasser," Roy Moore. Let's have a look at "the usual suspects" at the core of this latest trouble-making operation targeting Alabama.
Gloria Allred
Nasty, bitchy, feminist, abortion-loving attorney Gloria Allred (Gloria Rachel Bloom) was born into a Jewish family in Philadelphia in 1941. She has made quite a lucrative career as a high profile, media-savvy attorney specializing in civil rights lawsuits involving sexual harassment and women's rights. Just her presence alone in Alabama was sure enough to cause a media storm.
In representing Beverly Young Nelson — one of the women who leveled dubious accusations against Moore — Allred presented her client's High School Yearbook as evidence of the then-32 year old Moore's pursuit of teen-aged girls. It has since been established that the signature was forged, or at least grossly embellished. Allred refuses to turn over the Yearbook for closer inspection. As a result, the uproar against Moore has subsided and he appears to be headed towards victory in the coming election.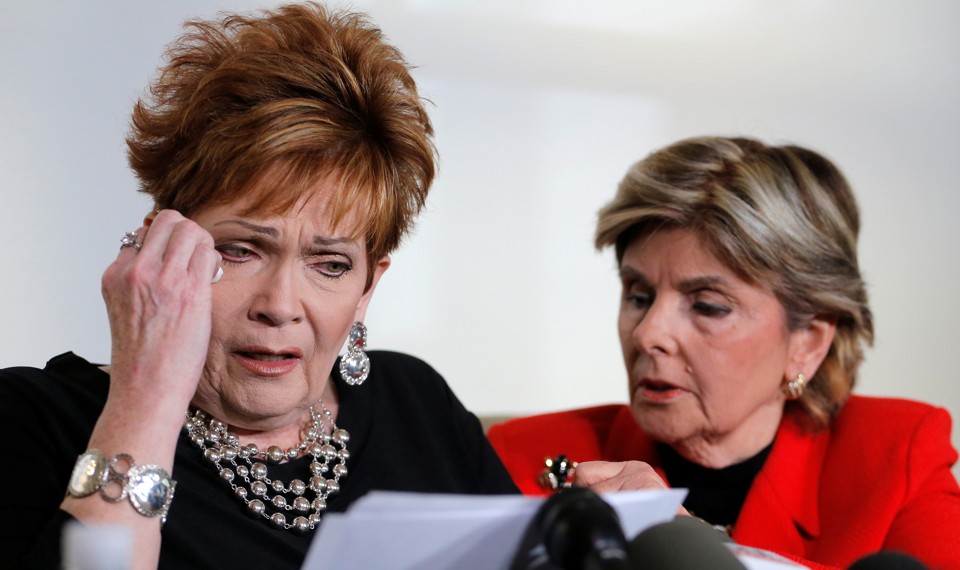 After analysis of the photo of the accusers yearbook from the 1970's  clearly suggested forgery, Gloria Bloom Allred (cough cough) refused to give up the book for closer physical analysis.
.
The Birmingham News / The Huntsville Times / AL.com
Even many seasoned "conspiracy theorists" ™ don't realize that the Jewish domination over America's newsmedia is not limited to the big national outlets or to the various local media of the Northeast and California. In addition to the national TV Fake News, the state and local media of Alabama have been the main tormentors of Judge Moore. That's because a single elite Jewish family — the Newhouses of New York — owns the local newspaper of Alabama's largest city (Birmingham) and 3rd largest city (Huntsville). The Newhouses (Advance Publications) also own AL.com — Alabama's main state news website that has been converted to nothing but 24/7 anti-Moore hit-pieces.
.


Meet the "White guys" of the "Alabama" Media
New York Patriarch Samuel Newhouse with his sons, S.I. Newhouse Jr., left (recently deceased), and Donald.
And so, you see, dear reader, the circus in Alabama is once again the handiwork of the usual outside Jewish agitators stirring up trouble in Dixie. And they won't ever stop until Alabama gives up its God, its guns, its patriotism and becomes a "blue state," like Virginia now is.
Hold firm Alabama. And elect Roy Moore!
Leftist activist Tim Wise (cough cough) advocates the destruction of White Alabama in the event of a Moore victory.
*
  Boobus Americanus 1: I read an article in the New York Times today about how the Democrats are hoping enough Blacks turn out in Alabama to stop Roy Moore.

Boobus Americanus 2: It's amazing how after all these years, the South still retains racist attitudes.

Sugar: White Power!!!
Editor: (palm to face, shaking head, sighing)
COMMENTS / FEEDBACK / INSULTS / KUDOS
greattomatobubble2@gmail.com
JEWS TRYING TO DESTROY ROY MOORE
BY HOFF SUMMERS
The Jews hate the Moore because he fought against removing the Ten Commandments from the courthouse and because Moore strongly opposes pro-queer laws, pro-abortion laws, mass immigration and anti-gun laws, all which the Jews actively promote and lobby for to further their White Christian Genocide agenda .
The Jews' media covered for Clinton, did all they could to protect Clinton from his very serious charges on sex crimes. But the Jews' media is now doing all they can to destroy Roy Moore for his far less serious allegations.
The Jews media attacks on Roy Moore have nothing to do with justice for women and everything to do with preventing a sincere Christian from being elected. It's all about the Jewish destruction of Christianity and nothing else. Jews don't want REAL Christians like Judge Roy Moore in power, in political office. Why ? Because Jews, in order to attain and maintain their power, view Christianity, with its attendant moral influence, as a threat. For profligacy and perversion of sexual mores, places the Gentiles under the Jews' dominion. More reasons can be read here
Operating in the realm of the press and mass media, Jews present Christianity in a bad light. This works to their benefit. For Christianity confers strength and moral fiber to the Gentile population, which would be a formidable force in opposing the Jewish quest for control.
FoxJews has jumped on the Jews media bandwagon to destroy Moore. Fox guarding the henhouse news occasionally shows their true colors like with this. FoxNews pretends to be pro Christian while they broadcast their subtle poison by helping the rest of the Jews' media poison the election for Roy Moore.
The worst accusations to come out against Roy Moore so far is that he touched a woman over her clothing. But of course the Jews' media reports it as sexual assault trying to make it seem like something Bill Clinton did.
If Moore was accused by somebody besides Jews' media stooges, it might be something to take serious. But the media has a wicked history of protecting evil doers like Clinton while smearing squeaky clean Chrisitians like Michele Bachman.
Whether Roy Moore even saw or knew the so-called victim 40 years ago is anybody's guess. The mass media attacks on Moore imply that he really is a Christian. Otherwise the Jews media wouldn't attack Moore so viciously.
It goes without saying that the Jews media did all they could to limit the damage to Slick Willie in the rape interview with JB. Below is a watered down Jewtube 9 minutes of NBC's Lisa Meyers interviewing Juanita Broaddrick about Bill Clinton raping her:
end note ~ Always remember…anybody getting bad press or coverage in the (((media))) is a enemy of the jews and an ally of the goyim, whether that person knows it or not. Support Roy Moore now  !
SEE ALSO –
~ note – Yes ! No wonder the Jews and their judenpresse are going after Moore so hard….He's a true Christian who knows Judaism (and Islam) is a false satanic religion and will not tolerate Jewish tyranny against Christians !
COMMENT FROM ALICIA ~ 
Judge Moore was sued by the ACLU for displaying the Ten Commandments in his courtroom foyer. He has been stripped of his judgeship and now they are trying to strip his right to practice law in Alabama. The judge's poem sums it up quite well.
By Judge Roy Moore
America the Beautiful, or so you used to be.
Land of the Pilgrims' pride; I'm glad they'll never see.
Babies piled in dumpsters, Abortion on demand,
Oh, sweet land of liberty; your house is on the sand.
Our children wander aimlessly poisoned by cocaine,
Choosing to indulge their lusts, when God has said abstain.
From sea to shining sea, our Nation turns away
From the teaching of God's love and a need to always pray.
We've kept God in our temples, how callous we have grown.
When earth is but His footstool, and Heaven is His throne.
We've voted in a government that's rotting at the core,
Appointing Godless Judges who throw reason out the door,
Too soft to place a killer in a well deserved tomb,
But brave enough to kill a baby before he leaves the womb.
You think that God's not angry, that our land's a moral slum?
How much longer will He wait before His judgment comes?
How are we to face our God, from Whom we cannot hide?
What then is left for us to do, but stem this evil tide?
If we who are His children, will humbly turn and pray;
Seek His holy face and mend our evil way:
Then God will hear from Heaven and forgive us of our sins,
He'll heal our sickly land and those who live within.
But, America the Beautiful, if you don't – then you will see,
A sad but Holy God withdraw His hand from Thee.
~Judge Roy Moore
RELATED –
note – Moore here used the jews own holohoax logic against the jews to fight their agenda to homosexualize the goyim ! I love it ! This guy is a smooth operator…