Transgender Values Do Not Represent Anyone But Transgender!
It's official: Over 1.5 million families are boycotting Target
Wednesday, April 19, 2017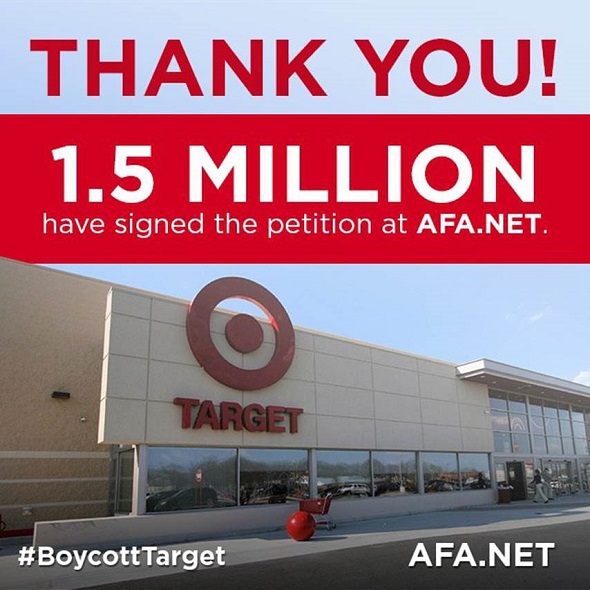 Dear Reader,
Today we mark a milestone in the boycott of Target. With the help of millions of families across America, AFA has officially reached 1.5 million signatures on the #BoycottTarget pledge. It is also important to note that April 20 marks the one year anniversary of this immensely successful boycott.
On April 19, 2016 Target announced that it would be allowing men access to women's restrooms and changing areas. The very next day, the American Family Association launched its boycott, and within a week we had garnered over 1 million signatures. Target's decision is unacceptable for families, and their dangerous and misguided policy continues to put women and children in harm's way.
Since the boycott started, Target's stock has lost 35% of its value, and the company shuttered plans for major expansion projects. Together we are making an unprecedented financial impact on a corporation whose policy is to allow men to use women's restrooms and dressing rooms.
A recent Wall Street Journal article clearly shows that Target CEO Brian Cornell regrets his company's policy announcement welcoming men to use women's restrooms and dressing rooms.
According to the article, Mr. Cornell expressed frustration about how the bathroom policy was publicized without his permission or knowledge, and told colleagues he wouldn't have approved the decision to flaunt it with a public statement that is still on Target's website today.
"Target didn't adequately assess the risk, and the ensuing backlash [AFA boycott] was self-inflicted," he told staff.
You can read the entire WSJ article here, but be aware that it requires a subscription. Copyright laws prohibit AFA from providing the entire article to you.
As promised, I will personally hand deliver these additional 500,000 signatures to Target headquarters in the near future. I will then discuss how Target can invite 1.5 million AFA supporters back to their stores by having a common sense bathroom and dressing room policy that links use of these rooms to a person's biological sex.
In the meantime, AFA's boycott of Target remains.
Take Action
If you haven't signed the boycott pledge, please sign it today!
If you have signed the pledge, please forward this email to your family and friends.
If our mission resonates with you, please consider supporting our work financially with a tax-deductible donation. The easiest way to do that is through online giving. It is easy to use, and most of all, it is secure.
Tim Wildmon, President
American Family Association