We Are Change Mail
Police Accuse Harvard Law Officials Of Stealing $110,000 Meant For Disabled Students
Posted: 01 Mar 2017 11:43 AM PST
(WRC) — According to a criminal complaint obtained by CBS Boston on Monday, two former Harvard Law School administrators stole $110,000 from the University.
Harvard University police accused Meg DeMarco, 33, and Darris Saylors, 32, of using funds meant for disabled students to purchase laptops, iPads, jewelry, DVDs, and X-rated items.
The scheme started to unravel in November 2013 when some budget discrepancies were noticed by a new manager, according to the court documents. Both women soon resigned from their positions as a police investigation followed.
A spokeswoman for the Middlesex County District Attorney's office, Elizabeth Vlock, told the Harvard Crimson that Demarco and Saylors are charged with two counts of larceny over $250. According to Vlock, Saylors was also charged with "two counts of false entry into corporate books, uttering a false writing and forgery of a document in connection with an alleged theft."
"Criminal charges filed on Feb. 10 by the Middlesex County district attorney's office stem from an HLS internal financial audit a little over three years ago," said Michelle B. Deakin, a spokeswoman for the law school. "The audit resulted in a referral to the Harvard University Police Department in November 2013 by the law school administration and the former dean of students."
Kristina Vu, a Harvard law student who is blind and needs to use a guide dog to walk around campus, was stunned when she heard the news.
"It's horrifying," Vu told CBS Boston. "Knowing that someone is out there taking away those crucial resources from the vulnerable student population that needs it to succeed is honestly very appalling to me."
DeMarco now works as the associate director of the Center for Women's Entrepreneurial Leadership at Babson College. Saylors now works as the assistant director of the University of Chattanooga Honors College.
"It was a big job and I made mistakes," DeMarco told WBZ-TV. "I never intended to harm the university. I'm very sorry and will do everything in my power to rectify the situation."
The post Police Accuse Harvard Law Officials Of Stealing $110,000 Meant For Disabled Students appeared first on We Are Change.
Trump Sends Mixed Messages on War in First Speech to Congress
Posted: 01 Mar 2017 10:32 AM PST
Article via Antiwar
In his first address to Congress tonight, President Trump delivered a heavily 'America first' speech that was light on details, and on the question of war was even lighter still, saying the US needs to prepare its military to "prevent war" with its largest budget ever.
Trump promised a "direct, robust, and meaningful engagement with the world," saying that the US foreign policy would be based on America's own "vital security interests," adding that America would "respect the sovereign rights of nations."
What this all adds up to remains to be seen, though with respect to Syria, his comments on creating conditions where the displaced can "safely return home and begin the long process of rebuilding" once again hints at his expected policy of establishing safe zones within northern Syria.
Ultimately, the decision appears to have been to focus on generalities, and a promise to destroy ISIS outright, without getting into the specifics of how this would happen, and also not getting into the policy details on what America will ultimately do with this record-sized military budget, beyond general assurances that whatever is done will be done primarily with an eye toward America's interests.
The strategy Trump sought for the defeat of ISIS was delivered just yesterday, and while Trump has yet to address the details of the plan we actually know quite a bit about it, with the broad expectations emerging over the past several weeks.
This includes sending an unknown, but significant, number of US ground troops to Syria for combat operations, and in particular for fighting against ISIS in Raqqa. The Kurdish YPG, which the US has been backing against ISIS, will be getting more military aid, and US generals will be given more leeway for how they carry out operations.
Policies elsewhere were conspicuously undisclosed, with weeks of growing rhetoric against Iran not addressed beyond a single mention of new sanctions against them, and no talk of US-Russia policy beyond a vague mention of former enemies who might be new friends.
Ongoing US escalations in Yemen were also largely glossed over, beyond some pandering to the "success" of a SEAL Team Six raid which has been described as a disastrous failure, but which Trump maintained was "highly success."
---
This article first appeared on Antiwar.com and was authored by Jason Ditz.
The post Trump Sends Mixed Messages on War in First Speech to Congress appeared first on We Are Change.
Decision on Dakota Access Pipeline Easement To Be Made This Week
Posted: 28 Feb 2017 09:47 PM PST
A US judge is hoping to make a decision by March 7 on whether the Army Corps of Engineers must withdraw an easement on the construction of the hotly-disputed Dakota Access Pipeline.
The Standing Rock Sioux and Cheyenne River Sioux tribes have requested an injunction against the easement on religious grounds.
"The sanctity of these waters is a central tenet of their religion, and the placement of the pipeline itself, apart from any rupture and oil spill, is a desecration of these waters," attorney Nicole Ducheneaux, representing the Cheyenne River Sioux, wrote in court documents.
Immediately following the Army Corps of Engineers issuing the easement, construction began under Lake Oahe to finish the final 1.5-mile stretch of the pipeline.
"The granting of the easement and resulting construction activity violates the tribe's and its members' constitutional rights, and will result in immediate and irreparable harm to the tribe and its members before this court will be able to rule on the merits of this claim," the tribe stated, while asking a federal court to block the easement and issue a restraining order to halt construction.
The construction continued after Judge James Boasberg refused to issue a restraining order halting the work. The judge ordered that if the company building the pipeline, Energy Transfer Partners (ETP), believes that the pipeline will be completed before his ruling however, they must give him 48 hours notice to hand over his decision before oil can begin pouring through.
"The estimate is 60 days to complete the drill and another 23 days to fill the line to Patoka," ETP spokeswoman Vicki Granado told the Associated Press earlier this month.
On Tuesday, Boasberg questioned how the water could be harmed in the event of a leak, as the pipeline is under the lake. The tribe claimed that even if the pipeline does not leak, it will spiritually degrade the river due to its presence — by preventing tribes from carrying out religious ceremonies in the area.
Protests have been consistent at the construction site since April 2016, when thousands of activists joined the tribe.
"We will continue to fight against an administration that seeks to dismiss not only our treaty rights and status as sovereign nations, but the safe drinking water of millions of Americans," Dave Archambault, tribal chairman, said in a statement at the time that the easement was granted.
The pipeline is intended to transport nearly half-a-million barrels of oil per day. Opponents observe that a leak would be an ecological catastrophe for the water supply of millions of people. Those who support it argue that it will provide greater energy independence.
One of President Trump's early actions after taking office was issuing an executive order making way for the previously shut down Keystone XL and Dakota Access Pipelines to be completed, effectively ending legal challenges put in place by the Obama administration.
The post Decision on Dakota Access Pipeline Easement To Be Made This Week appeared first on We Are Change.
China Backs Russia To Block UN Sanctions On Syria
Posted: 28 Feb 2017 05:23 PM PST
Article via Zero Hedge
The Trump administration's early attempts to change, and restore, ties with Russia may be fading fast, but at least when it comes to relations between Russia and its western counterparts at the United Nations, absolutely nothing has changed.
And, as has been the case for the past three years, the antagonism was on full front display when Russia, now without the recently deceased Vitaly Churkin, on Tuesday cast its seventh veto to protect the Syrian government from United Nations Security Council action, blocking an attempt by Western powers to impose yet another sanction over accusations of the recurring strawman, i.e., chemical weapons attacks, during the six-year Syrian conflict.
While the Russia vote was to be expected, what was surprising is that China once again backed Russia with its sixth veto on Syria according to Reuters, making it clear that at least when it comes to the UN and matters involving Syria, China is firmly in the Russia camp, and thus opposing the west.
Russia had said the vote on the resolution, drafted by France, Britain and the United States, would harm U.N.-led peace talks between the warring Syrian parties in Geneva, which began last week. Nine council members voted in favor, Bolivia voted against, while Egypt, Ethiopia and Kazakhstan abstained. A resolution needs nine votes in favor and no vetoes by the United States, France, Russia, Britain or China to be adopted.
Russian President Vladimir Putin described the draft resolution on Tuesday as totally inappropriate. "As for sanctions against the Syrian leadership, I think the move is totally inappropriate now," Putin said at a news conference. "It does not help, would not help the negotiation process. It would only hurt or undermine confidence during the process."
Doing her best Samantha Power impression, the new US ambassador to the UN Nikki Haley told the council after the vote that "For my friends in Russia, this resolution is very appropriate." "It is a sad day on the Security Council when members start making excuses for other member states killing their own people. The world is definitely a more dangerous place."
The vote was one of the first confrontations at the United Nations between Russia and the United States since U.S. President Donald Trump took office in January, pledging to build closer ties with Moscow.
Russia's Deputy U.N. Ambassador Vladimir Safronkov described the statements made against Moscow in the Security Council as "outrageous" and declared that "God will judge you."
"Today's clash or confrontation is not a result of our negative vote. It is a result of the fact that you decided on provocation while you knew well ahead of time our position," said Safronkov. "The problem is that the basis of expert work on Syria come from dubious information submitted by the armed opposition, international NGOs sympathetic to it, the media and so-called 'Friends of Syria'," he argued.
"The co-sponsors [of the proposal] have chosen and odious and erroneous concept, which is totally unacceptable. The fact that the resolution wasn't supported by six of the fifteen security council members should make the co-sponsors seriously think," Safronkov said.
On the other hand, western powers put forward the resolution in response to the results of an investigation by the U.N. and the Organization for the Prohibition of Chemical Weapons (OPCW). The international inquiry 'found' that as reported a month ago, Syrian government forces were responsible for three chlorine gas attacks and that Islamic State militants had used mustard gas. British U.N. Ambassador Matthew Rycroft told the council before the vote: "This is about taking a stand when children are poisoned. It's that simple. It's about taking a stand when civilians are maimed and murdered with toxic weapons."
This reminds us of the first such fabricated attempt to start a war in Syria in the summer of 2013 when a produced YouTube clip was used as evidence of a chemical attack, only to be refuted several month later, although by then Russia and the US were already engaged in the Syrian proxy war.
To be sure, Syrian President Bashar al-Assad's government has denied its forces have used chemical weapons. Russia has questioned the results of the U.N./OPCW inquiry and long said there was not enough proof for the Security Council to take any action.
French U.N. Ambassador Francois Delattre said the failure by the council to act would "send a message of impunity."
Meanwhile China's U.N. Ambassador Liu Jieyi said it was too early to act because the international investigation was still ongoing. "We oppose the use of chemical weapons," he said.
And while the sanctions were being debated, a new round of UN-sponsored Syria peace talks between the warring sides kicked off in Geneva last week. Saying that he is not expecting a breakthrough, UN envoy Staffan de Mistura said he was nonetheless determined not to lose the momentum towards a resolution.
Although the liberation of the city of Aleppo and the loss of key territories by Islamist rebels have tipped the balance in the Syrian conflict, potential disagreements could arise over the opposition's continued insistence that the fate of the Syrian government of President Bashar Assad be settled as a precondition – something that is not currently on the table.
Russia announced that it has asked the Syrian government to halt all military operations for the duration of the talks, while other countries were expected to deliver the same message to the rebels. The last round of the Geneva talks was broken off nine months ago amid a sharp escalation in hostilities.
Bashar al-Jaafari, the Syrian government's negotiator at the Geneva talks, warned on Saturday that Damascus will view opposition groups that refuse to condemn the deadly suicides attacks in Homs as accomplices of terrorists. In another comment on the attack, Jaafari said that "the terrorist explosions that hit Homs city are a message to Geneva from sponsors of terrorism, and we tell everyone that the message is received and this crime won't pass unnoticed."
---
This article first appeared on ZeroHedge.com and was authored by Tyler Durden.
The post China Backs Russia To Block UN Sanctions On Syria appeared first on We Are Change.
YouTube Users Now Watch 1 Billion Hours Per Day, Set To Surpass Global TV Viewership
Posted: 28 Feb 2017 03:45 PM PST
Article via Zero Hedge
In a dramatic confirmation of the relentless growth of online video, at the expense of the agonizing, slow death of conventional TV, YouTube said that its worldwide viewers are now watching more than 1 billion hours of videos a day, on pace to eclipse total US TV viewership over the next few years, a milestone facilitated by the Google aggressive embrace of artificial intelligence to recommend videos.
By comparison, Americans watch 1.25 billion hours of live and recorded TV per day according to Nielsen, a figure that has been steadily dropping in recent years. Facebook and Netflix said in January 2016 that users watch 100 million hours and 116 million hours, respectively, of video daily on their platforms.
According to the WSJ, YouTube surpassed the "psychological" figure, which was far higher than previously reported, late last year. Indicatively, in 2012 when Google started building algorithms that tap user data to give each user personalized video lineups designed to keep them watching longer, users spent 100 million hours on its platform, a ten-fold increase in under five years, growing at a pace of roughly 200 million hours per year.
Of course, what makes YouTube so unique, is that a vast majority of the content is crowdsourced: feeding the AI recommendations is an unmatched collection of content: 400 hours of video are uploaded to YouTube each minute, or 65 years of video a day.
What is surprising is that despite YouTube's massive size, it remains unclear if it profitable. Google's parent Alphabet doesn't disclose YouTube's performance, but people familiar with its financials said it took in about $4 billion in revenue in 2014 and roughly broke even.
Like most of its social network competitors, YouTube makes most of its money on running ads before videos but it also spends big on technology and rights to content, including deals with TV networks for a planned web-TV service. When asked about profits last year, YouTube Chief Executive Susan Wojcicki said, "Growth is the priority."
Meanwhile, in a near-monopolistic synergy, YouTube benefits from the enormous reach of Google, which handles about 93 percent of internet searches, according to market researcher StatCounter. Google embeds YouTube videos in search results and pre-installs the YouTube app on its Android software, which runs 88 percent of smartphones, according to Strategy Analytics.
That has helped drive new users to its platform, and the statistics are staggering: about 2 billion unique users now watch a YouTube video every 90 days, according to a former manager. In 2013, the last time YouTube disclosed its user base, it said it surpassed 1 billion monthly users. YouTube is now likely larger than the world's biggest TV network, China Central Television, which has more than 1.2 billion viewers.
A recent adjustment to the YouTube algorihms helped:
"YouTube long configured video recommendations to boost total views, but that approach rewarded videos with misleading titles or preview images. To increase user engagement and retention, the company in early 2012 changed its algorithms to boost watch time instead. Immediately, clicks dropped nearly 20 percent partly because users stuck with videos longer. Some executives and video creators objected.

"Months later, YouTube executives unveiled a goal of 1 billion hours of watch time daily by the end of 2016. At the time, optimistic forecasts projected it would reach 400 million hours by then.

"YouTube retooled its algorithms using a field of artificial intelligence called machine learning to parse massive databases of user history to improve video recommendations. Previously, the algorithms recommended content largely based on what other users clicked after watching a particular video, the former manager said. Now their 'understanding of what is in a video [and] what a person or group of people would like to watch has grown dramatically," he said.
And while it hardly needs it, YouTube's reliance on algorithm-driven traffic expansion continues: "last year YouTube partnered with Google Brain, which develops advanced machine-learning software called deep neural networks, which have led to dramatic improvements in other fields, such as language translation. The Google Brain system was able to identify single-use video categories on its own."
Meanwhile, per just released research from the EIA, according to the latest Residential Energy Consumption Survey (RECS) the number of TVs in active use per US household is declining: an average of 2.3 televisions were used in American homes in 2015, down from an average of 2.6 televisions per household in 2009.
As shown in the chart below, the number of homes with three or more televisions declined from the previous survey conducted in 2009, and a larger share of households reported not using a television at all. Televisions and peripheral equipment such as cable boxes, digital video recorders (DVRs), and video game consoles account for about 6 percent of all electricity consumption in U.S. homes.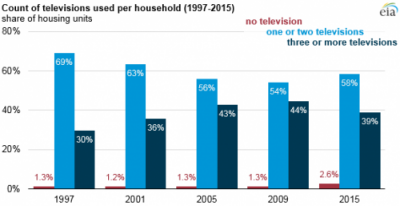 The study also found that entertainment and information devices vary by age: younger households tend to have a lower concentration of televisions per person and a higher concentration of portable devices such as laptops.
The good news: the slow death of corporate-owned, legacy mainstream media continues; the bad news: it is being replaced by the hyper-corporate Google and Facebook, which in recent months have decided to put on the mantle of supreme arbiters of what is and isn't considered "fake news."
---
This article first appeared on Zerohedge.com and was authored by Tyler Durden.
The post YouTube Users Now Watch 1 Billion Hours Per Day, Set To Surpass Global TV Viewership appeared first on We Are Change.
FIRST AMENDMENT? Lawmakers In Arizona Wanted To Be Able To Seize Homes If You Organized Protest
Posted: 28 Feb 2017 02:05 PM PST
Arizona Legislature Bill SB 1142 would have allowed protest organizers to be prosecuted for racketeering if a demonstration turned violent, but that bill is now effectively dead.
We told you last week that the bill passed the Senate, which sparked national backlash, with many questioning whether or not it was even constitutional.
[RELATED: Arizona Senate Republicans Seek to Legalize Asset Forfeiture Against Protestors]
Arizona House Speaker J.D. Mesnard confirmed yesterday that he does not plan to even consider the bill after outrage ensued from it being drafted.
"I haven't studied the issue or the bill itself, but the simple reality is that it created a lot of consternation about what the bill was trying to do," Mesnard told the New Times. "People believed it was going to infringe on really fundamental rights. The best way to deal with that was to put it to bed."
"I was less concerned about the national story. My decision was based on what I think is best for Arizona and the concerns that were being expressed by Arizonans."
"I'm certain the sponsor wasn't trying to infringe on anyone's First Amendment rights," he added, "I want to stand up for him a little bit – he's being criticized, and I don't know if that's entirely fair."
The bill itself was based on questionable claims including that the violence at recent protests in Washington, D.C., and Berkeley, California, were the work of paid protesters or provocateurs.
The bill's goal was to allow protest organizers to be prosecuted even if someone else were involved in rioting. The measure also could let law enforcement prosecute organizers for planning an event that could potentially result in rioting.
Rioting is already illegal under Arizona law, but SB 1142 would have expanded racketeering laws to include rioting. It would have
State Senator Sonny Borrelli (R), argued that the bill "was necessary in order to crack down on the groups that are paying protesters."
Borrelli garnered support from several state Senate Republicans, who voted for the bill, as well as law enforcement.
"At the end of the day, I think the people need to know we are not about limiting people's rights," Mesnard said in an interview Monday with The Arizona Republic. "The sponsor is not about it, the governor is not about it, the government is not about that. The most efficient, expedient way to communicate that is to kill the bill.
"Optics are important and you don't ignore the fact that a bill — rightly or wrongly — is perceived as something we don't want to do," he added. "It doesn't matter what it does, this is the widespread belief about it, and the belief itself is harmful."
Recently there has been a slew of bills proposed or that have passed and are pending being made into law which essentially criminalize the first amendment the right to assemble and free speech. A shocking trend that has taken hold of lawmakers in America as Trump protest continue across the nation.
Tennessee just last week passed a controversial law that would essentially allow drivers to injure protesters without civil liability while still keeping the potential for criminal liability if the driver hit and killed someone.
[RELATED: Tennessee Passes Controversial Law Allowing Drivers to Injure Protesters Without Civil Liability]
At the time of this writing as far as I know nine states including Tennessee proposed similar measures to criminalize different forms of protesting. Minnesota, Indiana, Iowa and North Dakota are considering allowing drivers to run over protesters without any civil liabilities.
While Washington, Michigan, Virginia, Colorado are all considering other forms of punishment for protesters ranging from extreme fines to threatening harsh jail sentences.
[RELATED: Death Of The First Amendment? 8 States Propose Laws To Criminalize Protesting]
Such an intense crackdown on the right to free speech and protest is worrying in the so-called land of the free.
The post FIRST AMENDMENT? Lawmakers In Arizona Wanted To Be Able To Seize Homes If You Organized Protest appeared first on We Are Change.
Illegal Border Crossing Into US Dropped 27% the Month of Trump's Inauguration
Posted: 28 Feb 2017 02:04 PM PST
Undocumented immigration across the Mexican border into the United States plummeted in January, with 27 percent less illegal crossings in January from the previous month, according to a report from Customs and Border Protection.
The tally remains high compared to previous years, with the highest number of people apprehended during illegal crossings during the month of January since 2012, but has declined drastically on a month-to-month basis.
According to a report from the Washington Times, 31,575 people were apprehended in January while attempting to cross, compared to 43,253 in December 2016. The number of undocumented immigrants at the ports of entry on the southern border also fell 28 percent, to 10,899.
The number of apprehensions made are typically seen as an indicator of overall flow. The logic is that the more people who are apprehended, the more people who also made it across undetected. Winter is generally a slower month, with far more illegal crossings occurring during warmer months.
"Overall total migration remained at elevated levels, primarily due to family units and unaccompanied children from Central America, Haitian nationals migrating from Brazil, and Cuban nationals," CBP wrote in their report.
In 2016, less than half of those caught crossing the border illegally came from Mexico. Apprehensions of people coming from Guatemala, Honduras and El Salvador also declined.
"CBP continues to maintain a strong security posture through background checks of all individuals encountered and ensures that each person is processed in accordance with US immigration laws and DHS policy."
Earlier this month, the Department of Homeland Security (DHS) issued a new set of instructions to CBP and Immigration and Customs Enforcement (ICE) to increase the deportations laid out in President Donald Trump's executive order.
A DHS memo ordered immigration agencies to take a hardline stance with undocumented immigrants by immediately identifying, detaining, and deporting anyone not carrying appropriate identification. The order also calls for the hiring of an additional 5,000 border agents and 10,000 ICE agents.
"Department personnel have full authority to arrest or apprehend an alien whom immigration officers have probable cause to believe is in violation of the immigration laws," according to a DHS memo. "They also have full authority to initiate removal proceedings against any alien who is subject to removal under any provision of the (Immigration and Nationality Act)."
Directions given to the agencies include placing those who have been convicted of crimes at the highest operational priority. Anyone caught illegally crossing the border is to be immediately detained.
I originally published this on Sputnik News
The post Illegal Border Crossing Into US Dropped 27% the Month of Trump's Inauguration appeared first on We Are Change.
Trump Just Signed Two Bills That Are Actually In Support Of Women's Rights
Posted: 28 Feb 2017 12:26 PM PST
President Donald Trump spent Tuesday afternoon signing bills which will support business programs for women and encourage them to pursue careers in math and science,  CBS News reported.
The first bill, Inspiring the Next Space Pioneers and Innovators and Explorers Act (INSPIRE), directs NASA to encourage women to pursue careers in science, mathematics and engineering, the Daily Caller reported.
Congresswoman Barbara Comstock (R-VA) first introduced the bill in March 2016. The bill tasks NASA with promoting careers in aerospace for women.
"The INSPIRE Women Act will help create a climate for young girls and women to be successful in STEM and competitive on the world stage, and be great assets to growing the 21st Century economy," Comstock said.
The second bill, Promoting Women in Entrepreneurship Act, authorizes the National Science Foundation "to recruit and support women for its entrepreneurial programs."
Trump also plans to sign an executive order aimed at strengthening historically black colleges and universities, Reuters reported.
"You deserve far more credit than you get, and know that beginning today, this administration is committed to making sure that our historically black colleges and universities get the credit and the attention they deserve," Pence said.
Additionally, Trump is expected to sign another executive order that will instruct review of the Waters of the U.S. Rule (WOTUS) by the Environmental Protection Agency (EPA) and U.S. Army Corps of Engineers.
The order is aimed to dismantle the Obama administration's Clean Water Rule that expanded federal protection of – wetlands, streams, and waterways throughout the United States.
The post Trump Just Signed Two Bills That Are Actually In Support Of Women's Rights appeared first on We Are Change.