Our Fake Media is Our Mainstream Media Disseminating Lies, Disinformation & Slander!
Klayman: Steve Bannon Is Right!
Steve Bannon: Media should 'keep its mouth shut'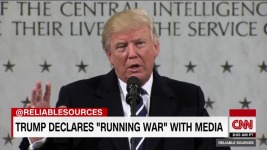 By Dylan Byers
CNN
January 27, 2017
President Donald Trump's chief strategist has escalated the administration's war with the media, labeling it "the opposition party" and suggesting that it "keep its mouth shut."
"The media should be embarrassed and humiliated and keep its mouth shut and just listen for awhile," Steve Bannon said during a rare interview with The New York Times on Wednesday.
"I want you to quote this," Bannon told the Times. "The media here is the opposition party. They don't understand this country. They still do not understand why Donald Trump is the president of the United States."
My Comment:  I see the Mainstream Lying Media as an extension of the Zionist Mafia (Synagogue of Satan) running and ruining this country.  They are like their father the devil all lies and deceit!  (as Jesus aptly stated)