It's Pretty Clear US Citizens Have a Bunch of A__h_les Running This Country! Political Corruption Leads to Violent Crime!
Klayman: Thanks to Obama, Holder and Now Lynch and Their War Against Law Enforcement Many Police Don't Want to Intervene in Black on Black Crime and That's Why Chicago and Other Black Crime Around the Nation Has Gotten Even Worse! Obama and Co. Have Black Blood on Their Hands Ironically Thanks to Their Racist "Race Baiting"!
Justice Dept. report finds 'pattern or practice' of excessive force by Chicago police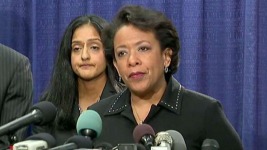 By Mike Arroyo
Fox News
January 13, 2017
Chicago police violated the Fourth Amendment through a "pattern or practice of use of excessive force," Attorney General Loretta Lynch declared Friday, revealing the results of a wide-ranging investigation that the city's former top cop called biased from the start.
The U.S. Justice Department launched its yearlong review of the 12,000-officer force – one of the nation's largest – in December 2015 after the release of a dashcam video showing a white police officer shooting a black teenager, Laquan McDonald, 16 times as he walked away holding a small, folded knife. The video of the 2014 shooting, which the city fought to keep from being released, triggered widespread protests.