Interesting Observation From Larry Klayman………………………………………………….
Klayman: I Predicted This: Muslims Responsible for Canadian Mosque Attack! Canadian PM Is a Naive Fool!
Suspect in Quebec mosque terror attack was of Moroccan origin, report shows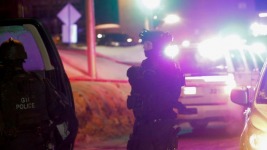 Fox News
January 30, 2017
One of two gunmen who shouted 'Allahu akbar!' as they opened fire at a mosque in Quebec City was of Moroccan origin, a witness and local media reported Monday, revealing the first details about the attackers in the massacre that killed six men.
The terror suspects were identified as Mohamed Khadir and Alexandre Bissonnette, the Canadian TV network TVA Nouvelles reported. They were arrested soon after the shooting at the Quebec Islamic Cultural Centre Sunday night and were expected to appear in court later Monday, police told reporters.