Klayman: Hillary Clinton takes campaign money from Muslim group with ties to Islamic terrorist sympathizers!
Clinton Leads Left-Leaning Top 10 'Islamic Money in Politics' List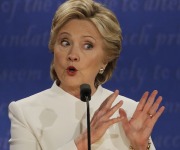 Newsmax
October 21, 2016
Democratic presidential nominee Hillary Clinton heads a top-10 "Islamic Money in Politics" list of campaign contributions for 2015-16, the Middle East Forum announced Thursday.
Clinton took in $41,165, including $19,249 from senior officials of the Muslim advocacy group, Council on American-Islamic Relations, the forum reported.
Green Party nominee Jill Stein, who accepted a $250 contribution, is the only other active 2016 presidential candidate on the list. Former Democratic presidential primary candidate Sen. Bernie Sanders accepted $9,285, the fourth most among the top 10, the forum reported.