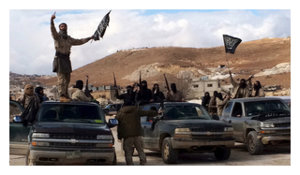 Moscow has accused Washington of sabotaging the Syria ceasefire deal, saying that the US will be responsible for any new terror attacks in Syria, as by taking no action against Al-Nusra terrorists it shows it is ready "to make a deal with the devil."
Washington "has never exerted any real pressure on Jabhat Al-Nusra, done nothing for delineation to succeed and taken no action against its militants," the Russian Foreign Ministry said in a statement Monday, following the US decision to suspend cooperation on Syria.
Besides failing to deliver on its part of the deal, the US were hampering Moscow's efforts to stop the terrorists, the Russian Foreign Ministry said, calling Washington's decision a "reflection" of the Obama administration's inability to meet the key condition for Russia-US cooperation on the Syrian peace process.
The way the situation has been unraveling in Syria in the past few weeks has made Moscow doubt what Washington's real intentions are, according to the ministry.
"We are becoming more convinced that in a pursuit of a much desired regime change in Damascus, Washington is ready to 'make a deal with the devil'," the Foreign Ministry said. For the sake of ousting Syrian President Bashar Assad, the US appears to be ready to "forge an alliance with hardened terrorists, dreaming of turning back the course of history."
While Jabhat Al-Nusra, a designated terrorist organization, has been known as an Al-Qaeda affiliate for many years, Washington "is not in a hurry to separate US-oriented anti-government forces from it," Moscow points out. On the contrary, even though Al-Nusra has never been a part of any peace deal, Washington "covers it with the shield of opposition groups which formally confirmed their participation in the cessation of hostilities."
Meanwhile, the Russian ambassador to the UN, Vitaly Churkin, held a news conference in New York as Russia was assuming the presidency of the United Nations Security Council for the month of October. Russia plans to hold about 20 meetings during its UNSC presidency, focusing on conflicts in Africa and the Middle East.