Bombshell Revelations in Fauci's Emails-WeAreChange.org
---
BREAKING: Bombshell Revelations in Fauci's Emails!Posted: 02 Jun 2021 12:05 PM PDTToday's breaking news report digs into the bombshell revelations in Dr. Fauci's emails that shed light on what really happened since the onset of the sickness and how it was covered up.Join us: LukeUncensored.comFollow on Telegram: t.me/s/News4AChangeSign up for our newsletter: bit.ly/3ijjAopExclusive group chat: t.me/WeAreChangeChatShirt store: TheBestPoliticalShirts.comCensored shirts: WeAreTheShirts.comFind us on Minds: minds.com/wearechangeSubscribe on LBRY: lbry.tv/@wearechange:1Filter your water: bit.ly/3d3s8iVImprove your gut health: bit.ly/34GHbdYStorable food for emergencies: SafePreparedAndReady.com#1 best source of Collagen: bit.ly/3mw5uRK#1 best VPN to use: bit.ly/3iT4Ew3The post BREAKING: Bombshell Revelations in Fauci's Emails! appeared first on We Are Change.
"Not Really Effective": Fauci Dismissed Masks for Preventing COVID-19 Infection in EmailPosted: 02 Jun 2021 09:56 AM PDTIn a February 2020 email between Dr. Anthony Fauci and former Obama health and human services (HHS) secretary Sylvia Burwell, the nation's top infectious disease expert said that store-bought face masks weren't very effective in protecting one against COVID-19 – an opinion he maintained at least through March of last year.I'm old enough to remember when Dr. Fauci went on 60 Minutes in March 2020 and said, "Right now in the United States, people should not be walking around with masks. … There's no reason to be walking around with a mask." https://t.co/CpBukP9gFB pic.twitter.com/T9xOCXHeSm— Steve Guest (@SteveGuest) January 21, 2021Contained within hundreds of pages of emails obtained by the Washington Post and BuzzFeed through the Freedom of Information Act (FOIA), Fauci is asked about masks by former Obama Health and Human Services Secretary Sylvia Burwell."I am traveling to [redacted]. Folks are suggesting I take a mask for the airport. Is this something I should do," asks Burwell.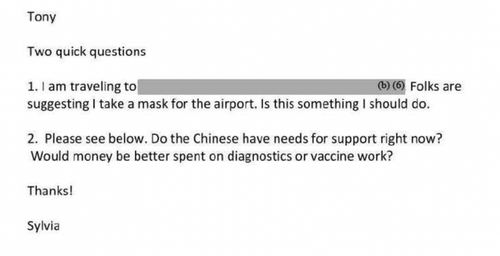 To which Fauci replies: "Masks are really for infected people to prevent them from spreading infection to people who are not infected rather than protecting uninfected people from acquiring infection. The typical mask you buy in the drug store is not really effective in keeping out virus, which is small enough to pass through material. It might, however, provide some slight benefit in keep out gross droplets if someone coughs or sneezes on you.""I do not recommend that you wear a mask, particularly since you are going to a very low risk location."Say goodnight Gracie. pic.twitter.com/OTvCtncrWH— SCUBA MIKE? (@scuba2024) June 2, 2021Fauci's original opinion on masks turns out to have been correct, as several analyses – including the CDC's own data – have shown that mask mandates (and double masking) had virtually no effect on virus spread, sentiment echoed by top epidemiologists.
What's more, the US government knew masks don't work, as evidenced by this March 31, 2020 email from NIH Medical Officer Andrea Lerner:
By April, however, the World Health Organization and NIH came out in favor of masking – at which point Fauci changed his opinion. As journalists John Ziegler and Kyle Becker note, the move may well have given people a false sense of security.This is 100% right. People wore masks *INSTEAD* of social distancing & hand washing. They gave people a false sense of security. This shows me they were as much a political statement as anything, an anti-Trump ribbon you wear on your face, if you will.https://t.co/tqOelSHYKv— Kyle Becker (@kylenabecker) June 2, 2021So it was all an act…Republished from ZeroHedge.com with permissionThe post "Not Really Effective": Fauci Dismissed Masks for Preventing COVID-19 Infection in Email appeared first on We Are Change.
Massive Blaze Engulfs Tehran Refinery Just Hours After Mysterious Sinking of Iran's Largest WarshipPosted: 02 Jun 2021 09:40 AM PDTA major oil refinery in Tehran is now engulfed in a huge blaze just hours after on Wednesday morning the Islamic Republic's largest warship caught fire and sank in the Gulf of Oman under mysterious circumstances.Iranian state Tasnim news in a breaking report has identified it as the Shahid Tondguyan oil refinery, considered among the country's largest.#BREAKING: Another massive fire in #Iran today. Fars News' Telegram account has just published video of a fire at an oil refinery in the Tehran area. Tasnim says it's at the Shahid Tondguyan oil refinery. 1/2https://t.co/MACQV4FX6H pic.twitter.com/miJAzXlUcP— Jason Brodsky (@JasonMBrodsky) June 2, 2021Coincidence? Or are we now witnessing a return to the summer of 2020 which saw tit-for-tat sabotage attacks on oil tankers, military and nuclear sites involving Israel and Iran? The timing is also interesting given Iran and the West appear on the verge of completing a restored nuclear deal in Vienna, which means the US would drop sanctions and allow Iran to pursue 'peaceful nuclear energy' development. Israel has vowed to do everything to prevent such a deal which Tel Aviv sees as providing a path to nuclear weapons.Multiple videos show a massive blaze in progress, billowing thick black smoke high over the Iranian capital…JUST IN – Shahid Tondguyan oil refinery in #Tehran, Iran on fire. pic.twitter.com/1fShagiyoA— Disclose.tv ? (@disclosetv) June 2, 2021Iranian state TV has further described in an unconfirmed report that one of the emergency lines of liquefied gas erupted and caused the large fire.According to Reuters citing local officials, there's been no reports of casualties.???? ??? ????? ???????? ????? ?? ?? ?????? ???? ?? ???? ?? ???????? ?? ?? ???? ?????? ??? ???? ????????? ????? ????? ??? pic.twitter.com/9PGTM8OfM8— Mohammad Hasan Najmi (@mhnajmi64) June 2, 2021And more limited details are as follows: "The fire struck the state-owned Tondgooyan Petrochemical Co. to the south of Tehran on Wednesday night. Firefighters believe it struck a pipeline for liquefied petroleum gas at the facility. That's according to a report on Iranian state television. Associated Press journalists in central Tehran, some 20 kilometers away, could see the black smoke rise in the distance."Republished from ZeroHedge.com with permissionThe post Massive Blaze Engulfs Tehran Refinery Just Hours After Mysterious Sinking of Iran's Largest Warship appeared first on We Are Change.
Fauci Emails Reveal Damage Control Scramble After ZeroHedge Spotlights Man-Made COVID-19 TheoryPosted: 01 Jun 2021 09:23 PM PDTIn January, 2020, when the World Health Organization insisted that COVID-19 wasn't transmissible between humans, and Dr. Anthony Fauci said that the risk to the American public from the virus was "low," officials at the National Institutes of Health were scrambling to perform damage control after a controversial – and now withdrawn – study suggested that there were HIV-like 'insertions' included in SARS-CoV-2.The study, "Uncanny similarity of unique inserts on the 2019-nCoV spike protein to HIV-1 gp120 and Gag," posited that segments of the virus's RNA had no relation to other coronaviruses such as SARS, and instead appeared to be closer to HIV.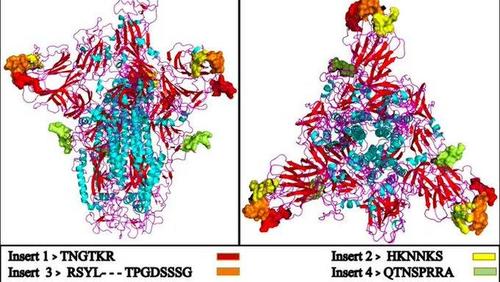 Specifically:To further investigate if these inserts are present in any other corona virus, we performed a multiple sequence alignment of the spike glycoprotein amino acid sequences of all available coronaviruses (n=55) [refer Table S.File1] in NCBI refseq (ncbi.nlm.nih.gov) this includes one sequence of 2019-nCoV[Fig.S1]. We found that these 4 insertions [inserts 1, 2, 3 and 4] are unique to 2019-nCoV and are not present in other coronaviruses analyzed.…We then translated the aligned genome and found that these inserts are present in all Wuhan 2019-nCoV viruses except the 2019-nCoV virus of Bat as a host [Fig.S4]. Intrigued by the 4 highly conserved inserts unique to 2019-nCoV we wanted to understand their origin. For this purpose, we used the 2019-nCoV local alignment with each insert as query against all virus genomes and considered hits with 100% sequence coverage. Surprisingly, each of the four inserts aligned with short segments of the Human immunodeficiency Virus-1 (HIV-1) proteins.The now-withdrawn paper piqued the interest of several journalists, including Zero Hedge (whose account Twitter banned one day after we updated our coverage of the article, claiming we 'doxed' a Chinese scientist in an earlier report).Thanks to a recent Freedom of Information Act (FOIA) request for Fauci's emails, we now know that the National Institutes of Health was not only aware of the Indian report, but were actively discussing how to handle it.A January 31 email from AFP's Issam Ahmed asks NIH immunologist Dr. Barney Graham for comment:"I was told by a contact you may be willing to give an opinion of this paper that has just gone live. It suggests the new Coronavirus has four inserts similar to HIV-1 and this is not a coincidence," reads the email.
Graham immediately forwards the correspondence to the Office of Communications and Government Relations (OCGR), saying "This is one we don't want to answer without high-level input, but wanted you to know about the rising controversy."
Two days later, Jennifer Routh OCGR replies, telling Graham: "OCGR is going to send a note to the reporter to decline, noting that the paper is not peer-reviewed. Please let us know if you receive similar requests."
That same Sunday morning, Fauci is looped in – with Sir Jeremy Farrar forwarding Zero Hedge's article after mentioning how World Health Organization Director Tedros Adhanom and the organization's cabinet chief were in 'conclave' – ostensibly on how to manage the narrative – noting "If they do prevaricate [bullshit the public], I would appreciate a call with you later tonight or tomorrow to think how we might take forward.""Do you have a minute for a quick call?" Fauci replies, after having called the Indian paper "really outlandish."Wow! @zerohedge gets mentioned! @JeremyFarrar pic.twitter.com/OKvo5ekL8G— Jess (@uacjess) June 1, 2021Of course, the Indian paper was quickly withdrawn by its authors, and the notion that COVID-19 could have been man-made was rendered radioactive – for a while.In April of last year, Dr Luc Montagnier – winner of the Nobel Prize for Medicine in 2008 for "discovering" HIV as the cause of the AIDS epidemic – claimed that SARS-CoV-2 is a manipulated virus that was accidentally released from a laboratory in Wuhan, China."With my colleague, bio-mathematician Jean-Claude Perez, we carefully analyzed the description of the genome of this RNA virus," explains Luc Montagnier, interviewed by Dr Jean-François Lemoine for the daily podcast at Pourquoi Docteur, adding that others have already explored this avenue:Indian researchers have already tried to publish the results of the analyses that showed that this coronavirus genome contained sequences of another virus, … the HIV virus (AIDS virus), but they were forced to withdraw their findings as the pressure from the mainstream was too great.The plot thickened further as a study by Chinese scientists published in May 2020 found that the novel coronavirus uses the same strategy to evade attack from the human immune system as HIV.Then, last June, former MI-6 head Sir Richard Dearlove said he believes COVID-19 is a manmade virus which contains 'inserted' sections that accidentally escaped from a Chinese laboratory, according to The Telegraph.But Sir Richard, 75, pointed to a scientific paper published this week by a Norwegian-British research team who claim to have discovered clues within Covid-19's genetic sequence suggesting key elements were "inserted" and may not have evolved naturally.Entitled "A Reconstructed Historical Aetiology of the SARS-CoV-2 Spike", the new study, seen by The Telegraph, suggests the virus is "remarkably well-adapted virus for human co-existence" and is likely to be the result of a Wuhan lab experiment to produce "chimeric viruses of high potency".The paper concludes: "Henceforth, those who would maintain that the Covid-19 pandemic arose from zoonotic transfer need to explain precisely why this more parsimonious account is wrong before asserting that their evidence is persuasive, most especially when, as we also show, there are puzzling errors in their use of evidence." –The TelegraphThe Australian government canceled further development of a COVID-19 vaccine in December 2020 after several trial participants had false positive tests for HIV.More recently, two European virologists say they've found genetic 'fingerprints' which prove COVID-19 was man made.British professor Angus Dalgleish – best known for creating the world's first 'HIV vaccine', and Norwegian virologist Dr. Birger Sørensen – chair of pharmaceutical company, Immunor, who has published 31 peer-reviewed papers and holds several patents, wrote that while analyzing virus samples last year, the pair discovered "unique fingerprints" in the form of "six inserts" created through gain-of-function research at the Wuhan Institute of Virology in China.They also conclude that "SARS-Coronavirus-2 has "no credible natural ancestor" and that it is "beyond reasonable doubt" that the virus was created via "laboratory manipulation."
We can only imagine what the NIH and Fauci are saying about this theory now.Hey Tony, can we have a word pic.twitter.com/68Yf4kZUjO— zerohedge (@zerohedge) June 1, 2021Republished from ZeroHedge.com with permissionThe post Fauci Emails Reveal Damage Control Scramble After ZeroHedge Spotlights Man-Made COVID-19 Theory appeared first on We Are Change.
They Are Brain Washing You and You Don't Even Know IT!Posted: 01 Jun 2021 01:47 PM PDTPlease Login to view this content. (Not a member? Join Today!)The post They Are Brain Washing You and You Don't Even Know IT! appeared first on We Are Change.