WeAreChange
---
Facebook Stops Removing Posts Claiming It's Man-Made After Lab-Leak Hypothesis Finally Goes MainstreamPosted: 27 May 2021 10:33 AM PDTAfter nearly 18 months of punishing anyone who suggested that COVID-19 might have originated in a Wuhan lab, Facebook has decided to stop removing posts which claim the virus was man-made or manufactured, a company spokesperson told Politico on Wednesday.The move comes after the Wall Street Journal reported that three lab workers at the Wuhan Institute of Virology were hospitalized in late 2019 with symptoms consistent with the virus – building on previous reporting by the Washington Post's Josh Rogin. Both articles cast doubt on the mainstream media's unsupported claim that COVID-19 jumped from bats to humans through an intermediary species – as opposed to the far more plausible theory that the virus escaped from a lab known for manipulating bat coronaviruses to better infect humans, in the same town which became ground zero for the pandemic. As we noted last week, there were very obvious clues to anyone able to think for themselves.As the mainstream media parroted CCP talking points throughout 2020 and punished anyone who strayed from the official narrative, Facebook banned Zero Hedge articles and policed COVID 'disinformation' based on the word of so-called "fact checkers" who insisted that the new disease could only have emerged via yet-to-be discovered animal intermediaries.Of course, one of Facebook's "fact checkers" also worked at the Wuhan lab, and was defending her former colleagues in a giant undisclosed conflict of interest.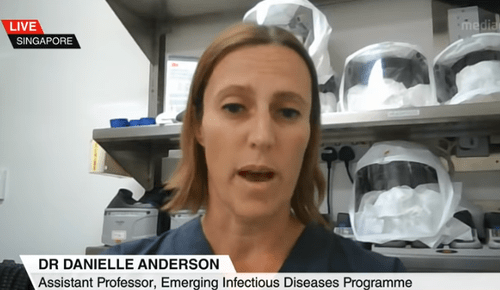 Former Wuhan lab worker and Facebook fact checker, Danielle Anderson, who collaborated nine times with bat-covid researcher, Peng ZhouLet's say it clearly: the mainstream are our Cranks.Those who said all those entertaining Wuhan Laboratory Lab Leak hypotheses were a pro-Trump anti-Asian hate campaign were peddling conspiracy theory.Did you speak out against our real conspiracy theorists? Check your dates: https://t.co/uw9kvyIq3h— Eric Weinstein (@EricRWeinstein) May 18, 2021Meanwhile, Politifact was caught quietly editing an article 'debunking' the lab-leak hypothesis.I never want to hear about Politifact. Ever. Never. Ever. I'm going to use these two screencaps if anyone ever cites that source. pic.twitter.com/5EPgpxEgiW— Sohrab Ahmari (@SohrabAhmari) May 19, 2021VOX was similarly caught stealth-editing an article "debunking" the lab origin.Some of the stealth edits that Vox made to its article debunking "conspiracy theories" that Covid-19 originated in a lab leak between its original publication in March 2020 and now. pic.twitter.com/RYxZ2B81mc— Paul Graham (@paulg) May 24, 2021No apologies. No introspection. Just spineless stealth edits and quiet policy changes such as Facebook's recent decision. Perhaps most disturbing is the complete rejection of the lab-leak hypothesis by the MSM, social media giants, and liberal leaders because President Trump promoted it.What's more, last night we learned from CNN that President Biden canceled aTrump-era State Department investigation into the origins of COVID-19, which also sought to determine whether China's biological weapons program may have played a role in the pandemic. According to the report, it was met with internal opposition from officials who thought it was simply a politicized witch hunt to blame China for the virus.After news broke of Biden's pro-China decree to cancel the investigation, his administration scrambled to do damage control, announcing that US intelligence agencies have 90 days to "redouble" their efforts to find out the virus' origin and report back.Facebook flip-flopAs Politico notes, "Facebook announced in February it had expanded the list of misleading health claims that it would remove from its platforms to include those asserting that "COVID-19 is man-made or manufactured." The tech giant has updated its policies against false and misleading coronavirus information, including its running list of debunked claims, over the course of the pandemic in consultation with global health officials."Now, according to a spokesperson, the origin language has been stricken from that list due to the renewed debate."In light of ongoing investigations into the origin of COVID-19 and in consultation with public health experts, we will no longer remove the claim that COVID-19 is man-made from our apps," said the spokesperson in an email. "We're continuing to work with health experts to keep pace with the evolving nature of the pandemic and regularly update our policies as new facts and trends emerge."Now maybe they can unblock ZeroHedge posts and realize they have no place as the arbiters of anything.Republished from ZeroHedge.com with permissionThe post Facebook Stops Removing Posts Claiming It's Man-Made After Lab-Leak Hypothesis Finally Goes Mainstream appeared first on We Are Change.
Jeffrey Epstein's Co-Conspirators to Testify Against Ghislaine Maxwell: Court FilingPosted: 26 May 2021 08:19 PM PDTSeveral of Jeffrey Epstein's alleged co-conspirators, including recruiters, sexual partners and friends are set to drop the dime on Ghislaine Maxwell at her trial later this year, according to recent court filings analyzed by the Daily Mail.Prosecutors announced in the filing that materials presented at trial will include 'any co-conspirator statements,' which the Mail says is a "major sign that one of Epstein's inner circle has turned state's witness." What's more, they agreed to turn over 'the identity of any unindicted co-conspirator' nine weeks before the trial, which is set to begin in November.Meanwhile, Maxwell admitted in a filing seeking to dismiss the case that one accuser was "encouraged to recruit other females to provide massages to Epstein."The filings strongly indicate that some of the four women who were named as potential 'co-conspirators' under Epstein's sweetheart plea deal in 2008, under which he served just 15 months in jail for having sex with children, could face off against Maxwell in court.The women in question have been accused of being Epstein's 'recruiters, groomers, sexual partners and friends' and have almost always pleaded the fifth amendment when questioned during depositions.They are Sarah Kellen, 40, who is accused of having a rolodex of women she would call up for massages at Epstein's mansion in Palm Beach, Florida.Lesley Groff, 53, is said to have been Epstein's executive assistant for 20 years and said in a 2005 interview that she had such a tight bond with him 'I know what he is thinking'.Nadia Marcinko, 35, is alleged to have taken part in sexual encounters with underage girls and has been described as Epstein's on-off girlfriend.Adriana Ross is a former model from Poland in her 30s who allegedly helped to organize Epstein's massages. -Daily MailIn a late Friday night court filing, prosecutors and Maxwell's defense submitted their own preferred timetables and logistics for the trial. According to prosecutors, materials during the trial "will include testifying witness statements, which themselves will also include any co-conspirator statements about which witnesses may testify at trial."Prosecutors "only intend to introduce co-conspirator statements either through the testimony of witnesses or in the exhibits, which will be marked before trial," and will include documentary statements about co-conspirators "e.g., emails between Epstein and any number of thousands of persons," per the filing.More via The Mail:The material will include documentary statements about co-conspirators 'e.g., emails between Epstein and any number of thousands of persons', the government said.The few emails that have been made public in relation to Epstein have emerged from a defamation case brought by Epstein victim Virginia Roberts Giuffre against Maxwell.The case was settled but a federal judge has ruled that the documents should be made public and they are being released in batches.Among the emails was one from Epstein to Maxwell on January 24, 2015 after Giuffre accused her of recruiting and grooming her for Epstein to abuse.Epstein tells Maxwell: 'You have done nothing wrong and i woudl (sic) urge you to start acting like it. go outside, head high, not as an esacping (sic) convict. go to parties. deal with it'.Maxwell's correspondence with Prince Andrew was also made public and shows him asking about Giuffre.If the alleged co-conspirators do give evidence it promises to be one of the most dramatic moments of Maxwell's trial.Kellen has been accused of being Epstein and Maxwell's top lieutenantShe flew 350 times on Epstein's private jet, known as the 'Lolita Express', and has been seen in photographs on his private island in the Caribbean.Epstein victim Sarah Ransome has said that 'it was Ghislaine and Sarah Kellen that showed me how to please Jeffrey'.Kellen is now married to Nascar driver Brian Vickers and has rebranded herself as an interior designer under the name Sarah Kensington.When approached by reporters outside her home in New York's Lower East Side last December, Kellen said: 'I'm no monster. I'm a victim of Jeffrey Epstein. I was raped and abused weekly'.Marcinko's personal story is disturbing and Epstein once bragged she was his 'sex slave' who he had bought from her family in the former Yugoslavia when she was 15.She reinvented herself as a pilot who ran a company called Aviloop selling discount flying lessons under the name 'Global Girl'.Groff was Epstein's personal assistant in New York and Ransome has claimed that she spoke directly to her including once emailing that she Epstein requested that she lose weight to maintain her slim figure.Maxwell, 59, has denied it all.Republished from ZeroHedge.com with permissionThe post Jeffrey Epstein's Co-Conspirators to Testify Against Ghislaine Maxwell: Court Filing appeared first on We Are Change.
WOW! It's ALL Falling Apart NOW!Posted: 26 May 2021 02:17 PM PDTIn today's video I explain what hot water Biden and Dr. Fauci are in, how the major media narrative is falling apart and how the US is threatened by rising civil unrest and a worsening economy.Join us: LukeUncensored.comFollow on Telegram: t.me/s/News4AChangeSign up for our newsletter: bit.ly/3ijjAopExclusive group chat: t.me/WeAreChangeChatShirt store: TheBestPoliticalShirts.comCensored shirts: WeAreTheShirts.comFind us on Minds: minds.com/wearechangeSubscribe on LBRY: lbry.tv/@wearechange:1Filter your water: bit.ly/3d3s8iVImprove your gut health: bit.ly/34GHbdYStorable food for emergencies: SafePreparedAndReady.com#1 best source of Collagen: bit.ly/3mw5uRK#1 best VPN to use: bit.ly/3iT4Ew3The post WOW! It's ALL Falling Apart NOW! appeared first on We Are Change.
There Is A Lot Of New Hospital GoFundMe's NowPosted: 26 May 2021 02:00 PM PDTPlease Login to view this content. (Not a member? Join Today!)The post There Is A Lot Of New Hospital GoFundMe's Now appeared first on We Are Change.