Amazon Suspending Donations to Lawmakers Objecting to Biden's Fraudulent Victory-ZIONIST CORPORATOCRACY RULES U.S.S.A.
Amazon says it will SUSPEND donations to lawmakers who objected to Biden's victory certification, joining a growing list of firms
12 Jan, 2021 01:57 / Updated 1 day agoGet short URL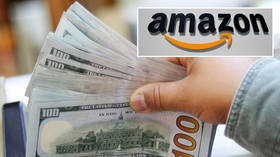 FILE PHOTOS. © Reuters / Mohamed Abd El Ghany; (inset) © Reuters / Pascal Rossignol
Follow RT onAmazon's political action committee will halt donations to lawmakers who voted to challenge the results of the 2020 election – all of them Republicans – as a series of corporations take similar steps after the Capitol Hill riot.
The e-commerce behemoth said its PAC would suspend all "contributions to any member of Congress who voted to override the results of the US presidential election" in a statement on Monday, with spokeswoman Jodi Seth calling the votes an "unacceptable attempt to undermine a legitimate democratic process."
"We intend to discuss our concerns directly with those members we have previously supported and will evaluate their responses as we consider future PAC contributions," the company added, according to Protocol tech reporter Emily Birnbaum.https://platform.twitter.com/embed/index.html?creatorScreenName=RT_com&dnt=false&embedId=twitter-widget-0&frame=false&hideCard=false&hideThread=false&id=1348770283998621696&lang=en&origin=https%3A%2F%2Fwww.rt.com%2Fusa%2F512209-amazon-halt-donations-republicans%2F&siteScreenName=RT_com&theme=light&widgetsVersion=ed20a2b%3A1601588405575&width=550px
Out of nearly $1.3 million spent on candidates in the period between 2019 and 2020, the Amazon.com PAC gave around half of those funds to Republicans, including tens of thousands to some of the 147 GOP lawmakers who voted against certifying the 2020 election results, according to data compiled by Open Secrets. House Minority Leader Kevin McCarthy (California), for example, received a $10,000 contribution, as did Republicans Sam Graves (Missouri), Morgan Griffith (Virginia), Richard Hudson (North Carolina) and Elise Stefanik (New York) – all of whom objected to certification last Wednesday. Others, such as Florida Rep. Mario Diaz-Balart and Arizona's Andy Biggs, were given smaller amounts of $7,500 and $2,500, respectively.ALSO ON RT.COMRepublican fundraising emails stopped after Salesforce said they 'could lead to violence'
The move comes after a rally in support of President Donald Trump in Washington, DC spiraled out of control last week, seeing a crowd of his backers force their way into the Capitol building as Congress convened to certify the election results. At least five people were killed in the chaos, including an unarmed woman shot by police as protesters attempted to storm the Senate chamber, as well as an officer who was reportedly bashed in the head with a fire extinguisher.
Amazon's announcement followed a number of similar actions taken across corporate America in the wake of the unrest, including by Dow Inc., the massive chemical firm. The company told reporters on Monday that, like Amazon, it would also cut off contributions to lawmakers who objected to certifying the election results, adding that it is "committed to the principles of democracy and the peaceful transfer of power."
Financial institutions Citibank, the State Street Corporation, Commerce Bank and Mastercard also said they would suspend donations to the same group of lawmakers, as did Marriott, the Blue Cross Blue Shield Association and AT&T. Others, such as Google, Goldman Sachs and JPMorgan Chase, have paused all political donations for the time being.ALSO ON RT.COMParler SUES Amazon for taking platform offline citing breach of contract, defamation & antitrust violations
Last week's violent disturbance on Capitol Hill sent shockwaves through the US political and business worlds, seeing Big Tech firms rush to purge the president and his supporters from their platforms, most claiming he or his followers had incited violence or committed other policy violations. The incident has also sparked renewed calls to remove the president from his post, with Democrats threatening to impeach on grounds that Trump encouraged "insurrection or rebellion" with his repeated claims of widespread fraud in the 2020 election.
Think your friends would be interested? Share this story!
US military chiefs condemn Capitol riot as 'sedition' & urge troops to 'stay ready' ahead of inauguration in rare political letter
12 Jan, 2021 23:43 / Updated 5 hours agoGet short URL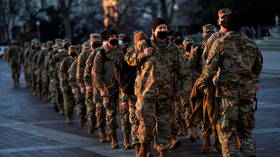 National Guard troops arrive at the US Capitol in the wake of a riot at the building last week, in Washington, DC, January 12, 2021. © Reuters / Joshua Roberts
Follow RT onThe Pentagon's Joint Chiefs of Staff have denounced the riot on Capitol Hill as a "direct assault" on the Constitution, deeming it an "insurrection" while calling on the military to remain "ready" as Inauguration Day draws near.
The country's top military leaders issued a letter on Tuesday blasting the violent disturbance that shook the nation's capital last week, a rare reproach from the Joint Chiefs, who seldom wade into domestic political matters in the public sphere.
"The violent riot in Washington, DC on January 6, 2021 was a direct assault on the US Congress, the Capitol building, and our Constitutional process," the letter reads.
We witnessed actions inside the Capitol building that were inconsistent with the rule of law. The rights of freedom of speech and assembly do not give anyone the right to resort to violence, sedition and insurrection.
The Joint Chiefs – an advisory body that includes the top uniformed officials in each branch of the military – called on service members deployed overseas and in the country to "stay ready, keep your eyes on the horizon, and remain focused on the mission" as Inauguration Day approaches, insisting that on January 20, "President-elect Joe Biden will be inaugurated and will become our 46th Commander in Chief."
"As Service Members, we must embody the values and ideas of the Nation. We support and defend the Constitution," they said, adding: "Any act to disrupt the Constitutional process is not only against our traditions, values, and oath; it is against the law,"ALSO ON RT.COMDOJ expects 'significant' sedition & conspiracy cases over Capitol siege
The letter also noted those who lost their lives amid the chaos in the Capitol last Wednesday, in which a crowd of supporters of President Donald Trump forced its way into the building as Congress convened to certify the 2020 election results, prompting an evacuation of lawmakers and staff.
"We mourn the deaths of the two Capitol policemen and others connected to these unprecedented events," the letter continued, referring to an officer who reportedly died after being bashed in the head with a fire extinguisher during the riot, and another who took his own life days after the incident. Another woman was fatally shot by police inside the Capitol, while three others perished due to "medical emergencies," one of whom suffered a heart attack.
While Trump and his backers have repeatedly alleged endemic fraud in the 2020 race, the president has taken a more conciliatory tone after last Wednesday's riot, saying his main focus will be to oversee an "orderly" and "seamless" transition to a Biden administration in the final days of his presidency. Nonetheless, Big Tech companies have moved aggressively to expel Trump and his supporters from their platforms since the unrest erupted in DC, while Democratic lawmakers have renewed discussions of impeachment, claiming the president incited an "insurrection."ALSO ON RT.COM'Careful what you wish for': Trump WARNS BIDEN 25th Amendment 'will come back to haunt him' in Texas rant on threat to free speech
Like this story? Share it with a friend!
Follow RT onTrends:2020 US presidential election newsJoe Biden newsPentagon newsWashington DC newsLIKE RT ON FACEBOOK