Twitter Censors Trump Jr For Not Towing the Party Line on Coronavirus-USSA
Donald Trump Jr. Suspended From Twitter for "Virus Disinfo"
By infostormer -July 28, 20200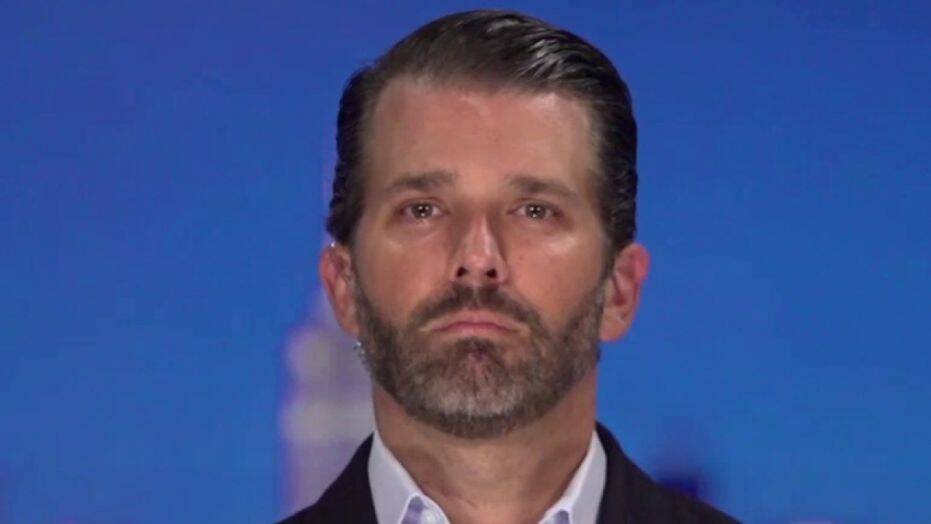 Donald Trump Jr. was just suspended from Twitter for spreading alleged coronavirus disinformation.
This alleged disinformation was just a video clip of doctors talking about hydroxychloroquine. Twitter, Facebook and big tech in general has gone on a rampage banning the clip after it got millions of views.
It is utterly insane that these companies are suspending people for posting a video of doctors giving their professional opinion on the coronavirus and possible treatments. But this insanity was allowed to happen because the government did nothing when they mass banned people like myself, the Daily Stormer and others.
They're private companies and because of this they're allowed to ban whoever they want some said. Well, these private companies now control much of the important public discourse and they are using this power to interfere in the 2020 election.
Because let's face facts, if they succeed in getting rid of Trump, they can just flush any of their misdeeds down the memory hole.
My Comment: IMAO it will be far worse than flushing their misdeeds down the memory hole. These people are going for broke and their real target is the American people. Trump just happens to be in the way of their going after the American people with a Vengeance. If you want to know what it was like in Russia when these Communists took over read on.
https://rense.com/general77/bols.htmYNET: At Least 20 MillionKilled By Jewish Bolsheviks… Following is a surprising article from respected news source YNET in Israel, about the Jewish-Bolshevik conquest of Russia after 1917… (unlikely to ever be reprinted or reported by America's major print, TV or radio "news" media.) STALIN'S JEWS – Opinion from Israel, Ynetnews
https://www.texemarrs.com/062004/soviet_gulag.htmThe brave Aleksandr Solzhenitsyn, the famous Russian writer who has been called the "Conscience of the 20th Century," served eight long years in the Soviet Gulag prison system. Today, he is hated by top-level Jews in America and around the world because he exposed the Jewish leadership of the genocide of 66million Communist Gulag victims.
www.chuckmaultsby.net/id59.htmlto Aleksandr Solzhenitsyn, murdered 66million non Jewish people in the process. Their unending spree of mass murder and robbery continues today, championed. by the killer puppets of the United States doing the bidding of their Israeli masters.
Is Amerika the New Communist Hell?
ON BY JACKYUKON
Amerika can be accurately described as a place called HELL. Is Amerika, the land of God fearing Christians, Jewish supremacists, anarchist destroyers, pagan witches, tranny dick choppers and drug snorting godless hippies the real hell? I think so and let me prove it to you. First of all much of the world says we are the Great Satan, that should be a clue for you to investigate.
Christians have failed to inform you that hell is ruled by DEVILS and these demons have a name, they are called JEWS. JEWS are the evil minions of the devil SATAN who rules over EARTH which is a PRISON PLANET called HELL. The Judeo-Christian Bible says God cast Satan to earth, and the authors of the Bible failed to tell you they are Satan's offspring.
THE WAR ON THE AMERIKAN PEOPLE IS REALLY A JEWISH WAR ON THE GOYIM
WITH EACH DECADE PASSING, THE WAR OF TERROR ON US IS INCREASING AS THE JEWISH COMMIES GAIN POLITICAL POWER
For years now I have been calling the failed state of Amerika hell. It has become a Soviet style gulag archipelago ever since Nixon and Kissinger launched the War on Drugs which is really a WAR ON THE AMERICAN PEOPLE. The statist Amerikan government is so contemptuous of it's own citizens it considers them the enemy, and puts them in prison in record numbers.
Every state in the union has prison camp gulags. Each state has many prisons, each county has at least one jail, where anyone who disobeys the myriad of rules and regulations can be put in a cage. 50 million young Amerikans were put in an iron cell for the crime of smoking a plant flower marijuana.
ONLY IN HELL ARE PEOPLE ARE PUT IN IRON CAGES
ONLY IN HELL ARE PEOPLE ARRESTED FOR SMOKING MARIJUANA
This hellish nation called Amerika is ruled by total psychopaths like Donald Trump, Barack Obama, Bill Clinton, or GW Bush, Richard Nixon. They care nothing of the people they are elected by, they hold the nation in contempt and wish them all dead. The insane governments elevate the worst psychopaths to positions of great power, like Dr. Fauci, who wants to inject you with a big pharma death cult virus.
These mad criminals do false flags on a regular basis, like 9-11-2001 where they blew up the biggest buildings in JEW YORK CITY then blamed the Muslims for it, all because they wanted to wage a WAR OF TERROR on all the nations surrounding ISRAEL, the worlds most immoral and god forsaken country that kills innocent children by shooting them in the testicles.
ONLY IN HELL ARE CHILDREN BURNED ALIVE BY WHITE PHOSPHORUS
ONLY IN HELL WOULD YOU FIND JEWS, SO IF YOU FIND YOURSELF ON A JEWISH INFESTED PLANET WITH ASSHOLES LIKE ABE FOXMAN THEN KNOW THAT YOU ARE IN HELL
This hell nation called Amerika loves the worst nation on the planet, Israel, which is a bunch of fake ass Jews stealing land from the native Palestinians because of some words in a god forsaken holy book which they say applies to them. They say, their hell God Yahweh gave them some land, although they lack the correct DNA to be the real Jew.
You see, when you are in hell, people are so deluded and insane they think God chose them, not realizing that if you are in hell then that means God did not choose you, he has already damned and sentenced you and everyone else to eternal life in hell. So in hell people spend their entire lives struggling with false ideologies and belief systems they think confers on them some advantage.
ONLY IN HELL DO SOME PEOPLE THINK GOD CHOSE THEM
KNOW THAT YOU ARE IN HELL IF THE HOLY BOOK OF YOUR PLANET WAS AUTHORED BY JEWS
The great misunderstanding is thinking you can be a good little sheeple (willing slave) and get out of hell by some belief system. Believers do not realize that their acquiescence to power was the real purpose, not salvation – which is impossible. It never dawns of the believers that the most holy city, they call Jerusalem, is the most bloody, and thus is anything but holy, but a place of great religious evil as all three Abrahamic hell religions fight over who gets to control it.
So while in hell the holy books are a ruse of the ruling class, to get you to voluntary comply to the monied Jews. Then, these Jew hellions who are the secret rulers insist you worship their hell God Yahweh which is really the devil Satan. Have you noticed that in hell people worship false gods, demons as the holy ones, then believe they are superior to you?
ONLY IN HELL ARE THE PRISONERS TOLD TO LOVE THE JEW GOD YAHWEH
IF YOU ARE ON A PLANET WITH YAHWEH WORSHIPPERS, THEN YOU MUST BE IN HELL
The problem with Christians is that they think that belief in a (fictional) Jewish savior can get them a free ticket out of hell. This inmate lunacy causes them to do anything to get to heaven, like obeying the insane commands of an evil empire. If the lying government says attack Vietnam for turning Communist the good little God believing sheeple will go kill for Yahweh in a vain attempt to get to heaven.
But such insanity did not save us from Communism. All the while as we fought wars for Jewry we turned Communist. Amerika is now a Communist nation which fought wars to stop Communism in North Korea and Vietnam. All those wars bankrupted the nation, forced millions onto the welfare roles, empowered the statist left to roll out a total dictatorship on the homefront.
AMERIKA IS RAPIDLY MORPHING INTO A COMMUNIST NATION
JUST BEFORE THE GREAT PURGE BY THE NEW JEW BOLSHEVIKS
You can point out all the things that make earth hell, but will it change anything? The First Amendment has been shredded by deeply embedded ADL creepos in big tech companies like Facebook, Goolag, and Twitter. Amazon has ban "hate" books that tell the truth about Jews, because in hell telling the truth is anti-Semitic.
Those who are bucking the hell system of the Jews are getting censored in "free" Amerika which is obviously no longer free but a vassal state of Israel. Those being censored might get the whip harder like Scotty Spencer, aka Smoloko, who was disappeared.
ONE BY ONE THE GREAT ONLINE ARTISTS ARE DISAPPEARING FIRST SMOLOKO DISAPPEARED NOW DAVID DEES HAS DIED
ONE BY ONE THE PATRIOTS ARE BEING PICKED OFF AS THE GREAT PURGE APPROACHES
Jews are cracking down on "freedom loving" Amerikans, and all the while Christians who say they love freedom also love the evil nation Israel which is taking their freedom away. Mike Adams correctly points out in his latest essay that the First Amendment is being shredded but intentionally fails to mention that Jews are the ones orchestrating the shredding.
I wish truthtellers good luck in his pursuit justice, because in hell there is a snowballs chance of any just system ever happening in police state Amerika. Failure to mention the Jews is a crime of omission, thus truth tellers like Alex Jones and Mike Adams are actually clever disinformationists.
Share this: