Hollywood Celebrities, Globalist Puppets & Sell Outs In Service to British Empire
Angelina Jolie presented with honorary damehood by Queen
This article is more than 5 years old
Jolie has been recognised for humanitarian work to which she has 'dedicated her life'
Press Association
Fri 10 Oct 2014 18.56 BSTLast modified on Thu 30 Nov 2017 07.28 GMT
Shares214Comments200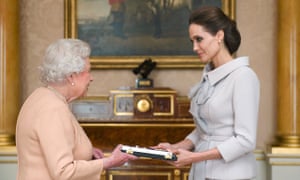 Angelina Jolie has been made an honorary dame by the Queen for her campaigning work fighting sexual violence and brought her family to meet the monarch.
The actor was presented with the award's insignia during a private Buckingham Palace audience with the Queen and then was joined by her husband, actor Brad Pitt, and their six children.
Jolie was recognised in the honours list and received the honorary damehood for services to UK foreign policy and the campaign to end warzone sexual violence.
The celebrity is known for her Oscar-winning role in Girl Interrupted and blockbuster movies such as Tomb Raider and Mr & Mrs Smith – but running parallel to a successful movie career is her campaigning work as a humanitarian.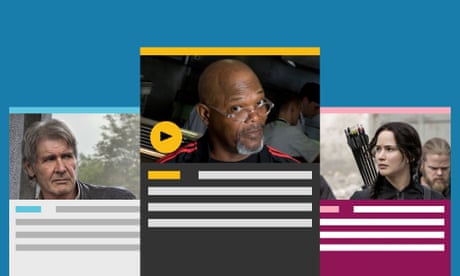 Read more
The 39-year-old actor has been described by US Secretary of State John Kerry as a "fierce and fearless advocate" and he said her dedication to campaigning could overtake her film roles as her lasting legacy.
The award was first announced in June when Jolie was co-chairing the End Sexual Violence in Conflict (ESVC) global summit in London with then foreign secretary William Hague.
Jolie said at the time: "To receive an honour related to foreign policy means a great deal to me, as it is what I wish to dedicate my working life to.
"Working on the Preventing Sexual Violence Initiative and with survivors of rape is an honour in itself. I know that succeeding in our goals will take a lifetime, and I am dedicated to it for all of mine."
After the presentation took place in the palace's 1844 room, Pitt and the couple's six children met the Queen.
As an American citizen the actress cannot become a Dame, but can use the initials of the award after her name.
Honorary damehoods and knighthoods are conferred by the Queen, on the advice of the foreign secretary, on those who have made an important contribution to relations between their country and Britain.
We won't let Brexit come between us…
… and we hope you feel the same. Britain may be leaving the EU, but the Guardian remains committed to Europe, doubling down on the ideas and interests that we share. Our independent, fact-based reporting will inform Britain about Europe, Europe about Britain, and the rest of the world about both. These are turbulent, decade-defining times. But we will stay with you, delivering quality journalism so we can all make up our minds based on fact, not fiction.
You've read 5 articles in the last four months. More people than ever in Sweden and across Europe, like you, are reading and supporting the Guardian's independent, investigative journalism. And unlike many news organisations, we made the choice to keep our reporting open for all, regardless of where they live or what they can afford to pay.
The Guardian will engage with the most critical issues of our time – from the escalating climate emergency to widespread inequality to the influence of big tech on our lives. At a time when factual information is a necessity, we believe that each of us, around the world, deserves access to accurate reporting with integrity at its heart.
Our editorial independence means we set our own agenda and voice our own opinions. Guardian journalism is free from commercial and political bias and not influenced by billionaire owners or shareholders. This means we can give a voice to those less heard, explore where others turn away, and rigorously challenge those in power.
We hope you will consider supporting us today. We need your support to keep delivering quality journalism that's open and independent. Every reader contribution, however big or small, is so valuable. Support the Guardian from as little as €1 – and it only takes a minute. Thank you.Support The Guardian
Topics
comments (200)
Sign in or create your Guardian account to join the discussion.Order by OldestThreads Collapsed123
View more comments