Massive Blast Rocks PARIS BUILDING
Massive BLAST rocks Paris building as firefighters struggle with monster blaze (VIDEOS)
Published time: 6 Apr, 2019 20:33Edited time: 6 Apr, 2019 21:35Get short URL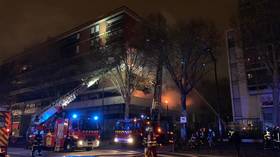 © Twitter / Protec Paris Seine
A powerful explosion was caught on camera during a major blaze in the French capital's 19th arrondissement. Paris firefighters struggling to put out the fire in a multistory building still do not know if there are people inside.
The blaze, which erupted somewhere between the first and fifth floors of the eight-story building at the intersection of Macdonald Boulevard and Pierre Mollaret, began around 9pm local time. Witnesses heard at least one violent explosion, which was recorded and has been widely shared on social media.
Faites attention à vous #incendie dans le 19e3972:58 PM – Apr 6, 2019731 people are talking about thisTwitter Ads info and privacy
Around 100 firefighters and multiple firetrucks and ambulances were immediately dispatched to scene in an effort to contain the blaze, which, a fire department spokesman said, spread quickly and engulfed several floors.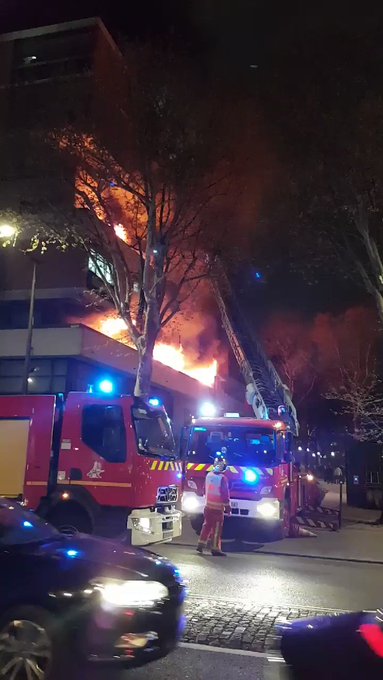 Infos Françaises@InfosFrancaises
PARIS : Important incendie en cours dans un immeuble du Boulevard Macdonald, dans le 19ᵉ arrondissement, des dizaines de pompiers mobilisés.5272:36 PM – Apr 6, 2019896 people are talking about thisTwitter Ads info and privacy
"We have managed to contain the fire," the spokesperson for the capital's fire service, Gabriel Plus, told reporters, while also stating that his personnel had, so far, reported no casualties. "A number of people had evacuated before our arrival."
"It is too early to determine the cause of the fire," he added, while officials have confirmed that the building is relatively modern and is not served by a gas pipeline. How the blaze began remains unknown and electrical blackouts in the area have also been reported.
DETAILS TO FOLLOW