Larry Klayman: Impeachment 'Almost Certain'
Corsi Tries to Go on Offensive Against Mueller, DOJ, Asks Lawyers to File 'Criminal Complaint'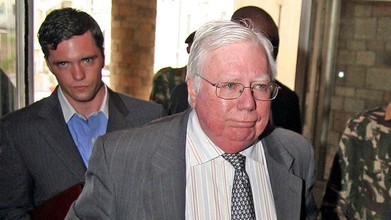 By Edmund DeMarche
Fox News
November 29, 2018
Jerome Corsi, the conservative author accused of lying under oath to Special Counsel Robert Mueller's investigators, instructed his legal team on Wednesday to file a criminal complaint against 'Mueller's special counsel' and the Department of Justice, alleging prosecutorial misconduct.
Corsi, who was not specific about the alleged misconduct, said in the tweet that he retained attorney Larry Klayman, the founder of the conservative Judicial Watch. He later left and founded Freedom Watch. Bloomberg reported that Klayman is representing Alabama's Roy Moore in a defamation suit against comedian Sacha Baron Cohen and CBS Corp.
Larry Klayman to Newsmax TV: Impeachment 'Almost Certain'
By Eric Mack    |   Monday, 26 November 2018 03:10 PM
President Donald Trump has allowed special counsel Robert Mueller too much leeway and impeachment is now "almost certain" even without criminality, former federal prosecutor and Freedom Watch founder Larry Klayman told Newsmax TV.
"What we're looking at right now is almost certain impeachment of the president of the United States," Klayman told Monday's "America Talks Live."
Important: Newsmax TV is available on DirecTV Ch. 349, U-Verse 1220, DISH 216, and FiOS 615. If your cable operator does not have Newsmax TV just call and ask them to put us on – Call toll-free 1-844-500-6397 and we will connect you right away to your cable operator!
For more places to Find Newsmax TV – Click Here Now
Although Mueller's report is supposed to be confidential and just for the eyes of the U.S. attorney general – currently Acting Attorney General Matt Whitaker – Klayman told host John Cardillo it will "100 percent" wind up in Congress and released publicly.
"There are so many leaks coming out of this Mueller team – if you want to call it a team, I would call it a cabal – there's no way to keep any of this confidential," Klayman added. "In fact, it would be better if it got out, so selective leaks don't occur."
And Whitaker is no longer a "lion" in this process, but a mere "lamb" of Democrats and the mainstream media, because of his own political aspirations, according to Klayman.
"Whitaker has been neutralized right now," Klayman said. "He's going to be a lamb. He's not going to be a lion the president hopes. He wants his own future in Washington, and if you go against the Democrats and the mainstream media, you've got no future.
"That's the way it works in this swamp."
© 2018 Newsmax. All rights reserved.
Read Newsmax: Larry Klayman to Newsmax TV: Impeachment 'Almost Certain' | Newsmax.com
Urgent: Do you approve of Pres. Trump? Vote Here in Pol
Klayman: The President Is Right: Rosenstein Should Be Indicted, Tried, Convicted and Jailed!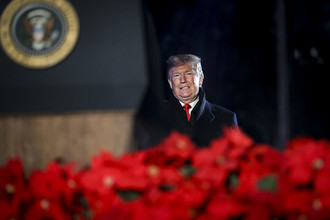 By Caitlin Oprysko
POLITICO
November 29, 2018
Rosenstein is responsible for picking Mueller to lead an investigation into Russian interference in the 2016 election — a probe that now includes whether Trump sought to obstruct justice — following then-Attorney General Jeff Sessions' decision to recuse himself from the investigation and Trump's decision to fire Comey, then the FBI director.
After his firing, Comey passed to the media memos detailing interactions he'd had with the president, including one in which Trump reportedly asked the FBI chief for his loyalty. The publication of details from Comey's memos helped prompt Rosenstein to appoint a special counsel, a move that has earned the ire of Trump.
Support Our Cause and Join Our Fight!
Your help is urgently needed!