GILLUM & PELOSI PLAYING THE RACE CARD REPEAT SAME SCRIPTED SPEECH: WARN AGAINST PHONY "VOTER SUPPRESSION" BE A GOOD LIAR & YOU'LL BE AMERICA'S FINEST POLITICIAN
Klayman: Reverse Racist Andrew Gillum Continues to Play Race Card!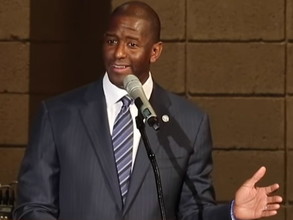 By Ian Schwartz
Real Clear Politics
November 13, 2018
Tallahassee mayor and Democratic candidate for governor Andrew Gillum spoke at a largely African-American church Sunday, warning against vote suppression as Florida's Governor and Senator elections go to a recount.
Gillum also defended controversial Broward County Elections Supervisor Brenda Snipes in a campaign-style speech at the church. The Democratic candidate implied Snipes, initially an appointee by then-Gov. Jeb Bush, is receiving criticism because she is an African-American woman.